This post gives the answers to the following questions which every now and then hit professional's minds applying
project management methodology
What are Prince2 principles?
Why are they so important?
Are they applied in real time? If yes, how and when the principles are applied?
Prince 2 is based on seven principles. These seven principles are back bone of Prince2. We can say that absence of any of these principles can create a high risk to the project. Prince2 provides a method that can be applied regardless of project type, scale, organization, location or culture. This is possible because Prince2 is principles-based. Principles to Prince2 are like foundations to a building structure. In a project environment, principles are laid down before the whole framework for project is designed or thought of.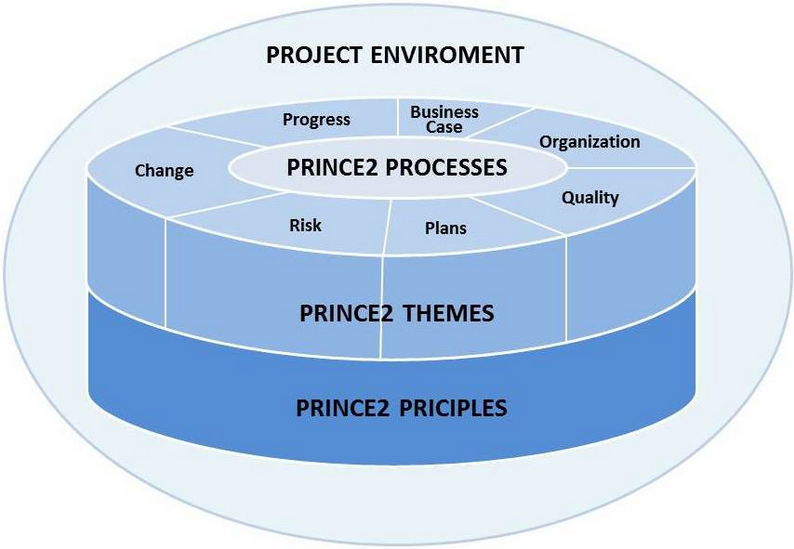 Prince2 Principles are characterized or known as
Universal as they can be applied to any project irrespective of its type, scale or location.
Self-Validating i.e. it follows the best principles that has been tested and proven in practice over many years and it can be applied directly to the project without re-inventing the wheel.
Empowering as it provides practitioners with methods and tools which can be applied confidently to the projects.
The seven Prince2 principles can be summarized as "
JERSEPT
"
Continued Business Justification
Learn from Experience
Defined Roles and Responsibilities
Managed by Stages
Managed by Exception
Focus on Products
Tailor to suit the project environment
Business Justification
A Prince2 project has continued business justification. Business case is created before the start of the project and is updated throughout the project. If at any point of the project, business case is affected so much that expected benefits cannot be realised and keeping the project is not justifiable then the project can be closed prematurely. A requirement for a Prince2 project is
That there is a justifiable reason to start it i.e. whether the business case is beneficial to company and has clear ROI (Return on investment).
That the justification should remain valid throughout the life of the project i.e. the business case should remain beneficial to the company throughout the project.
That the justification is documented and approved at all stages of the project.
Learn from Experience
Throughout the life of the project, Prince2 projects teams learn from the experience not necessarily from the mistakes. These lessons are documented (recorded). Steps are taken to avoid any similar mistakes. At Project Start or at any project stage,
Identify requirement of internal/external expertise.
Review similar past projects.
To summarize, in Prince2 Project Team, lessons are learned from the mistakes which are recorded and relevant measures are taken to avoid it happening in future.
Defined Roles and Responsibilities
This Prince2 principle states that right people must be involved in the project team for the project to be successful. A PRINCE2 project has defined and agreed roles and responsibilities within an organization structure that engages the business, user and supplier stakeholder interests.
The projects must have the clearly defined team. All projects have the following primary stakeholders
'Business': sponsors who endorse the objectives and ensure that the business investment provides value for money (who ensures that the project is justified in ROI (Return on Investment) terms)
'Users': people who will use the products to enable them to gain the intended benefits after the project completion.
'Suppliers': who provide the resources and expertise required by the project (these may be internal or external). External suppliers are sometimes referred as 'Third Party' mainly in software industry.
Managed by Stages
A PRINCE2 project is planned, monitored and controlled on a stage-by-stage basis. According to this principle each stage of a project must be properly planned, monitored, and controlled. A PRINCE2 project requires a minimum of two stages
The initiation Stage : The project is planned at this stage
One additional management stage which includes closure of project.
Managed by Exception
A Prince2 project has defined tolerances for each project objective. Limits of delegated authority are also defined i.e. who should make a decision for corrective measure at what tolerance limit. Prince2 project defines tolerances mainly for the following factors
Time
Cost
Quality
Scope
Risk
Benefit
Key points to remember:
Amendments inside tolerance limit are dealt within that management level.
Regular Highlight Reports keep the Project Board informed about progress.
Issues outside tolerance are Exceptions, and are reported to level above.
If tolerance level is exceeded for any factor then an exception report is sent to the higher management level and an appropriate action is taken.
Focus on Products
'Product' here refers to an objective or set of tasks for example delivery of first phase of the project or a work package in Prince2 term. Prince2 project management method is output-oriented and not activity-oriented. An output-oriented project is one that agrees and defines the project's products prior to undertaking the activities required to produce them. Product-based planning is a crucial aspect of the PRINCE2 approach to managing projects. It helps to reduce the risk from the following factors
rework
scope creep
acceptance disputes
customer dissatisfaction
In nutshell, this principle focus on the
quality
of the product produced and provides awareness of the product's purpose, composition and its quality criteria.
Tailor to suit the project environment
As the heading says Prince2 projects are tailored to meet the needs of the project. Key points:
All Projects are different
Project's needs are defined and tailoring steps are described in PID (Project Initiation Document)
PRINCE2 is applicable to all project types, but approach and effort must be tailored as appropriate the project's needs: environment (e.g.. existing management structure), size, complexity, importance, capability and risk (e.g.. reporting frequency, emphasis on risk).
SUMMARY
This post explains the seven principles of PRINCE2 here which will give an idea how Prince2 principles are applied and how you can find whether project is using all the principles or not. References: Prince 2 official guide: Managing successful projects. Prince 2 official guide: Prince2 maturity model
Prince 2 is based on seven principles. These seven principles are back bone of Prince2.