Although many of us pursue a formal education while young, earning bachelor's and master's degrees, that education doesn't necessarily stay current, and we must keep on learning throughout our careers. A doctor must learn new medical theories and procedures. An IT specialist must master new software. Even a marketing manager must learn new skills to stay relevant. 
Such was the case with Ewort Atkinson. Ewort had earned his MBA from the University of Leicester, with a focus on Marketing and General Management, but that was back in 2010 and the knowledge he gained then was no longer enough. "Almost everything that I learned in 2010 is now obsolete," he says. "Things have changed. I didn't want to get left behind. And that is why I had to do something in digital marketing."
Ewort earned his Digital Marketing Specialist certification with Simplilearn, giving his career a huge boost. 
Knowing When It's Time to Upskill
Having realized that he wasn't in a position to do digital marketing properly, Ewort went searching for a way to acquire skills that didn't even exist when he was earning his graduation. Marketing had changed dramatically since Ewort earned his MBA, and he knew he needed a new skillset to keep his career moving forward. This led him to research options for online learning. He wanted practical learning, not theoretical, and it seemed Simplilearn offered the types of skills and expertise he was seeking. "There was more to learn at Simplilearn," he says.
Simplilearn offers both virtual and online learning. Ewort chose to do the online courses because he had the self-discipline to do so and "because I'm the type of learner who likes self-paced learning," he says. "I don't like to be in a classroom or a structured setting. With the self-paced option, I was able to do the courses on my own time." The only disadvantage he saw was not being able to ask a question of the instructor in real time. 
His certification with Simplilearn fit both his desire to learn and the kind of education he was seeking. "The instructors were so good, I found it easy to learn," he says. More importantly, he could apply what he was learning immediately. "As soon as I learned something, I was able to practice it right away," he says. "It's not just theory. It's something that I could utilize because, with hands-on practice, you get practical skills. 
He also chose Simplilearn for the industry experience. "The best practices are current today, so what I learn now is applicable now, from a digital marketing standpoint," he says. In addition, the program offered a broad education. "It has all the knowledge. It's not just social media marketing or PPC. It has everything that has to do with digital marketing. So once I graduated, I could be sure that I knew every single aspect of what digital marketing entails."
Ewort also appreciates the prompt customer service. "Every time I needed assistance, I sent an email and I got feedback right away." 
New Skills Lead to New Position
Ewort is now the Digital Marketing Manager at Prism Communications, Jamaica's leading advertising firm. Prior to that, he was the Group General Manager at FIMI Investments where he developed sales strategies, managed new product development, and reviewed and approved marketing plans. He oversaw about 200 employees across the Caribbean. Before that, he had his first job at Prism Communications as a marketing strategist. And now, he is back with that employer, but in a completely new role based on his new skillset. 
Prism is a full service strategic integrated marketing and communications/advertising agency, and part of Worldwide Partners Inc., the largest network of independent advertising agencies with 91 agencies in 57 countries. At Prism, Ewort works as the digital marketing manager, helping clients apply digital marketing methods in ways they were unable to do before without his help. He leads a team of six social media coordinators and some graphic artists but plans to expand that team. "By the end of next year, I see us operating with 20 personnel in the digital marketing space," he says. 
Ewort's long-term career goals include opening his own consulting firm because of his passion for marketing and communications. "I think that by having the expertise I learned from Simplilearn, I will be able to do just that," he says. "This course has assisted me in getting that much closer to my goal."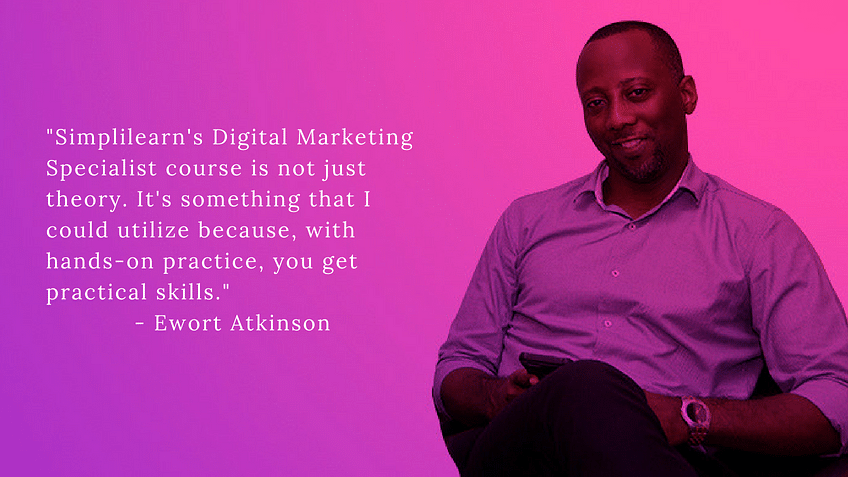 In the meantime, the education helps with his job today as the digital marketing manager at Prism. Because he has broadened the scope of his knowledge, he's able to give clients up-to-date input on digital marketing methods such as email marketing, marketing automation, conversion optimization and PPC advertising, as well as an appreciation for Google Analytics. 
His education with Simplilearn also increased his confidence. "In meetings and presentations, I'm able to speak as somebody who has the knowledge," he says. "I have that level of confidence. Everybody sees it. And now I keep getting questions. Even on my LinkedIn profile, people keep asking me questions about digital marketing."
Staying Ahead of the Curve
His digital marketing certification led to that better job at Prism, and Ewort knew it was time for a change. "What would have happened in my last job? I think the job would have become redundant. They were not really going for digital marketing. So, it would have resulted in the market slowing down because of their constant emphasis on traditional marketing and things like TV advertising."
"I think I'm well ahead of the curve right now by becoming an expert in digital marketing," says Ewort. "And I have the opportunity to grow my own business inside this company." Until the day comes when he is ready to open his own. 
"One's career is carried out by expertise," says Ewort. "It's not going into one job and staying there. It's like starting a business. It's life." And Simplilearn can help make it happen.
Want to know more? Check out this introductory video on Digital Marketing Course.