It's no longer enough for brands to say they're committing to inclusive actions; they must live it to their core to win over the hearts and minds of consumers. Ultimately, this leads to brand growth, as it expands representation in all areas of the marketing journey — from research to customer experiences through purchase decisions.  
Here are a few ways modern marketers can champion these commitments through their everyday work.
Helpful Tips for Inclusive Marketing
1. Focus On Messaging
Consumers, especially those in younger generations, want to be able to identify your commitment to inclusivity right away. In fact, it's these youngest consumers that take the greatest notice of inclusive marketing when making purchase decisions. That's why your messaging must be thoughtfully crafted to resonate with this audience and others. 
When considering how you communicate, be sure to look at:
Branding – How you represent your brand across properties
Marketing – How you market your brand across channels
Packaging – How your brand looks and feels
In-person – How consumers experience your brand
2. Pay Attention to Visuals
Right up there with messaging are inclusive marketing visuals that represent everyone, including people of different ethnicities, races, identities, religions, backgrounds, and those with disabilities. If you aren't sure what this looks like, one trip to the Fenty Beauty website (image from site shown below) can provide much-needed clarity.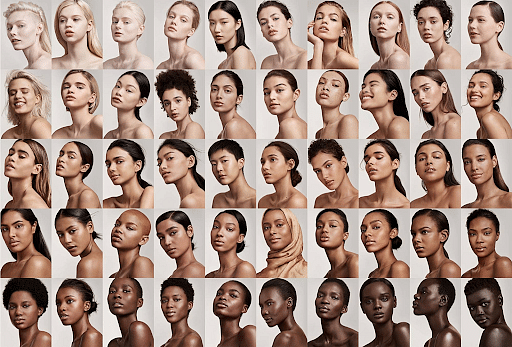 Inclusive marketing visuals can be part of all your marketing channels, including your website, emails, social media, paid advertising, and so on. In fact, because we know consistency is the key to authenticity here, we can go ahead and say it's highly recommended to carry your new visuals into every area. 
3. Prioritize Accessible Marketing
As brands move closer to full inclusivity, it's even more critical to commit resources to accessible marketing. If you're hearing this term for the first time, you can think of it as the use of inclusive design practices that make it possible for users of all abilities to fully experience the brand, receive and understand communication, and take advantage of opportunities to engage with and become fans of the brand, services, or products.
What does all that mean, exactly? It means brands should consider what tools it can leverage to make marketing accessible to everyone. Websites should include alternate text and screen reader compatibility so anyone can see, hear, and experience what's on the site. Design should include not only colors, but also labels, so users who are colorblind can understand the information. 
4. Root Out Bias
Even modern marketers must contend with bias, and it's important to understand how to eliminate it from our everyday work. For example, you may assume only middle-aged women with a modest income are going to buy your products. Yet, data will show it's higher income individuals who are most likely to make a purchase. 
Bias leads to missed opportunities, so to be more inclusive you must root it out of your marketing strategies – from paid ads to websites to print marketing.
5. Diversify Your Social Proof
Perhaps you already walk the walk with social proof, including testimonials, reviews, and case studies on your website. You can take it a step further and make it more inclusive by swapping it out for social proof from a more diverse customer base. Doing this will show your audience you can meet their unique needs – and have already done it – so it increases confidence and trust in your brand.
Do you want to master the essential disciplines in Digital Marketing? Check out the Digital Marketing Specialist course now.
Conclusion
Marketing that serves a diverse audience can only benefit brands going forward. When approaching this strategy, be sure to follow these inclusive marketing tips. Paying close attention to messaging, visuals, accessibility, bias, and social proof will show consumers you are genuinely committed to their deepest needs. 
If you want to learn more about modern marketing, check out Simplilearn's online bootcamps in the digital marketing field today!