Digital marketing trends and strategies are continually evolving, and before you even know it, a new digital marketing trend will be on its way. If time travel were possible, every marketer would fast-forward to the new year for clues on what's next in digital marketing. Since we still reside in the age of predictions, we have to settle for a forecast of what's to come and build a case for what digital marketing in 2021 would look like. Buckle up, because we're about to take a ride into the future and check out the top digital marketing trends for 2021.
Artificial Intelligence in Online Marketing
1. Smart Speakers: A New Channel for Digital Marketing
The proliferation of smart speakers is one of the significant developments in recent years. According to the Social Report, around 56 million smart speakers were sold to consumers in 2018, and smart speaker makers will sell about 94 million devices in 2019—increasing the installed base to 207.9 million by year-end. 
The growth of smart speakers is a glowing opportunity and is soon becoming a prime channel for marketers to place advertisements and market their products and services. These are the two ways your business can embrace smart speaker marketing and advertising in 2021:
You can create a branded Alexa Skill or Google Home app that is relevant to your brand, and provide a useful service to your audience. Marketers are using Alexa Skills to connect with their audience by offering them industry news, relevant products, and more.  
Flash Briefing on Alexa is becoming a popular way to get the morning news, weather, and other day-to-day information. The users are allowed to pick and choose the news sources, podcasts, and other 'Skills' that they want their smart speaker to play. 
Digital Marketing Specialist Master's Program
Advance Your Career as a Digital Marketer
EXPLORE COURSE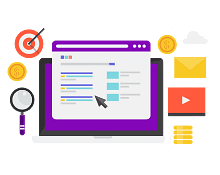 2. The  Rise of Voice Search
Another prominent development impacting the digital marketing world today is the extensive adoption of voice search technology. Voice search is changing the way search marketing professionals optimize websites to rank for targeted keywords and queries. 
It is estimated that in 2020, 50% of all searches will be voice searches, opening up new marketing avenues for digital marketers. There's an extensive list of things you can do to optimize your site for voice search, and the most significant of them is to use long-tail keywords like "most expensive women's clothing brand" instead of a shorter keyword like "clothing brand."
clothing brand

Undefined primary keyword and doesn't focus

on a specific audience

most expensive women's clothing brand

Defined keyword and caters to a 

particular audience
3. Chatbots in Marketing
The next digital marketing trend is using chatbots to market and advertise. Businesses have been using chatbots for quite some time now, and marketing is capitalizing on the trend in a significant way.
Chatbots on Social Media 

Chatbots are finding multiple applications in digital marketing—helping brands interact with customers better and offer them a superior experience. For instance, Uber now allows users to request an Uber ride through their Facebook Messenger app. By integrating marketing channels with the point of purchase, chatbots are not only making the customer experience more seamless but shortening the purchase cycle too.

AI-driven Chatbots 

An AI-powered chatbot is capable of delivering a personalized experience to clients and customers. Bank of America's chatbot is capable of handling any customer query, with predictive analytics, can anticipate customers' needs and guide them through complex banking procedures. These chatbots can even help customers to make payments, check balances, or save money. These experiences are going a long way in assisting brands in positioning themselves as 'customer-first.'
4. The Age of Augmented Reality (AR)
The next and most promising digital marketing trend is Augmented reality (AR) has seen raging popularity over the past few years and is predicted to outpace VR in 2020. It has made its presence in digital marketing too and is one of the hottest trends in the field.
AR is already being used by large companies like IKEA. Launched in 2017, the IKEA Place app lets customers see exactly how the furniture would look - and fit - in their homes, even before purchasing their products. This brand of marketing, commonly termed as 'experiential marketing' is helping brands like IKEA, give customers those unique experiences that make a difference between purchase and drop-out.

Image Source: IKEA Place App
Targeted Marketing
1. Personalize Your Marketing Efforts 
The success of your marketing campaigns depends on how well you know your audience. With digital marketing, you collect tons of data with every interaction that you have with your customers or prospects. And that is what the next digital marketing trend focuses on. Advanced Business Intelligence tools are increasingly being used to help you make sense of this data—create accurate buyer personas and draw valuable insights relating to customer preferences, behavior patterns, and more. With these insights, you can create personalized communications and campaigns.
Create Unique, Personalized Content: Personalization can even help you stand out from the crowd by creating unique content that improves brand retention and recall with your customers. Coca-Cola's 'Share A Coke' campaign is an excellent example of this. By printing common first names on Coke bottles, the campaign drew millennials in large numbers and boosted conversion rate and sales.

Personalized messaging is increasingly becoming the way to go and the next digital marketing trend you need to watch out for. It not only builds interest in the product or/and brand but helps build stronger and more personal relationships with your customers too. You can retain your customers by showing your gratitude, by sending an email wishing them on their birthday, or sending a thank you email for joining your email list.

Image source: BirchBox
Target Specific Audiences: Microtargeting audiences and designing communications specifically for them, is another approach that is picking up. For example, if your audience likes movies, you can email them movie vouchers or coupons, as a giveaway. You should also try using references or design elements of a particular movie in your email campaigns, blog posts, etc., to offer a more personalized experience through content, and increase conversions.
Make Product Recommendations: Learning about your customer's buying habits, a past purchase is a great way to market your products and services. And that's the next digital marketing trend you must focus on. More and more eCommerce industries have started using this strategy to offer more relevant product recommendations for their customers, and occasionally send emails with recommended product catalogs.

According to a study by DigitalCommerce, product recommendations have proven to improve conversion rates by up to 915 percent. Therefore, leverage your segmented list to recommend your products and services to your customers, make a way for this digital marketing trend, and stay ahead in your marketing game.
2. Communicating on Private Messaging-apps
In 2021, it's time for businesses to start stirring their focus on how to adequately employ private messaging apps. Smartphone messaging apps like WhatsApp, Viber, and WeChat have gained a lot of popularity in recent times. Businesses are embracing the effectiveness of private apps as well as private messaging groups. WhatsApp has a massive database of 1.5 billion active users in over 180 countries, and marketers can position their products and services to numerous people, without even bringing them to their website. Another WhatsApp functionality helps you set up WhatsApp Business accounts and use Facebook ads to let WhatsApp users call or message their customer support team with a single click.
To add on the list, Facebook has also confirmed that ads will be coming to WhatsApp in 2020, as part of the app's 'Statuses,' which means marketers should begin strategizing now and make the best use of this platform.
Interactive Marketing
1. Drive Interactive Content Marketing
To engage the audience better, more and more marketing professionals are turning to interactive marketing content. Based on data from Inc., interactive content is up to 23 percent more effective than traditional static content - and that is what the next digital marketing trend is going to be.
With interactive marketing content like quizzes or polls, you can invite users to connect with your brand. Another brilliant example of interactive marketing is an engagographics that can make flat, boring infographics, much more fun while also providing users with the relevant information and facts they're after. A few benefits of interactive content:
Helps in personalizing user experience
Additional response and social shares from user
More engagement with the users that leads to more brand awareness
2. Focus on Visual Content
Visual content helps you add emotion, say more in a shorter time, and make your communications more powerful and memorable. According to Digital Marketing World, by 2021, 13 percent of all internet traffic will consist of live video. Almost all social media platform supports live video streaming today, and it is only expected to soar in 2020. 

Another example of visual content is a LookBook.The Dutch clothing retailer Scotch & Soda used the LookBook to capture the creative inspiration behind its Spring/Summer collection. The interactive design elements provide an engaging experience that drives sales and increases the time spent on their website, while the content communicates authenticity and the brand's identity.
Pro tip: Learn the latest digital marketing news with us!
Stay Ahead of the Game
Digital marketing trends are scoring on shared experiences to make better products, advertise and market them appropriately, and enhance the customer experience. As we move into the next calendar year, it's essential to know about the current digital marketing trends and get ready for the digital marketing trends of tomorrow to stay on top of where digital marketing.
The field of digital marketing is wide open right now, and Simplilearn can help you grow as a digital marketer, whether you're new and inexperienced or seasoned and ready for the move.