A lot of organizations implement the Lean Six Sigma Green Belt Certification, because it's one of the most notable ways on how to improve the quality of service. The Lean Six Sigma focuses on the rate at which an organization fails to provide acceptable services as well as products. For instance, in a manufacturing firm, the Six Sigma tries its best to reduce the number of defective products a company produce. Likewise, the Green Belt Certification is a professional credential used in order to ensure quality improvement in organizations, such as process management organizations and manufacturing firms.
The Promising Benefits of Becoming Lean Six Sigma Green Belt Certified
Most organizations are probably wondering why it's advisable to utilize Lean Six Sigma. In fact, most of these companies even ask this question, especially those who are interested in becoming Green or Black Belts. There are a lot of perks that you could enjoy once you become a Green Belt certified, and we're going to discuss some of those.
Strategic Benefits

Financial Benefits

Customer Benefits

People Development Benefits

Competitive Benefits
If you're planning to develop a full deployment for your company, it's important to consider some of these benefits. Likewise, if you're going to utilize this document in order to get the training signed off for an individual, then it's best to pick the benefits that could influence your manager.
Financial Benefits 
The financial benefits linked with Lean Six Sigma Green Belt are always well documented. As a matter of fact, companies, such as Motorola, GE, and Honeywell are just some of the successful corporations posting great numbers for decades based on Lean Six Sigma projects.

Oftentimes, you could see projects which on average save around 60k dollars. Projects that don't reach this amount usually lack the right kind of support, but there's also a possibility that they weren't chosen correctly. Though, most of the time, you'll see projects that save as much as 100k dollars. Here are some of the companies that enjoy this kind of financial benefit.
Allied Signal: Since 1995, this company has enjoyed cost savings as much as $800 million.
US Army: Being a certified member of the Lean Six Sigma Green Belt, the army continues to enjoy success and the leaders are anticipating $2 billion worth of savings.
General Electric: It has been in the business for about three years and is in the process of growth and development, with cost savings that's more than $2 billion.
Financially speaking, those who would put a person into Lean Six Sigma training for Green Belt, and would successfully complete a project, there's a huge possibility that they're going to save around $60k.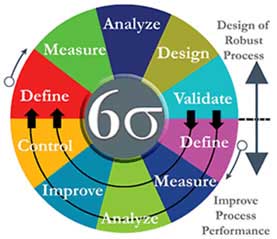 Although, this would also depend upon the project
Wherein, a typical Green or Black Belt has the privilege of completing more or less 3 projects within a year, while doing their regular job at the same time. This only implies that on average, a typical Green Belt with certification could save around $160k if they'll receive a number of projects as well as the support that would enable them to complete it-- which is also a major advantage for the company. 

For companies, rest assured that the savings being offered by the Six Sigma are real, because this was a result of a key structural element of Lean Six Sigma.

To support that, the finance department signs off any savings and determines if they're real or not. Thus, gone are the days where a manager or employee runs a project and proclaim that they've saved X, Y, or Z amount. In Lean Six Sigma, the savings are determined only when the finance sees it. This is considered to be one of the major benefits of the Lean Six Sigma, which would give you an assurance that the savings being mentioned are real. Similarly, this gives the companies the confidence when publishing their savings.

Best of all, the average savings per project is also an indication that most delegates would pay for their training, once the project has been completed or the investment has been reflected.

Usually, the average savings per project is also the amount that most delegates need to pay in order to complete one project on time and experience a positive output.
Strategic Benefits 
Those who have a Green Belt certification could also enjoy the benefits brought by a strategic nature. This could easily be achieved by taking the trained Green Belt and asking him to complete the projects having a strategic importance, such as solving major problems in the business.

The skills that a Green Belt has would enable him to solve complicated problems in a short amount of time. Aside from putting off the fire, this would also eradicate the root cause, and prevent it from happening again.
People Development Benefits
Having a Green Belt certification would allow you to enjoy a number of benefits given by an organization. Likewise, it also boosts one's self esteem, because the training involved teaches the members to speak with confidence, suggest new ideas, and successfully solve the given problems

Aside from that, the trained Green Belts also start to realize the need for change in the organization, such as helping them understand the problem, in order to eliminate the root cause and prevent it from happening again.
Customer Benefits
Customers would be able to enjoy a better form of service, together with better quality and delivery. That's also the reason why a lot of customers ask most business owners if they utilize the Lean Six Sigma. Being a part of this is a great way to increase your credibility and attract the customers, making them believe that you'll only offer the best whether in a form of service or the product you're trying to sell.
Competitive Advantage
This could be used in the marketing campaign and sales pitches. Through the implementation of Lean Six Sigma, you'll be able to improve your performance and outsmart your competitors.

By implementing the Lean Six Sigma and obtaining a Green Belt certification, a company could enjoy a number of benefits in a short amount of time. Likewise, this would also give you the confidence in making decisions, because you'll be guaranteed that everything would be based on the gathered data and analysis.