Social Media Tutorial
Welcome to the first lesson 'Social Media' of SMAC - Social, Mobile, Analytics, and Cloud tutorial which is part of the 'Social, Mobile, Analytics, and Cloud course' offered by Simplilearn.
This lesson will focus on the 'S' of SMAC, which stands for Social Media. Social Media has provided new ways to approach customers and is emerging as a popular platform for enterprises to advertise their products.
Let us start with the objectives of this lesson in the next section.
Objectives
After completing this lesson, you will be able to:
Define Social Media

Discuss the advantages of Social Networking

Explain Social Media Marketing

Discuss the impact of Social Media on business

List the emerging trends in Social Media

Discuss the challenges and future of Social Media
Let us proceed to the first topic of this lesson in the next section.
Social Media - Overview
Social Media is a platform that allows knowledge to be rapidly created and shared through social networks. It is changing the way people communicate and has thus become an important tool for business.
Businesses can reach their potential clients through the social media and also publicize their products and services. Social Media uses online networking tools to share information and services among individuals.
Online networking helps to connect businesses and create opportunities. Online networking is of two types:
Online social networking and

Online business networking
Online social networking focusses on building relationships with consumers, whereas online business networking focusses on building relationships among businesses.
Want to check course preview of our Social, Mobile, Analytics, and Cloud course? Click here to watch!
In the next section, we will learn more about online networking.
Online Networking
Online Networking is a platform that connects people having similar interests. It also helps in strengthening existing relationships and building new ones. Furthermore, online social networking also offers career opportunities for professionals.
Now, let us learn about the advantages and disadvantages of Online Social Networking.
Advantages and Disadvantages of Online Social Networking
Below are some advantages and disadvantages of Online Social Networking
Advantages
Connecting with customers: With the help of social networks, you can connect with customers who have used your services. You can also find new customers and encourage them to join your network

Real-time communication: Two-way communication can help in improving customer services and relationships.

Free Advertising: Almost all social networking sites can be used free of cost. Thus, you can connect with potential customers and advertise your products and services without spending any money.
Disadvantages
Time-Consuming: You need to spend a lot of time on social networking sites to grow your network and build customer relationships.

Lack of feedback control: Negative feedback received from unhappy customers can damage the reputation of the companies because such feedback cannot be ignored

No Result Measurement: It becomes difficult for companies to
Let's understand about social media marketing in the next section.
Social Media Marketing
To understand the impact of social media on businesses, you need to know about Social Media Marketing.
Social Media Marketing is a type of Internet marketing that uses various social media networks to popularize a business.

Social Media Marketing Facebook Users Buying Pattern
According to a research report, Facebook added 100 million users in less than 9 months. As a result, more than one million businesses integrated their websites with Facebook in various ways to market their products.
Also as per the same report, more than 50% of Facebook users are likely to buy from the brands they "follow" or are a "fan" of.
In the next section, we will understand the impact of social media on business.
Impact of Social Media on Business
Social Media plays a major role in driving businesses by engaging the business employees, consumers, suppliers, partners, and even investors.
By doing so, it breaks down the formal barriers to communication and helps in enhancing customer experience and sales opportunities.
Types of business benefits possible with social media are:
Online recruiting: Social media provides a cost-effective platform for recruiting potential candidates online, thus helping to save time and resources.
Cost reduction: Relying on relatively low-cost social media channels to promote and market products to consumers reduces the cost incurred on important functions such as sales and marketing.
Innovation opportunities: By using the social media platform, innovative ideas can be exchanged with anyone who has expertise in any particular field.
Faster information: Companies can quickly spread information about promotions and sales to the public via emails and websites, in comparison to the news dailies.
Customer Relationship Management: Social media helps to identify and solve customer issues via forums, online customer feedback, and other means.
In the next section, let us take a look at the emerging trends in the social media.
Emerging Trends in Social Media
Both large and small businesses are realizing the importance of social media and are adopting it to promote their products and services via social networking.
Considering this fact, marketers want to know the emerging trends in social media to help them connect with their customers and measure the return on investment or ROI.
Let us have a look at these emerging trends in the social media.
Trendjacking: It is an act of taking benefit from what is trending in news and is relevant to the product and service. By doing so, the brand can become part of the current news.
Let us understand this with the help of an example.
Birth of a baby to a celebrity encouraged brands such as Pampers, Coca-Cola, and others to get involved by posting congratulatory messages on their social networking sites, thus becoming a part of the trending news and gaining visibility for themselves.
Increase in the use of Infographics: It is a fact that human beings use 50% of their brain for visual processing; therefore, the majority of businesses have incorporated infographics in their content to attract the attention of the target audience.
Mobile Apps: They will be used as a platform to send short-term visual messages in the form of photos. These messages automatically get deleted in some time after they are viewed.
One such app called Snapchat has added hundred million monthly active users in a span of three years since its launch in September 2011. Companies use such apps to popularize their offers and deals to customers.
Social Networking Sites: Social networking site increases traffic for businesses. Social networking sites such as Facebook, LinkedIn, and Google plus have helped many businesses in their growth and are expected to be the preferred choice for future businesses.
Using Micro-Social Video: Companies are using the micro-social video platform to simplify and convey their messages. All the mentioned trends in social media are dynamic and there is always a possibility that in the future more trends might emerge.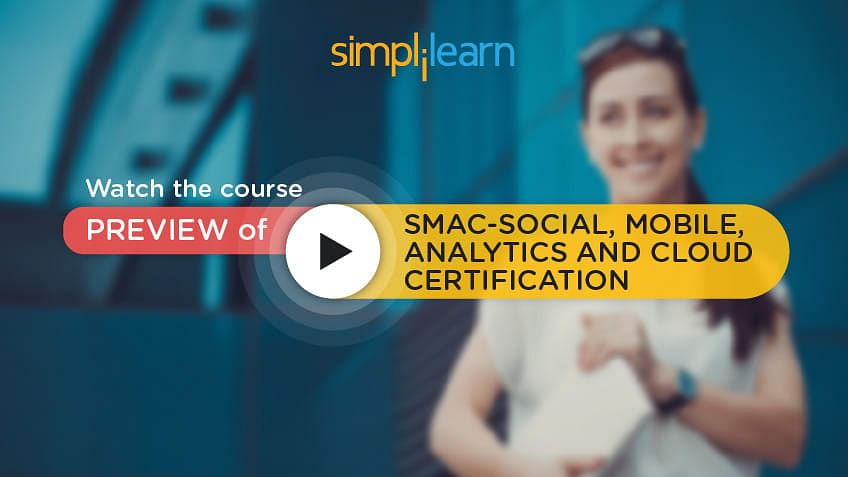 Let's find out the challenges faced by social media users in the next section.
Social Media - User Challenges
Social media is a valuable tool for many marketers; however, it can be a challenge for some. Some of the social media marketing challenges that a business might face are:
Measurement of return on investment or ROI: Return on investment is a method to assess the rate of success of a marketing campaign. However, in case of social media, it becomes difficult to track the ROI and might take a few months before the company can measure the benefits of the campaign.
Lead generation and sales: Users submit inaccurate data against their profiles, which make it difficult to target the intended audience and generate leads, and eventually sell a product.
Relevant content: It has been observed that blogs or positive feeds are falsely created so as to project an attractive image of the company. This is done as it is human nature to choose the one that has more positive reviews or feedbacks.
Misuse of resources and security Issue: As you are aware, social networking sites require a large bandwidth that put a load on the server.
Also, these social networking sites pose a threat of viruses and malware to the company IT system. This might cause leakage of sensitive company data.
Hacker's threat: Hacking is one of the very important challenges that social media users are facing. Nowadays, social media profile and account hacking incidents have become quite common.
Social media accounts of big companies are always at risk of being hacked. We have just discussed some of the social media marketing challenges that a business can face.
In the next section, we will discuss the future of the social media.
Future of Social Media
In the early 1980s, internet-enabled technologies gave rise to social media platform which helped people to interact and share information.
In recent years, the importance of social media has increased mainly due to social networking and content sharing.
The usage of social media is expected to follow an upward trajectory in the future. Some of the predictions for social media are:
Bandwidth, in terms of capacity and the data transfer rate, of social media will get bigger; that means, the content will be created and published easily and efficiently.

Chances of an embedded social network will increase, that means users will no longer need to add information themselves; instead, sites will automatically retrieve information based on user action.

Social media will make big data even bigger, which means companies will be able to collect more customer-related information.

Social media tools will become more powerful. Most social networking sites will have paid content.

Individuals will be able to manage data across platforms in a more organized way.
In the next section, let us find out how social media is used in the real-world situation with the help of a case study.
Case Study
In this case study, you will find out how social media helped a Malaysia-based, low-cost airline double the number of daily flights from a specific country.
When the airline first introduced its flights, they had little brand awareness in the competitive aviation industry. To raise awareness about its operation, the airline launched a campaign on a social networking site.
The campaign announced that anyone fan of the airline along with up to 302 of that person's social media friends would be flown to a popular Malaysian city.
For this, all that the fan had to do was to select the travel companions from own social media friends' group. The fan was even allowed to allocate seats and share the snapshot of the plane with the tagged friends.
As a result of this campaign, the airline was able to double the number of its daily flights from the specific country and also:
Generated press coverage with a Public Relation value of $1,627,593

Grew its social networking fan base by 30%

Received 12,500 entries while reaching out to 2,291,483 people on the social networking site.
In the next section, we will understand the job market scenario and salary trends in the social media field.
Social Media - Jobs and Salary
According to PayScale, the average salary of a skilled social media professional ranges from $43,400 (forty-three thousand four hundred) to $58,400, (fifty-eight thousand four hundred) increasing further with experience.
The breakdown of social media-related job titles is illustrated in the section.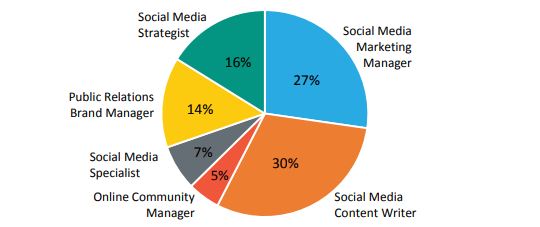 The Social Media Content Writer job is the most popular with 30% demand, next is the Social Media Marketing Manager at 27%. You can also see the demand for other jobs (in terms of percentage) in the image.
Other popular Social Media-related jobs include Digital Marketing Project Manager, Online Marketing Manager, and Search Engine Optimization or SEO Analyst.
Let us now get familiar with the learning path in the social media marketing field.
Social Media - Learning Path
The Learning path offered by Simplilearn in the field of Social Media can be divided in following three levels.
Foundation Level:
At the beginner level, no certification is required. However, Simplilearn offers a non-certification course by the name, 'Introduction to Online Marketing'.
Advanced Level:
As you acquire on-the-job experience, you can get the advanced level certification to boost your career. The advanced level certification, 'Fundamental Certification Course' is also offered by Simplilearn.
Expert:
To become an expert in the field of Social media marketing one can go through the OMCP that is online marketing certified professional certification courses.
The OMCP certification courses offered by Simplilearn are:
Mobile Marketing Certification Course

Content Marketing Certification Course

PPC Certification Course

Conversion or C R O Certification Course

Web Analytics Certification Course

SEO Certification Course

Social Media Certification Course
Summary
Let us summarize what we have learned in this lesson.
Online networking is a part of social media, which functions as a support system for sharing information and services among individuals.

Social Media Marketing is a type of Internet marketing that uses various social media networks to provide visibility to any business.

Trendjacking, Infographics, Mobile Apps, Social Networking sites, and Micro-Social video are some of the emerging trends in social media.

Measurement of return on investment is one of the major challenges for social media users.
Conclusion
This concludes the lesson on Social Media. In the next lesson, we will provide an overview of the Mobile platform.