Maria Leone is a well-educated project and program manager, with a Master's degree from Rutgers University in machine learning and another from Northwestern University in cognitive science. She has worked for Schwab, Delta and Blue Shield of California introducing metrics, measurements and process changes for increased productivity. But her career needed a boost and she wanted a leadership role—and so she pursued yet more learning.
"I was working in quality, but without a certification," she says. "I wanted a leadership position as the expert, but I was not being recognized." Simplilearn helped move her career forward when Maria pursued Lean Six Sigma Green Belt training to prepare for the certification exam. After earning her certification, Maria is now a Senior Project and Quality Program Manager providing oversight with a focus on streamlining efforts and increasing performance. She builds and implements quality standards and metrics for the Project Management Life Cycle (PMLC), streamlines processes for moving projects through the PMLC faster, and establishes the "Customer's Voice" to create a continuous improvement cycle with the project managers at her company. In addition, she combines quality metrics with User Acceptance Testing practices, serves as lean process expert to improve the product pipeline, and has built a high performance onshore/offshore team to procure and install new cloud technology.
"Previously I was doing the work," she says. "Now I am setting the standards for the work and coaching and mentoring other project managers to improve the quality and efficiency of their own deliverables. I also apply benefit realization measurements to projects to provide executives with data to guide their portfolio decisions."
It's a big leap from doing the work to leading the work, but it's a leap Maria could easily make after earning her certification. 
Simplilearn's Format Was Flexible, Engaging and Practical
When looking for a provider to help her prepare for her certification exam, Maria chose Simplilearn in part because it is affiliated with the Project Management Institute (PMI) as a registered partner. "This meant their training was in alignment with PMI concepts so it would be aligned with my other certifications," she says. 
But she also liked the format offered by Simplilearn. "Simplilearn offers interactive webinar courses which afford the maximum flexibility for balancing work and life," she says. Maria says it was easy to choose the times and durations that would fit with her work and home commitments. In addition, the format was interactive which made it more effective. "Being able to engage with the instructors during the sessions made it feel like a classroom environment, but in my home office!" she says.
Once she started on the coursework, she discovered the high quality of the content as well. "The level of the instructors was top notch and their passion for their field came through." In addition, the lessons learned were immediately applicable to Maria's job. "The course was filled with real world examples, plus students were encouraged to share their experiences," she says. "The instructor worked us through potential solutions that we could take back and immediately put into practice."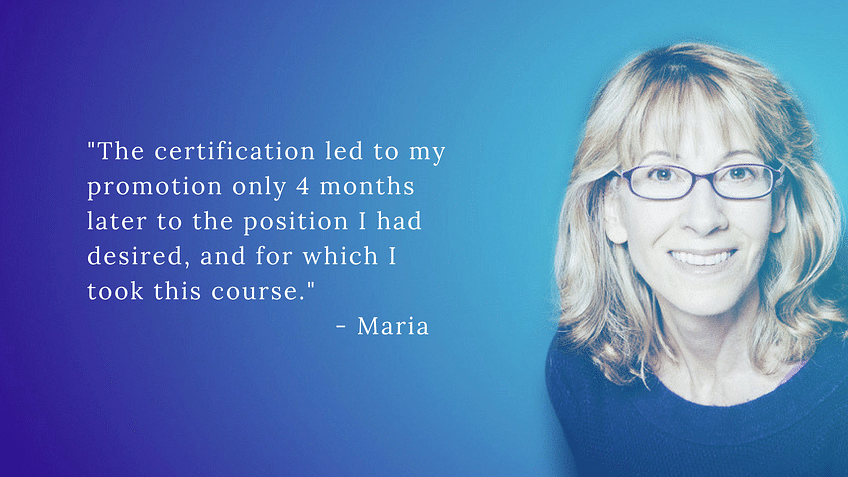 "It wasn't just about listening to the material being presented," she adds. "The value really came from the instructor's wealth of experience and presenting real-life examples of the concepts they taught. It's one thing to learn how to create metrics. It's another to hear a story of a problem, the metrics and measurements created to solve the problem, and the results—which could be failure or success." 
Maria also appreciated being able to download links so she could go back and listen again to certain material, and use those downloaded links as a refresher prior to taking the certification exam.
The Benefits of Her Certification Were Immediate
After the certification, the benefits were immediate. "After the course, I could communicate my quality expertise extremely well and with great confidence. This led to my promotion only 4 months later to the position I had desired, and for which I took this course. The increase in pay more than covered the cost of the course and was well worth it," says Maria. "I was an individual contributor at the start until I was promoted to leading the quality team and building out companywide benefit realization practices through applied metrics, measurements and process efficiencies I learned in my course. This was very exciting!" Maria is now leading a team of 12 people.
Her new role included an initial increase in salary, and then another as she was tapped for yet another new role, her current one where she is proving her worth. "They knew of my work on the quality team and hand-picked me for this position," she says. "I just completed work on defining benefits for 156 proposed projects to strategically advance the company." In addition, she's involved in strategic portfolio prioritization efforts based on these benefits to determine the top 10 projects of the year for the company.
Maria says the course helped her learn how to professionally and effectively communicate quality, Agile, and Six Sigma concepts to her peers. It taught her how to switch from a detailed 'get-the-job-done' approach to a holistic, end-to-end view instead. "In business, this holistic view is valuable and in-demand," she explains. "Once I began to communicate at this level, my value was immediately recognized and sought out."
Maria strongly recommends this Lean Six Sigma Green Belt training to others. "If you want to learn and be immediately operational, I recommend this course and these instructors," she says. "It was an enjoyable and motivating learning experience. I always left each session with the task of applying some piece of what I learned to my job. It was great to see how I could immediately improve my work results, and it was great that this was recognized by my employer." She also adds, "Everything I do now follows thinking about how to increase and show value while removing local inefficiencies along the way. I get more done in less time. Work is fun and less stressful now."