Tableau has become a mission-critical data visualization tool that helps people quickly understand data. It also makes it easier to communicate data-based information to non-data people such as those on the business side. Because we now live in a world inundated with data and we must process it as quickly as we can to act on it to gain a competitive advantage, the ability to visualize data for easier interpretation is imperative. And that's why we need Tableau.
The usefulness and popularity of Tableau make it a necessary skill for anyone working with data, whether that's someone who only needs a basic knowledge such as a software developer or someone who needs to be a power user, such as a data analyst.
As a reflection of the growing importance of data and tools for understanding it, the number of jobs requiring Tableau skills has increased dramatically since 2014. Forbes.com reports the demand for employees with Tableau skills increased 1,581 percent from 2011 to 2015, and these jobs pay very well. According to Indeed, the average salary for job postings that require Tableau skills ranges from approximately $60,865 per year for an Intelligence Analyst to $131,624 per year for a Data Scientist.
If you're moving into the field of data analytics or you're moving up the ladder and need Tableau skills, you'll probably be interviewing for a job someday soon. We're here to help, with a few Tableau job interview questions along with their best answers for you to think about ahead of time.
Preparing for Your Tableau Job Interview
Although you can find plenty of websites promising to prepare you for your Tableau job interview simply by typing in your request at Google, the questions and answers those websites offer aren't helpful. For one thing, they tend to plagiarize one another, so you get the same information at each website. For another, they get into nitty-gritty technical details that likely have little to do with the job interview you're preparing for. An organization that wants to hire someone with Tableau skills probably assumes that you know how to use Tableau. The more important questions are around your ability to put your skills to use and deepening your knowledge.
You might get asked very specific technical information such as what are the different filters, how do you combine files, how does Tableau integrate with R, how do you automate reports, and so on, but reading this article is not the way you learn Tableau—or how you learn to answer those questions. You answer those questions by learning Tableau. Therefore, the Tableau interview questions and answers below differ from those you'll find elsewhere on other websites, and we believe they offer more value as a result. Also, they are designed to help you formulate your answers.
In addition, the interview questions will differ depending on the job and the degree of skill required. Someone using Tableau as part of their job does not need the same in-depth knowledge as a data analyst, for example. If you're already a power user with a strong track record and a résumé that will impress any interviewer, you don't need to study up on job interview questions and answers. If, on the other hand, you're fairly new to data analytics and Tableau, keep reading.
Why is Tableau useful?

Answering this question gives you a chance to show your big-picture understanding of the role of data and the role of analytics to make sense of that data. Data for data's sake has no value. Using a visualization tool like Tableau makes data actionable. In addition, Tableau is so useful because it is easy to learn, it can be somewhat self-service even for those who are not data-minded, and it makes sharing insights a straightforward task.

Why should a business use Tableau vs. another Business Intelligence (BI) tool?

This is another chance for you to show your broader understanding of the role of data and analytics. Tableau offers data visualization capabilities not yet matched by other vendors, although some consider the licensing fees to be high. That cost can be made up by the speed with which someone can get up and running and find answers, however. Compared to the old way of doing BI that involved the IT department and coding and all, Tableau is unbelievably fast to implement and use. The interface is also remarkably easy to learn. In addition, Tableau can connect to many different data sources. Finally, Tableau offers easy scalability. It has taken data analytics to a whole new level and made analytics easier for just about anyone to do.



What is your experience with Tableau?

While answering this question, you'll want to talk about work experience, of course, as well as your education in Tableau. If you have learned on-the-job, you might want to earn a tableau certification prior to the interview in order to strengthen your credentials—and your ability to answer any technical questions. In addition, talk about other ways you have increased your knowledge of Tableau, such as taking part in #MakeoverMonday and doing the weekly project.

What are the different types of Tableau?

The different types of Tableau are Desktop, Prep, Online, and Server.



What is an example of a problem you solved using Tableau?

The interviewer wants to find out how you approach a problem. If you're new to the field and you don't have work experience to fall back on, use an example from your tableau certification course. Otherwise, have one or two examples to talk about during your interviewer, highlighting your ability to find the meaning in the data.

How do you continue to increase your Tableau knowledge?

You want to show that you pay attention to new releases but also that you realize Tableau offers functionality if you take the time to learn it. Ways to increase your Tableau knowledge include earning a certification, participating in user groups such as #MakeoverMonday, or publishing your work at Tableau Public.

What are the important updates to Tableau 10.5?

Released in January 2018, version 10.5 offered over a dozen new features, including the ability to rename workbooks from the web, a Box connector, and basic improvements to existing functionality.

What is the difference between Tableau 2018.1 and Tableau 10.5?

If someone asks you this during a job interview, they might be making sure you're paying attention. Tableau is changing the way versions are numbered, that's all. As of January 2018, the company changed the naming convention to be based on the year the software is released, meaning 2018.1 is the first release of the current year. Version 10.5 was released on January 2018 as the last version to have that naming, and then in April, the newer release was named 2018.1 as the new naming convention launched. The 2018.1 version offers pre-built dashboards, the ability to connect to web-based data, and step and jump lines.

What is your work process?

When answering questions about how you go about using Tableau, make sure you demonstrate that you too can ask questions because that is important to your job. You need to know why data is needed. Asking the right questions of the non-data users will help you get them the answers they need. They also address how you present your findings in a way that allows the non-data side to understand.
Preparing for the Tableau Interview Well in Advance
The best time to prepare for that all-important Tableau job interview is before you even start looking for a job. By participating in user groups, publishing your work and doing the other activities suggested in this article, you'll lay the groundwork for a better job interview by being more prepared but also by having tangible proof of your efforts.
Certification is one of the best ways to prepare for a Tableau job interview if you're still somewhat new to the analytics field. And Simplilearn has the right certification program for you. The Simplilearn Tableau certification will teach you the concepts of Tableau Desktop 10 as you become proficient with Tableau statistics and build interactive dashboards. In addition, you'll learn to master data sources, create data extracts, and organize and format data as well as learn visualization and data analysis techniques, among many other skills. This Tableau training is designed for professionals seeking to start to advance a career in data analytics, as well as business users who want to develop Tableau proficiency.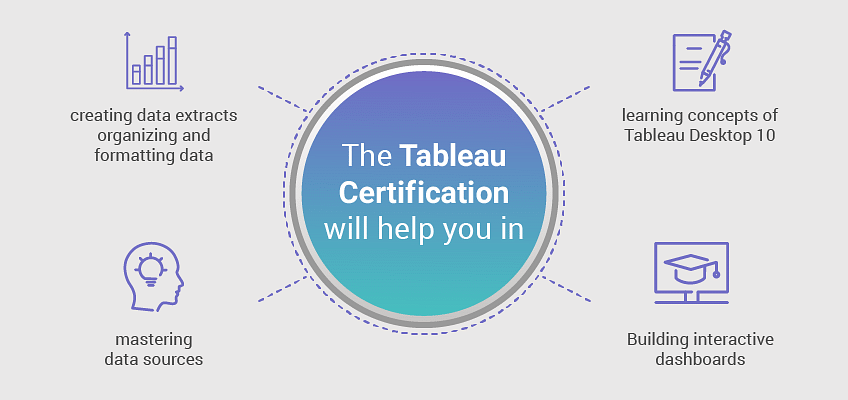 Best of all, this course is now available in a self-paced option, offering 180 days of access to the course content, so you can learn at a pace that fits with your schedule, anywhere, anytime.
Some say Tableau will soon become a necessary skill for anyone working business. That seems reasonable given that the sheer volume of data we're dealing with grows exponentially, and only those businesses that can capture, manage, analyze, and act on that data will succeed. If data analytics interests you at all, now is the time to get trained in Tableau and to land that first all-important job. Preparing for your next tableau interview with questions and answers like these should help.