How would you feel if you have a wallet, just like your physical wallet, to store all your cryptocurrencies? Wouldn't it be great? The Dogecoin wallet is a perfect example of such an idea. Dogecoin wallet is a digital wallet to hold Dogecoins and perform all the transactions related to it. 
This tutorial will introduce you to the Dogecoin wallet and will help you understand all the concepts related to it.
What is a Dogecoin Wallet?

Dogecoin Wallet
A Dogecoin wallet, very similar to a real-life wallet, is something where you can store, receive or send Dogecoins.
It consists of its public and private key, which connects it to the distributed ledger over the Dogecoin Network.
You can use your wallet's public key to track the transactions made by maintaining the anonymity of the users
The private key of your wallet is used to approve transactions in the ledger
Your wallet's public key is used to receive Dogecoins from other users. On the other hand, your wallet's private key is only used to send Dogecoins to other users in the network.
Dogecoin wallet is of two types, they are: 
Digital Dogecoin Wallet
Physical Dogecoin Wallet
Now, you will explore some pros and cons of both of these Dogecoin wallets.
Pros

Cons





Digital Dogecoin Wallet




Easy to set up
Easy to access
It is free to use




Limited options
Manual updates
Less secure





Physical Dogecoin Wallet




Advanced features
Safest option
It is free to use




Hard to set up
Less accessible
Expensive
How to Buy Dogecoin?
Dogecoin can be bought by following a few very easy steps, which include:
Step 1: You need to create a Dogecoin Wallet.
You will need a Dogecoin Wallet to store all your dogecoins to make all the transactions more secure.

Step 2: Locate your specific Dogecoin address.
Dogecoin address is a long array of characters that starts from capital' D' followed by any other capital characters or any number. It acts as your identity for making transactions of dogecoins in your wallet.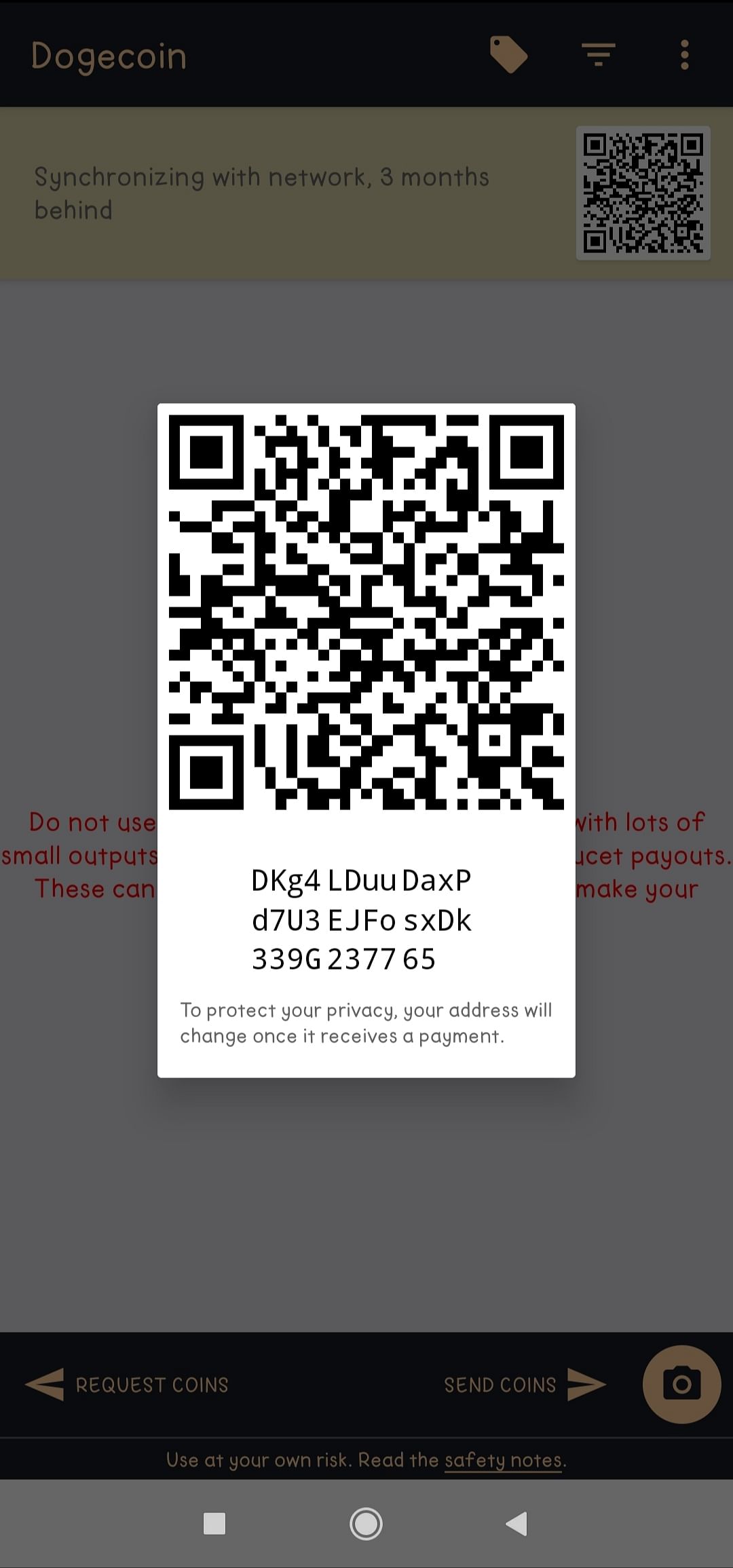 Step 3: Find a source that sells Dogecoin.
You will need to find a digital platform to buy more Dogecoins and start your transactions from the Dogecoin Wallet.

Binance
How to Create a Dogecoin Wallet?
To create a Dogecoin wallet for yourself, you will have to go through the following steps:
Step 1: Choose the correct wallet.  The founding and developing team of Dogecoin maintains the Dogecoin core wallet and MultiDoge wallet. 
Here you will use the Dogecoin core wallet.

MultiDoge and Dogecoin Core - Dogecoin Wallets
Step 2:  Download and install the Dogecoin wallet on your handset. You can also use the official website of this wallet for your windows.

Step 3: Open the Dogecoin wallet application and verify your Dogecoin wallet address.
And that is it. It is this easy to create and have your Dogecoin wallet.

How to Use Your Dogecoin Wallet?
Now, when you have your Dogecoin wallet in your hand, there are certain ways in which you can use it.
At the very bottom of the home page of your wallet, there are two options: 
Request Coins - where you can request dogecoins from other users in the Dogecoin network
Send Coins - where you can send dogecoins to other users in the Dogecoin network

To Receive Coins, You Must:
1. Click on the "REQUEST COINS" button

2. Enter the required number of coins you want to request from another user of the Dogecoin wallet. You can see the value of the requested Dogecoin in the form of your respective national currency

3. And have the below-generated barcode scanned by the user you wish to request the amount

To Send Coins, You Must:
1. Click on the "SEND COINS" button

2. Type the Dogecoin wallet address of another user to whom you want to send Dogecoins, and the amount you want to send

3. And click on Send

And there you go, now you can use your Dogecoin wallet whenever and wherever you want.
Top 5 Dogecoin Wallets of 2021
These are the Top 5 Dogecoin Wallets of 2021:
Ledger Nano X - Ledger Nano X is one of the most popular physical wallets in the crypto world.
It is very secure to use
It supports more than 1500 cryptocurrencies
It consists of a comfortable structure for an easy and smooth approach

Trezor Model T - Trezor Model T consists of a few distinct features that any Dogecoin lover would appreciate. It is one of the significant Physical Dogecoin Wallets.
It is easy to set up
It has high security levels
It consists of a touchscreen user interface to make it more accessible

Keepkey - Keepkey is a Physical crypto wallet that offers its users some best security features.
It is effortless to use
It is considered among the most secure wallets
It is pretty affordable

Binance - Binance is one the most popular crypto exchange platforms, which acts as an online Dogecoin Wallet.
It is a very popular crypto exchange platform
It facilitates the exchange of more than 100 cryptocurrencies
It is very time efficient as it takes seconds to make one trade

Kraken - Kraken is, primarily, a cryptocurrency exchange platform but can perfectly act as a Dogecoin wallet. All you need to do to buy dogecoin is to register and make your trade.
It is a very secure and reliable cryptocurrency exchange platform
It charges a very low fee for every transaction taking place on it
It accepts a pretty decent amount of fiat money

Decipher the global craze surrounding Blockchain with the Blockchain Certification Training Course. Get trained today.
Conclusion
In this tutorial, you saw everything about the Dogecoin wallet and its concepts like buying Dogecoins, creating a Dogecoin Wallet, and using it.
Whether you're an experienced Blockchain developer or just an enthusiast who wants to explore more about Cryptocurrencies and Blockchain, enrolling in Simplilearn's Blockchain Certification Training program will help you learn more about cryptocurrencies, Blockchain, and its technology with all level of experience.
Do you have any questions for us? Please feel free to drop them in the comments section of this article; our experts will get back to you as soon as possible.