The rapid progress of Blockchain technology is showing no signs of slowing down. In the past few decades, many things that seemed impossible have turned out to be false, such as high transaction fees, double spending, net fraud, retrieving lost data, etc. But, now all this can be avoided with the help of Blockchain Technology.
In this tutorial, we're going to explore the following topics:
What is Blockchain Technology?
What are the benefits of Blockchain Technology?
How will Blockchain disrupt industries?
Fundamentals of Blockchain
What is Blockchain Technology?
Blockchain is a ledger (database) of immutable records called blocks that allows data to be stored globally in a secure manner.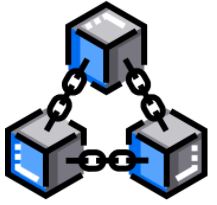 Note: The data is recorded in chronological order. Also, once the data is recorded, it cannot be changed.
What Are the Benefits of Blockchain Technology?
Here's a list of key benefits you can expect to achieve when adopting Blockchain technology into your business:
It is an immutable public digital ledger, which means when a transaction is recorded, it cannot be modified
Due to the encryption feature, Blockchain is always secure 
The transactions are done instantly and transparently, as the ledger is updated automatically
As it is a decentralized system, no intermediary fee is required
The authenticity of a transaction is verified and confirmed by participants
Let's go beyond the benefits of Blockchain, and move on to the concept of how blockchain will disrupt industries.
How Will Blockchain Disrupt Industries?
Several industries like Unilever, Walmart, Visa, etc. use blockchain technology and have gained benefits in transparency, security, and traceability. Considering the benefits blockchain offers, it will revolutionize and redefine many sectors. 
Here are the top 5 prominent industries that will be disrupted by blockchain technology in the near future:
Banking
Cyber Security
Supply Chain Management
Healthcare
Government
1. Banking
Before Blockchain
Banking has transfer fees, which can be both expensive and time-consuming for people. Also, sending money overseas becomes even more difficult due to the exchange rate and other hidden costs.
After Blockchain
Blockchain eliminates the need for a middleman. Blockchain is disrupting the banking system by providing a peer-to-peer payment system with the highest security and low fees. 
Blockchain technology provides instant and borderless payments across the globe
Cryptocurrencies (like Ethereum, bitcoin) remove the requirement for a third party to perform transactions
Blockchain records all the transactions in a public ledger which is globally accessible by bitcoin users
Let's consider an example of ABRA
Abra is a financial cryptocurrency application which helps in performing peer-to-peer money transfers
With this application, cryptocurrency users can save, send and receive their digital money on their electronic devices
2. Cyber Security
Before Blockchain
Earlier, cyberattacks were a significant threat to the public. Several organizations were developing an effective solution to secure the data against unauthorized access and tampering.
After Blockchain
Blockchain quickly identifies malicious attack due to the peer-to-peer connections where data cannot be tampered with
Every single piece of data stored on the blockchain network is verified and encrypted using a cryptographic algorithm
By eliminating the centralized system, blockchain provides a transparent and secure way of recording transactions (without disclosing your private information to anyone)
For example, a software security company called Guardtime offers blockchain-based products and services. 
Rather than following the centralized system, the company utilizes blockchain technology and distributes data to its nodes.
Enroll in our Blockchain Developer Certification course and learn to work with Ethereum deployment tools and bitcoin transaction process.
3. Supply Chain Management
Before Blockchain
Due to the lack of transparency, supply chain management often had its challenges like service redundancy, lack of coordination between various departments, and lack of reliability. 
After Blockchain
Tracking of a product can be done with blockchain technology, by facilitating traceability across the entire Supply chain.
Blockchain gives the facility to verify and audit transactions by multiple supply chain partners involved in the supply chain management system. 
Blockchain records transaction (history, timestamp, date, etc.) of a product in a decentralized distributed ledger 
Each transaction is recorded into a block
With blockchain, anyone can verify the authenticity or status of a product being delivered
Let's consider an example of the Pacific Tuna project.
Here, blockchain supply chain management provides a step-by-step verification process to track tuna fish. The process results in preventing illegal fishing.
4. Healthcare
Before Blockchain
In the healthcare system, patients can connect to other hospitals and collect their medical data immediately. Apart from the delay, there are high data corruption chances since the information is stored in a physical memory system.
After Blockchain
Blockchain removes a central authority, which results in instant access to data
Here, each block is linked to another block and distributed across the computer node. This becomes difficult for a hacker to corrupt the data
For example,  United Healthcare is an American healthcare company that has enhanced its privacy, security, and medical records' interoperability using Blockchain.
5. Government
Before Blockchain
Rigged votes is an illegal activity that occurs during most traditional voting systems. Also, citizens who want to vote to wait a little longer in a queue and cast their votes to a local authority, which is a very time-consuming process.
After Blockchain
Voters are allowed to vote without the need of disclosing their identity in public
The votes are counted with high accuracy by the officials knowing that each ID can be attributed to just one vote
As soon the vote is added to the public ledger, the information can never be erased
Consider an example of MiVote
MiVote is a token-based blockchain platform that is similar to a digital ballot box
Using MiVote, through a smartphone, voters can cast their votes, where the records are stored in the blockchain securely
Moving forward, let's understand the fundamentals of Blockchain.
Fundamentals of Blockchain
1. Public Distributed Ledgers
A blockchain is a decentralized public distributed ledger that is used to record transactions across many computers
A distributed ledger is a database that is shared among the users of the blockchain network
The transactions are accessed and verified by users associated with the bitcoin network, thereby making it less prone to cyberattack
2. Encryption
Blockchain eliminates unauthorized access by using the cryptographic algorithm (SHA256) to ensure the blocks are kept secure
Each user in the blockchain has their key
3. Proof of Work
Proof of work (PoW) is a method to validate transactions in a blockchain network by solving a complex mathematical puzzle called mining.
Note: Users trying to solve the puzzle are called miners.
4. Mining
In Blockchain, when miners use their resources (time, money, electricity, etc.) to validate a new transaction and record them on the public ledger, they are given a reward.
Note: As a reward, the miner gets 12.5 BTC (bitcoins)
Conclusion
In this article, we discussed what Blockchain Technology is and its benefits, how Blockchain disrupts industries, and what the fundamentals of Blockchain are.
Whether you're an experienced Blockchain developer, or you're aspiring to break into this exciting industry, enrolling in our Blockchain Certification Training program will help individuals with all levels of experience to learn Blockchain developer techniques and strategies. 
Do you have any questions for us? Please feel free to leave them in the comments section of this article; our experts will get back to you as soon as possible.