Are you tired of the same old thing and ready for a career change? Then you're in luck because the field of digital marketing is wide open—and growing! Forrester Research predicts U.S. spending on digital marketing will reach nearly $120 billion by 2021. All that spending will drive job growth, opening up opportunities for people who want a complete career change and for those who want to level up in their digital marketing careers.
It's a Good Time to Work in Digital Marketing!
Digital marketers are definitely in demand, both entry-level and experienced job candidates. According to a report by Burning Glass Technologies, four out of 10 marketing job postings now specify digital marketing skills, and digital marketing jobs take 16 percent longer to fill because the skills are often lacking. In addition, the report says:
Job listings requiring digital marketing skills almost doubled between 2011 and 2016.
Demand for digital analytics skills increased by 152 percent during that time.
Strong job demand does not guarantee a job, however, and you'll still be going through the harrowing interview process as you go after your next position. Make sure you're preparing for that job interview by brushing up on digital marketing interview questions ahead of time.
The types of digital marketing questions you'll be asked will depend on your level of experience and the job you're applying for, of course. Those who are new to the field and applying for an entry-level job will be asked digital marketing interview questions that are vastly different than those questions asked of experienced digital marketing with a specialized skillset. That makes it difficult to tell you exactly what to expect in your digital marketing interview. In addition, the digital marketing interview questions will differ if you're applying for a job at an agency vs. a business, or if the job is in a particular area of digital marketing like social media.
However, the digital marketing interview questions and answers below are applicable across the board, whether you're a novice or a polished pro. Read through these digital marketing questions and suggested answers as preparation well before any scheduled job interviews. That way, you'll know if you need to brush up on some skills or practice some answers before you head into that important first interview.
Digital Marketing Specialist Master's Program
Advance Your Career as a Digital Marketer
EXPLORE COURSE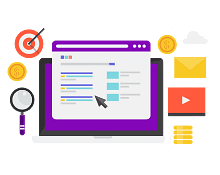 Digital Marketing Interview Questions
1. In what areas of digital marketing are you the most knowledgeable?
Digital marketing is made up of many parts, including social media, email, SEO, paid search, and content marketing, to name only a few. There are the research and analytical parts of digital marketing, as well. As a digital marketer, you are expected to know a little about a variety of marketing methods. If you've specialized in one or more areas, say through past experience or a digital marketing certification, that can help you to stand out from your competition. During the interview, feel free to demonstrate that you have that specialized knowledge, whether it's Instagram, email marketing, web analytics, or something else.
2. What is your training in digital marketing?
Here's where preparing ahead of time can score you a lot of points. Most marketers learn on the job, as in 82 percent. As the saying goes, don't be that guy. Be the job candidate with bona fide credentials. If you earn a Digital Marketing certification before your job interviews, you will stand out from your competitors who only have on-the-job training. In addition, you'll be more confident, and that confidence will come through in your interview. A study by Adobe found that only 48 percent of digital marketers believe they are highly proficient in digital marketing. Some of those people will be going after the same job you're interviewing for. Be trained and ready to set yourself apart.
3. What digital marketing trends do you see dominating the landscape soon?
Every digital marketer, no matter how novice or seasoned, should be paying attention to the field and watching for trends. You want to demonstrate to your interviewer that you're proactive and alert to change. Obvious trends you can mention include the increase in video, Google's mobile-first index, and the Accelerated Mobile Pages (AMP) project, and virtual reality. But what else is out there? Granted, you can't predict which social media platform will rise to the top next or which popular marketing channel is about to crash and burn. Do some homework and be ready to talk about chatbots, predicted changes to SEO, or other topics that show you realize digital marketing is constantly in flux—and that it's your responsibility to stay on top of that flux.
4. What is your experience working with in-house staff, clients, outside agencies, freelancers, or subcontractors?
When you're answering digital marketing interview questions, the interviewer will probably want to know about your experience in working with others because that's common to the field. If you've worked with copywriters, designers, photographers, developers, or others to create and implement marketing campaigns, talk about your ability to be a team player, and tap into the expertise of others. If you've worked at an agency, you will want to talk about your approach to client management. If you've worked with digital marketing agencies, talk about your ability to communicate your needs and manage your budgets. Most jobs entail working with others, but digital marketing is so fast-paced with little room for error that it is perhaps even more critical in this domain.
5. Do you have other skills relevant to this job?
Can you write? Design? Are you analytical? Are you a strong project manager? Do you have previous experience as a freelance photographer? Or perhaps it's your people skills that give you an edge? Think about it ahead of time, well before the interview, and be ready to talk about these other skills that can help you do that job better. Also, mention personal pursuits that are relevant to the job. Maybe you maintain a travel blog outside of work, or you have a large Instagram following. Highlighting activities like these shows the interviewer that you have a passion for digital marketing that extends beyond the paycheck.
6. Which digital marketing tools do you use?
You have an abundance of tools to choose from! Only you can answer this digital marketing interview question, but think about it ahead of time and try not to list only the most popular tools. Obviously, you'll want to mention Google Analytics, for example, if that's one you use, but also consider lesser-known tools to show you look for the best, not just the most-used. Is there a keyword research tool that's obscure but works well? Is there a tool you used during your certification course? If you're still a novice and aren't yet familiar with tools, try this list of 63 digital marketing tools.
7. How do you stay current with trends?
When answering this digital marketing interview question, you can use the usual popular websites—sites like Hubspot and Moz—but try to come up with one or a few of your own as well. Is there a digital marketing influencer you follow? Talk about how you keep up, whether it's reading blogs, following someone on Twitter, belonging to an association, or something else.
Do you want to master the essential disciplines in digital marketing? Check out the Digital Marketing Certified Associate course now!
Be Extra Ready for Those Digital Marketing Interview Questions
In addition to studying digital marketing questions ahead of time, a certification can be one of the best ways to prepare yourself for a digital marketing job interview. Certification can give a novice a knowledge boost or update the skill set of an experienced marketer. In addition, a digital marketing certification gives you credibility and demonstrates to a job interviewer that you're serious about your career and keep your skillset current.
If you pursue a digital marketing certification, choose one that's focused on emerging trends, and offers hands-on learning. The Simplilearn Digital Marketing Specialist program was designed by industry leaders and covers a wide range of topics with the most up-to-date content, including the psychology of search, keyword targeting, integration of PPC with digital marketing strategy, mobile advertising, triggered email campaigns, social media engagement monitoring, and much more. You can choose a self-learning option or an instructor-led one, and you'll get plenty of hands-on experience while learning.
The field of digital marketing is wide open right now, and Simplilearn can help you make a career change, whether you're new and inexperienced or seasoned and ready for more. Also, check out the Simplilearn's video on "Digital Marketing Interview Questions" to help you crack an interview.