Earlier, there was a time when humans used to spend days on exporting, filtering, and formatting data in Excel. But thankfully, those days are long gone. And no doubt, Google Data Studio is the reason behind it. Data Studio, offered by Google makes every bit of data useful so that accessing and sharing of reports is made much simpler. 
What is Google Data Studio?
Google Data Studio is a web-based data visualization tool that helps users build customized dashboards and easy-to-understand reports. It helps in tracking key KPI's for customers, visualizing trends, and comparing performances over time.
What Are the Benefits of Using Google Data Studio?
Easier set up with simple reporting.
Creates customized and engaging reports.
Pulls multiple data sources into a single report.
Makes sharing and collaboration simple.
Creates up to five customized reports that are free of cost.
Helps the user connect to 150+ data sources.
Monitors campaigns effectively.
Reduces turnaround time on reporting.
How Do I Use Google Data Studio?
1. Log In
Go to Data Studio by visiting https://www.google.com/analytics/data-studio, and log in using your Google Analytics, Google Ads, or Search Console login information. 
Now, you'll be taken to the Google Data Studio overview page. To view the dashboard, click the "Home" tab.
2. Explore the Data Studio Dashboard 
The image below gives you an idea of how sample reports look, and the type of information you can fetch from your custom reports.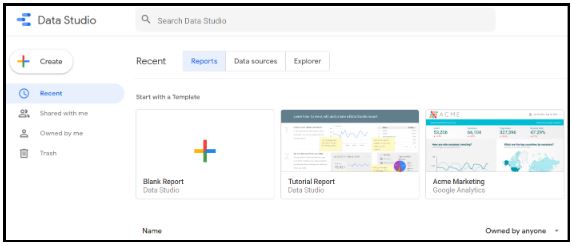 Data studio dashboard
The following image of "Welcome to Data Studio!" provides an interactive tutorial that will help you understand how to get started with Data Studio. Be sure not to miss out on this.


Welcome Page
3. Reports and Data Sources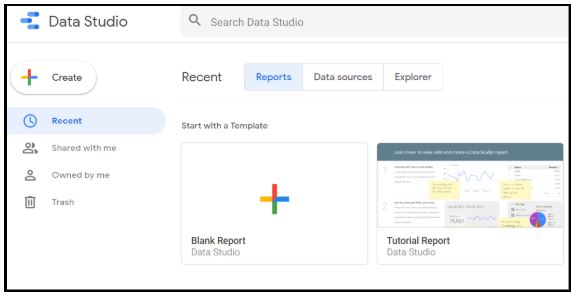 Reports and data sources - Data Studio
As shown in the above image, reports, and data sources are displayed on the dashboard of Data Studio. Reports let you create data visualizations. Data sources are the instance of a connector, that links your report to your external data, such as Google Analytics, Google AdWords, etc.
4. Connect Your First Source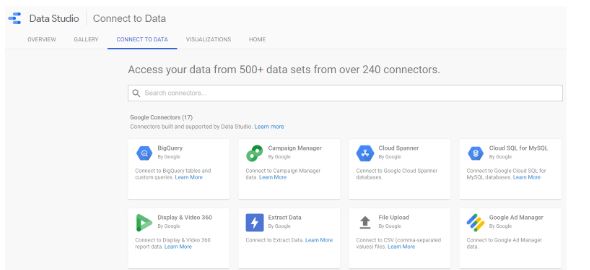 Connect Source - Data Studio
Data sources act as a link to connect a Data Studio report to a collection of underlying data. 
Each data source has unique features and pre-built connectors that help users access and connect efficiently with the Data Studio.
Data Studio supports 500+ data sources; some of the most popular sources are:

Google Analytics
Google Ads
Google Search Console
BigQuery
YouTube Analytics
PostgreSQL
Search Ads 360
How to Create a Report on Google Data Studio?
To create a new report, click on the blue plus (+) button at the bottom right-hand corner of the screen.
The two basic parts of any data report are:
Now, let's set up a data source first and then build a widget.
Step 1: Add a Data Source
Data sources can be added using a data connector. Create a new blank report and add a data source (for example, Google Analytics) in the panel. 
In this example, we will add a Google Analytics data source.
First, add a  'New Data Source' button in the panel and select Google Analytics.
Then, create a 'New Report' in the panel. 
Now, select a Connector for creating a new data source, and create a  'New Data Source' in the panel and add that to your report.
Now, click the 'Authorize' option to authorize the connection between Data Studio and Google Analytics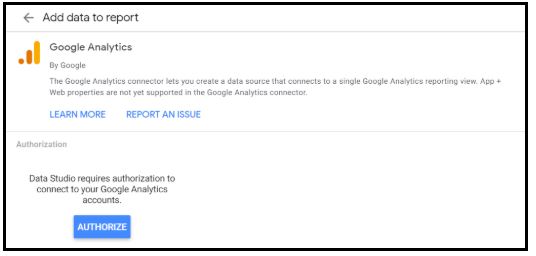 Authorization To Connect - Data Studio
Once it's authorized, go to the "Google Analytics Account" -> "Property" -> (the view you want to get data from) -> "Connect" ( on the right corner of the page).
As a result, the data source is now connected to your Google Studio. Now, a full list of metrics and dimensions are displayed in the new data source. If you want to add these metrics and dimensions to your report, click the 'Add to Report' button on the page.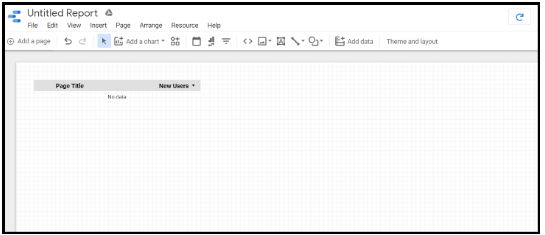 Add Dimensions and Metrics
Step 2: Add a Widget
Now, let's focus on creating visualizations that can be added to your report. Some of the visualization include:
Pie Charts
Bar Charts
Time Series Graphs
Tables
Maps
Scorecards
Additionally, you can also include design elements like text boxes that will make you understand your reports in an easier manner.
Some of the other important controller elements in the widgets are Date Selector (changes the date range of the data), Filter Controller (allows to modify the entire data in the report), and Data Control (an easier way to share reports with peers who are willing to use that report with their data).
Consider this example where you will create a simple time-series graph that shows the number of sessions that Google Analytics recorded.
In the toolbar, select the "Insert" -> "Time Series" option.
With the cursor, draw a graph on the report.
As a result, the graph will be added to your report.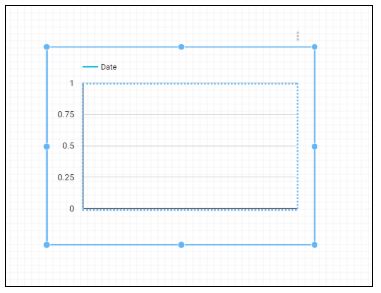 Time Series
By default, the graph will have 'Session' as the metric, and 'Date' as the dimension.
Step 3: Customize the Widget
The metric and dimension can be modified the way you want.
For example, you can add a comparison period, which allows you to compare your present data to the previous one. In the Date Range section, select 'Auto' and click on the dropdown menu below it and choose the 'Start Date' and 'End Date'.


Dates
Step 4. Create Your Report Theme
Whether your report is for clients, teams, or managers, it'll be effective only if presented in the right way. To create your report style and formatting, click the  'Theme and layout' option in the toolbar.


Theme and layout
Any changes made here will reflect upon your report.
This tool has many in-built themes such as simple, simple dark, constellation, groovy, etc. But, here it's simpler to design your style.
Some of the brightly colored themes available are displayed below: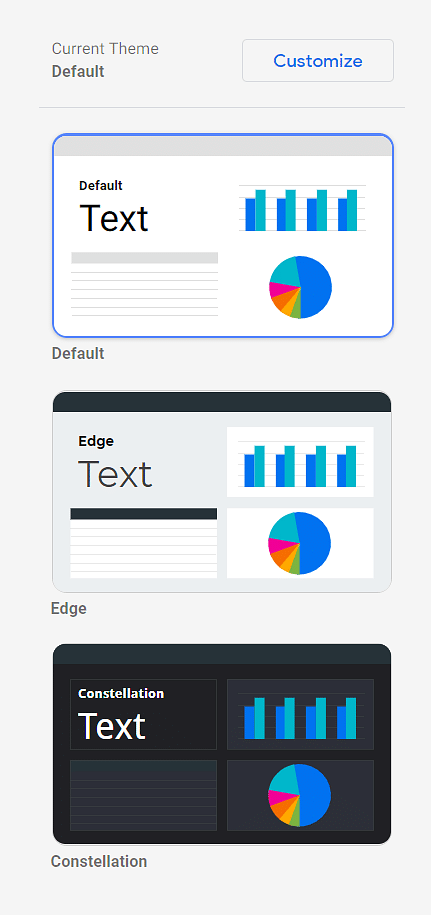 Current Theme
In the toolbar, go to "Theme and layout" -> "Theme" -> "Customize"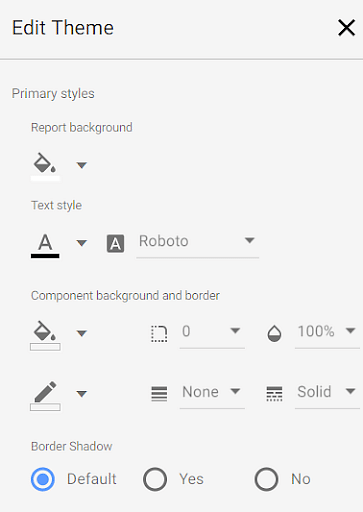 Edit Theme
Here, you can choose primary and secondary colors (from the color palette), fonts, and the text of your choice. This tab also lets you create a custom chart palette with more options for background settings.
Step 5: Embed External Content in Reports
With this feature, you can embed external files like Google Docs, Google Sheets, and even online videos to create the best experience for your clients. 
To add content, click "Insert" -> "URL embed"

URL embed
Now, a  transparent frame appears on the screen. Resize and place the frame as required.
On the properties panel, go to the 'Data' tab, enter the desired URL in the external content URL field.
Now, configure the chosen content's frame border properties in the 'Style' tab. 
Step 6: Share the Report
Here, you can share or invite others to view or access reports and data sources. Also, by turning on link sharing, anyone in your organization can view your Data Studio assets, despite not having a Google account. So, you just have to select the 'Share' button to let your customers or peers view or edit the reports.
Do you want to master the essential disciplines in digital marketing? Check out the Digital Marketing Certified Associate course now!
Conclusion
This brings us to the conclusion of the 'Google Data Studio' article. Here, we learned what Google Data Studio is, what are the benefits of using Data Studio, and how to use Data Studio. 
Google Data Studio is used by every digital marketer to conduct data analysis. Even a marketer who wants to understand Data Studio in-depth can enroll in our Advanced Digital Marketing course that will help in mastering Google Data Studio techniques and strategies. 
Do you have any questions? Please feel free to put it in the comments section of this article; our experts will get back to you at the earliest.