During our interactions with a lot of new website owners, the most common challenge that is brought up is a lack of website traffic. Naturally, if they aren't getting any traffic to their site, they aren't generating any sales either!

Creating unique content, having the right keywords, using all the SEO tricks in the hat, and using engaging tools to reach out to a wider audience base will boost traffic to your website. Here are a few tried and tested ways to drive potential customers to your site.
Unique Content
In the world of Digital Marketing, content isn't just the king- it is the heart of a website. Your customers need a compelling reason to spend some time on your website, and unique content gives them that reason. Information about your products or services can engage visitors and also establish you as a trustworthy player on the market.
Search Engine Optimization (SEO) Training Course
To become an industry-ready SEO specialist
Enroll now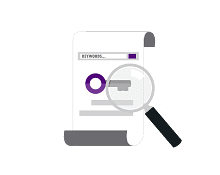 Quick Checklist for Content
Make sure you have opt-in/subscription boxes placed prominently on your website
Give your visitors something extra when they are leaving with exit-intent software
Identify your unique voice (pitch) and keep it consistent across all your content pieces.
Include social sharing buttons with every content piece (article, blog, eBook), so that your customers can share it on social platforms, thus spreading the word about your website.
Write content that includes quizzes. A brief analysis of over 100 million articles over an eight-month period by BuzzSumo concluded that 8 out of 10 socially-shared articles were quizzes!
Infographics: if you have an article with data points, consider turning it into an infographic using free tools like piktochart. These are engaging and have a higher probability of being shared!
Use guest-bloggers to interact with industry experts. They usually have a sizeable follower-base, who will eventually visit your website to read blogs submitted by their favorite writer. You can search for the topic of your choice on Google and the highest-ranked article will be displayed. You can contact the writer or the agency, to probably guest blog or conduct a guest webinar for your website.
Once you have followers, you can arrange to have them altered whenever you write a new article to generate higher views, comments, and thus better search engine rankings
Social Media Presence
Social media is one platform where you can interact with your existing as well as potential customers. Before you jump and promote every content that you own, pause, and use these forums to build your brand's image. Participate actively in social communities relevant to your content – this will help you promote your website content as well as products.

Click here for Simplilearn's Social Media Certification Training.
Quick Checklist for Social Media
Use a strong call to action for all the content that you promote on social media.
Join relevant LinkedIn groups and help solve the users' problems – you can always refer to your products/website. Alternatively, if you feel that a group does not exist, create it! You could end up helping a lot of people who are looking for your solution.
Submit your articles (or links) on StumbleUpon, Quora, Reddit, and Tumblr. Take your time figuring out the right category in which to post, on these forums. Posting articles under the right category by following the submission rules will surely drive a good amount of traffic to your site.
Search which sites in your customer regions promote viral content – contact them to see if you can promote any content.
Link content pieces together while promoting them on social media. So if you are promoting an eBook, link it to a relevant webinar that's coming up.
Mention influencers in your tweets. When you are promoting your posts, you can have a @ mention of influential people who post on similar topics.
If you are running a small business, ask your employees to boost your social media sharing, else ask your contacts (both professional and personal) to boost the same.
Submit articles regularly to online PR agencies – you never know: a piece of information somewhere could result in a sale!
Answer HARO queries – this can result in great PR and high-quality inbound links.
Pay Attention to SERPs
Search engine platforms may drive the maximum traffic to your website; the truth is, search engine rankings do affect your website traffic. You need to optimize your website content for search engines.
Quick Checklist for SERP
Do not focus on a single keyword for each page. Make sure you have the primary keywords in place and then create long-tail keywords from them. Use these keywords in the content on each page, but don't overdo it! 1.5% - 3% is a good keyword density for all the content pieces that are published on your website.
Pay extra attention to your website's meta-description tag. They still do matter! Google's final word on meta-descriptions is to "Use quality descriptions" – spend time crafting a good one.
Keep track of all the broken links on your website and correct them regularly. This will keep the search engines happy.
Make sure blog headlines include the most commonly-used industry keywords.
Don't forget to add ALT text to all your images. You can include your post title or URL in the ALT text to get greater visibility.
Make sure your site is responsive and fast. Technically optimize your website pages, including the sitemap, image file-sizes, page-structures, third-party tool (plugin) integrations. The faster your site loads, the better.
Get in touch with site owners and bloggers to link your content on their website. This will significantly boost your organic traffic.
Demote irrelevant Google site links that are generated automatically. By doing so, you can increase the rank of the links that you want to be displayed.
Master the many facets of SEO, including keyword management and research with the SEO Training Course. Check out the course preview now!
Build Your Own Community
Though Yahoo is losing out on the search engine battle, it is still the go-to place for all your questions and answers. Thousands ask questions and post answers on different domains in various communities and forums. Imagine the jump in organic traffic by posting a prominent question on a community/forum?
Quick Checklist for Managing Community
Build a community that focuses on your niche market. Sticking to your niche will help you establish yourself as an authority in that domain.
Have your community ask questions and discuss the main topics. This will produce unique user-generated content, something that pleases search-engines!
Make sure all the queries on the community are answered in less than 4-5 hours. This creates trust among community members regarding the brand.
Keep the community members engaged with generic posts such as 'Update your job titles'
Which other approaches have worked for your website? Share them here!