In digital marketing, we want our content to be engaging, fresh, and exciting to viewers. But many marketers overlook one of the most engaging outlets available – video. 
Maintaining a YouTube account for your brand is an incredible and under-used tool to reach your target audience. But learning how to use YouTube for social media marketing requires a basic understanding of top video trends, strategies within your niche, and learning how to optimize the content on a video platform. 
Read on to learn more about developing your video marketing strategy and explore trending YouTube video ideas for 2021. 
Digital Marketing Specialist Master's Program
Advance Your Career as a Digital Marketer
EXPLORE COURSE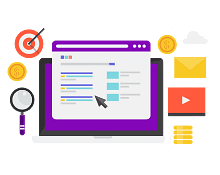 Developing Your Video Marketing Strategy 
Marketing on YouTube isn't just about coming up with ideas. You need to tailor those ideas to your brand. To do that, follow these simple digital marketing tips:
Know Your Audience 
If you haven't created a YouTube channel for your brand before, or you need a reboot, getting a firm grip on your target audience is a key first step. Of your primary audience, which personas would be most likely to engage with video content? What do those consumers want? You can begin to frame your YoutUbe video marketing ideas based on the interests of this target group.
Research Competitors 
What are your competitors doing on YouTube? What kinds of videos do they produce? You can adapt some of their YouTube video ideas for your market. If they have a successful series on product reviews, consider starting a similar series of your own. You can also research holes in the market – maybe no one in your niche has done a Q&A series with industry experts, and you can fill that gap. 
Investigate Popular Topics in Your Niche 
Conduct market research on popular topics in your niche. What subjects do people want to know about? When you create high-quality content around trending topics, it's more likely to be a hit.
Revamp Old Content and Optimize for Search 
If you already have a YouTube account, revamp it. Update old content with new graphics. Depending on the subject, you might need to update information within the video too. While you're updating content, you can optimize your videos for search using keywords in the video title, description, and tags. 
Next, let us look at the trending YouTube video ideas for 2021.
10 Trending YouTube Video Ideas for 2021
Once you have your video marketing strategy down, you're ready to start exploring trending YouTube video ideas to adapt to your platform. 
Here's a list of 10 trending topics that will make an impact in 2021:
1. How to Choose a _____
Your customers value your expert insight, and one way to provide that insight is through "How to Choose" videos. In these videos, you help your clients choose products and services to meet their needs. 
For example, if you're marketing a kitchenware company, you might make a video called "How to Choose a Baking Dish." In the video, you would explore the major considerations your customers should make when choosing which baking dishes to buy, or which dishes to use for a cooking project. 
If you don't sell products, offer insight into how to choose services or service providers. A home insurance company, for example, might create a video called "How to Choose a Home Security Service."  
2. Product Care Tutorials  
An increasingly popular YouTube video idea is the product care tutorial. Showing your customers how to best care for the products you sell is not only useful, but it also shows your commitment to creating high-quality products. 
Your tutorial will depend a lot on what kinds of products you sell. Clothing companies might focus on how to best store and wash their products, while technology companies may discuss how to clean equipment and regularly purge data. These videos might also include basic repairs that can be done at home to maintain your product.
3. How to Get the Most Out of _____
Like product care tutorials, "How to Get the Most Out of" videos should be created to ensure that your customers are taking full advantage of the benefits of your product. These videos are all about increasing value for your consumers.
Some examples of this type of YouTube video might include software guides, like "How to Get the Most Out of Your Cloud Storage Solution." In a video like that, you'd show customers the full capacity of the cloud storage program so they can adapt their current usage to meet their needs. Other videos might help you get the most out of your PC or Apple watch. 
4. Troubleshooting Videos 
When it comes to YouTube video ideas, the troubleshooting video is a classic. We've all searched YouTube for a quick solution to a leaky faucet or a finicky application. 
Troubleshooting videos might relate to a product but can also just be in your niche. For example, if you're a plumber, you might make troubleshooting videos about common plumbing issues that a homeowner can easily fix.
Ideally, you want your troubleshooting videos to match your brand messaging. As an example, if you're a computer parts company and your brand is all about educating clients on PC solutions, videos about troubleshooting would be the perfect addition to your YouTube video ideas arsenal. 
5. Unboxing Videos 
Unboxing videos are popular in a variety of niches, allowing creators to convey first impressions of a product. Unboxing videos are common in the technology, beauty, and electronics industries, but can be used for a variety of products, including services like subscription boxes. 
Usually, companies don't make unboxing videos – the customers do. But that doesn't mean you can't hire influencers to unbox your videos and then share on your YouTube channel.
6. Product Reviews
Product reviews are another YouTube video idea that you must outsource. Obviously, you can't review your own products as this would be biased. But finding the right YouTubers to review your products can be great publicity for you, and many of these folks will offer a review for free if you provide them the product. 
Sharing unbiased product reviews on your channel is a great way to let customers know what to expect. And if it comes from someone they trust, it can mean a clear path to a sale.
7. Comedy 
This category isn't so much a YouTube video idea as it is a genre. Making your videos funny and entertaining is a great way to ensure they'll be shared among your audience, even if they include sponsored content. 
Straight sales videos aren't particularly exciting. Using comedy to entertain your viewers, however, provides a bit of relief and viewers will associate your brand with making them smile.
For some industries, associating with comedy might not be as beneficial. But you'd be surprised to learn how much people enjoy knowing that you can poke fun at yourself or your industry. Do you want to appear more accessible, sincere, and human? 
8. Guest Videos
Guest videos are a great way to engage your audience. Inviting experts in your industry or popular figures and leaders within your organization to make a video can help your audience identify your business with a face or persona. 
Guest videos can either be in the takeover style, where a guest controls your content for a few hours or a week, or you can include a guest in your original content. As an example, you might invite a guest to help you with troubleshooting or unboxing video. Or you could conduct a Q&A together. 
Some great ideas for guests include:
Industry experts
Charismatic employees
Other YouTubers in your niche
Partner companies
9. Behind the Scenes 
Another popular YouTube video idea is a behind-the-scenes video. People love shows like How It's Made, where they get to see the ins and outs of how the products they love come to life. Behind the scenes videos can also include a look at your office culture or a day in the life of a service technician. There are many ways to get creative. 
Ultimately, the goal for this type of video is to share industry secrets or information your audience might not know. That might be a secret about your production, your process, or the dynamic at your office. Regardless of what you choose to share, your audience will appreciate getting to know the slightly less polished version of your company and will leave the video feeling like they know you a bit better. 
10. Technology Explained 
Our final video idea is all about education. Technology explained videos give your consumers insider information on the technology that makes your products work. Many of us use technical words as if we know what they mean, but we don't always know the nuances. Your video might dive into cloud services, artificial intelligence, or laser technology – the world of technology is your oyster.
Technology explained videos can sometimes be published as a complement to troubleshooting content. If you make a video about how to troubleshoot issues with your Tesla console, for instance, you could produce a complementary video about how autonomous driving works.
Are you a professional who is aspiring to be a Digital Marketing Specialist? Check out the Digital Marketing Specialist certification course now.
Become a Complete Digital Marketer Today
Navigating the different types of video can be a daunting task for many, but the demand for digital marketing experts with video knowledge has exploded. 
Job prospects have never been greater in the field of digital marketing, and at Simplilearn, we're here to help you gain the skills you need to harness the potential of these powerful tools and get you into a rewarding field. 
Our Digital Marketing Specialist program is a masters course in digital marketing that gives you the complete skillset across all facets of the industry and helps you develop a video marketing strategy.