Technology is transforming industries and jobs like never before. Professionals need to pay attention to these changes to make sure they are keeping their skill sets current. Ramneek Sharma recognized that his industry was going through a transformation and that he needed to be proactive about his career. A product development lead at Indique Technologies, Ramneek was leading a team of four user interface (UI) designers. With an advanced degree from Arena Multimedia and a Bachelor's in Computer Application (BCA) from Punjab Technical University, Ramneek had a solid educational background as well as 15 years of experience designing and developing thousands of B2B and B2C websites. But he recognized that website development was no longer a critical skill as website development tools and platforms would soon replace employees like him. He knew it was time to change his career path. 
Learning Digital Marketing Skills to be Ready for a New Career
As a UI developer, Ramneek was aware of the processes involved in website creation and development, but he was one of many designers and developers who would be competing for a decreasing number of jobs. With change coming, he looked to the future to determine the skills he would need. 
"There are millions of websites on the Internet," he says. "How do you design a website that's unique and can stand apart?" Asking himself that question, Ramneek realized that digital marketing would be his new path. Although web developer jobs might decrease in number, websites would not. Looking into digital marketing, Ramneek learned it was one of the ten best domains to move into and would be a wise career choice for him. 
Choosing Simplilearn for Online Training
Once Ramneek knew the direction he wanted to go, his next step was choosing a training provider. He was working 12 hours a day and doing freelance projects, and he wasn't sure if he would be able to make time to get trained. 
"I was interested in studying digital marketing, but the challenge was to balance my time between classes, job, and family. I was also apprehensive about what I might achieve after the course. Would I get the job I wanted? Simplilearn's support team reassured me and helped me understand the advantages of choosing Simplilearn. I enrolled with Simplilearn and dedicated 3 hours a day for a month." 
At Simplilearn, Ramneek was able to gain fundamental knowledge in digital marketing along with real-life experience through live projects, something other training providers lacked.
"Simplilearn's digital marketing specialist course was well articulated, structured, and comprehensive," he says. "The course material gave me a good understanding of the different digital marketing platforms." In addition, Simplilearn's blended delivery model enabled him to do the coursework on his own schedule and pick classes that worked best for him. 
Through the coursework with Simplilearn, he learned critical digital marketing skills like search engine optimization (SEO), social media marketing, pay-per-click (PPC), web analytics, mobile and email marketing, and strategy.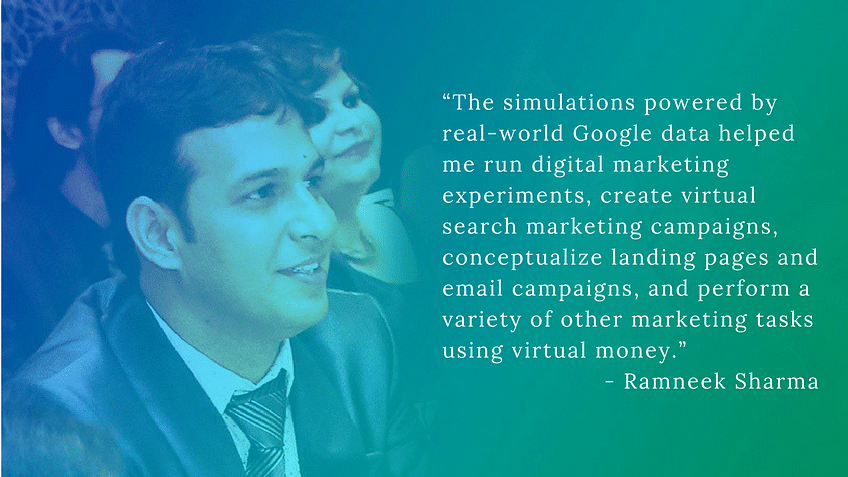 Simplilearn Training Leads to Digital Marketing Job
After completing his education with Simplilearn, Ramneek started work as a senior manager at Avian Media. As part of his job, Ramneek handles client servicing, digital strategy planning, project proposals, and business development for the company. 
The skills gained after completing Simplilearn's training help Ramneek in his new career to formulate, plan, and execute effective digital marketing strategies with the right channel mix. "Now I find myself more confident while planning and executing digital marketing strategies for my clients," he adds.
For one of his clients, Ramneek has managed to grow their YouTube channel from 200 visits, 250 minutes of video, and 18 subscribers, to 2 million minutes with 100,000 views and 3,000 subscribers in just one year.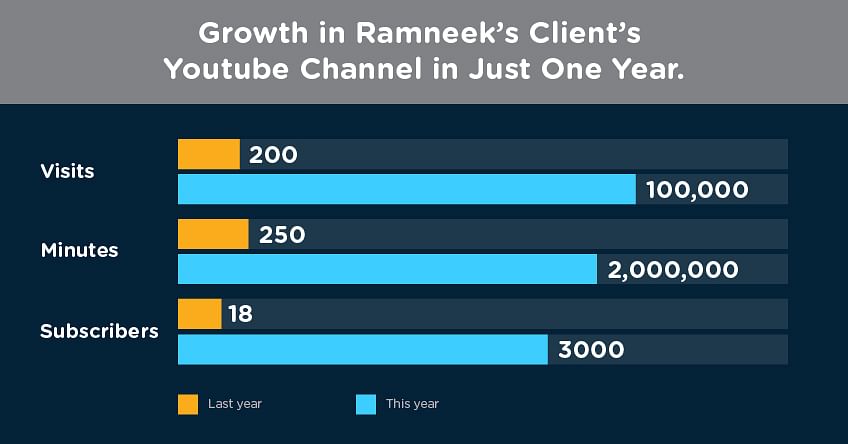 Is it time for you to be proactive too, to switch careers or upgrade your professional skills? If so, consider digital marketing. Digital marketing experts are in-demand, and brushing up on your career skills can make you a sought-after candidate. Start learning with Simplilearn Digital Marketing to get the cutting-edge skills that can catapult your career to the next level.