Doing your research before you take the plunge and get a CISSP certification? Unsure of the impact a CISSP could have on your career? You've come to the right place!

In this article, we explore the various reasons professionals in the information security domain choose to obtain a CISSP certification, and the impact the credential would have on your own career. Read on to find out more!
First Things First: What Is The CISSP?
CISSP stands for Certified Information Systems Security Professional. The certification is devised and presented by the International Information Systems Security Certification Consortium ((ISC)²), a global non-profit organization specializing in IT security. Often termed the world's largest IT Security organization, (ISC)² maintains a Common Body of Knowledge for the domain, and offers various security certifications, including CISSP, CSSLP, and CAP.
 
The vendor-neutral CISSP certification is the ideal credential for those with proven deep technical and managerial competence, skills, experience, and credibility to design, engineer, implement, and manage their overall information security program to protect organizations from growing sophisticated attacks.
 
The CISSP was the first credential in the field of information security to meet the stringent requirements of ISO/IEC Standard 17024. Not only is the CISSP an objective measure of excellence, it is also a globally recognized standard of achievement.
Now that you know what CISSP is and why is it needed, chances are that you want to know more about it and even pursue it.
So Why Would I Want To Get A CISSP Certification?
There are many benefits why one could choose to have the CISSP certification, but we can explore three main areas that make this certification important.
Area A: Recognition
We have to consider if the CISSP certification is recognized by the concerned industry (Information security)
Area B: Effort or Risk
We would need to consider the amount of effort that is expended in acquiring the certification, including time, resources, and energy.
Area C: Earning and Advancement Potential
Consider the extent of future earnings accruable with a certification. Certified professionals stand to earn much more than their non-certified peers: a credential serves as validation of their skillset, proof of their commitment to professional advancement and domain expertise, and also acts as a seal of approval to prospective future employees.
Accordingly, after consultation with certified CISSP professionals, industry experts, and exam-trainers, we have arrived at a list of the most-important reasons you should consider adding a CISSP certification to your accomplishments:
1. Universally Recognized
The CISSP credential is a valued certification for most professionals and is highly respected by a majority of large, global majors like Google, P&G, IBM, etc. These organizations attest to the fact that the CISSP certification demonstrates an individual's working knowledge of information security and commitment to their profession.
The US ISSEP has adopted this certification as a baseline for the NSA. And multiple sources have confirmed the CISSP certification as being one of the most recognized certifications in the IT industry. Bank Info Security is one such – according to BIS, CISSP continues to remain the most sought-after certification in the information security domain.
2. Immense Popularity
(ISC)2 reports from May, 2014, indicate that over 93,391 individuals have attained the CISSP credential in over 149 countries worldwide. Since its inception in 1989, the CISSP has been the most-popular IT security certification for over two and half decades, which speaks volumes about the worth certified professionals derive from acquiring a CISSP and its relevance in a changing world.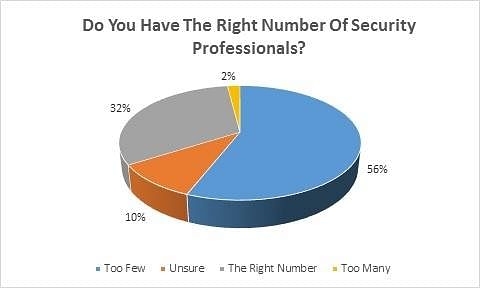 3.  Age
As the oldest IT security certification in the world, the CISSP certification is considered the grand-daddy of certifications and has had almost three decades to develop, resulting in a vast body of knowhow and expertise.  
4.    Salary
According to the Global Information Security and Workforce study, CISSP professionals earn a worldwide average salary that is 25% more than that of their non-certified counterparts. Most surveys such as the Tech Republic survey ranked jobs for CISSP professionals at number 4 in the top 15 highest paying jobs.
The InfoSec Institute also notes that the average salary for a female CISSP falls between $73,627 and $111,638, while the average salary for male CISSP professionals is between $78,788 and $119,184, making this the highest paying credential in the IT industry.  
 
Surveys by professional organizations and market research firms also indicate CISSP employees earn more with a certification in hand (IDC, SANS).
 
In addition, surveys note that the salary-gap between members of the ISC2 and non-members continues to widen.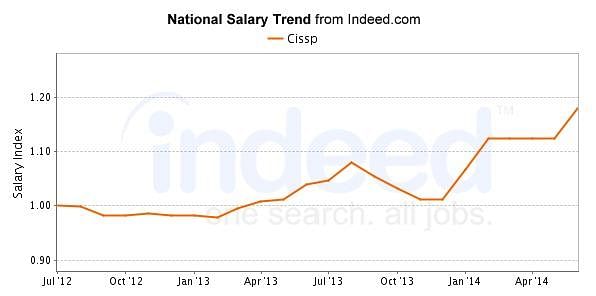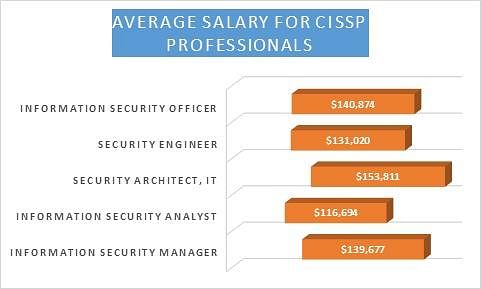 5. Scope of Roles
Information security is a crucial domain in any organization and with a CISSP credential; holders may find their job evolving into something even bigger. ISC2 has also stated that the CISSP certification serves as a differentiator for candidates, with the credential enhancing the marketability and credibility of a professional. Further, with information security becoming increasingly vital in organizations of all shapes, sizes, and types, holders of this certification are given a better welfare package compared to non-holders.
 6. Stability Of Information Security Positions
According to ISC2's Global Workforce Survey, 2013, prepared by Frost and Sullivan, information security is among the most stable professions in IT, with over 80% of respondents having had little to no change in their employment or employer status in the preceding year.
7.   Must-Have For Some Roles
If you have been scouring the internet looking for IT related jobs, you may have seen many of the larger organizations listing the CISSP certification as a basic requirement. This is because the breadth and depth of CISSP training prepares a security professional to tackle any security threats to the IT infrastructure of an organization, and is considered to be the starting point for advanced security expertise.
 As an illustration, the NSA lists this certification as a must-have for any position.
8.    Rate of Salary Hikes
According to a study by the International Data Corporation (IDC), the rate at which CISSP professionals receive salary hikes far outpaces that for any other domain in the IT field.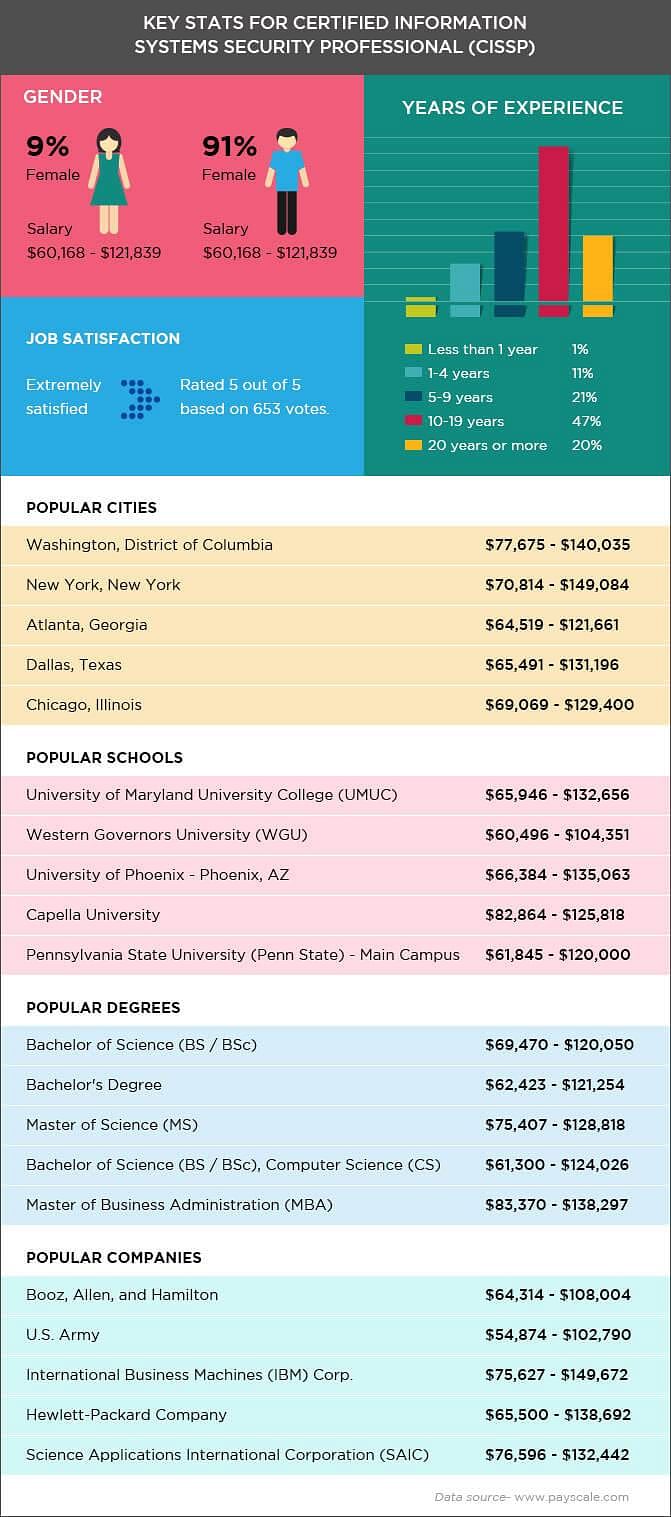 9. High Weightage Given To Certification-Holders
The Global Workforce Study also points out that knowledge and certification of knowledge weigh heavily in job placement and advancement – possessing a broad understanding of the security field was the #1 factor in contributing to career success, followed by communication skills, with nearly 70 percent of respondents viewing certification as a reliable indicator of competency.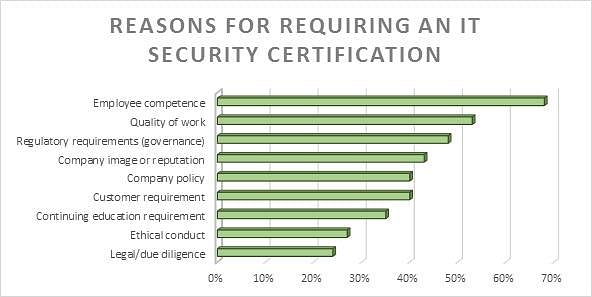 10. Success Factors For IT Security Professionals
Surveys indicate that organizations and recruiters look for a very specific set of skills when looking to hire a security professional –all of which are adequately and comprehensively covered by the CISSP curriculum. These skills are perceived as being critically important to ensure success in the security domain.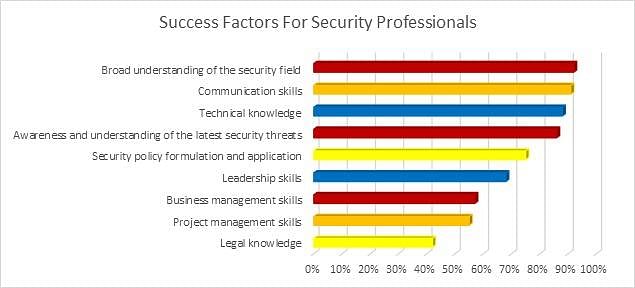 11. Increased Spending In IT Security
Over 33% of respondents on the Frost and Sullivan survey suggest an increase in budget availability and spending into the IT security domain. With a CISSP certification, you are assured of a place at the very front of the queue as increased spending begins to translates to IT security hiring sprees.
12. Highly-Regarded In The IT Sector
With respect to relative importance when securing infrastructure, CISSP professionals are considered more competent and effective than IT professionals specializing in other domains: software and hardware specialists are widely perceived as being lower down the ladder than security professionals, in terms of effectiveness.
13. Recent Trends And Technological Developments Call For CISSP Expertise
With such trends as BYOD (Bring Your Own Device), cloud computing application, Social Media engagement, and Big Data-driven solutions spreading like wildfire, the need for CISSPs -who are trained not only to address security flaws effectively but also to manage large operations in environments that are not risk-averse- has never been greater.
14. Tackling Risk In A Multidisciplinary World
With inter- and cross-disciplinary solutions ruling the roost, security professionals who can balance risk control and monitoring with innovative technological implementation are the need of the hour.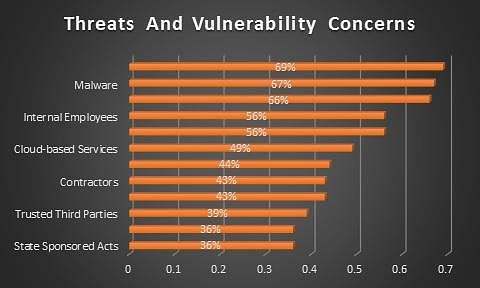 A business wishing to scale up its cloud-based operations by transferring server data to the web would need a team of competent, certified security professionals with deep knowledge of the cloud implementation (on a war-footing!) to ensure the transition is seamless and no loopholes are exploited or data lost in the process. The CISSP's broad, inter-disciplinary curriculum addresses this requirement adequately.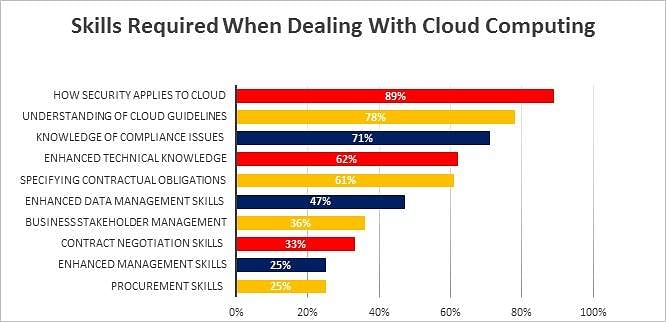 15. ISC2 Membership
With a CISSP certification, you are accorded automatic entry and membership to the International Information Systems Security Certification Consortium (ISC)2. Members can avail of free access to the wealth of material available on the ISC2 website.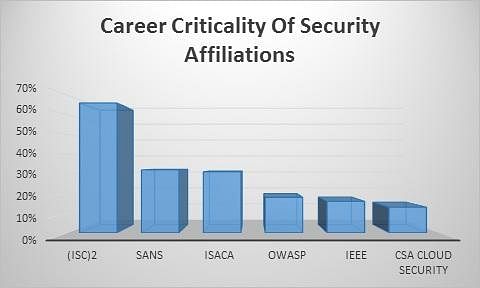 Membership brings in its wake other benefits and value-adds, such as access to a vast network of security professionals for knowledge transfer and exchange of ideas, discounts on industry conferences, subscription to ISC2's digital magazine, membership to their Affiliated Local Interest Group program, etc.                           
16. Evergreen Demand For Security Pros
With hacker activity across the world intensifying, enterprises around the world are struggling with security breaches on a daily basis, with attacks coming thick and fast in a wide variety of forms. Whether DDoS (Distributed Denial Of Service) attacks, internal attacks from within an enterprise, buffer overflows, or phishing, hacking groups such as Anonymous have a constant stream of new recruits joining the ranks, with many even claiming covert backing from governments.
As a result, protecting the integrity of an enterprise's or a country's information flow and plugging security vulnerabilities is today less a luxury and more a necessity. In such a scenario, highly-qualified, trained security experts are at a premium.
17. Obliterates The Competition
The CISSP is the most-popular and sought-after of all the IT Security Certifications –and with good reason. Rigorous training, a rich curriculum that is kept constantly updated, and a very high ROI makes the CISSP the best choice for any serious IT security aspirant. This infographic offers a quick overview of the highlights that set CISSP apart from its closest competitors.
18. ISC2's Invaluable Initiatives
As one of those rare organizations that are driven more by passion than profit and self-interest, ISC2 is one of the chief drivers of the IT Security domain, with such initiatives as scholarships for female security professionals, the informative Global Workforce Informative Study, and its Global Chapter Program contributing enormously to attracting the best security talent from across the world, and advancing the field of cyber-security.
And with such a dynamic organization overseeing the security certifications, CISSP-holders are in good hands.
19. Growing Need For CISSPs In The Developing World
With survey-respondents on the Global Workforce Study from emerging economies exhibiting a higher level of risk and expressing higher levels of concern compared to respondents from the developed nations, the market for certified CISSPs in the developing world is expected to boom, in the near-future.
20. Meeting Attack-Remediation Requirements
Cyber-attack remediation and preparedness\readiness for vulnerability exploits remain key points of concern that inform and dictate IT strategy at firms of all sizes, ranging from startups in the high-tech sector to large, multinational corporations.