Lean Management Introduction Tutorial
This is the introductory lesson of the Lean Management tutorial, which is part of the Lean Management Certification Training. This tutorial will give you an overview of the tutorial, its prerequisites, and the value it will offer to you.
What is Lean?
The definition of lean is creating more value for the customer with fewer resources. Lean in simple terms means reducing unwanted activities or process or anything that does not add value to the product or service for the customer.
Anytime we have a waste (in any activity), somebody is losing value – either customer or your company or your employees or stakeholders. Lean philosophy is "to provide perfect value to the customer through a perfect value creation process that has zero waste."
Principles of Lean
There are 5 key principles on which Lean is based on. To get best results, these need to be followed and implemented in sequence starting with Identifying the value and moving through each stage for seeking perfection.
Following are the 5 principles of Lean.
Identify Value
In this, we specify what process creates value. This is not just what we perceive as value to the customer, but what the customer is willing to pay for.
Map Value Stream
After we identify value for the customer, we need to identify all the steps in the value stream for each product. This will help us in eliminating whenever possible those steps that do not add value or are wasteful.
Create Flow
This principle helps you optimize the end-to-end process and remove any lead time and gaps between the processes. In this, you make the value-creating steps occur in tight sequence so the product will flow continuously and smoothly through the value-added steps in the system.
Establish Pull
The word "Pull" means, all the process need to be revisited to change from Push to Pull method, i.e., make only what is needed by the next step or customer. A continuous flow is introduced, let the customer pull value from the next upstream activity.
Seek Perfection
Once you have these principles in place, you iterate through things and Seek Perfection. You will strive for perfection by continually attempting to produce exactly what the customer wants. Begin the process again and continue it until a state of perfection is reached in which perfect value is created with no waste.
Manage the process toward perfection so that the number of steps and the amount of time and information needed to serve the customer continually falls.
As you can see, with these 5 principles, people can improve end to end processes and move towards perfection.
Let us understand some of the benefits of Lean.
Prerequisites
There are no prerequisites in this particular course.
Benefits of Lean
Following are some of the benefits of Lean.
Lean is Efficiency Business Model Fit

Lean helps in Cash Flow Improvement

Lean helps in Increasing Capacity for Revenue
Target Audience
The Lean Management tutorial can be taken by any professional seeking career growth in the quality management sector or simply to get hands-on experience working with Lean principles. There are no specific eligibility criteria for the Lean Management tutorial.
Lean Management Tutorial Overview
This Lean Management tutorial will show you how to apply Lean concepts in your organization.
You will learn core concepts of Lean Management, including:
Overview and principles of Lean

Types of waste common in organizations

Various Lean tools, techniques, and metrics

Examples of implementing Lean in manufacturing, service and office environments

Other methodologies that complement Lean

The Lean Maturity Matrix
Objectives
In this particular chapter, we will discuss:
An Introduction to Lean Management

Lean Management Roots

Success and Benefits of Lean Management

Challenges of Lean Management
Let us explore the lessons covered in Lean Management Tutorial in the next section.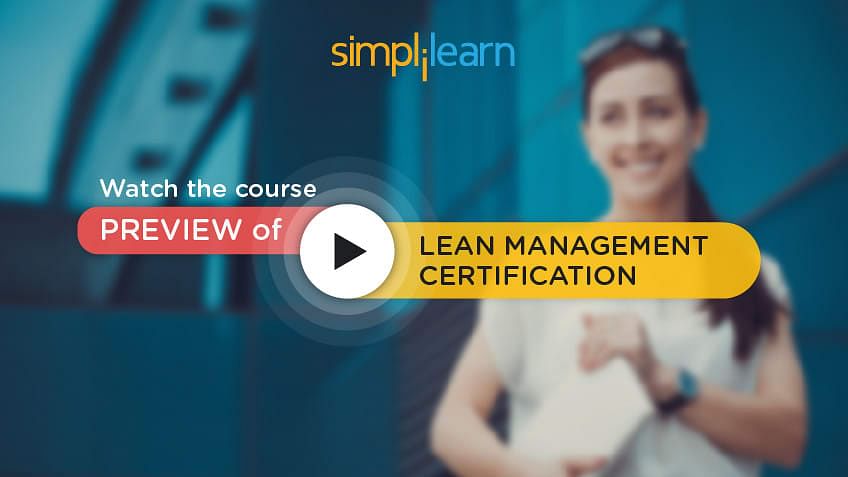 Lessons Covered in this Lean Management Tutorial
There are seven lessons covered in this tutorial. Take a look at the lesson names that are listed below.
Lesson No

Chapter Name

What You'll Learn

Lesson 1

In this Chapter, we will:

Understand the main types of waste

Discuss the Additional type of waste discovered by people

Discuss Examples of types of waste

Lesson 2

In this Chapter, we will:

Understand 5S + 1 tools

Discuss Value-Stream Mapping

Discuss Kaizen, and Kaizen Blitz

Introduce and discuss Takt, Jidoka, Kanban

Discuss Poka-yoke

Discuss SMED

Lesson 3

In this Chapter, we will:

Discuss Lean manufacturing

Discuss Elimination of waste from the manufacturing process

Discuss Lean tool implementation

Discuss Boeing's Lean journey - a case study

Lesson 4

In this Chapter, we will:

Start with the background of Lean in the service industry

Discuss Lean Implementation in healthcare service industry

Discuss Examples and Success Stories of Lean in Service Industry.

Lesson 5

In this Chapter, we will:

Start with the background of Lean in office.

Discuss Lean Implementation in the office with relevant examples of 5s and waste.

Lesson 6

In this Chapter, we will:

Start with an overview of Lean metrics

Discuss why we need metrics and how to build one.

Discuss OEE (called for Overall Equipment Effectiveness)

Discuss the metrics FPY, RTY

Discuss the metric days in inventory

Discuss Other critical metrics

Lesson 6

In this Chapter, we will:

Discuss Theory of Constraints

Explain how to identify and remove constraints from any process.

Cover Quick Response Manufacturing

Discuss Benefits of reducing internal and external lead times and then cover

Discuss Factory Physics

Cover Six Sigma methodology

Lesson 7

In this Chapter, we will:

Start with an overview of Lean maturity matrix.

Discuss assessing process that helps an organization to implement Lean.

Discuss assessment criteria for evaluation of Lean.

Introduce Lean maturity levels
Conclusion
With this, we come to an end about what this Lean Management tutorial includes. In the next chapter, we will discuss the Types of Waste - Lean Management Tutorial.