Lean Maturity Matrix Tutorial
Welcome to the ninth chapter of the Lean Management tutorial (part of the Lean Management Certification Training).
Here, we will talk in detail about "Lean Maturity Matrix."
In the next section, we will start with the objectives.
Objectives
In this lesson, we'll discuss:
An overview of Lean maturity matrix.

Assessment Process of Lean

Assessment Criteria of Lean

Lean Maturity Levels
We will discuss assessing process that helps an organization to implement Lean. We will then discuss assessment criteria for evaluation of Lean.
After this, we will introduce Lean maturity levels that an organization uses for assessment and improvement.
Overview of the Lean Maturity Matrix
In this section, we will cover an overview of the Lean maturity matrix.
The need to have a Lean maturity matrix is to help organizations to determine the extent to which they have transformed themselves to adopt Lean principles with a structured means of assessing where it is regarding implementing a Lean culture in its organization.
As discussed in an earlier lesson, the Lean principles that are evaluated are value, value stream, flow, pull, and perfection.
The focus of the Lean principles is on analyzing processes regarding customer or client value and eliminating waste. This is done by mapping processes and analyzing them rigorously to determine what is value adding and what is not, on the basis that value is defined as something a supplier considers a customer or client, internal or external, is prepared to pay for.
The rest is waste and processes are redesigned to try and eliminate this.
Lean maturity matrix works like guiding factor and helps the team assess themselves against Lean principles and see their adoption over a period of time. The ultimate goal of any Lean production process is to minimize wastes and develop new processes to maximize the added value.
The definition of wastes will vary depending on the type of process being analyzed. However, in planning a project going through several iterations to ensure the best plan may look like overproduction or over construction but in fact, reviewing the plans several times may result in a better plan thereby adding value.
In summary, the aims of Lean are simple and achieved by maximizing the capability of all employees using a range of tools depending on the process being investigated. As the teams achieve higher levels of waste reduction, they move higher up in the Lean maturity matrix.
Lean transformation is the process by which organizations take these Lean principles progressively, through a planned program and ensure they are adapted to provide a more competitive capability.
In the next section, we will talk about the assessment approach.
Assessment Process of Lean Management
In this section, we will cover approaches for assessing Lean implementation and maturity. The purpose of using the assessment tool is to provide an organization with a structured means of assessing where it is regarding implementing a Lean culture in its organization. Therefore it is advisable that people involved give a direct and open contribution to the following procedure.
Following are the steps involved in the assessment process:
Step 1
Decide on the boundary of the assessment, i.e., it may be a whole organization, a particular division of an organization or a specific department.
Step 2
Appoint a facilitator. This should be a person who has sufficient knowledge of Lean principles to be able to provide guidance on interpretation. The facilitator should not be the head of the organization being assessed as this could potentially influence the responses.
Step 3
Select a group of people who can represent the key functions of the organization being assessed.
Step 4
Have an initial kickoff meeting to First, ensure that the assessment tool is understood. Second, confirm the boundaries for assessment are clearly understood. Third, agree on the timetable for completion and collation of individual scores. Forth, set a date for the assessment meeting.
Step 5
Individuals fill in the assessment tool for gathering any data or evidence to support their view.
Step 6
Facilitator collates results identifying areas where there are a strong agreement and areas of wide disparity.
Step 7
Carry out assessment meeting to agree on a consensus. The facilitator will provide an analysis of the results. For each subarea, the degree of consensus will be shown and discussion on significant differences of opinion, supported by any evidence gathered by participants.
An agreement as to the overall consensus level will then be sought. It is advisable to tackle the areas of considerable disagreement first.
Step 8
Facilitator collates scores for review and arranges a date for next assessment.
Assessment Criteria of Lean Management
In this section, we will cover the criteria against which Lean maturity can be assessed. Here are the set of key criteria one should evaluate.
For each of the criteria, a maturity level value needs to be determined to assess the level of adoption of Lean in an organization. More details about maturity levels are discussed in the next section.
Strategic use of Lean
The first criterion is the strategic use of Lean, the purpose of this is to identify to what extent organizations incorporate Lean principles in their strategic and planning processes and the extent to which they ensure that they are meeting customer expectations.
The key questions to be asked are:
Is the delivery of business improvement through Lean performance management principles integrated as part of the formal strategic plans of the business?
Does your organization demonstrate a long-term commitment to adopting the deployment of an effective Lean performance improvement approach?
Lean leadership
The second assessment criterion is Lean leadership, the purpose of this is to indicate to what degree organization leaders are active in encouraging and mentoring Lean introduction.
The goal here is to see and evaluate if management provides leadership, support, and recognition for positive actions. Individuals are empowered and actively involved in improvement projects. Senior leaders actively communicate and demonstrate by example the company's expected Lean behaviors, and their benefits, to their teams.
The question to ask would be "Do all senior leaders and managers within the organization enthusiastically embrace the concept of Lean and support a transformation to a Lean culture?"
Delivery of value
The next criterion, the third one is delivery of value, the purpose of this is to identify if the organization is analyzing the key processes which deliver end customer value to identify waste. Some of the evidence to look for will be if there is a process in place to identify key value streams, evaluate performance and priorities of value streams, etc.
An effective value stream mapping capability has been developed and is used tactically to improve key processes.
The question to ask would be "Is the performance of the organization's key value streams evaluated and is an improvement of this performance actively managed?"
Standard work
The fourth assessment criterion is standard work, the purpose of this is to identify the degree to which processes and methods have been standardized across the organization to enable structured continuous improvement.
Some of the evidence to look for is that the experienced workforce plays a significant role in devising optimized standard processes and practices for the organization, which are adhered to and regularly updated.
Process improvements are documented in a concise and easy to use a standard format and transferred. Processes are standardized where applicable throughout the supply chain. The 5S workplace controls are clearly apparent in the production environment.
Policies have been established and deployed that require the use of common tools and systems throughout the organization.
Common tools and systems provide easy access and reuse of knowledge across the product or project lifecycle. Standard design, construction, production and delivery solutions are being used wherever possible.
The key question to ask is "Have processes, tools, and systems been standardized across all sites and departments where appropriate?"
Process flow
The fifth assessment criterion is process flow.
The purpose of this is to:
Assess the degree to which processes are being designed to encourage flow and balance resources.
Check if the activities are leveled and resources balanced with short and controlled lead times.
Understand bottlenecks and where the possible material will flow just-in-time in one-piece, or in tiny batches.
Gather metrics for monitor flow.
Internal or external customer demand is used to pull product or resource allocation as required.
The key question to ask here is "Are processes planned and designed along value streams, aligning demand to customer pull with the flow and minimum waste in all aspects of delivery, design, construction, and maintenance?"
Process control
The final assessment criteria are process control, the objective of this is to assess the degree to which processes are being controlled, analyzed, and designed to reduce variability and thus the number of defects, in turn reducing rework and inspection.
A couple of key questions to ask here are:
Is process variation continually reviewed and reduced in all processes throughout the organization using tools such as Six Sigma?
Is the root cause of defects analyzed and are processes updated with lessons learned?
Wherever possible, is mistake proofing incorporated into processes and considered in the initial design?
This covers the six assessment criteria to be evaluated for any part of the organization to assess their progress or adoption level of Lean principles.
In the next section, we will cover the maturity levels of Lean.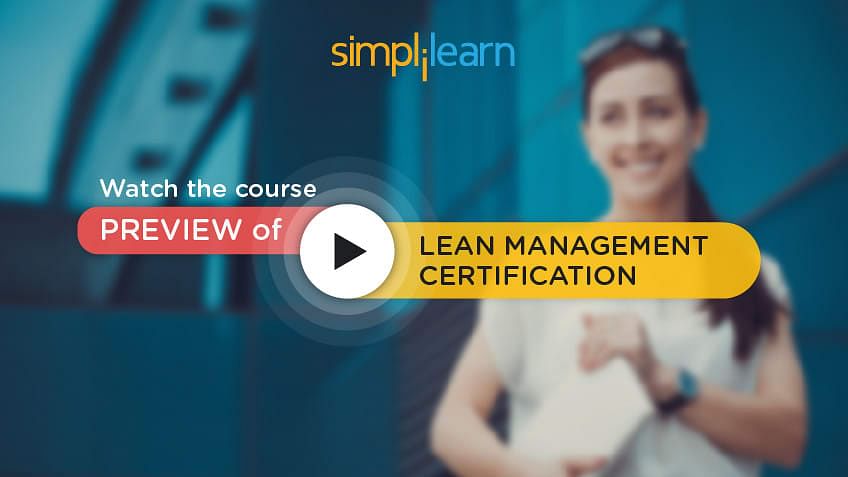 Lean Maturity Levels
In this section we will cover the Lean maturity levels and understand how organizations can move from one level to another, evaluating each of the assessment criteria and providing a rating against them and then assessing it on the maturity scale.
The process itself is fairly straightforward and will require only a couple of people for a few days to complete depending on the complexity and size of the organization being assessed.
The basic process is for individual group members of the assessment team to carry out their own assessment and then as a group agrees on a consensus score. It is normal for there to be islands of excellence in most organizations; however, this does not mean that the whole organization is at that level. It is important therefore when assessing the organization that each level is considered as a gateway.
In other words, an organization must have passed the criteria for the gateway in all functions to gain the whole score. Progress between total scores may be demonstrated through scoring to one decimal place.
For example, if the organization possesses all of the criteria necessary for a score of '1' against one element, and is currently implementing some of the processes or behaviors necessary for a score of '2'; it may demonstrate this by scoring at quarter points between 1 and 2, depending upon where the organization suggests it is on the progress between '1' and '2'.
The objective of the process is to highlight where actions need to be taken to improve and use this information to help drive the Lean adoption process. This process would normally be completed annually to monitor progress.
If the organization is not following any Lean principles or is at a very basic stage or very few instances of Lean, then it can be called Level 0. The next level is level 1, this is the foundation level where Lean is recognized, and several initiatives for initial efforts are there in place.
The organization has endorsed a business improvement approach but its methodology is not clearly defined, and deployment is inconsistent. Employees are encouraged to contribute and participate in improvement efforts, but activities are inconsistent and sustainability poor.
Maturity Level 1
This is the starting phase where people have started believing in Lean and are making a conscious effort to kick start it and have already started implementing it.
Education and training are made available covering basic Lean awareness. Some operational improvement tools and techniques to support the organization's planned Lean projects are also made accessible.
Maturity Level 2
The next maturity level is level 2, where the organization is moving forward in a more structured way and has a well-defined process to follow Lean principles across the organization. The potential benefits of widespread use of Lean are recognized and understood by the senior management team.
Implementation plans are in place and available but do not have objective links to formal performance measures or commercial targets within the business plan.
Education and training program has been designed and deployed covering Lean leadership, and the basic improvement tools and techniques to support the organization's strategy for Lean transformation.
Maturity Level 3
At the maturity level 3, the deployment of Lean is incorporated as an integral part of the strategy for the business and its supply chain management. Strategic deployment and improvement plans are formally managed and are reviewed at senior level. Benefits achieved by Lean, in both operational and commercial terms, are included in business and strategic plans.
An information infrastructure is deployed that supports seamless information exchange across the enterprise. The supply chain also required achieving this same level of information exchange.
All teams throughout the organization now operate in an effective suite of quality, cost, and delivery performance measures and local targets. The improvement approach is used by each team as the means of delivering the local performance targets.
Training plans are derived from performance improvement needs. Performance measures and targets used in supply chain management are used tactically to facilitate improvement in Lean supplier capabilities.
Maturity Level 4
Level 4 is the top maturity level where senior leaders and management mentor and foster Lean champions internally and throughout the supply chain. Senior managers have formal training in Lean Management principles, and first line managers are formally trained in facilitating improvement projects.
All leaders support and encourage the ongoing use of the company and supply chains' Lean approaches to achieve local quality, cost and delivery improvement targets. Education and training links directly to strategic plans, with budgets and scope determined directly from business performance improvement needs.
The program also supports the upcoming needs of the supply chain Lean improvement plans. Strategic and business plans include clear operational and commercial targets to be realized through Lean activity to achieve growth, profitability, and market position.
Strategic business measures and targets cascaded down through the organization and supply chain using a suitable policy deployment system. The majorities of improvement activities are derived from analysis of the gap between current and target performance and are delivered using a disciplined Lean approach.
Lean Maturity Matrix
In this section, we will cover how to build the Lean maturity matrix.
This can be built using the assessment criteria as rows, and the first column will be weighted for the assessment criteria, followed by each of the process or sub-process.
Next, the column is to add up and get the assessed score and then have the column named moderated score which will be filled up after the moderation. And the min and max to record what these values were before moderation.
The image below illustrates a Lean Maturity Matrix table.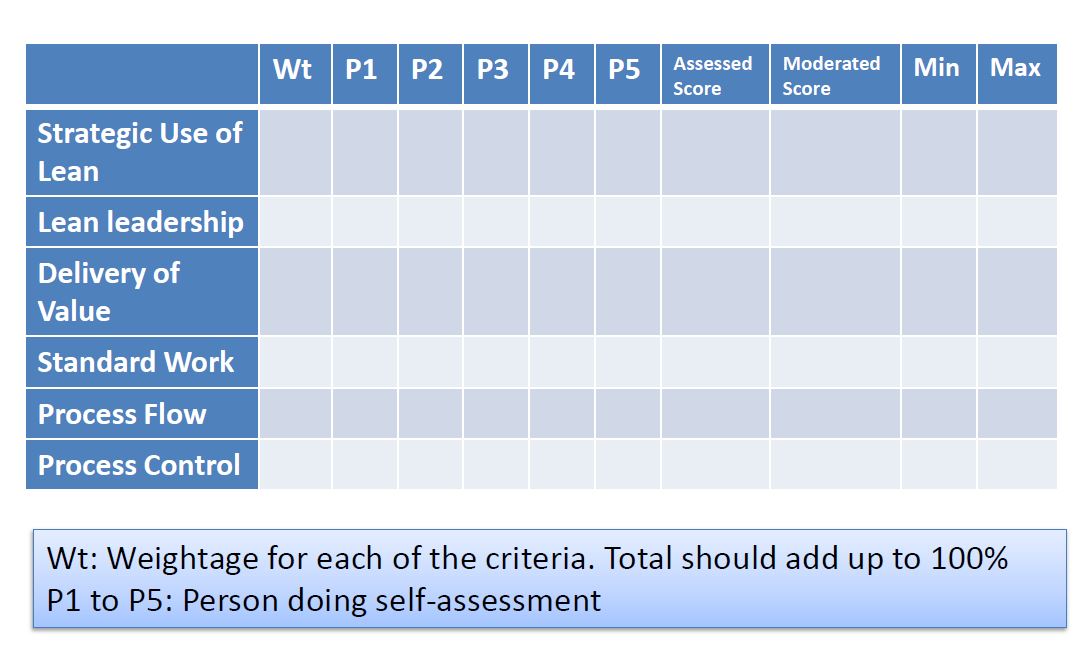 This covers the Lean maturity matrix, in the next section we will summarize what we learned in this lesson
Summary
The topics covered in this lesson are as follows.
Need for assessment

Assessment approach

Assessment criteria

Lean maturity model

Lean maturity matrix
Conclusion
This concludes 'Other Methodologies That Complement Lean.' With this, we have come to the end of this tutorial.