Scrum Masters are becoming increasingly important across all fields in the professional marketplace. Scrum and Agile training can provide many benefits, including improved work quality, transparency, and stakeholder engagement. See what some of our Agile-Scrum students have to say!
We've compiled 8 books that will aid in acquiring expertise in the world of Scrum Certification, specifically for the Certified Scrum Master (CSM) Certification.
Here are the books, with complete information on the author(s), page counts, and ISBNs for your convenience:
Are you a professional who is aspiring to be a Certified ScrumMaster? Then check out the CSM certification course now!
1) Scrum: A Breathtakingly Brief and Agile Introduction by, Chris Sims & Hillary Louise Johnson

This pocket-sized book gives a very brief overview of roles, responsibilities, concepts, and the sprint cycle of Scrum. It presents the core facts, definitions, and concepts, written down to serve as a handy ready-reckoner. You can look up any term relating to Scrum, and you will find a piece of precise and very brief information on it. Because it is an essence, it may not be suitable if you have no other training and study material, but it's the perfect reference guide during your preparation for the CSM (Certified Scrum Master) certification.
Page Count: 54
ISBN-10:193796504X
Purchase Here: Amazon/Scrum-Breathtaking Brief
2)  Scrum Mastery: From Good to Great Servant-Leadership by, Geoff Watts
This book offers relatable stories, practical examples, and straightforward steps to becoming a successful Scrum Master. Geoff Watts, an expert in the field of Agile Development and Scrum, offers efficient methods to navigating a challenging field and overcoming related issues.
Page Count: 288
ISBN-10: 0957587406
Purchase Here: Amazon.com/Scrum-Mastery
3) The Elements of Scrum by Chris Sims & Hillary Louise Johnson
This book adopts an approach to explain the key concepts of Scrum. The authors illustrate the principles, practices, and pitfalls of the Scrum framework with relatable, real-life examples written as short stories and anecdotes. Although this book doesn't offer typical training steps, we highly recommended reading it as it links Scrum theory with the real world and offers insights into the industry.
Page Count: 184
ISBN-10: 0982866917
Purchase Here: Amazon.com/Elements-Scrum
4) Scrum, Mega Pack  by, Paul Vii
Paul Vii compiled a few texts on Scrum methodology and has reviewed them in depth with lots of real-life examples. The reader learns crucial elements of Scrum methodology, what conditions Scrum is successful under, and unique benefits of the Scrum approach.  The book also contains checklists and project tips.
Page Count: 196
ISBN-10: 1482681730
Purchase Here: Bookdepository.com/Scrum-MegaPack
5) The Scrum Field Guide: Practical Advice for Your First Year by, Mitch Lacey
In 30 insightful and engaging chapters, Lacey explains what to do when implementing Scrum in a specific project or across an organization. This book covers all facets of implementation, including getting the team onboard, "emergency procedures" to get your project back on track, and core agile concepts. This text can't be used as a reference guide or training manual, but it will help immensely when it comes to understanding the hands-on importance of Scrum.
Page Count: 146
ISBN-10: 0321554159
Purchase Here: Amazon.com/Scrum-FieldGuide
6) Essential Scrum: A Practical Guide to the Most Popular Agile Process by, Kenneth S. Rubin
This book is an easy-to-read, comprehensive guide. Essential Scrum defines all the crucial processes and ideas of Scrum while also explaining the roles and responsibilities within a Scrum team. This text follows the style of a training manual, with lots of charts, graphs, and pictures. Kenneth Rubin offers explanations of Scrum terms for beginners, and tips to improve teamwork inside a Scrum group for advanced team leaders.
Page Count: 504
ISBN-10: 0137043295
Purchase Here: Amazon.com/Essential-Scrum
7) Certified Scrum Master (CSM) 83 Success Secrets by, Janice Garrison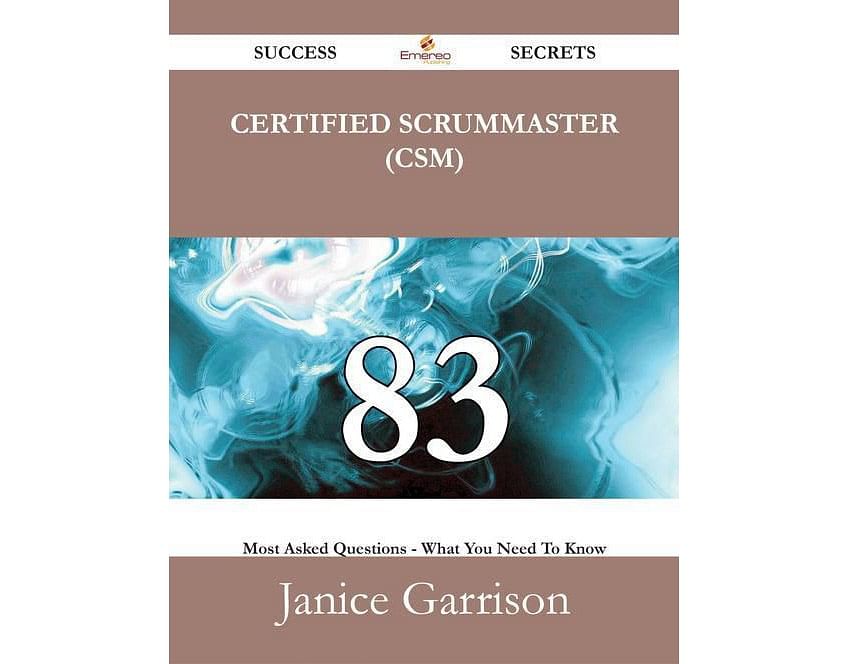 In only 72 pages, Janice Garrison tells 83 Certified Scrum Master secrets!  This book is a collection of Certified Scrum Master (CSM) and Scrum related questions and answers to provide the reader with some fundamental knowledge on the topic. It's worth a read if you are interested in acquainting yourself with the basics.
Page Count: 72
ISBN-10: 4885243001
Purchase Here: kobo.com/certified-scrummaster-csm-83-success-secrets
8)  Guide to Scrum Methodology (eBook)
This eBook discusses how "the Scrum practice, which is a subset of Agile, has subsequently unfolded itself in multiple levels and the complexities that arise in product development."  This offers an expert introduction to what Scrum is and why it helps for many different processes. SimpliLearn provides this guide as a free asset for anyone trying to gain a better understanding of applicable Scrum methodology. The "Guide to Scrum Methodology" additionally covers an extensive risk factor analysis. Simplilearn includes potential certification paths involved to aid professionals in their quest to find a good fit for their Scrum mastery skill set and higher-paying jobs.
Page Count: 15
Download here for free: Simplilearn.com/scrum-methodology-guide(PDF)
Find Our Certified ScrumMaster (CSM) Certification Training in Top Cities
Conclusion
If you are preparing for the Certified Scrum Master exam, studying without expert instruction is probably a bad idea. These books are only meant to complement the learning on a full-fledged CSM certification training, but they provide a full spectrum of the Scrum field and its core concepts.
Have we missed any great Certified Scrum Mastery reference texts? Let us know in the comments below, and we'll be sure to add it to our list!
Here's the video of our course on 9 Reasons To Consider A CSM Certification.