If you're working toward your PMP® exam, you know that it's an involved process that can seem overwhelming. When you apply project management principles and break all the tasks down into individual steps, it can become much simpler to manage. 
You may be wondering how to apply for the PMP exam, so we've put together a list of the steps you'll need to do to register for the PMP exam, along with some helpful tips and tricks.
Your journey to becoming a PMP certified is easy with Simplilearn's PMP Certification. Get started by enrolling now.
Watch a video on PMP Certification Training
Applying for the Exam
It all starts at the Project Management Institute (PMI)® website.
1. Navigate to PMI and click the Register button.
2. Enter your information into all the fields to create your profile.
3. Click the Return to where you came from link to view your dashboard.
4. Click the Certifications menu item, and select Project Management Professional (PMP)®.
5. Click the Apply Now button in the Apply for PMP Certification area on the right side of the screen.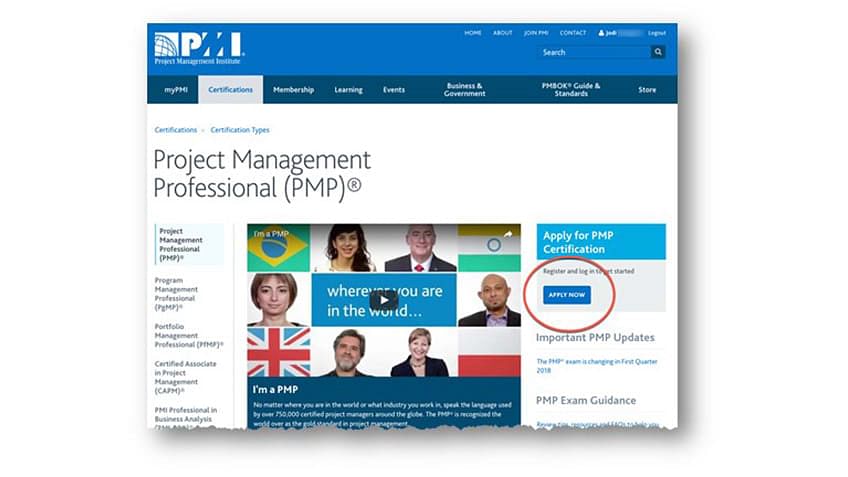 6. Click the Apply for PMP Credential link. You'll be taken to the PMP application page.
7. Enter your information on all the screens. You'll want to fill these forms out as completely as possible.
Tip: PMI takes at least 5 business days to approve your application and may perform a random audit with your details and the references you entered.
8. When your application is approved, you'll have a year to pay for and schedule your exam.
Tip: Simplilearn recommends scheduling your exam 5-6 weeks in advance.
9. You won't be able to schedule your exam until you've paid your exam fee. Your profile status will reflect where you are in the process.
10. PMI has hired Prometric Testing Solutions to conduct the test on their behalf. When you are ready to schedule your test, you'll be directed to their site for further instruction.
11. You'll be prompted to enter the code you receive, and the first four letters of your last name. Prometric then allows you to scan through the availability of the test center at your nearest location.
Tip: You won't be able to browse the availability of test centers until you've paid the exam fee.
12.  When you are preparing to leave for the testing center, be sure you carry a photo ID with your signature.
Tip: A passport is usually preferred.
13.  Generally, PMI® recommends that the test should be scheduled at least 5-6 weeks in advance. The scheduling should be done as per your confidence level. Note you cannot scan the availability of test centers until you pay the exam fee.
While taking the test, you can mark questions you're not sure of and return to them later. When you've completed your exam, you'll get the results right away. You'll immediately be able to see whether you passed or failed, and you'll also see your level of proficiency for all five process groups along with professional and social responsibility. You'll receive a temporary certificate from the testing center until PMI sends your original certificate in the mail, which can take 4-6 weeks.
Preparing for the PMP certification exam? Here's a free mindmap.
4 Steps to Apply for the PMP Exam
You need to know your eligibility status, get all the required information about yourself, and fill in the application form. These three steps are essential to ensure your PMP application goes smoothly.
1. Confirm You're Eligible
As with any certification, PMP also needs you to have specific qualifications. You need to fulfill either of the following conditions
Besides the above qualification, you also need 35 hours of project management training. This may include on-demand courses, authorized training partners, and webinars. 
2. Gather Your Info
The next step is to gather all your information so everything goes well while filling in your application. Besides personal details and educational qualifications, you also need the following. 
You need to specify the projects you have led. This information includes the location of your project, the role you played, and the responsibilities you shouldered. In addition, you must include the duration of the project.
You also need to list information about your Project Management Training; this includes information about your training institution, completed courses, and completed hours. 
3. Complete and Submit Your Application
The last part is completing your application by completing and submitting the form. However, you need a PMI account to do that. You can register an account on PMI by filling in.
Your details, including name and email
Other details include your date of birth, project management experience, and training institutions.
Your account information, including password and a security question. 
4. What Happens Next?
Once you register your account, you can log in and complete the form. The application form may be lengthy, but you can take breaks. However, ensure that you fill in the right information. 
PMI will go through your application and inform you if you get selected. But, before selecting, they can also randomly select you for an eligibility audit. In that case, you must provide all the necessary documents for verification, including a copy of your degree certification, certificate of experience, and certificate of training. 
Accepted candidates can then pay an application and schedule an exam. Members of the PMI pay less than non-members; for the exact fees, visit the PMI website. You have two options for attempting the exam: Pearson Vue Testing Center or Securely Online. The exam may be challenging, and you can only attempt the exam three times a year. 
Applying for the PMP exam works through their website. Register an account verifying your eligibility and gathering personal, academic, and professional details. Once registered, you can fill out the application form, submit it, pay the exam fee, and schedule it. 
Conclusion
If your training has taught you anything thus far, it's that even the PMP exam process can be project managed. The PMP® Certification Training is challenging to obtain, but with the right preparation, it's possible. Once you have passed your exam, you'll be a member of an elite group of professionals who are in high demand in the workforce.
PMP is a registered mark of the Project Management Institute, Inc.
FAQs 
1. How do I start my PMP exam?
You must first check whether you meet the PMP certification requirements to ensure you're eligible. Make an account with PMI and fill out the online application for the PMP exam. 
2. How do I fill out the PMP application?
Aspirants are required to visit the PMI website and fill out the application form for the PMP exam. If you are not a PMI member you can begin by registering with PMI for membership to enjoy discount benefits on the application fee. 
3. How much does it cost to get a PMP certification?
PMP exam certification with PMI Membership costs $405, while the cost without PMI Membership is $555. The re-examination fee for PMI members is $275 and for non-PMI members is $375. 
4. Is it hard to get PMP certification?
The PMP Certification exam is quite challenging as it tests your knowledge across the breadth of project management practices and concepts. Strategic preparation is a must to score well in the PMP exam. You can consider enrolling on different PMP exam training courses to learn from industry experts. 
5. What are the prerequisites to take the PMP exam?
You will be eligible for the exam only after you complete either 35 hours of project management course training and 36 months of project management experience with a four-year degree or 60 months of project management experience with a high-school diploma or associate degree. 
6. How long does it take to get PMP certified?
It takes up to 10 to 12 weeks to prepare for the PMP certification. Your application approval will consume approximately 5 business days. After you take the exam, you will receive an email from the PMI within 1 to 2 weeks. The physical certificate is delivered within 4 to 6 weeks.
7. How long does PMI take to approve the PMP exam application?
PMI takes a minimum of 5 business days to approve your application. They may perform a random audit with your details. Additionally, they might also confirm the references you entered.