Within a few years, cloud computing has become a technology that affects everyone's lives on a daily basis. We store our personal files on the cloud and use cloud-based apps to maintain friendships. IT departments have also taken a big step in going from being doubtful of cloud security to spending billions of dollars on cloud services. The cloud gives small, medium and large sized companies the ability to simply rent the apps and servers they need, instead of having to buy them. 

Microsoft is one of the oldest and biggest cloud service platforms that enterprises rely on. The host of cloud services offered by the giant includes SaaS (Software as a Service), PaaS (Platform as a Service) and IaaS (Infrastructure as a Service). Cloud computing with MS Cloud services lets you rent the tech or software you want for a monthly rental fee.
Discover a world of learning opportunities with Simplilearn's University Courses. Gain specialized knowledge and accelerate your career growth.

SaaS: With SaaS, you can rent the app or software you need, while data, runtime, middleware, servers, O/S, storage, networking and virtualization are handled by other managers. 

PaaS: With PaaS, you can rent everything except for the app. You manage apps and data, while Microsoft's cloud services takes over runtime, O/S, middleware, networking, servers, storage etc. 
 
IaaS: With IaaS, you can rent the hardware and tools to maintain it as well. You can manage data, apps, runtime, O/S, middleware while the cloud services manage servers, storage, networking and virtualization.
 
Amazon and VMware are big cloud service providers, but Microsoft is offering highly competitive services with excellent prices that are drawing potential customers away from these new providers.
1. Microsoft Azure 
Azure is Microsoft's big enterprise cloud, offered as a PaaS and IaaS service. It is a popular service used by developers who write apps with the support of the company's coding tools. Azure offers the capability to save money, work faster and integrate data and on-premises apps in a powerful, scalable and flexible way. This feature-filled service offers a hybrid cloud solution, unlike many other cloud providers that force customers to choose between the public cloud and their own data centers. Hybrid cloud solutions are known to offer more efficiency and economy in storage, backup and recovery of data. 

Support for Azure has been expanded from Windows to Linux as well, opening up the services to more users. Clients only pay for the services they need. With Azure, clients can better provision Windows and Linux VM apps, develop modern mobile and business solution apps for Windows, iOS and Android, gain insights from data and manage user accounts, synching with on-premises data directories. 

Deployment of Azure services takes less than 5 minutes, just as it is claimed by Microsoft. 57 percent of Fortune 500 companies on the bleeding edge already use Azure, and the numbers are expected to rise as the capability offered by Azure improves and expands further. 
2. MS Office 365
It was an excellent move for Microsoft to put its hit MS Office solutions on the cloud. Called Office 365, it allows clients to access email and calendars on the go, work from anywhere with Office apps, get easier conferencing capability all with extra security. The Office 365 package includes Word, PowerPoint, Excel, OneNote, Outlook, Access, Publisher, Lync and InfoPath on the cloud. This highly popular MS cloud service has satisfied users across the world.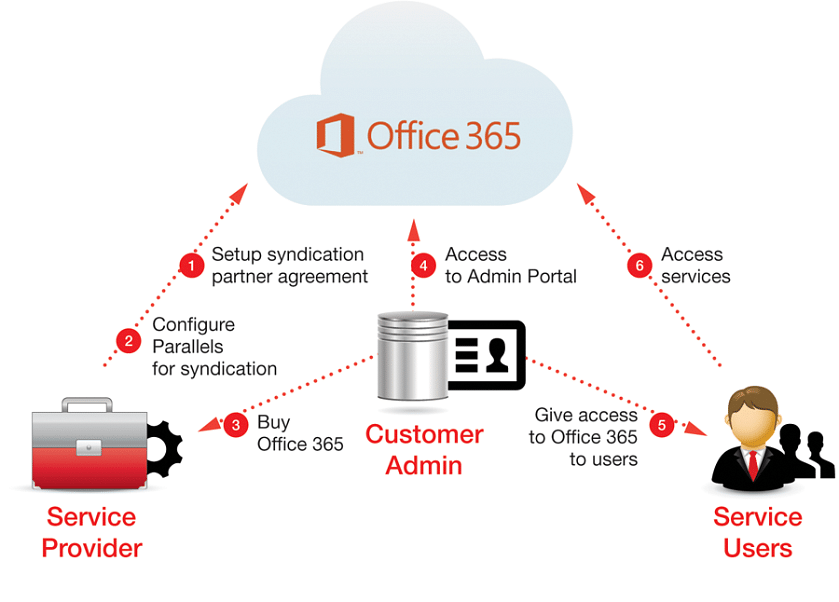 MS clients already using MS Office will find that 365 adds more cloud power, allowing work to be done from PCs, Macs and mobile devices. Calendars and emails can be kept in sync with enterprise-grade services. Users can quickly and easily set up online HD video conferences, share screens and facilitate real-time note taking. File sharing and collaborating with partners, customers and teammates is also easier because of easy sharing. For those who are wary of the cloud, the built-in anti-spam and anti-malware protection will come as a relief. 
3. MS Windows Intune 
Windows Intune is Microsoft's cloud mobile management service that allows organizations to manage devices across the cloud or when connected to a MS System Center. It offers support for Windows, iOS and Android platforms, and makes it easy to manage mobile devices and PCs from one place. Users can configure their devices in a way that suits the company's compliance needs and improves efficiency without the need for additional infrastructure. The app allows users to work from anywhere while offering the security that is synonymous with Microsoft's products. It is a boon for enterprises that want to avoid third-party tools and keep everything centralized in organizations that are Windows client-heavy. 
4. Microsoft SQL Server with MS System Center 
Microsoft SQL Server has been popular since its release in 2012, allowing organizations to run SQL servers on the cloud. This offers the benefits of a private cloud environment for companies that are hesitant about data security and other concerns. The cloud-based SQL Azure server can run with the support of Microsoft System Center Virtual Machine Manager 2012. Users can manage their SQL databases on a private cloud; take advantage of a higher level of management of apps, and virtualization benefits that are offered by the System Center. 

The latest 2014 upgrades to MS SQL Server offers better security and backup, simple conversions for in-memory tables, faster disaster recovery and migration, SSD support, automatic backups and other features. Licensing is easy even with the Standard Edition, so smaller businesses can benefit from the backup features even without a full-time database admin. 
5. Enterprise Mobility Suite  
The recently launched Enterprise Mobility Suite allows users to leverage existing Microsoft technologies like Windows Intune, MS Azure Active Directory Premium and MS Azure Rights Management to help manage different devices from a single environment. With the MS EMI, you can manage all your devices from one unified environment with Intune's capabilities, protect your data with MS Azure Rights Management and manage identity with Azure Active Directory. Though the product is relatively new in the cloud services market, it is fast becoming popular with enterprises and smaller organizations seeking hybrid cloud management services with reliable security.
6. Microsoft Visual Studio 
MS Visual Studio in the cloud is aimed at developers who want to efficiently manage their code, work and builds on the cloud. Users can also install the Multi-Device Hybrid apps extension to create apps for Windows, iOS and Android devices with standard web technologies and Apache Cordova. MS Visual Studio users will be able to debug, edit, deploy projects and manage project architecture with ALM improvements more productively with the cloud version. 
With increasing competition from other big cloud service players, Microsoft is bound to up the ante with its own cloud services. There is no better time to take advantage of the excellent services and competitive pricing than now.  Check out our courses to fast track your career PGP Cloud Computing and Cloud Architect !
Discover the six essential Microsoft cloud services in demand, shaping today's IT landscape. From Azure to Office 365, mastering these services is key. Enhance your expertise through targeted cloud computing courses for a competitive edge.