Chapter-2: Business Analyst Roles & How much they make
What does a business analyst do?
While we have covered the role of a business analyst, it's important to know the way a business analyst works. While the job specification varies depending on the nature of the organization, there are common activities that a business analyst will always carry out.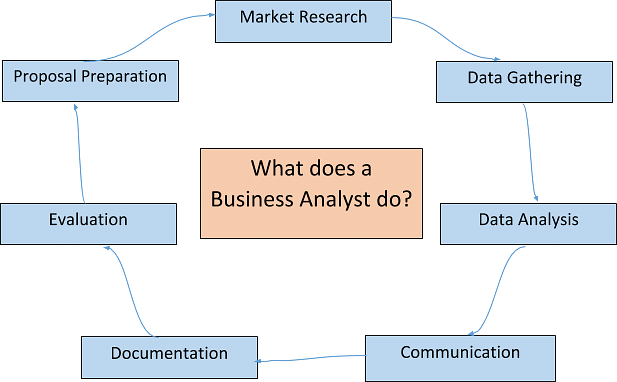 Roles & Responsibilities of a Business Analyst
1) Market Research:
Market research is a process involving the collection of data in regards to how a certain market operates based on market characteristics, consumer behavior, competition, and profitability. A great deal of business analysis involves asking questions, conducting interviews, and observing to work in progress. This phase allows them to interpret the data collected more accurately based on their market landscape.
2) Data Gathering:
Core to a business analyst, data gathering takes form in various ways. It could involve meeting with experts, checking on branches of the organization or competitor stores, and participating in events to gather facts.
Data can also be collected via virtual means such as utilizing tools like social media, Google Analytics, and online databases. The information-gathering stage is central to the role of a business analyst because it is central to defining the scope of a project and the optimal solution.
3) Data Analysis:
After the data is gathered, it is just raw numbers that need to be processed into a workable material. This phase is central to the role of the business analyst and involves deciphering the data gathered. It is the responsibility of business analysts to study the data and search for trends and patterns. From the data, they can extrapolate the information needed to solve the problem at hand and the optimal solution for it.
4) Communication:
Good communication is an essential area work that a business analyst does. From conveying data, conducting research interviews, and presenting gathered data, business analysts communicate with a variety of important audiences. By listening to both verbal and non-verbal messages, they open the line of dialogue.
Each audience has varying needs, goals, and knowledge of the business which adds to data gathering, interpretation, and the optimal outcome. It is the work of a business analyst to gather their knowledge and information and to provide a clear understanding for everyone to work with. In a way, business analysts are like translators. They act as an intermediary between departments and management to convey the desired goals whether via the big picture or broken down into smaller, more manageable tasks that departments can carry out.
5) Documentation:
Business analysts take the time to document what they analyze, learned, and observed to demonstrate the need for the optimal course of action. Part of the analysis of information occurs when analysts arrange their findings into a presentation to make it easy to understand. This can be done in various mediums depending on the intended audience including a presentation to stakeholders or executives to a report to middle management or outside firm.
6) Recommendations
Once the data is analyzed and prepared, business analysts prepare proposals on a recommended course of action. This responsibility is the culmination of the process and involves demonstrating what has been learned from the data gathering and the most optimal way to solve the problem based on scope and budgets.
Proposals are usually put before the C-suite team or shareholders and defined as executable goals. While a business analyst does not implement the plan, the provide an actionable roadmap for the department(s) that are set to implement the proposal.
What's the Average Compensation of a Business Analyst?
There are many different types of business analysts as such, your income as a business analyst depends on the career path you choose. Generally, a business analyst enjoys a highly rewarding career and is well compensated. These provided by the U.S. Bureau of Labor Statistics show the average compensation of a business analyst in various roles.
Additional factors that influence compensation include experience level, location, and industry. Traditionally, business analysts in the financial or technical field earn more than those in other fields.
The chart below is based on data on the average wages of a generic business analyst based on experience without bearing on industry or geography.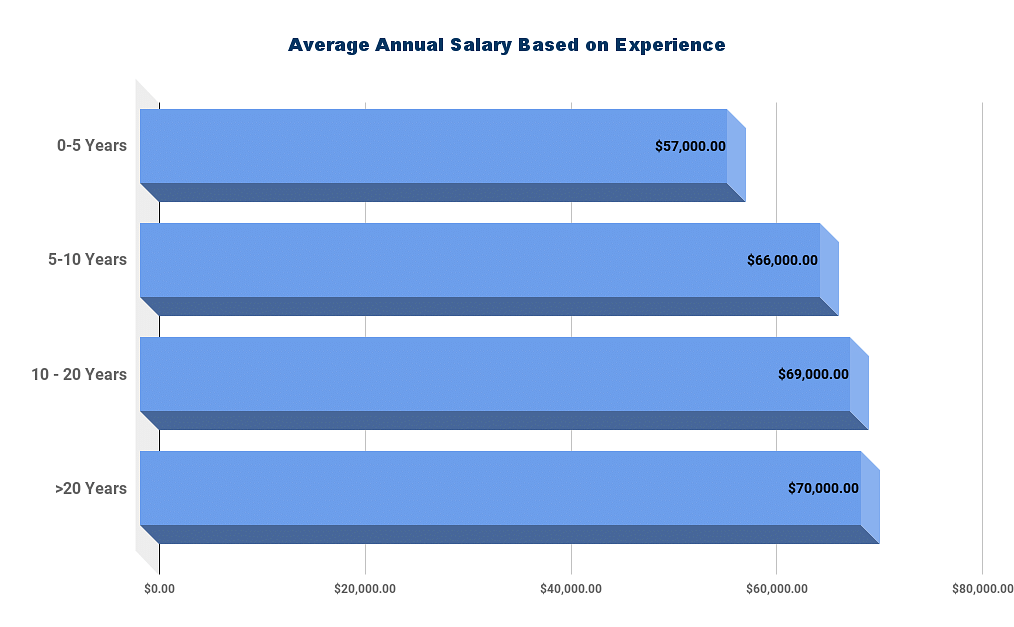 Choosing a Career Path as a Business Analyst
While you must make the determination of which industry your professional skills might complement after becoming a business analyst, once you have worked in the capacity of a business analyst for a number of years, there are a variety of different specializations that you can pursue.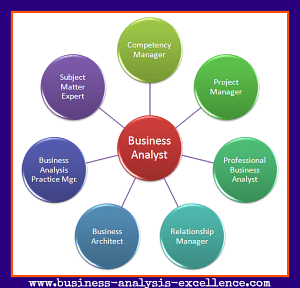 1) Business Analysis Competency Manager
This is a good career path for a business analyst who has strong communication skills and enjoys contributing to the growth of organizations. It focuses on developing the understanding within an organization of business analysis and supporting its growth within. This role is a great fit for you if you enjoy the theoretical and developmental aspects of business analysis and want to avidly share the benefits.
2) Subject Matter Expert
Subject matter experts are teachers who specialize in a specific area, industry, or subject matter. Business analysts who have an interest in a specific area and professional expertise may want to explore this path as it varies from industry to industry.
3) Business Analysis Practice Manager
A great career option for skilled business analysts who are natural leaders and enjoy developing teams and translates to a number of corporate hierarchical levels. This role is meant for someone who is more experienced in business analysis as they are more of a thought leader and mentor to the teams they manage.
4) Business Architect
This is a great career path for experienced business analysts with an enterprise-level understanding and aptitude for seeing the organization at its core. This role serves an explicit purpose; to increase business efficiency and streamline business operations in an integrated way. Talented business analysts in this role integrate informational needs supporting company strategy and objectives from the customer and operational view.
5) Relationship Manager
Business analysts skilled in the art of negotiation should consider this path as it is a perfect fit for people who love to talk, understand, persuade, and negotiate with stakeholders. This role requires the building of strong relationships within the organization and also has upward mobility for those wishing to build their career.
6) Professional Business Analysis Consultant
Business analysis is a profession unto itself with core specialized skills and is useful to any industry. Thus, as a business analyst consultant, you have the mobility to become a professional business analyst from one industry to the other, between company and subject matter areas with ease.
As a professional business analysis consultant, obtaining your Business Analysis Certification is key to your credentialing and professional recognition. It proves to prospective clients that you have expertise in advanced documentation, effective planning, and the creation of business solutions.
7) Project Manager
A familiar career path for every business analyst, a product manager owns a specific area within a company and manages it based on set scope and expectations, continually improving year-over-year. It involves managing budgets, timelines and stakeholder expectations. This role, while not seemingly as specialized as the others, is one of the key ways that business analysis is utilized in organizations.
Find our Certified Business Analysis Professional (CBAP®) Online Classroom training classes in top cities: