Many things have changed in SEO, but one thing has remained constant: the backlink. It used to be that the more hyperlinks you had, the better your site would rank, but in 2021, it's all about the quality of those backlinks. Using free backlink checker tools, you can find the best backlink for your website.
One of the most significant search ranking variables is the number and quality of backlinks to a website or page. Backlinks are the best attributes to obtain an edge over your competition in search engine optimization. Because of this, you must have access to the greatest backlink tools. The finest backlink checker will help you uncover fresh link-building opportunities, learn about your competitors' link-building tactics, and watch your backlink profile's health.
Top 5 Free Backlinks Tools 
A plethora of backlinks tools are available in the market. Finding one best suited for your website might be a tedious task. Many backlink tools require a premium subscription for accessing features and can be very expensive. This is where free backlink checkers come into action. Everyone, including school students, office workers, etc., can use free backlink checker tools to increase the ranking of their website. Some of the free backlink checker tools are mentioned below: 
1. OpenLinkProfiler
When you use OpenLinkProfiler to monitor the backlinks pointing to your site, you have various options at your disposal. SEOProfiler has provided you with this backlink checker. Link Diagnosis, for example, allows you to check backlinks for one web page or the whole website and generate extensive reports and optimizations. Additionally, it has a variety of outputs and other features available, such as:
Their collection of links is updated every five minutes. 
Every month the entire database is refreshed to include the latest backlinks.
Uses its web crawlers instead of relying on external sources
Link quality score or the 'Link Influence Score (LIS)' is calculated and applied by this tool.
Per domain, exports can have up to 200,000 links each.

If you want to see the most recent backlinks to your site, you may use this free tool. You can also get a '.csv' file with 1,000 of the most recent backlinks. Thanks to this free service, checking backlinks to your website has never been easier.
2. SEO SpyGlass
SEO SpyGlass provides a dashboard with all the necessary tools for creating quality backlinks for backlink research and management. However, if you're interested in researching your own and your competitors' websites, there is no restriction on the number of domains that can be checked for backlinks.
Features of SEO SpyGlass include:
A Google Search Console and Google Analytics integration are available if you need more information.
SEO SpyGlass has a 'Domain Comparison' tool that might help you find new backlinks.
When you add a couple of your competitors, this free backlink checker discovers the domains where respective backlinks overlap. 

On this list, SEO SpyGlass is the greatest option for backlink research and management because it has the most powerful analytics and the largest data storage capacity. Connecting Google tools to SEO SpyGlass and using the SEO SpyGlass dashboard will allow you to download your backlink data for free.
3. Google Search Console
Using Google Search Console is a way for web admins to improve their websites' performance. Regardless of the length of the list, only the first 1,000 results are viewable. There are no on-site metrics or analytics capabilities. However, the data may be exported and analyzed using other tools. The best way to get raw backlink data from Google Search Console is to export it to SEO SpyGlass, which may be analyzed and gleaned for further information.
Search Console features include:
Each site you own can only have up to 1,000 backlinks checked.
The performance report offered by Google Search Console is available. The queries that rank your site and web pages are listed in this report.
Search Console provides a great way to see how your rankings change due to on-site changes and optimization.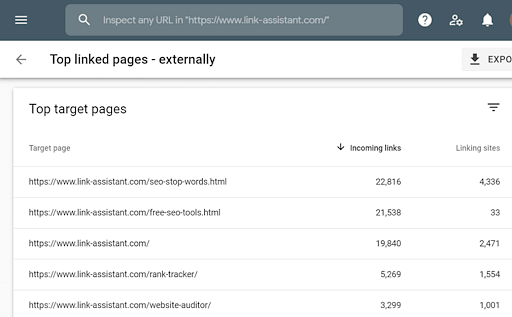 You can only use it to examine your websites for free. Google's index of backlinks is one of several site-quality dashboards that may be accessed once you've had your ownership validated.
4. Seobility 
Seobility is a web-based SEO tool that aids in the development of more effective and long-lasting websites. Only 400 backlinks can be viewed at one time in Seobility's three daily backlink inspections. As a result, even though the number of backlinks you can see is limited, you will see only the best when browsing the list. Additional parameters, such as anchor texts, do-follow/no-follow characteristics, link kinds, and connected URLs, are included with each link.
Seobility's features include:
A quick summary of backlink profiles like domain rating, amount of backlinks, best links, etc., are provided at the top.
Auditing and content management can be done easily.
Access to backlink checking tools is made possible through a user-friendly dashboard.

It is possible to leverage Seobility in two different ways. The first is to have a thorough check of your website for backlinks. The second step is to quickly check your competitors' backlinks to get a sense of their approach.
5. Ahrefs
Ahrefs has recently been added to the list of famous free backlink checkers. This free tool lets you see the 100 best backlinks to any domain or web page. Backlink analysis and an anchor text analysis of your website can be obtained by creating an account with the service.
Ahrefs is a tool that can analyze the backlinks pointing to any website or domain in great detail. Ahrefs backlink checker is famous for seeing data like:
Releasing the corresponding amount of anchored text
Do-follow & no-follow link
Domain Rating (DR)
New or removed backlinks

It's a time-saver for your site if you've been hit with negative SEO following the Penguin change, as it provides a breakdown of the percentage of anchor text linking to your site. Even though Ahrefs is a paid service, you can use their free plan to see what kind of links are pointing to your site.
FAQs
1. How many backlinks do I need to rank well?
More backlinks are required with the increase in the difficulty level of the keyword. For example, if you want to rank for a term with a difficulty level of 10, you'll likely need around ten backlinks. You may, however, need 100 backlinks if the difficulty is 50. In addition, you must build high-quality backlinks because even a single high-quality link can outrank 100 low-quality ones.
2. What exactly is the Semrush software?
In addition to keyword research, Semrush also keeps tabs on your competitors' keyword strategies, does an SEO assessment of your blog, and looks for backlinking opportunities. The free version offers a few important features, but most are only available in the paid version. Many firms, both large and small, make use of it.
3. What do you mean by white hat backlinks?
Whitehat backlinks are those backlinks that have been generated under Google's criteria. On the other hand, black hat link building is spammy or tries to manipulate the system, which is against Google's webmaster rules.
One of the drawbacks of free SEO tools is that you may have to give up some comfort. This could imply combining various tools to meet your backlink research requirements for backlink checkers. Digital marketing provides high-quality insights for backlinking by giving precise data on what the customers demand in the contemporary world. The data involves keywords, hashtags, and other viral content, which benefits in creating relevant backlinks for your website. 
Master many facets of SEO including keyword research, technical SEO, link building, analytics, with the Search Engine Optimization training course.
Conclusion
In today's times, SEO has become the most rewarding marketing discipline. If we combine it with data, analytics, content marketing, technician site optimization, and HTML, then there is a huge scope for your website to perform better. Our SEO course covers all these key skills and how they coordinate to become an effective marketing strategy. Enroll now for our SEO certificate course today!