ITIL Intermediate CSI - Implement Continual Service Improvement Tutorial
Implementing Continual Service Improvement
Welcome to lesson 7 'Implementing Continual Service Improvement' which is a part of the ITIL Intermediate CSI Certification Course. This chapter deals with details about the implementation considerations in continual service improvement.
This publication discusses implementing CSI from two perspectives. First and foremost is the implementation of CSI activities around services. Second is the implementation of CSI around service management processes.
However, if your organization does not have very mature service management processes, then it is usually difficult to execute The 7-Step Improvement Process for services.
Let us go ahead and learn more about Implementing Continual Service Improvement.
Objectives
By the end of this 'Technology consideration' lesson, you will be able to:
Gain the knowledge, interpretation, and analysis of improvement principles, techniques and relationships, and their application to ensure continual service improvement.

Understand the CSI implementation: strategy, planning, governance, communication, project management, operation, as well as how to deal with cultural and organizational change
Let us go ahead and learn more about Critical Considerations for implementing CSI in the next section.
Critical Considerations for implementing CSI
Before implementing CSI it is important to have identified and filled the critical roles that have been identified in previous modules. This would include:
CSI Manager

Service Owner and

Reporting analyst
A Service Level Manager is really needed to be the liaison between the business and IT. Monitoring and reporting on technology metrics, process metrics, and service metrics need to be in place.
Internal service review meetings need to be scheduled in order to review from an internal IT perspective the results achieved each month. These internal review meetings should take place before any external review meeting with the business.
These internal review meetings should take place before any external review meeting with the business. Let us now move on to our next section which explains the approaches to start with.
Where do we start?
To know where do we start, we consider the following approaches:
Service approach
An organization can choose to implement CSI activities in many different ways. One way is to identify a certain service pain point such as a service that is not consistently achieving the desired results.
Work with the Service Owner to validate the desired results and the trend results over the past few months. Review any monitoring that has been done.
If there hasn't been any end-to-end monitoring in place but some component monitoring than review what has been monitored and see if there are any consistent issues that are leading to the lower-than-expected service results.
Even if there hasn't been any component monitoring being conducted, review your Incident tickets and see if you can find some trends and consistent CIs that are failing more than others that impact the service.
Also, review the change records for the different CIs that together underpin the service. The bottom line is that you have to start somewhere.
If you don't feel you have adequate data from any monitor or another process than perhaps the first step is to identify what to monitor, define the monitoring requirements, put in place or begin using the technology required for monitoring.
Lifecycle approach
Another approach is to start looking at the handoff of output from the different Lifecycle domains. Service Design needs to monitor and report on their activities and through trend evaluation and analysis, identify improvement opportunities to implement.
This needs to be done by every part of the Lifecycle, especially Service Design, Service Transition and Service Operation. CSI is engaged in this activity. Until the service is implemented we may not know if the right strategy was identified so we may not have input until later for Service Strategy improvement.
As Service Transition begins working with the product Service Design handed off, Service Transition may identify improvement opportunities for Service Design. CSI can be effective well before a service is implemented in the production environment.
Functional group approach
Perhaps your organization is experiencing a lot of failures or issues with the servers. If this is the case, one could argue a good case to focus CSI activities within the functional group responsible for the servers, as server failures have a direct impact on service availability.
This should be a short-term solution only as CSI activities should be reviewing services from an end-to-end perspective; however, it is often easier to have a small group focused on CSI activities. Perhaps this could be a pilot of CSI activities before a full rollout across the organization.
Let us now move on to our next section which explains the concept of governance.
Governance
No matter if you are implementing CSI around service management or services it is critical that governance is addressed from a strategic view.
Organizations are facing the need to expand their IT service management strategies from an operational level to tactical and strategic levels to address business process automation, market globalization and the increasing dependency on IT for the efficient and reliable management and delivery of core business services.
To address this requirement formalized service management processes and specialized service and work management tools are being introduced to manage today's complex and distributed IT environments. Introducing service management processes into internal IT departments requires a transformation of the IT culture.
The following points are considered for addressing governance:
ITSM program initiative
Corporate initiative statement (The 'IT Service Management' program supports the IT Governance Institutes definitions of Enterprise Governance, IT Governance and COBIT)
Business drivers
The implementation of a standard ITSM process and governance is deemed as imperative to support current and future business plans. It Supports the organization's vision and provides standard IT processes and a stable and reliable IT environment to enable timely and efficient integration of new services and systems.
It also provides process policies, standards, and controls to comply with internal audit and external regulatory and legislative requirements and foster a climate of commitment to best practices.
Lastly, it provides a standard ITSM process across the IT organization to support the organizational transformation to an enterprise IT services model while maintaining operational stability and reliability to the business.
Process changes
Implementing CSI will have an impact on many parts of the IT organization. Processes, people, technology, and management will undergo change. CSI needs to become a way of life within the organization.
This may require new management structure, new technology, changes to processes to support CSI and people will need to be trained and understand the importance of CSI within the organization. If you only focus on changing a process or technology CSI will not be effective.
Let us now move on to our next section which explains the COBIT as a governance framework.
COBIT as a governance framework
COBIT is based on the analysis and harmonization of existing IT standards and best practices and conforms to generally accepted governance principles It covers five key governance focus area as follows:
Let us now move on to our next section.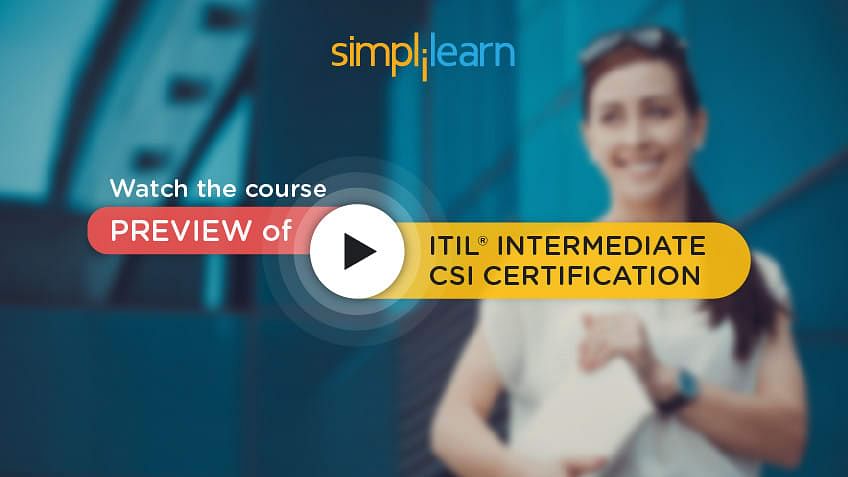 CSI and Organizational Change
CSI and organizational change In the last section we understood about COBIT as a governance framework. This section explains the concept of CSI and organizational change. Project management structures and frameworks fail to take into account the softer aspects involved in the organizational change.
These changes include resistance to change, gaining commitment, empowering, motivating, involving, and communicating.
Experience reveals that it is precisely these aspects that prevent many CSI program from realizing their intended aims. The success of a CSI program is dependant on the buy-in of all stakeholders.
Gaining their support from the outset, and keeping it, will ensure their participation in the development process and acceptance of the solution.
Those responsible for managing and steering the CSI program should consciously address these softer issues. Use an approach such as John P. Kotter's Eight Steps to Transform your Organization, coupled with formalized project management skills and practices, will significantly increase the chance of success.
Kotter's Eight-Step Approach for Success
Kotter, Professor of Leadership at Harvard Business School, investigated more than 100 companies involved in, or having attempted a complex change program and identified 'Eight main reasons why transformation efforts fail'.
These steps are:
Step 1 – Creating a sense of urgency
Half of all transformations fail to realize their goals due to the lack of adequate attention to this step. Not enough people buy into the fact that change is a must. Creating a sense of urgency is concerned with answering the question 'What if we do nothing?'
Answering this question for all organizational levels will help gain commitment and provide input to a business justification for investing in CSI.
Step 2 – Forming a guiding coalition
Experience shows a need for assembling a group with sufficient power to lead the change effort and work together as a team. Power means more than simply formal authority but also experience, respect, trust, and credibility.
This team is the guiding coalition for the CSI. It is important that the team leading the CSI has a shared understanding of the urgency and what it wants to achieve. A guiding coalition team does not have to be comprised solely of senior managers. A guiding coalition should ensure that the organization is motivated and inspired to participate.
A single champion cannot achieve success alone. Those initiating a CSI should try to gain full support from the stakeholders, including the business managers, IT staff, and the user community. The team must be prepared to spend time and effort convincing and motivating others to participate.
Step 3 – Creating a vision
The guiding coalition should be responsible for ensuring that a vision is produced describing the aim and purpose of CSI. A good vision statement can serve two important purposes like clarify the direction of the program and motivate people to take action in the right direction etc.
Step 4 – Communicating the vision
Although the vision is a powerful tool in helping guide and coordinate change, the real power is unleashed when the vision is effectively communicated to the stakeholders. Every stakeholder should understand the vision. Communicating the vision Although the vision is a powerful tool in helping guide and coordinate change, the real power is unleashed when the vision is effectively communicated to the stakeholders. Every stakeholder should understand the vision.
Step 5 – Empowering others to act on the vision
Establishing the urgency, creating a guiding coalition, creating and communicating a vision are all aimed at creating energy, enthusiasm, buy-in and commitment to enable successful change. In the empowering phase, two important aspects need to be stressed: enabling and removing barriers. It is crucial to understand what is meant by empowerment.
It is a combination of enabling people and removing barriers. Empowerment means giving people the tools, training and direction, and assurance that they will be given clear and unambiguous fixed goals. Once people are empowered, they are accountable. That is why confirming their confidence before going ahead is important.
Step 6 – Planning for and creating short-term wins
Implementing service management improvements can be a lengthy program of change. It is important that, during the program, short-term wins are realized and communicated. Short-term wins help to keep a change effort on track and help keep the energy and commitment levels high. Real transformation takes time.
Without short-term wins, too many people give up or join the ranks of those opposing the change.
Step 7 – Consolidating improvements and producing more change
The success of short-term wins keeps the momentum going and creates more change.
In CSI it is important to recognize short-, medium- and long-term wins. Changes should sink deeply into the new culture or the new approaches will be fragile and subject to regression.
Short-term wins have the characteristics of convincing, motivating and showing immediate benefits and gains.
Medium-term wins have the characteristics of confidence and capability and having a set of working processes in place.
Long-term wins have the characteristics of self-learning and expertise, and fully integrated processes that have self-learning and improvement built into them; reaching this stage requires a baseline of confident, capable delivery and real understanding.
Step 8 – Institutionalizing the change
Change needs to be institutionalized within the organization. Many changes fail because they are not consolidated into everyday practice. This is akin to buying a membership to a gym and not going. To institutionalize a change means showing how new working practices have produced a real gain and benefits, and ensuring that the improvements are embedded in all organizational practices.
Often the CSI team is disbanded before the working practices are institutionalized; there is a danger that people may revert to old working practices. This has to stop. CSI must be a way of life not a knee-jerk reaction to a failure of some sort.
Let us now move on to our next section which explains the Communication Strategy and Plan.
Communication Strategy and Plan
Understanding, enthusiasm, and support among key influential stakeholders for the CSI program. When developing a communication plan, it is important to realize that effective communication is not just based on a one-way flow of information, and it is more than just meetings.
A communications plan must incorporate the ability to deal with responses and feedback from the targeted audiences. Key activities in the communications plan include:
Identifying stakeholders and target audiences

Developing communications strategies and tactics

Identifying communication methods and techniques

Developing the communications plan (a matrix of who, what, why, when where and how)

Identifying the project milestones and related communications requirements
Defining your plan needs to take into consideration the following items:
Who is the messenger?
This is often overlooked with regard to the importance of aligning the messenger with the message. There are times when it is appropriate for the CIO to deliver a communication. Another time it may be a Service Owner or Process Owner who should be doing the communicating.
What is the message?
Define the purpose and objective of the message. This needs to be tailored to the target audience. Keep in mind the importance of communicating the benefits of the CSI program. The WIIFM (what's–it-for-me) approach is still valid and needs to be addressed. Reporting can be a message that is provided.
Who is the target audience?
The target audience for CSI could be senior management, mid-level managers or the staff who will be tasked with performing CSI activities. The target audience will often dictate who will deliver the message based on what the message is.
Timing and frequency of communication
Be sure to plan and execute your communication in a timely manner. The one constant about managing change is that for communication to be effective it will take more than a one-time communication. If reporting is what is being communicated you will want to define your reporting timelines and frequency.
Method of communication
The old standby of sending e-mails and putting something on the web can work for some forms of communication, but in order to effectively manage change, it is important to have a number of face-to-face meetings where there is an opportunity for two-way communications to take place.
Attending staff meetings, holding information meetings open to all of IT and conducting town hall meetings are all effective methods that need to be considered.
Provide a feedback mechanism
Be sure to provide some method for employees to ask questions and provide feedback on the change initiative. Someone should have ownership of checking and ensuring responses are provided to the questions/comments that are provided.
Summary
In this lesson, we covered the following topics:
CSI implementation considerations

Governance

CSI and organizational change
The next lesson focuses on Challenges, Critical Success Factor, and Risks of CSI.