In this era ruled by big data and analytics, the challenge that most businesses face is one of how best to soak up the value from all the data that is being collected. The power to combine both unstructured and structured data and then morph it into 'insights 'is what is differentiating many companies from their competitors. This new trend, called insights as a service, offers a variety of advantages to companies that are using data to their benefit.

In the last couple of years, the rage of big data has gotten bigger and bigger. Massive data sets are being generated from a variety of sources at rapid rates, both unstructured as well as structured. The web, the sensors, and recently added to this list, the cloud-based applications, are all involved in contributing to this massive data flow.
Looking to break into the analytics field? Simplilearn offers career-focused analytics courses that provide the skills and knowledge necessary to succeed.
Preparing for a career in Data Science? Take this test to know where you stand!
IDC has stated in its survey, that over 70% of the larger organizations are already purchasing external data and by 2019 almost 100% of the companies will do the same.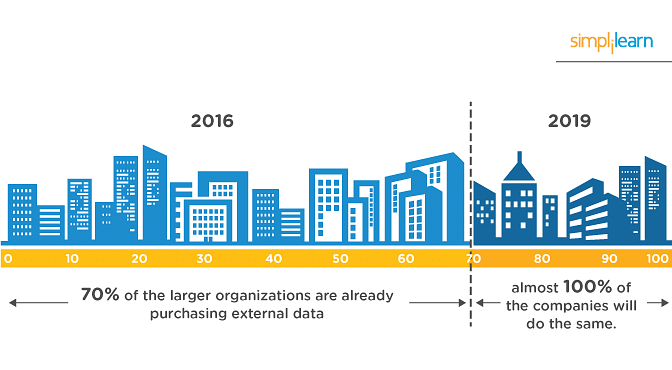 However, because companies have the ability to capture a lot of data does not necessarily mean that it all of it can be used effectively. Most of the organizations around the world, do not have the needed resources to sift through all of the data that they already have. So much of this data goes unused and thus becomes useless. According to a study conducted by IBM Business Tech Trends, only one in five companies have the needed skills to gather and to use insights effectively.


The Shift from Data to Insights
The value of given data can be established, rather is established through the analysis that is conducted on it and the actions that are taken as a result of the analysis. The reason being, analyzes can generate insights which in turn can lead to impactful actions that create value.

According to another study "Inside the Mind of Generation D" which was conducted by the IBM Center for Applied Insights, states that various companies that take advantage of the data sources both unstructured and structured and use the prescriptive analytics report show better results on the key performance indicators.
Generation D companies also report greater effectiveness at addressing business challenges. They are:
- 9 times more efficient at penetrating new markets.
- 7 times more effective at developing new revenue streams.
- 3 times more efficient in their operations.
Also Read: All That You Must Know About SaaS, PaaS and IaaS - A Quick Comparison
What is Insights-as-a-service?
But what is this Insights-as-a-Service?

Insights as a service refers to a cloud-based service that provides insights to business corporations and also aids in providing the concrete steps that are required to leverage these insights towards achieving business goals.

This kind of service is very different from SaaS (Software as a service), in such a way that SaaS only offers insights and analytics whereas insights as a service offers action plans.

The one drawback? It depends on the Saas solutions for insights as well as the data.


There are various ways that insights as a service can be offered such as:
- Business benchmarking
- Business process improvement services
- Improving business productivity 
The Types of Data Used to Create Insights
There are three types of data which can be used in the creation of insights, namely:
Company data.  This is one such data that is stored by the company in a Saas application database. Since the Saas applications are known to add the social computing components, the company data will automatically become richer.
Usage data.  This is the type of web data that is captured during the process of usage of a Saas application.
Syndicated data.  Syndicated data is a third party data that can be integrated into the company data to create data sets that are information rich. 
How does the service work?
There is a certain process to be followed for the solution to work:
The service collects data from various sources.
The services may employ the domain experts through the entire process if need be.
Apart from the industry standard domain process that are involved, the service providers also use much of the best practices in the industry.
Data, insights and analytics and best practices combine to generate actionable insights for specific industries. These plans are specific and concrete which are intended to help companies achieve their business goals.
The Action Generator, which is a key component of the Insights-as-a-service solutions, is used to generate a set of steps or actions that a business needs to take to reach its business goals. For example, the Action Generator of D'Bara, which gives solutions for customer acquisition and retention, generates its actions from the deviation-detection analysis.
Many Insights-as-a-service solutions offer a user interface for the business users. The business users need a user interface to view the data and analytics and derive conclusions and course of actions. It is a convenient tool for such users who do not have knowledge or skills in complex data. 
How has this trend been growing?
For organizations around the world, investing in the process of extracting actionable insights from data can be a proposition that proves to be extremely costly. To do this, at a reasonable cost, organizations need to have their resources and infrastructure. This stands as one of the main reasons why Insights as a service has been a timely solution. Given below is data given by KDNuggets, that shows how rapidly insights as a service has grown in the last couple of years.
Companies are said to be directing close to 15% of their IT investments towards Insights-as-a-service and other cloud-based offerings. The investment is going to increase to 35% by 2021.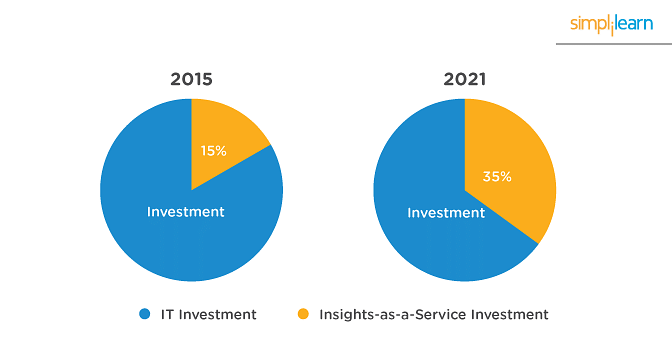 By 2016, it is said that 50% of the data of all organizations will be stored in the cloud.


The market value of big data and Insights-as-a-service is expected to reach revenue of 17 million dollars in 2015 and 88 billion dollars by 2021.
The big data-based services market, of which the Insights-as-a-service is a part, is expected to reach 30 billion dollars by 2021. Currently, it stands at 2.55 billion dollars.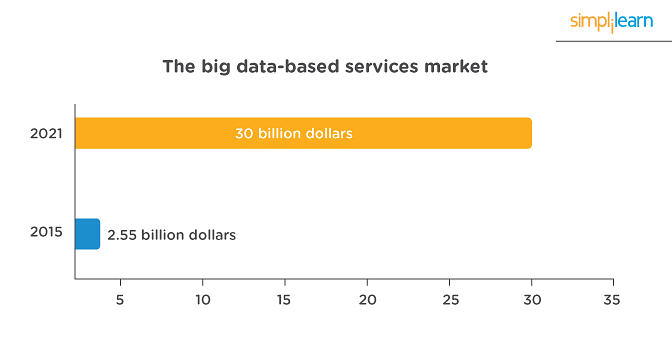 The industries that will be using the Insights-as-a-service and other SaaS solutions the most are business, finance, retail, media, and telecommunications.


Some companies are coming up to provide dedicated Insights-as-a-service solutions. Acteea, 9Lenses, Startup Genome Compass, Totango, JBara, Host Analytics, Dachis Group and 8thbridge are a few of these companies. 
Conclusion
Insights as a service has begun to be recognized as a very distinct and an important layer of the cloud family as well as a needed extension to the analytic applications.

As the pace of data generation and data diversity continue to increase, organizations will begin to understand the need and the importance of decision making that is data driven. This is when insights as a service will play a very crucial role and become as ubiquitous as the Saas applications.
Check out Simplilearn's Data science with R certification training.

The future has more interesting times since data will increasingly move towards cloud and data complexity will increase. The efficiency of Insights as a service will depend mainly on how the Saas solutions will be able to host themselves and analyze the data that is provided by clients.

So, we will have to just wait, and watch!