You may have heard the acronym "AWS" tossed around fairly often, and you may have asked yourself, "What is AWS?" We'll outline it all here, including an AWS introduction, an AWS history, a breakdown of AWS services, and an explanation of AWS benefits.
In this article, you will learn about these topics:
Overview of AWS
History of AWS
What is AWS?
AWS Services
Importance of AWS and its Advantages
AWS Disadvantages
Overview of AWS
Cloud computing has become an integral part of businesses across all industries. AWS is the most popular form. It improves efficiency and provides relief for any number of business practices. Back in the 2000s, businesses were completely dependent on purchased servers, and those servers had limited functionality and steep prices. Plus, a functioning server required countless validations. The more growth businesses experienced, the more servers and optimization practices they needed. Acquiring those items proved inefficient, and, sometimes, prohibitively expensive.
The advantages of AWS have solved many of those problems. Companies using AWS have servers available instantly, and AWS provides various workloads, increased storage options, and enhanced security measures.
History of AWS
AWS was launched in 2002. The company wanted to sell its unused infrastructure as a service, or as an offering to customers.
The idea was met with enthusiasm. Amazon launched its first AWS product in 2006. Four years later, in 2012, Amazon hosted a huge event focused on collecting customer input about AWS. The company still holds similar events, such as Reinvent, which allows customers to share feedback about AWS.
In 2015, Amazon announced that its AWS revenue had reached $7.8 billion. Between then and 2016, AWS launched measures that helped customers migrate their services to AWS. Those measures, along with the public's growing appreciation of AWS's features, induced further economic growth. Amazon's revenue increased to $12.2 billion in 2016. Today, AWS offers customers 160 products and services. That number will likely increase, given the rate at which Amazon builds upon and tweaks AWS.
Now that you know the history of AWS, and with what idea it came into the market, let's understand what is AWS.
What is AWS?
To be able to answer "What is AWS?", you must first understand that it's a cloud provider. Among other features, cloud providers grant more storage flexibility and enhanced security measures. They also contain features you'd find at a local data center, like bolstered security, higher computing capacity, and database construction. Depending on your location, you can get other features like content caching.
One of the advantages of AWS is that you get all 160 cloud services on a pay-as-you-go basis. This means that you pay only for the services you use. And it works on a relative scale. That means the less you use it, the less you pay. And the more you use it, the less you pay per unit. (i.e., The price of each unit goes down with each new purchase.)
That's not all. Other advantages of AWS relate to the applications associated with it.
The applications are reliable because they run on a safe and reliable infrastructure.
Their on-demand infrastructure allows greater scalability
The design options available on the cloud permit large flexibility
Let us now improve our understanding of what is AWS by looking into the services of amazon web services (AWS).
Learn about AWS architectural principles and services like IAM, VPC, EC2, EBS and more with the AWS Solutions Architect Course. Register today!
AWS Services
Since it came into existence, Amazon Web Services has become an essential cloud computing technology. Here are some of AWS's essential offerings:
1. Amazon S3
This tool is used for internet back up, and it's the cheapest storage option in the object-storage category. The best part: you can retrieve stored data from almost anywhere whenever you need it.
2. AWS Data Transfer Products
As the name suggests, these are migration, data collection, and data transfer products that help you collect data seamlessly. They also enable you to monitor and analyze data in real-time.
3. Amazon EC2 (Elastic Compute Cloud)
This provides a secure and resizable computing capacity based on your needs. The service is designed to make web-scale cloud computing more accessible.
4. Amazon SNS (Simple Notification Services)
This is a notification tool that delivers messages to a large number of subscribers through email or SMS. You can send alarms, service notifications, and other messages intended to call attention to important information.
5. Amazon KMS (Key Management System)
This is a security tool that uses 256-bit encryption for your data. It also safeguards it from hackers and cyber attacks.
6. Amazon Lambda
This service runs your code depending on specific events and manages the dependent resources. You need neither managing nor provisioning servers, and how much you pay depends on how long it takes to execute your code. It saves a lot of money compared with services that charge hourly rates.
7. Route 53
This is a DNS service in the cloud that doesn't require you to maintain a separate DNS account. It's designed to provide businesses with a reliable and cost-effective method to route users to internet applications.
After having learned what is AWS, let us next find out the benefits of Amazon web services.
Importance of AWS and its Advantages
Let's use the example of Unilever, a giant in the world of consumer goods.
Unilever had a problem: It needed a faster time-to-market and a standardized environment. The company is spread across 190 countries, and it was relying on digital marketing for its products. Its existing legacy local environment proved useless, unable to cater to changing IT demands.
Unilever moved a part of its business to AWS, and since then, rollouts have been smooth, provisioning applications have become more reliable, and even provisioning infrastructure has improved.
The company could also do everything in push-button scaling, and AWS's safe backups ensure that all the company's data is secure and continuously accessible. Today, Unilever is growing with AWS, thanks to features such as swift deployment rollouts, secure backups, and the ability to generate real-time reports.
This is just one example of how AWS has helped businesses grow exponentially. Let us next find out some of the disadvantages of AWS and conclude our learning on what is AWS.
AWS Solutions Architect Certification Course
Master AWS Architectural Principles and Services
EXPLORE COURSE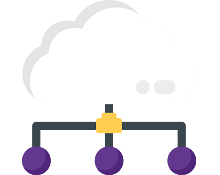 Disadvantages of AWS
While Amazon AWS contains seemingly countless positive attributes, there are some drawbacks. You'll pay a fee for technical support, for one thing.
Another complicating factor is that cloud computing still experiences glitches and complications, like files vanishing and servers not syncing properly. And, of course, if you're without internet access, you're without access to your data.
Amazon also restricts resource usage, depending on the region. So if you're in an area that severely restricts a specific resource, you don't have much recourse. There are also some security limitations. For example, under EC2 VPC, you're constrained to 100 security groups.
Conclusion
In this what is AWS article, you would have understood what exactly AWS is, its uses and services across industries, and the advantages and disadvantages of AWS.
AWS is the number-one choice in cloud computing services for businesses across the globe. It has a presence in over 190 countries and more than 100,000 active customers. These impressive numbers evidence the platform's continual growth, with more and more businesses adopting AWS. This adoption means that people who know how to develop AWS architecture and applications have great employment opportunities.
If you want to give your career a boost in the cloud computing sector, consider taking Simplilearn's AWS Courses. It includes AWS Solutions Architect Certification Training Course, AWS SysOps Associate Certification Training, AWS Developer Associate Certification Training, and AWS Technical Essentials Certification Training. This will help you earn AWS certifications, and boost your chances of getting into the world of AWS cloud computing!