ITIL® MALC Course Introduction Tutorial
This is the introductory lesson of the ITIL MALC tutorial, which is part of the ITIL® Managing across the Lifecycle (MALC) Certification Training. This tutorial will give you an overview of the course, its prerequisites, and the value it will offer to you.
ITIL MALC Tutorial Description
Managing across the lifecycle is the last step in achieving the ITIL expert certification. Therefore it is mainly focused on individuals who want to become "ITIL Experts." On completing MALC, an individual can apply the ITIL knowledge, and it provides skills that can be tangibly used in the workplace.
Let's understand the objectives of this ITIL MALC tutorial in the next section.
Objectives
Upon successful completion of the education and examination components related to this qualification, candidates can expect to gain competencies in the following:
Fundamental concepts of the service lifecycle Communication

Stakeholder management

Integrating service management processes across the service lifecycle

Managing services across the service lifecycle Governance

Organisation Measurement Implementing

Improving service management capability
Let us now look at the target audience in the next section of this ITIL MALC tutorial.
Target Audience of the ITIL MALC Tutorial
Following are the target audiences of the ITIL MALC Tutorial.
Chief Information Officers

Senior IT managers

IT managers and supervisors

IT professionals

IT operations practitioners

IT development practitioners

Individuals seeking the ITIL Expert in IT Service Management certificate
Let us now look at the exam prerequisites for ITIL in the next section of this ITIL MALC tutorial.
Exam Prerequisites
To be eligible for the MALC certification:
Candidates must have undertaken at least 30 contact hours for this syllabus as part of a formal, approved training course/scheme.

Contact hours are hours of instruction, excluding breaks, with an accredited training organization (ATO) or an accredited e-learning solution.

Candidates wishing to be trained and examined for this qualification must already have two (2) credits from the ITIL foundation certificate and must, as a minimum, have obtained a further 15 credits to a total of at least 17 credits.

15 credits can be earned from ITIL Intermediate qualifications.

Some credits from earlier ITIL qualifications and complementary qualifications can also count towards 15 credits.

Holders of ITIL expert certificate in IT service management are also eligible. Documentary evidence of all credits must be presented by candidates for the MALC qualification.
In the next section, we will discuss the MALC exam format.
ITIL Managing Across the Lifecycle Exam Format
ITIL 2011 MALC Exam consists of Eight (10) Multiple Choice Questions, which will be scenario based, gradient scored questions. Each question will have 4 possible answer options, one of which is worth 5 marks, one which is worth 3 marks, one which is worth 1 mark and one which is a distracter and achieves no marks. The duration of the exam is 120 Minutes.
As a prerequisite, you need to have an ITIL 2011 foundation certificate OR ITIL V2 foundation certificate plus bridge certificate AND completion of an accredited course from an ITIL accredited training provider. It is a supervised exam and closed book. You need to acquire a minimum pass score of 70% in the exam.
Let us explore the lessons covered in ITIL MALC Tutorial in the next section.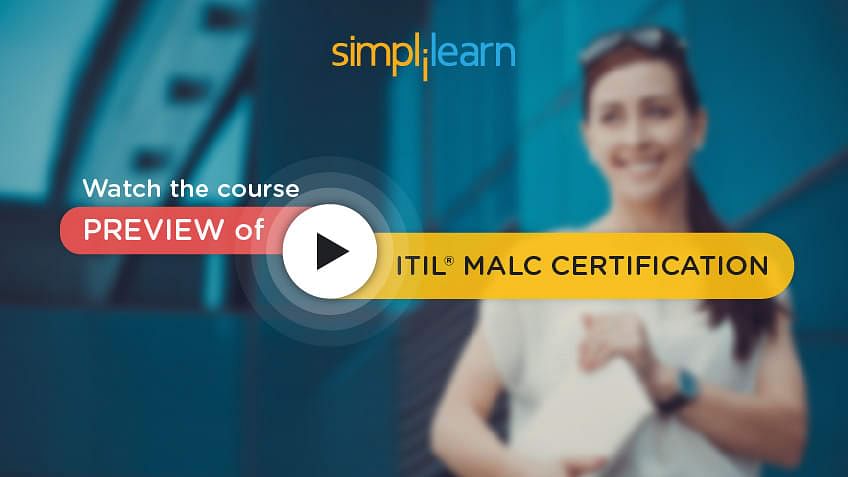 Lessons Covered in this ITIL MALC Tutorial
There are eight lessons covered in this ITIL MALC tutorial. Take a look at the lesson names that are listed below.
Lesson No

Chapter Name

What You'll Learn

Lesson 1

ITIL® MALC - Key Concepts of the Service Lifecycle Tutorial

In this chapter, we'll briefly cover the topics on:

ITIL library constituents

Service lifecycle

Value creation and realization

Risk management

Knowledge management.

Lesson 2

In this chapter, we shall discuss:

Stakeholder management strategy

The relevance of business relationship management

Managing communications across various stakeholders.

Lesson 3

Integrating Service Management Processes Across the Service Life-cycle Tutorial

In this chapter, we shall discuss:

Inputs and outputs of all the lifecycle stages.

Value to business and interfaces of each of the processes within every lifecycle stage.

Lesson 4

In this chapter, we shall discuss:

How Business relationship management is responsible for measuring and managing customer satisfaction.

How Service management can be more effective when the challenges, risks and critical success factors of each lifecycle stage are identified and appropriately actioned.

Lesson 5

In this chapter, you'll be able to:

Define the appropriate organization structures

Develop the required skills and capabilities of staff involved moves organizational performance and efficiency to higher levels.

Understand the different types of service providers and selecting the right delivery strategies results in developing appropriate service solutions.

Lesson 6

The objective of this chapter is:

Lesson 7

Implementing and Improving Service Management Capability Tutorial

In this chapter, we shall discuss:

Developing business cases.

Performing return on investment analysis, for all significant initiatives.

Implementing process.

Improving service management.

Organizational change management.

Stakeholder management.

Lesson 8

In this chapter, you'll be able to:

Learn about the directed studies

Learn case studies.

Look at the given exam hints.
Conclusion
With this, we come to an end about what the ITIL MALC tutorial includes. In the next chapter, we will discuss the ITIL® MALC - Key Concepts of the Service Lifecycle Tutorial