Mobile Technology Platforms Applications Tutorial
Welcome to the second lesson 'Mobile' of SMAC - Social, Mobile, Analytics, and Cloud tutorial which is part of the 'Social, Mobile, Analytics, and Cloud course' offered by Simplilearn. This lesson will focus on the 'M' of SMAC, which stands for Mobile. Let us start with the objectives of this lesson in the next section.
Objectives
After completing this lesson, you will be able to:
Describe the growth and reach of mobile technology.

Explain mobile platforms and applications.

Describe the concept of Enterprise Mobility and identify the implications for Enterprise IT.

Explain mobile commerce and related concepts.

List the threats and safeguards for mobile data.

Explain the use of mobile devices in Machine to Machine communication.
Introduction
Mobile devices have made their way into all spheres of an individual's life: personal, social, and professional. They are being used for much more than the primary purpose of communication.
Mobile devices offer users the ability to perform a variety of activities such as send and receive media files, access social media platforms, discover places and things, network with colleagues and friends, access online entertainment, bank and shop online, and many others.
The arrival of the smartphone technology has been the starting point of a broader revolution in the way people and businesses communicate within themselves and with each other.
Companies have evolved ways to incorporate the mobile device into their work culture and reach out to their customers, especially those belonging to the Internet generation.
Analysts have often pointed out the risks of not keeping up with the changes brought about by the combined force of the smartphone and the Internet.
In this lesson, we will understand the different ways in which mobile technology has changed the way we think, work, communicate, collaborate or spend our leisure time.
To get a better idea of how much mobiles are changing the world around us, let us look at some statistics in the following section.
The Mobile Market
The percentage of the global population with mobile subscriptions stood at 96% as of 2013, with total subscriptions touching 7 billion. Mobile broadband subscriptions have leaped ahead in the last few years and reached about 2.1 billion and are set to overtake fixed broadband subscriptions by 2018.
Smartphones are about 50% of all mobile phones sold, and smartphone subscriptions are expected to reach 4.5 billion in 2018. The fact that nearly 1.4 billion smartphones were added in the four years between 2009 and 2013 highlights how fast this market is growing.
Mobile data subscriptions are also increasing for other devices such as PCs, tablets, mobile routers, eBook readers, and cameras. While tablet and smartphone penetration continues to speed, the rate of PC penetration has remained the same.
Note that some of these figures are projections for the year 2013, and would have increased by now. They are presented here to give an idea of how quickly the market for mobile devices is expanding.
Let us also briefly look at the trends in mobile technology in the next section for a better understanding of the mobile market.
Mobile Technology - Growth and Reach
Since the introduction of 1G or first generation systems in 1981, each new generation of mobile technology has been characterized by new frequency bands, higher data rates, and non-backward compatible transmission technology.
You may be aware of the Global System for Mobile Communications or GSM, which is a standard developed by the European Telecommunications Standards Institute to describe protocols for second generation or 2G cellular networks.
As of 2014, GSM has become the default global standard for mobile communications. GSM has expanded to include data communications in Enhanced Data Rates for GSM Evolution or EDGE.
Following this is LTE or Long-Term Evolution, also referred to as 4G LTE. It is a standard for wireless communication of high-speed data for mobile phones and data terminals, which increases the capacity and speed of data networks.
Globally, GSM EDGE is expected to continue leading regarding subscription, due to many users opting for less expensive mobile handsets and mobile phone subscriptions. LTE is being built and deployed around the world and is expected to cover about 60% of the world's population by 2018.
Having looked at the growth and reach of mobile technology, let us talk about mobile platforms and applications or apps in the next section.
Mobile Platforms and Applications
Mobile platforms refer to the hardware-software environment for laptops, tablets, smartphones and other portable devices.
Windows and Mac environments lead the field for laptops, while Apple and Android lead in the area of smartphones and tablet, with Windows Phone and Blackberry, also making their presence felt in the area of smartphones.
Mobile apps are computer programs that run in these hardware-software environments, specially designed for smartphones, tablets, and other mobile devices.
Originally meant for information retrieval and general activities such as email, calendar, contacts, and so on.
They have become highly popular among users with their markets having exploded to include some other categories such as social media, games, GPS and location-based services, ticket purchases, banking and even health.
Let us take a closer look at the mobile app market in the next section.
Mobile Apps Market
More mobile subscribers prefer using mobile apps to browsing the web with more than a 100 billion apps downloaded in a year (2013). Although most of them are free apps, they still generate revenues worth billions of dollars.
This has resulted in the creation of a booming app industry and a large number of jobs. Apps are available through distribution platforms that are operated by the mobile operating system owners.
Examples of distribution platforms are Apple's App Store, Blackberry World, Google Play, Nokia Store, Samsung Apps Store, Windows Phone Store and Amazon App Store.
Apps are downloaded to a target device such as the iPhone, Android or Windows phone. Some apps can also be downloaded to laptops or desktops. Apps can be either free or paid.
A part of the price for paid apps goes to the distributor or the owner of the platform, and the remaining goes to the app maker, making app development a profitable business.
For the user, this means that an app's cost differs depending on the Operating System of their mobile devices.
With the explosion is the number of apps, users increasingly feel the need for app discovery, review, and cataloging services. It has also become necessary to regulate apps for accuracy and dependability, especially, medical and health-related apps, where incorrect data could risk patients' lives.
Now that we have looked at the Mobile market let us move on to the impact of Mobile on enterprises in the following sections.
Impact of Mobile - Mobility
Mobile devices are becoming multipurpose and easy to use. This impacts on two levels.
First, as employees, people are finding new and ready-to-use channels to interact, negotiate, and collaborate with each other irrespective of time or geography. This shift towards a mobile working culture is termed as 'enterprise mobility.'
Second, as consumers, individuals have access to information about different company products or services at their fingertips. They use their mobile devices to discover, compare, discuss, and choose from a range of options, regarding quality, cost, and make.
Internet on mobile has empowered consumers and brought them closer to brands, both big and small. It has become necessary for organizations to consistently innovate in how they reach out to new customers, and engage with existing customers and build a long-term relationship.
Organizations now pay special attention to mobile commerce, as part of their larger e-commerce strategy.
In the following sections, we will look at the twin aspects of enterprise mobility and mobile commerce.
Enterprise Mobility - Bring Your Device
With a growing number of the global workforce gaining access to mobile devices, the demand to allow mobile devices in the workplace has increased steadily. Many organizations have adopted the Bring Your Device or BYOD policy.
This shift away from traditional modes of enterprise communication and operation is being increasingly viewed as necessary to:
Enhance productivity and agility

Improve employee satisfaction and retention
The implications of enterprise mobility can be understood in three ways: regarding employees, from the business context, and in the context of enterprise IT infrastructure.
First, employees use their smartphones, laptops, or tablets to engage with multimedia information from a variety of sources.
Apart from the BYOD phenomenon, and often because of it, there has also been an increase in social media communication within the enterprise. Employees can access and share information and communicate and team up faster.
Video-conferences, webinars, instant messaging, micro-blogging, and social networking have become common ways to pool resources and collaborate with colleagues.
In the next section, let us understand enterprise mobility in the business context.
Enterprise Mobility - Business Context
According to studies, mobile technologies can cut costs of a financial transaction by up to 80%. Most enterprises that decided to adopt smart mobile devices report improved productivity as the major reason.
With the adoption of mobile devices and the availability of information anywhere and anytime, more people at the executive level have a say in technology-related decisions.
Individuals in charge of Information Technology in the enterprise, such as Chief Information Officers or CIOs, have to strike a balance between user expectations and enterprise requirements.
Let us understand the implications of enterprise IT in the next section.
Enterprise Mobility - Enterprise IT
Employees in the BYOD environment need to be equipped with reliable information in real-time and adequate tools to analyze, store, or share data. The enterprise's IT policy must outline the following:
Integration of employee mobile devices into enterprise Information Systems - This is because employees require access to company databases, email, and collaboration tools on their mobile devices.
Appropriate use of cloud solutions for efficiency and productivity – Powerful mobile technology allows employees to connect to enterprise resources and the Internet.
Access to the cloud is required for the success of enterprise mobility as many apps have to connect to databases or search engines that are too large to fit into the mobile device.
Securing of business data through effective governance – Securing business information is of utmost importance as mobile devices play a larger role in the enterprise.
Let us discuss mobile commerce in detail in the next section.
Mobile Commerce
We have already seen how mobile devices have transformed consumer buying habits. Buyers prefer to perform their research, discovering and comparing online to find the best fit for their needs.
While the Internet had already aided in the personalization of e-commerce, smartphones and tablets have added the 'mobile' dimension to it. This has been compounded by the power of social media forums, where consumers posting reviews of products exercise considerable influence on potential buyers.
Digital word-of-mouth means that feedback on new products or services travels faster than ever before. All this has changed the consumer from being a passive recipient to an active participant in online commerce.
Manufacturers, distributors, service providers, advertising agencies, and even governments have to find creative ways to promote new products, schemes, or policies.
Mobile marketing and services delivery have to account for context awareness and be customized based on location and other user preferences.
Mobile devices have also enabled consumers to: make online purchases from any location, avail group-buying discounts using social networking, locate stores offering special deals while on the move.
As online buying gained popularity, it led to the creation of a huge number of mobile commerce apps, for both shopping as well as for making payments.
Let us take a closer look at mobile payments in the next section.
Mobile Payment
Mobile payment, or mobile money transfer, is where payment is made using a mobile device through payment services that are financially regulated. Let us discuss different models of mobile payment.
SMS-based payments: Consumers send a payment request via SMS to a short code that is charged to their phone bill or online wallet. This is mainly used for buying digital goods such as music, ringtones, or wallpapers.
Alternatively, a Multimedia Messaging Service or MMS can be used in place of SMS to deliver barcodes, which can later be scanned as electronic tickets or used to collect hard goods.
Direct mobile billing: This mode of payment bypasses both the banks and the credit card companies where the consumer's mobile account is charged for the purchase. This involves a two-factor authentication with a Personal Identification Number or PIN and a one-time password or OTP.
Mobile web payments: This is a common mode of online payment, where the consumer accesses web pages or installs apps on the mobile device to make payments.
Near Field Communication or NFC: NFC is used to pay for purchases in brick-and-mortar stores or transportation services.
This requires mobile phones built with a smart-card technology that users can wave near a reader module installed by the seller. Payment is deducted from the user's mobile or bank account.
This payment method is not adopted as easily as others as NFC requires investment in supporting infrastructure and in upgrading to technology that allows it, requires cooperation between merchants, banks, and other stakeholders, and requires implementation of regulatory standards.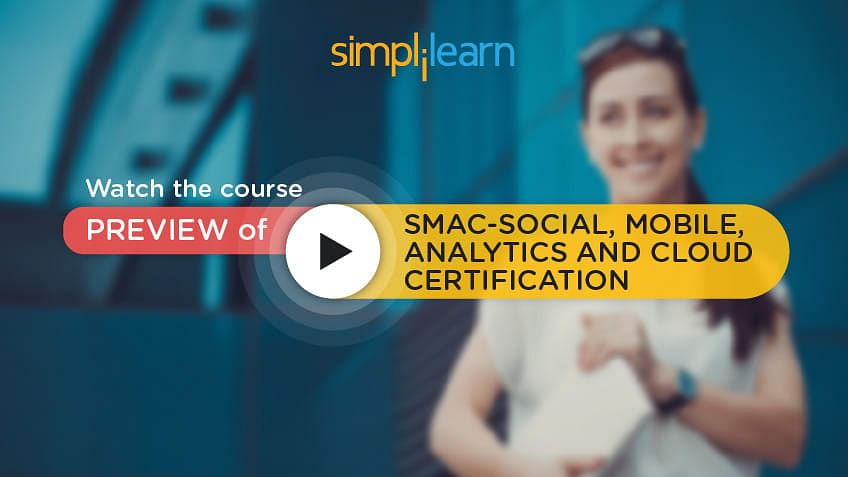 In the next section, we will look at mobile wallets and their use in mobile payments.
Mobile Wallets
A digital wallet is an electronic device that allows individuals to make electronic commerce transactions. Digital wallets have been used to for smoother and faster e-commerce transactions.
A famous example of a digital wallet is PayPal. Today, a single mobile device app can be used to: make mobile payments, and store payment details, bank account details, and credit card and loyalty card information.
The information can be stored either in the device or in the cloud. Mobile wallet apps can also use the NFC technology to make payments in stores. Popular mobile wallets are Google Wallet, Apple's Passbook, Lemon Wallet, and Square Wallet.
In the following sections, we will understand the importance of securing data on mobile devices and how this can be achieved.
Threats to Mobile Data
With mobile computing becoming common, mobile security has acquired greater importance. Mobile data is as susceptible to attacks or breaches as online data or any data in general.
Mobile devices are used to store personal information, some of which can be sensitive. This creates a channel for identity theft, where the thief can use the information on the device to impersonate the victim.
Data and identity theft can, in turn, be used for misappropriation of funds, espionage, or other illegal and malicious activities. Smart mobile devices, like other computing devices, can also be hacked affecting data security and device functionality. Safeguards are necessary to prevent theft or misuse of data.
In the next section, we will discuss the consequences of a data breach to an enterprise.
Consequences of Data Breaches
Enterprises have to secure corporate data as well as customer data. This is especially important for financial organizations such as banks.
In general, the increased use of mobile payment channels has put the responsibility on enterprises world over to tighten mobile data security.
Corporate data leaks impact business by giving competitors, or antisocial elements access to confidential information. This can lead to the company losing its competitive edge or receiving negative publicity.
Customer data breaches also have serious repercussions such as the negative impact on the brand, loss of brand loyalty, decreased revenue and profits, and high litigation and remediation costs that can run into millions of dollars.
Let us look at security measures that can be adopted to protect mobile data and prevent data breaches.
Securing Mobile Data
Enterprises can employ the following measures to protect applications and data on mobile devices:
Mobile Device Management or MDM – MDM represents activities to secure, monitor and manage enterprise mobile devices.
Secure Application Container – Corporate data can be encrypted within a secure application firewalled from the rest of the Operating System in the mobile device. Data transfer between the mobile device and the server occurs through an encrypted channel.
Device Virtualization – Virtualization technology can be applied to mobile devices as well, separating the hardware layer and the software running on it. This allows segregation of personal and corporate information in the mobile device.
Antivirus – Antivirus installed on the mobile device can scan file attachments and shared media for viruses or malware.
Online security – This can be achieved by using solutions such as encryption, reviewing application code for vulnerabilities, and strong authentication.
Enterprises can also educate employees on mobile device protection and encourage them to password protect their devices. So far we have understood the impact of mobile on business and the enterprise.
In the following section, we will see an example of how mobile technology can be leveraged in other industries by describing Machine to Machine communication.
Machine to Machine
Machine to Machine, also known as M2M refers to the communication between multiple devices through wireless or wired systems. M2M has a wide range of applications in different sectors such as Health, Defense, Logistics and Smart Cities. M2M is mostly used for monitoring and control.
The key components of M2M systems include:
Radio-frequency Identification or RFID

Sensors

Cellular or Wi-Fi networks

Computing software to analyze data and make decisions.
Reduced costs of mobile manufacturing and mobile data technologies are one of the main drivers of M2M. The semiconductor industry's increased efficiency to attain an improved yield reduces the power consumption and chipset manufacturing cost.
Also, wireless and wired networks are advanced enough to deliver data services at a lower cost. These factors have played an important role in the increased application of M2M technologies in different sectors.
Let us look at some examples in the following sections.
M2M in Healthcare
Mobile Health or MHealth is aimed at reducing the cost of healthcare and quality of patient care. One of the most prominent MHealth services in healthcare is Telemedicine which is monitoring of the patient remotely and providing the requisite care.
The patient is fitted with multiple sensors to record various factors such as blood pressure, heart rate, and so on. The data is gathered to an M2M device, most often on the patient's mobile phone.
The data is uploaded to an M2M server which alerts the patient's doctor to provide necessary medical aid.
In emergency situations, all the necessary data about the patient's condition is delivered on the way to the hospital allowing the doctor to be prepared to treat the patient.
Let us look at M2M usage in the automobile sector in the next section.
M2M in Automobiles
In the automotive sector, M2M has multiple applications such as entertainment, safety and security, navigation, and diagnostics. Safety and security are one of the most beneficial applications in the automotive industry.
One example is Automatic Crash Notification application. This service utilizes various sensors on the vehicle to report the location of the crash site along with the extent of damage to the vehicle.
It also initiates and facilitates accident reporting to emergency services in the region.
M2M presents both opportunities and challenges to the industry.
Although there is huge potential in the utilization of M2M in various sectors, the fragmented market remains a hurdle, which is a risk for forecasting the growth of M2M.
The following section recaps mobile technology in the SMAC context.
Mobile in SMAC
Mobility has been driving the development of cloud services meant specifically for mobile devices. Social media communication on mobile is also enabled through the cloud.
Therefore, the sum of Social-Mobile-Cloud is greater than the individual components. This has led businesses to develop strategies that take into account the cascading effect of mobile technologies.
The interrelation between Mobile and the other components is as shown in the below image below: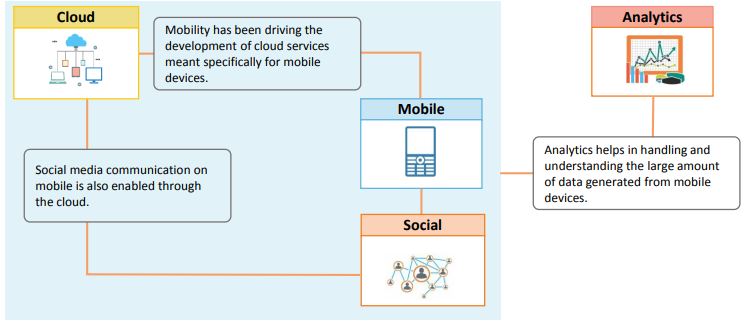 Adapting to the mobile is becoming necessary not only for growth but also for survival. Also, the percentage of web traffic contributed by mobile devices is increasing year-on-year.
Analytics helps in handling and understanding a large amount of data generated from mobile devices.
Summary
Let us summarize what we have learned in this lesson.
Mobile devices offer users the ability to perform a range of activities such as send and receive media, access social media platforms, discover, network, access online entertainment, navigate, bank, shop and many others.

Long-Term Evolution or LTE also referred as 4G LTE, is a standard for wireless communication of high-speed data for mobile phones and data terminals which has increased the capacity and speed of data networks.

Billions of mobile apps are downloaded every year, giving rise to a thriving app industry. Many organizations have adopted a BYOD policy to enhance employee productivity and cut business costs.

Businesses have to remember that mobile and social media have transformed how consumers make decisions and have to find new channels of engaging with them.

Businesses also have to enable secure mobile payments by cooperating with banks and other stakeholders.

It is vital to safeguard data on mobile devices and the cloud and prevent security breaches to protect business interests and customer privacy and identity.

Mobile technology is one of the main drivers of M2M and has wide applications in different sectors such as health, urban planning and architecture, and transportation.
Conclusion
This concludes the lesson on Mobile. In the next lesson, we will focus on Analytics