What is CRM and Why is it Becoming So Popular?
Customer Relationship Management (CRM) software is used by businesses to manage interaction with current and future customers. Today's CRMs have evolved into a confluence of multiple functions but the primary objective of a CRM is to serve the customers better, increase retention, and manage the sales pipeline. While CRMs have been around for a while and have been used by large enterprises for several years now, the advent of many pay-per-use SaaS (Software as a Service) CRMs has democratized their adoption in smaller businesses across the globe. Thanks to ease of set-up and no upfront investment, the CRM market has demonstrated sustained growth over the last decade. The worldwide market for CRM software stood at $26.3bn in 2015, up ~12% over the last year according to Gartner, and the demand is expected to grow manifold over the next decade. 
Who are the Major CRM Players on the Market?
The CRM market can be broadly classified into two segments -
1) The Top 5 - established players  
2) A long tail of smaller fragmented products
According to Gartner, the top 5 CRM vendors accounted for ~45% of the market share in 2015 and have been increasing their overall share over the last few years. Salesforce has emerged as the clear winner in this space with an overall market share of 19.7% in 2015 followed by SAP (10.2%), Oracle (7.8%), Microsoft (4.3%), and Adobe (3.6%) constituting the top 5. The long tail has a fairly fragmented smaller CRM player-base with a total market share of 55.4%.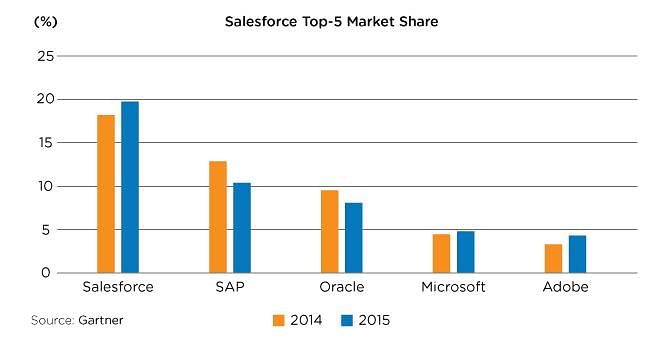 Here's a Look at the Offerings of the Top 5 CRM Players
Salesforce: Salesforce's comprehensive offering includes contact management, sales, marketing, and employee-tracking solutions in a single package. Salesforce delivers new product features and capabilities on a continuous basis. It is cloud-based with an excellent support and developer ecosystem so that you have plenty of helping hands when it comes to troubleshooting. Salesforce has the most user-friendly interface, the best uses for contact management, and the most advanced sales and marketing strategies. Strengths: Strong ecosystem, most popular 
SAP Digital for Customer Engagement: SAP's CRM offering includes an enterprise-level CRM at a small business price point. Key features include lead, contact and opportunity management and robust collaboration capabilities. The software is built mainly for small businesses and there are no minimum user requirements. It is pay-per-user and can be scaled as the business grows. Strengths: ERP integration
Oracle Sales Cloud: Oracle cloud CRM includes the standard CRM features such as digital tracking, lead scoring, nurture campaigns and distribution of sales ready leads. It provides a powerful Business Intelligence (BI) solution with easy creation of custom reports as well as data warehousing and OLAP (online analytical processing). It offers either cloud-based single/multi-tenant hosting options. The online ecosystem of integrated third party plug-in solutions remains a fraction of what some competitors bring to the cloud marketplace. Strengths: Reporting solution
Microsoft Dynamics CRM: Microsoft Dynamics CRM has a diverse set of features such as social insights, business intelligence, and campaign management. It has multiple installation options such as cloud, on premise, or a combination of both. The ability to integrate the software with Office 365 for even more productivity is a plus for existing Microsoft office users. Its first version was launched in Jan-2003 and has seen rapid evolution since then. Microsoft has been marketing Dynamics CRM as an XRM platform and has been encouraging partners to use its proprietary (.NET based) framework to customize it to develop overall ecosystem around the product. Strengths: Microsoft office integration, Offline sales client, Pricing
Adobe Marketing Cloud: Adobe's Marketing Cloud is an enterprise customer relationship management (CRM) platform with features such as Adobe Analytics (data-driven marketing), Adobe Audience Manager (data management and segmentation tool), Adobe Campaign (automation and execution of marketing schemes), Adobe Experience Manager (newsletters and other content distribution), Adobe Media Optimizer (ad management with targeted ad delivery), Adobe Primetime (a multiscreen TV platform), Adobe Social (management of marketing activities on social media), and Adobe Target (online content testing and targeting). Adobe Marketing Cloud is offered as a cloud-based or on-premises platform. The pricing is determined on a case-by-case basis and factors in the number of solutions used, user required capabilities and ongoing usage. Strengths: Comprehensive offering, marketing solution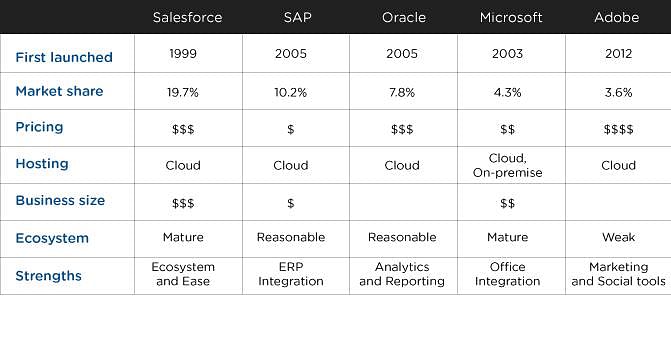 Source: company websites
The Long Tail
Some interesting alternatives to the top 5 CRM players have emerged in the last few years given the size of the opportunity. Those worth a mention include SugarCRM (open-source and the most flexible and extensible software framework, mature ecosystem), Insightly (suitable for very small businesses, Simple, Scalable, Rich functionality), Nimble (strong social media marketing tools, social listening), Pipedrive (simple and easy to use, highly visual), Zoho CRM (rich with features, attractive pricing), and Hubspot (inbound marketing and sales platform, limited CRM features). With the exception of SugarCRM, most other solutions specialize in one particular function while providing a very basic feature set for other CRM functions. Given the specialized features and attractive price tags, the offering in the long tail are best suited for very small organizations.
Which CRM is Best Suited for Your Organization?
Choosing the right CRM is a function of several factors, including your budget, the size of the organization, and the complexity of your needs.
Budget: The costs that you need to consider while finalizing your CRM software purchase include up-front set-up costs, on-going subscription costs as well as the cost of maintaining, and configuring the CRM to your basic needs. For extremely small organizations, low-cost and low-maintenance, off-the-shelf solutions work the best whereas for the larger organizations, relatively expensive, customized solutions do the trick.
Needs: Defining clear objectives and need is an integral component of any CRM software selection. The need should be collectively defined by the Customer service department, the IT department vendor and the top-level executives with clear metrics defined to calculate the return on investment (ROI) of the investment. All the major CRM providers allow a lot of customization to meet specific needs whereas a lot off-the-shelf solutions come out with pre-defined features with little customization.
Size of the organization: Typically, a larger organization would need a feature rich CRM with many possible extensions aligned to multiple departments. Also, there are a lot of consultants available to train large staff and carry out customization for the larger CRM ecosystems.
How is the CRM Job Market Shaping Up and How can you Benefit?
As CRM adoption grows, the need for professionals certified in different CRM technologies will also continue to grow. It is predicted that the Salesforce ecosystem, which is by far the largest CRM ecosystem in the world, will create more than 1 million job opportunities between 2014 and 2020 across different roles ranging from end-users, administrators, developers, and functional specialists. To build a successful career in the cloud computing domain, the first thing you need to do is establish your skills in the domain – which you can do by getting certified. Earning a credential from Google demonstrates that you have the skills and confidence to take complete advantage of a particular CRM ecosystem. Companies look for certified professionals, so getting certified boosts your career opportunities.