PMI's Agile Certified Practitioner PMI-ACP Tutorial
This is the PMI- ACP tutorial of the PMI-ACP® course offered by Simplilearn. The term PMI-ACP stands for Project Management Institute's Agile Certified Practitioner. It is one of the most popular options available to Agile practitioners.
Objectives
After completing this tutorial, you will be able to:
Describe Agile principles and Mindset
Explain how value-driven delivery is accomplished in Agile projects
Describe the best practices involved in stakeholder engagement
Discuss the approaches to improve team performance
Describe the concepts under Adaptive Planning
Discuss various problem detection and resolution techniques
Explain the principles of continuous improvement
Value of PMI-ACP to the Professional
PMI-ACP is a globally recognized certification, from the market-leading project management institution, PMI®. Let us look at some of the values below:
PMI-ACP demonstrates your knowledge of Agile and commitment to a rapidly emerging Agile methodology.
It proves your active participation in recognized project management practices.
PMI-ACP also demonstrates professionalism and proficiency in Agile principles and practices.
It increases your professional versatility in Agile project management tools, techniques, and best practices.
Value of PMI-ACP to the Organization
Organizations that use Agile principles observe the following benefits:
PMI-ACP certified project managers provide more adaptability to organizations, allowing them the flexibility to add, change, or remove requirements.
The principles and practices of Agile provide organizations the ability to support incremental delivery, hence reducing product and process waste.
Agile techniques provide high visibility and control over the project progress, hence providing more opportunity to respond to early indications of problems.
Agile principles and practices provide early and continuous customer feedback, which improves communication and empowers business owners to review critical information. This information is necessary to make decisions to steer the project throughout the development process.
The Agile principles also provide an early and measurable Return on Investment.
PMI-ACP Eligibility Requirements
The eligibility criteria for PMI-ACP can be summarized as follows:
With regard to educational background, you must have a secondary degree (a high school diploma or associate degree) or a global equivalent degree.
With regard to general project experience, at least 2,000 hours or 12 months working on project teams in the last five years is required. Note that these 12 months may or may not have been spent on the projects following Agile methodologies. If you are an active PMP® and PGMP®, then these requirements are met.
Further, for Agile project experience, you must have at least 1,500 hours or 8 months working on Agile methodologies in the last three years. This could be any of the known Agile methodologies, including Scrum, Extreme Programming, Dynamic Systems Development Method, Feature-Driven Development, and Crystal.
For training in Agile practices, you must have undergone at least 21 contact hours of learning on Agile practices.
PMI-ACP Application Process
Application for the PMI-ACP exam can be submitted online and there will be 90 days to complete the application. Once you complete and submit the online application, it will be assessed on completeness and how well it meets the competency requirements. This process can take up to 10 business days.
Note that your application may be selected for audit. After the review and audit (if applicable), you will have to make a payment to finalize your application. Applications are selected for audit on a random basis, although most applications are not audited; it is important to ensure the information you submit is accurate.
After completing the payment and audit, you will receive a confirmation email stating your eligibility to appear for the multiple-choice examination. This eligibility is valid for one year.
If your application is rejected, you will receive an email regarding the same. If the application is selected for audit, you will have 90 days to send the audit materials, where PMI will take five to seven days to process audit materials.You will receive an email with instructions on what is required to complete your audit.
This will require gathering some evidence and submit it to the PMI. In many cases, you will be asked to have one of the references on your application review and complete the Experience Verification Form. This is a PDF version of the project experience submitted on your application.
Further, your reference must verify the experience you documented and return the completed Experience Verification Form and Experience Record in an envelope, with their signature on the sealed flap. Note that a physical copy of this evidence is required (no scanned, faxed copies or electronic signatures will be accepted).
PMI-ACP Exam Fees
The fee for the Computer-Based Test or CBT is $435 for PMI members and $495 for non-PMI members.
Similarly, the fee for Paper-Based Training or PBT is $385 for PMI members and $445 for non-PMI members.
If you are unsuccessful in clearing the PMI-ACP exam, the reexamination fee for CBT is $335 for members and $395 for non-PMI members.
Similarly, for PBT, the reexamination fee is $285 for PMI members and $345 for non-PMI members.
PMI-ACP Maintenance and Renewal
The PMI-ACP qualification is valid for a period of three years, after which it must be renewed. The renewal process includes accumulating 30 Professional Development Units or PDUs during the three year validity period.
If you skip the renewal process, the certification is suspended for one year, after which, it will expire and you will not be able to claim the certified status. The fee for Continuing Certification Requirements or CCR is $60 for PMI members and $150 for non-PMI members.
PDUs can be earned under the following categories:
CATEGORY A: Courses offered by PMI's Registered Education Providers, chapters, communities, and Global Accreditation Centers

CATEGORY B: Continuing Education

CATEGORY C: Self-Directed Learning

CATEGORY D: Creating New Agile Project Management Knowledge

CATEGORY E: Volunteer Service

CATEGORY F: Working as a Professional in Project Management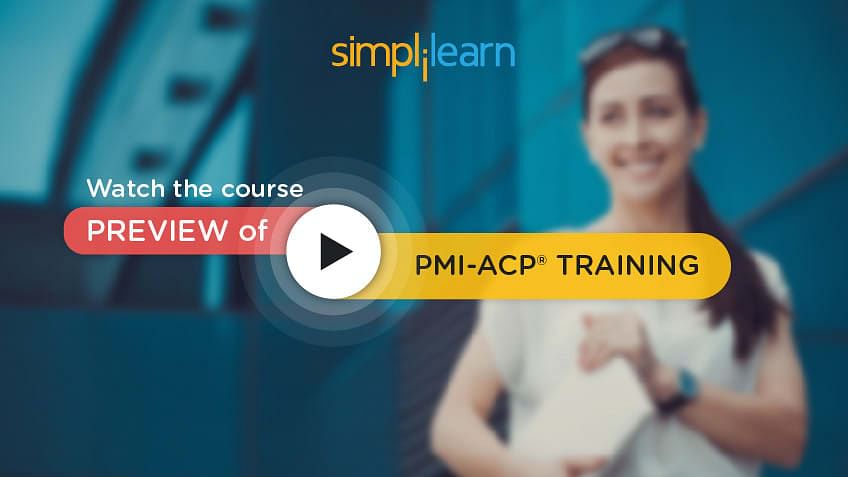 PMI-ACP Exam Information
The PMI-ACP examination is conducted for three hours and consists of 120 multiple choice questions.
Of the 120 questions, 100 questions are used to determine your final score and the rest are experimental or pre-test questions. It is not possible to identify the experimental questions out of these 120 questions.
There is no penalty for wrong answers, you are encouraged to answer every question even if you are not entirely sure of the answer.
PMI-ACP Exam Blueprint
The allocation of questions in the PMI-ACP examination is as follows:
16% of the questions are from Domain I: Agile Principles and Mindset
20% of the questions are from Domain II: Value-Driven Delivery
17% of the questions are from Domain III: Stakeholder Engagement
16% of the questions are from Domain IV: Team Performance
12% of the questions are from Domain V: Adaptive Planning
10% of the questions are from Domain VI: Problem Detection and Resolution
9% of the questions are from Domain VII: Continuous Improvement (Product, Process, People)
Let's look at the topics covered in this PMI-ACP tutorial.
Lessons Covered
| | |
| --- | --- |
| Chapters | Topics |
| Domain I: | |
| Domain II: | |
| Domain III: | |
| Domain IV: | |
| Domain V: | |
| Domain VI: | |
| Domain VII: | |
Conclusion
This concludes the introduction to PMI-ACP. The first domain is Agile Principles and Practices- Agile Manifesto.