Prior to taking up a project management certification, professionals tend to grapple with the issue of choosing between the PMP and PRINCE2 certifications, two very reputed credentials in the project management field. This makes the question of which to consider unclear.

The PRINCE2 and PMP Certifications involve two different project management frameworks. Both offer different approaches or plans to manage projects effectively. Each has its favorable area and expertise and, therefore, a choice between the two depends on various factors. The ideal choice should be based on the company, and the type of project one is leading or directing. Both the certification programs are of equal value, albeit in different aspects of project management.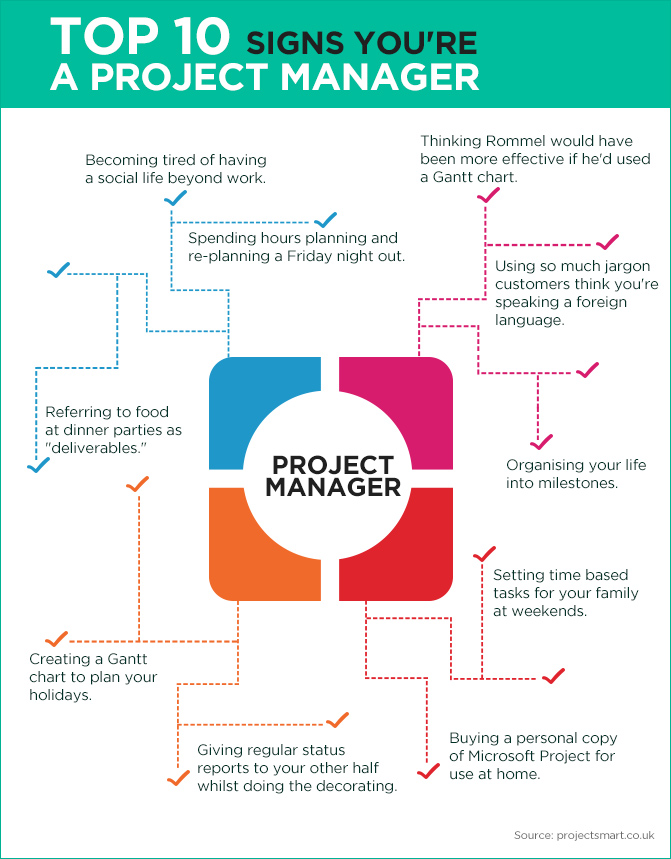 The Project Management Professional (PMP) Certification
One of the most-reputed certifications in the world for project managers, the PMP or Project Management Professional Certification, is a qualification program that is offered by the Project Management Institute (PMI). Various industries use PMP as a standard requirement for Project Managers. Becoming a PMP empowers you to work with any methodology and in any industry. The course covers a wide spectrum of project management techniques and competencies that are necessary for any project manager, as well as increasing your earning potential. This course, administered by PMI in the USA, has also gained popularity in Europe and Asia.

A few features of the PMP qualification include:
It can be viewed as an encyclopedia of knowledge of matters about project management.
It can be viewed as a comprehensive overview and "generally-accepted" knowledge and principles of project management.
It is also a dictionary of terms related to project management.
The Projects IN Controlled Environment (PRINCE2) Certification
The PRINCE2, 'Projects IN Controlled Environments' certification, however, is a process-based project management method that provides a step-by-step, detailed method for delivering a successful project with clear templates, processes, and steps. The certification is both, process and project focused. PRINCE2 is administered in the UK by the APMG.
A few features of PRINCE2 are as follows-
It is a broad, high-level, general framework of project management principles, which means it is recommended for and implemented to just any kind of project.
It has a well-laid out and standard approach
It spells out the roles and responsibilities of each member of the team tasked with managing the project.
It structures out the planning state into Project Plans, Stage Plans, and Team Plans, which eliminates ambiguity and makes it easier to execute the project.
It is both project and process-focused.
Industry needs
If you wish to get one of these certifications, it is important that you do your research before you begin to walk down a specific road. Different parts of the world require different certifications, making it necessary to determine which of the two certifications will boost your employability. Some sectors prefer the PRINCE2 certification, while others prefer the PMP certification.

Each of these certifications is more popular in a different set of countries to the other. The PMP certification is preferred in USA, Canada, Middle East and Australia. PRINCE2, however, is recognized in UK, Europe, and Australia.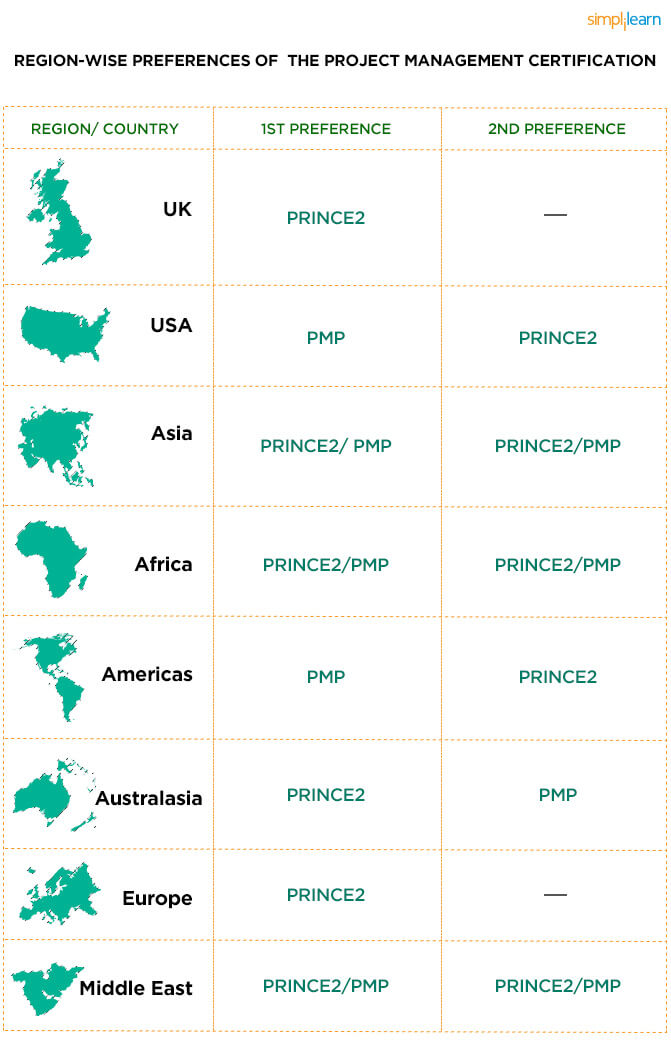 Salary Prospects
A number of studies and surveys show that certified professionals earn much more than their non-certified peers. Having a project management certification, especially ones like PMP and PRINCE2, signifies that an individual knows and understands the universal language of Project Management.

The PMI Project Management Salary Survey – Seventh Edition, states that the salaries of project managers around the world continue to climb.

In the US alone, the average annual salary of a PMP professional is $105,000 per year. They earn an average of 16% more than their non-certified peers. The highest salary a PMP can earn is in Switzerland, $160,409.
The average salary for professionals with a PRINCE2 certification is £50,000, which, in US dollars, is $77,540.
Salary by Gender:
Male project managers are seen to earn more than female project managers.

According to a survey conducted by the PMI, male PMPs earn $105,577 whereas female PMPs earn $95,349, $10,000 less than their male counterparts.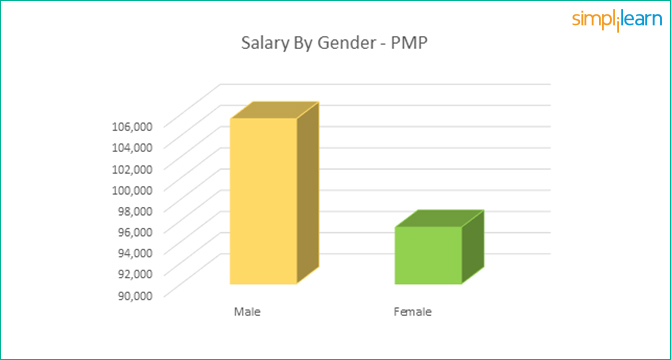 The same goes for PRINCE2 professionals. According to the Payscale.com survey, male PRINCE2 professionals earn £45,365 ($70,395) whereas women earn £39,002 ($60,521).


Salary by Industry:
According to a PMI survey, the highest salary a PMP can earn is in the resources industry or in the primary sector (Agriculture, mining, etc.) industry, $120,000.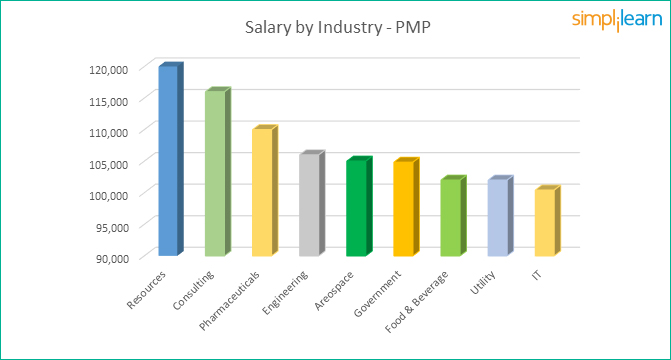 According to Payscale.com the highest salary a PRINCE2 can earn is in the IT services industry, £45,669.


What are the benefits in store?
Taking up one of the two certifications, or even both the certifications, have their benefits.
Benefits of doing the PMP certification include:
Better Salary Prospects: With a PMP certification you can land a good pay hike from your employer for the skills you bring to your firm.
Networking Opportunities: To obtain a PMP certification, it is recommended that you become a member of the PMI. Once you are a member, you are linked a vast network professionals with the similar qualifications. These contacts can prove crucial in helping you land a project management job.
An edge in the job search: With the PMP certification, you stand apart from the crowd because of the standardized skills and knowledge you have acquired making employers take you into consideration before your noncertified competitors.
Value to your employer: Because of this certification you are equipped with project management methodologies that are a standard and prove very useful to any employer.
Efficiency in project execution: Once you are certified, you are armed with the skills and knowledge that will help in the execution of projects efficiently and the improvement in your team's productivity.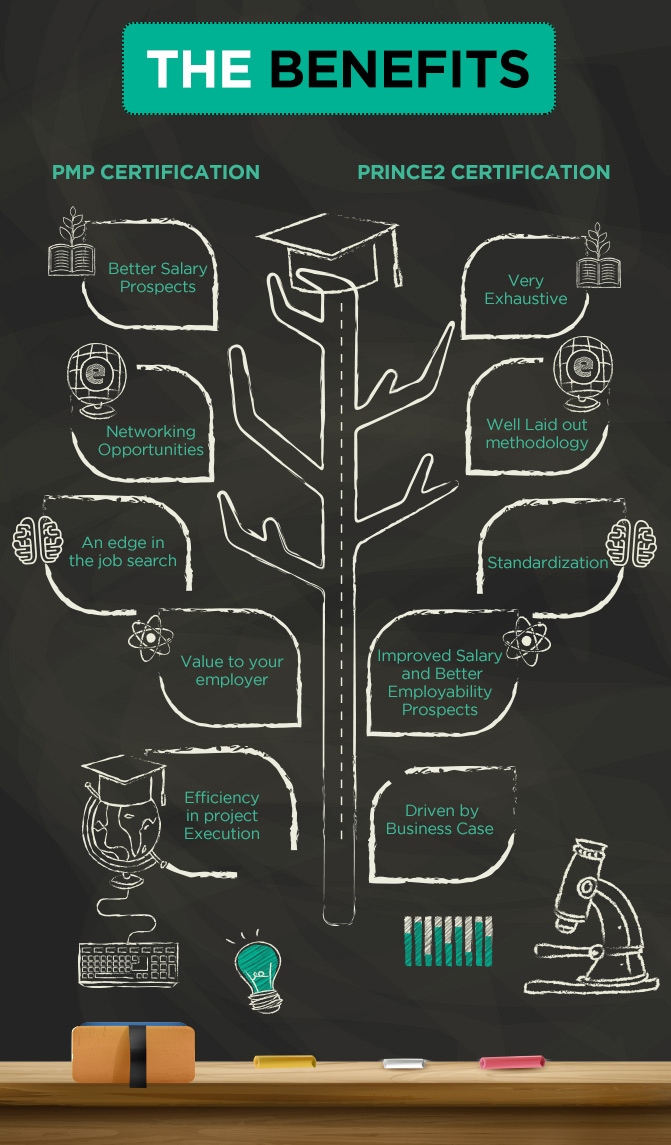 Benefits of doing the PRINCE2 certification include:
Very Exhaustive: With the knowledge provided by this course, you can analyze all the angles of the project ensuring its viability before it commences. Factors like user requirements and potential risks are taken into consideration ensuring that a project that is bound to encounter hurdles is stopped during the planning stages itself.
Well Laid out methodology: Bundles of time and resources is saved up on during the completion of a unique project since the certification has a clearly laid out methodology.
Standardization: Confusion in project execution is eliminated since the same, standard approach is used throughout, with common filing systems, procedures, and documents.
Improved Salary and Better Employability Prospects: There are higher prospects of landing a better job that pays well, in countries like the United Kingdoms. Your employer is provided with enough justification of your skills to give you a pay rise.
Driven by Business Case: PRINCE2 requires the users to assess constantly and provide updates on business cases at defined points to ensure that a project will deliver value to the organization and its customers. Failure to do so will eliminate the justification for the continuity of the project.


The Exams
With a total of 200 questions, the PMP exam is stretched for four hours and is split into the areas of Project Initiation, Project Planning, Project Execution, Monitoring and Controlling, and Project Closing. Within these five larger domains are a multitude of other skills like risk identification, quality management, change management, materials management, and much more.

The PRINCE2 Foundation exam tests the individual with 75 multiple choice questions, for 60 minutes. Out of the 75 questions, 5 are trial based and not counted during the scoring process.

The Practitioner exam is an objective, scenario based paper. The individual is tested based on 9 questions with a time limit of 2.5 hours.


Prerequisites
There is a set of prerequisites that one will need to meet to take up the PMP exam.
Secondary degree (high school diploma, associate's degree or the global equivalent)
7,500 hours leading and directing projects
35 hours of project management education
OR
A four-year degree
4,500 hours leading and directing projects
35 hours of project management education
There are no defined pre requisites for the PRINCE2 exams. However, it is recommended that you have some project management experience and formal training before you sit for the exam.The Practitioner exam will require you to have passed the Foundation exam.


The Exam Cost
The cost of the PMP exam though a little expensive is still worth it. For members of the PMI, it is $405 while for non-members it is $555.

The cost of the PRINCE to exam varies according to the region you are taking the exam in.


Maintenance
To maintain the PMP certificate, you will need to attain 60 PDUs or Professional Development Units, every three years.

The PRINCE2 Foundation exam, needs no renewal, The Practitioner exam, however, is valid for 5 years after which it will be termed invalid. Professionals will have to complete and pass the PINCe2 re-registration examination 3-5 years following their previous practitioner exam.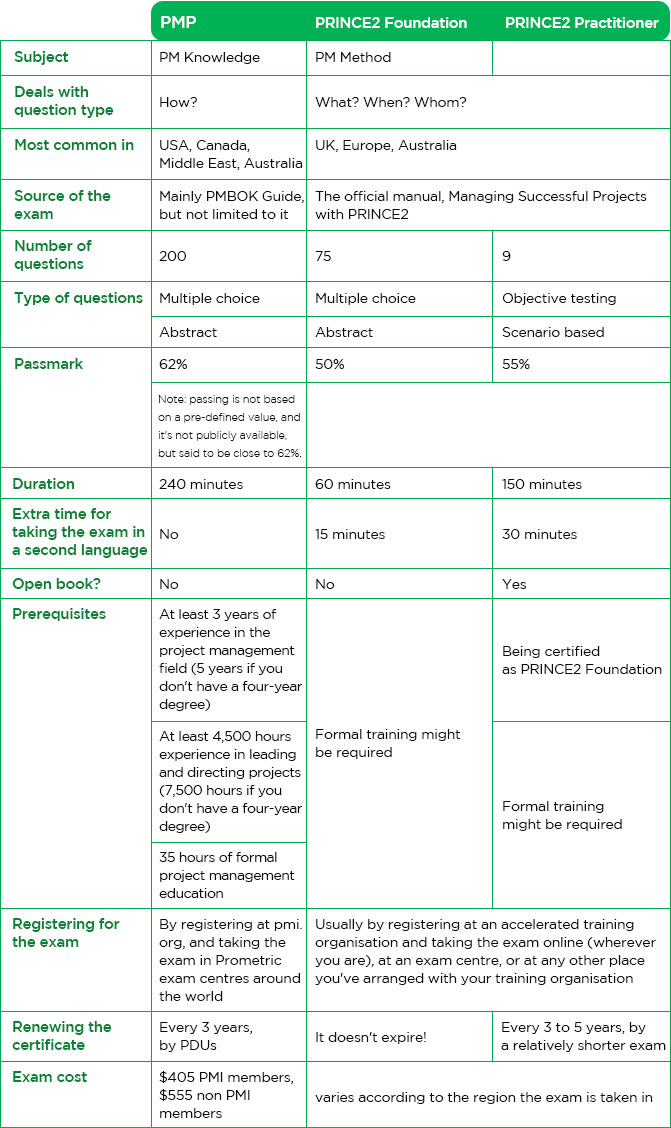 Is it advisable to do both?
Many people view the PRINCE2 and PMP certifications as different, which is why the battle between the two certifications.
The PMP is related to the knowledge and skills necessary to attain successfully manage a project and its delivery.
PRINCE2 is focused mainly on the processes and the framework to successfully execute the project.
Therefore, it is advisable that you do both of these certifications as it helps in the development of the professional's all round Project Management skills.

There may be a few drawbacks to this-
Conflicting language: The two courses use different terminologies, which can be confusing at first. For example, project charter in PMP is what is known as project brief in PRINCE2.
Different Techniques: Some techniques differ vastly, such as the categorization of risk.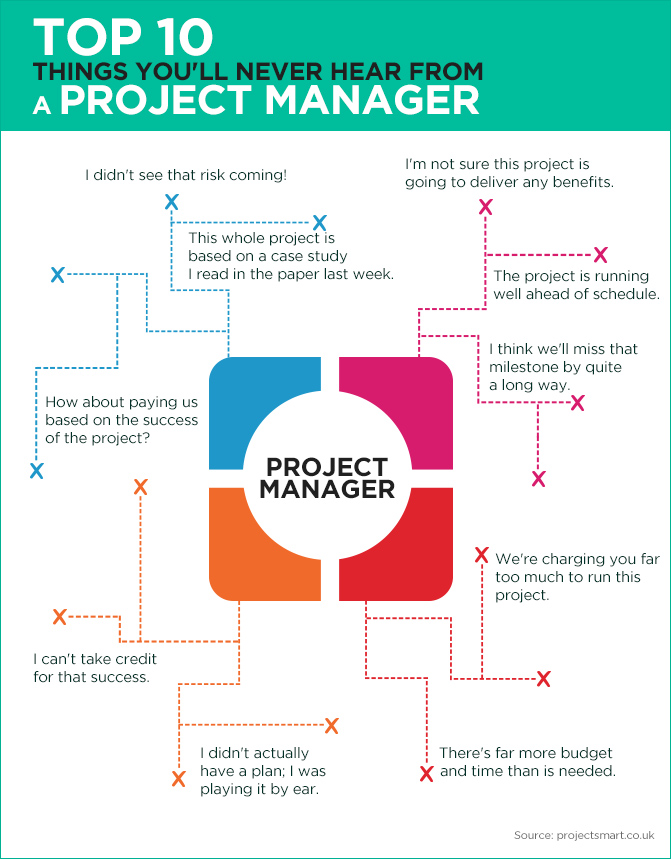 Conclusion
The certification you choose should depend on your job prospect and the region you are working in. PMP and PRINCE2 are not competitors. A professional would benefit from the skills and knowledge that both of these certifications offer.

Get a taste of our PMP and PRINCE2 certification courses with this preview video!
Prior to going for a project management certification program, this indecision is common for most project managers and aspirants.