So you've decided to pursue a career in IT Security and are looking to get
CISSP certified.
Maybe you're excited at the prospect of designing winning IT security architectures. Maybe you're just looking to up-skill and improve your resume? Or maybe you're drawn by the high-paying jobs offered to certified CISSP professionals (last we heard, they make $110,00 a year!)
So what's next? How do you identify the right CISSP books, CISSP study guides, and other resources you'll need to build a study plan and get started on the path to information security expertise? Planning study prep for an exam as tough as the CISSP can be a daunting task indeed, which is why we've prepared a handy list of the absolute best books to read at every phase in the process. 

Let's get started!
What is The CISSP Exam?
The Certified Information Systems Security Professionals (CISSP) certification is a globally recognized standard in the field of Information Security. Governed by the International Information Systems Security Certification Consortium, also known as (ISC)², the CISSP certification empowers professionals to effectively design and manage security controls in a business environment.
 
To acquire the CISSP certification, you should have at least five years of professional information security experience and should be endorsed by another CISSP certified professional. You can get a one-year waiver if you have a four-year degree or obtain (ISC)2 approved credentials. The exam consists of 250 multiple-choice questions. You need to score 70% or above to pass the exam.
Before You Begin: Key Points To Note Before You Start Building Your Library!
Should you use print edition, electronic edition, or online resources? Paperback editions are put through a longer, more rigorous vetting and design process, and in our opinion, if it came to choosing one type over another, the paperback would win-any day!
Although freely available online resources are no match for a proper textbook, the following online CISSP resource is a must-read: Common Book of Knowledge (CBK) material is offered by the (ISC)². Visit their website regularly for details and schedules of training programs, seminars and more
Tips for Preparing for the CISSP Certification Exam
When applying for the exam, proper sign-off on professional experience is important. Get a certificate or a letter of recommendation that serves as verification of relevant work experience.
Beware: the CISSP exam is a grueling, 6+ hour affair! If you are not much of a sedentary person, you may need to train yourself to stay in top intellectual shape for several hours, with only 10-20 minute breaks in between.
The CISSP exam is all about terminologies and trivia! Although experience is mandatory to take the exam, functional knowledge is rarely put to the test on the exam. Brush up on those terminologies, acronyms, and definitions to maximize your scores!
Look into effective memorization tools such as brain dumps and mind-maps. They can be invaluable resources during prep.
How Much Time Should I Devote To CISSP Exam Prep?
A key point to note about the CISSP exam is that a tenuous mapping exists between the nature of the course material and the candidate's professional background:
Risk management professionals find 60-70 hours of time for preparation quite adequate to clear the CISSP exam
IT professionals would need less time – 40-50 hours of study should suffice to clear the exam.
ISC2 material is a must for professionals of all backgrounds.
And now, here are the top-recommended CISSP books, study guides and resources to tap into for your CISSP certification! 
NOTE: Don't forget to scroll to the bottom for 5 free resources in addition to the 12 book recommendations on our list!
12. An Easy Guide To CISSP
Among the most recent additions to this list, Austin Songer's Easy Guide: CISSP is an independently published accompaniment to a full-blown CISSP textbook.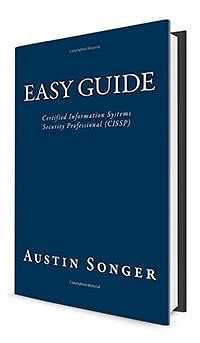 The Ayes
At 100 pages, it is one of the shortest books available on the market for CISSP aspirants.
The Nays
The first edition of the book was published in 2015 and has not yet picked up traction among aspirants.