In today's digital economy, traditional financial institutions are facing annihilation by new players. Fintechs, start-ups and even giants like Google and Amazon are swiftly invading the space where banks have lingered in dominance for centuries. "The banks have long neglected digitizing their value chain," says economist Anand Swaminathan. "Overworked and bloated IT systems, old habits and new regulatory requirements slow their efforts."
However, one financial institution, JPMorgan Chase & Co., has made a bold move to digitally transform. Serving nearly half of America's households, with assets of more than $2.5 trillion and operations worldwide, their ambition has paid off, recently being named "the number one global large bank" in Interbrand's Best Global Brands.
"JPMorgan Chase has undertaken an aggressive digital transformation, which builds on the success of our current digital offerings," as their website notes. "We are investing in innovative ways to attract customers as well as deepen customer engagement, satisfaction and profitability through the use of digital channels."
JPMorgan Chase is so committed to digital transformation, they even highlighted it in their recently-released JP Morgan Chase—Quarterly Report. Much more than a simple nod to stay current with technology, the report features an entire 12-page chapter, titled "Digital Everything", citing extensive research the company used to justify and support its deep digital strategy, backed by results they've achieved so far.  
Summarizing JPMorgan Chase & Co.'s report of their digital approach, this article serves as a de facto case study on how digital transformation can be done right—with benefits that almost any organization could also take to the bank. 
Growing Importance of Digital Capabilities in Business
Intended for investors, the quarterly report quotes numerous statistics explaining "why digital matters" to the organization. These figures include the following: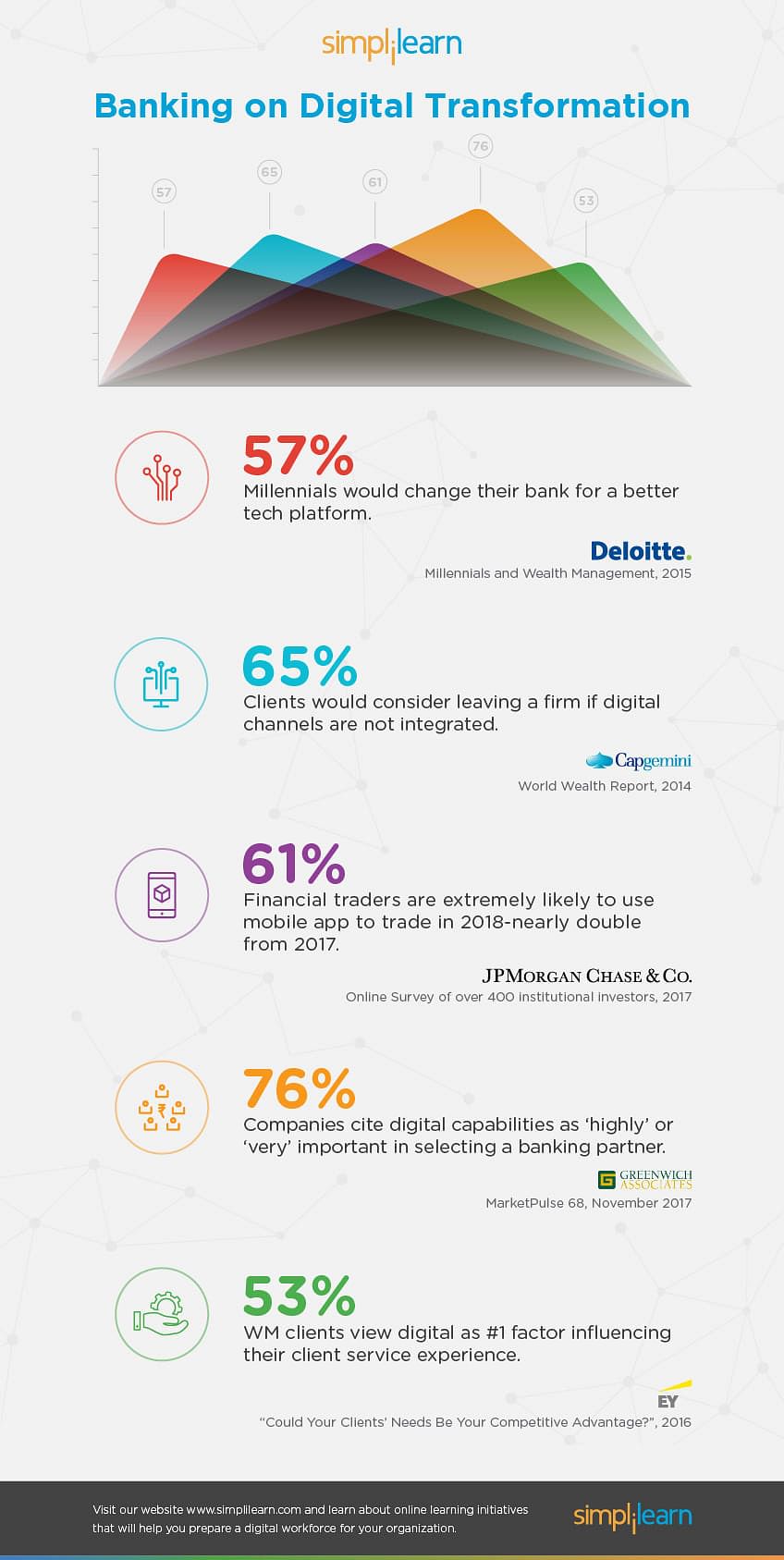 The Key Driver of Digitization: The Customer
High atop JPMorgan Chase's list of reasons for going digital was their realization that their customers demand digital capabilities. "The customer is at the center of everything we do," the report says. Their introduction of new online products was rewarded by substantial increases in several metrics. Currently, approximately 47 million Chase customers bank through digital channels, each averaging 15+ login-ins per month. Since implementation, they found that digital capabilities have resulted in:
A 19 percent increase in Net Promoter Score (NPS), a widely utilized index ranging from -100 to 100 that measures the willingness of customers to recommend a company's products or services to others
A  greater than 10 percentage point increase in customer retention ratings
A 118 percent higher card spend by customers
A 40 percent higher deposit and investment share
85 percent of wealthy individuals use financial apps
12x increase in the use of online investing site since April 2017
Increase in customer use of digital wallets (averaging 6 digital wallet, 32 debit and 21 credit transactions per month)
JPMorgan Chase professes a mission: "To enable delivery of highly personalized, real-time experiences that customers increasingly expect." The company highlighted four key areas in which customers rely on Chase's digital offerings throughout their daily lives.
Choice
Giving customers what they want, when they want it and how they want it
Providing a full set of products and services
Enabling a flexible engagement model and multi-channel delivery
Security 
Protecting the customer and the firm
Ensuring data privacy
Enabling secure transactions
Detecting and mitigating fraud
Keeping transactions safe—yet seamless
Ease of doing business
Delivering services fast and simply
Emphasizing user experience
Enabling real-time services
Automate and digitize
Deeply integrated
Personalization
Personalizing every interaction, from transactions to integrated experiences
Leveraging data and analysts for tailored customer solutions
Creating unique insights for each client
Keeping the company relevant throughout the client lifecycle
Furthermore, Chase noted that digital capabilities streamlined, simplified and enhanced the client onboarding process across the bank, making it easy to not only become a client, but seamless to add products and services. This resulted in:
Enabling one single process of data collection from clients
Increasing multi-product engagement through a single application

+25 percent (Individual Deposit + Card)
+12 percent (Small Business Deposit + Merchant Services)

Enabling new customers to open an account in minutes
Reducing in-person advisor-supported client onboarding by approximately 85 percent
Digital Benefits to the Business
JPMorgan Chase noted that the move to digital also improved numerous business efficiencies, including:
Achieving a ~99 percent straight-through processing rate on ~$5 trillion daily wholesale payments
Saving the company $365 million in costs through adoption of paperless statements
Lowering the cost per check deposits by 94 percent through digital transactions
Enabling a $0 marginal cost for many electronic trades
Digital Benefits to Users of Investment Services
A growing segment of business for JPMorgan Chase in their investment services, and new digital offerings include:
Digital Advice, giving clients a simple way to understand, get and stay invested in more diversified portfolios
New self-directed offerings that include Online and Mobile investing, making it more convenient for clients to move money and trade securities.
Digital Portfolio insights, providing sophisticated analytics to help advisors build stronger portfolios
A Full Digital Spectrum of Services for Corporate Clients
Chase provides an unprecedented continuum of offerings for businesses of all sizes and complexities. Thanks to these new digital capabilities, corporate clients can benefit from:
International functionality and reach
Online account opening and self-service 
Easy access to loan, merchant, and card
Payments, FX and real time rates
Integrated view with custom reporting and analysis options
Real time liquidity solutions
Ending the Paper Chase: How to Drive Digital Transformation
This shift was the product of many years of careful research and planning. In 2016, JPMorgan Chase commissioned Forrester Consulting to assess the current state of digital transactions from the perspective of consumers and corporate clients alike. The goal of this study was "to better understand the role of digital and mobile payments and to unearth insights that can help merchants prepare for tomorrow's payment strategy opportunities."
As a result of this study, Chase found that although adoption is slow for most high tech features (e.g. digital wallets and electronic payments), customers really like the concept of such products. Consumers even have a much more favorable impression of merchants that offer such digital options, whether they use them or not.
According to Forrester's survey of consumers, "83 percent say that [digital] payment options, in general, have at least some impact on their willingness to buy from a business, and nearly a quarter describe that impact as large. 63 percent say being able to use a digital wallet has at least some effect on their willingness to buy from a business."
The study made the writing on the wall clear to JPMorgan Chase. Build digital capabilities now and the consumers will come. In fact, many of them are already there. "Thirty percent of consumers are now shopping and paying for goods and services on their mobile device on a weekly basis."
Realizing the time for a "wait and see" approach has already passed, JPMorgan Chase built their entire strategy around this one basic tenet: "To deliver an end-to-end digital experience, with capabilities across the lifecycle through the clients' channel of choice."
Of course, JPMorgan Chase is not the only financial institution that has embarked on a commitment to digital transformation. Wells Fargo Bank has also developed products and services that parallel the digital offerings provided by Chase and others. They are even experimenting with innovative new products such as cardless ATMs, using a single code linked to an app on the customer's smartphone.
Where to Go to Get to Know Digital
If you're the executive of a financial institution or a business of any size, now is the time to start preparing for your digital transformation, if you haven't already begun. Simplilearn can help, with our Digital Transformation Academy, which has been specially designed to offer the strategy and online training needed to help all levels of your organization upskill and succeed in the digital economy.
Strugging in the Age of Disruption? Simplilearn's Digital Academy is tailored for your organization to keep pace with the ever evolving digital landscape.