Want to learn the best way to monetize your website traffic? Then try learning Google AdSense. Every year Google pays over $10 billion to its content publishers. No contracts and a quick AdSense setup have made this Google program one of the most popular digital marketing tools. It allows site owners to generate high revenues from their web content. The platform is free to access, and the site owners get paid for clicks or impressions on the Google ads displayed on their website. Create an AdSense account, add the highest paying advertisements to your content, and get paid. 
Steps to Create an AdSense Account
Before you begin to create an AdSense account, you must go through the following requirements:
You must be over 18 years old.
You must have an active Gmail account. It should not be linked to an AdSense account.
Your website must meet Google's terms of service.
The following steps will help create an AdSense account.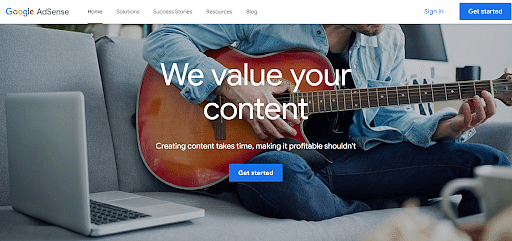 Google AdSense Dashboard
Step 2: Sign in to your Google account. If you do not have a Google account, create one.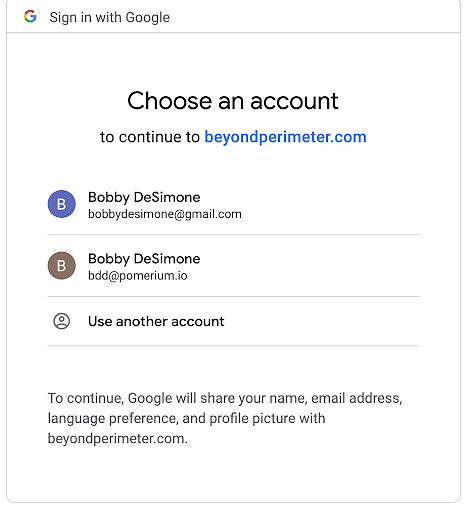 'Choose an account' Google AdSense Window
Step 3: You will be directed to a page with a Google AdSense sign up button. Click on it to sign up for your AdSense account. 
Step 4: Enter the URL of your site (on which you want the ads to appear) in the given field. If you do not have a site yet, you can leave this field blank and click on the option 'I don't have a site yet.'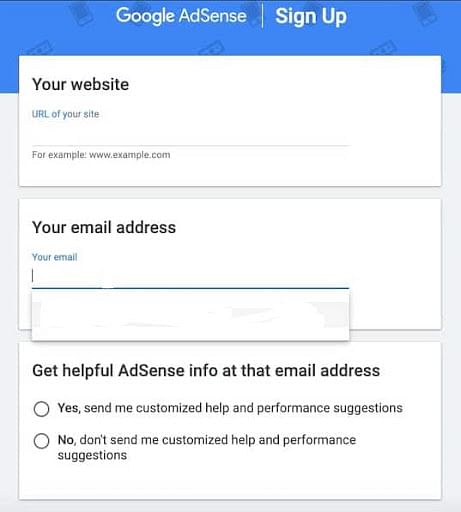 Google AdSense Sign-Up Window
Here you must ensure the following points:
The site must belong to you.
The URL should not contain a path (e.g., sample.com/path) or subdomain (e.g., subdomain.sample.com).
The URL should not contain any parameters.
Enter the URL without "http://".
Step 5: Next, you must follow the instructions to connect your website to AdSense. They will provide you with a snippet of code that you must add to your website in the <head> </head> section. Click on the submit button after adding the code.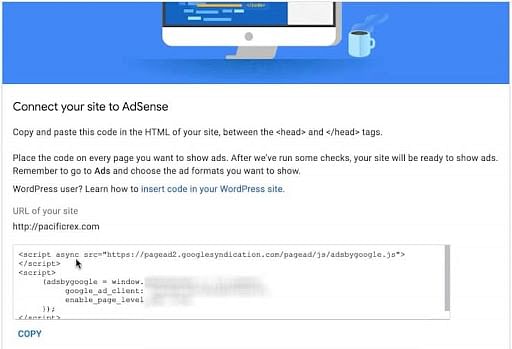 Connect Your website to AdSense Window
Step 6: AdSense allows you to choose whether you would like it to send you performance suggestions and help. It is better to opt for this facility. You can also choose not to. This option can be changed later as well. 
Step 7: Now select your current country for payment, where you will be sent a PIN by mail. You must choose the option carefully as this field cannot be modified later. 

Further Details Required by AdSense
Step 8: Go through the terms and conditions and click on accept. You are now signed in to your Google AdSense account. Access the platform by clicking on the 'Start using AdSense' option.
How to Login to the AdSense Account?
Once you create an AdSense account, you can log in whenever you want. Often users struggle to find the AdSense account login page. You simply have to visit the same page you visited to create an AdSense account. This time click on the Sign-in button rather than Get Started. Sign in with your Google account email and password.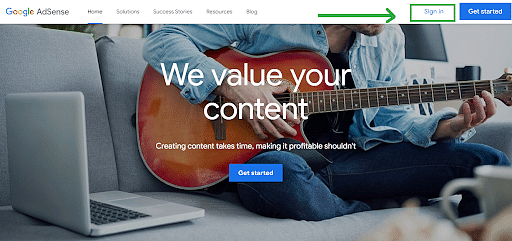 Click on the Sign-in button to Login to the Google AdSense Account
5 Mistakes to Avoid With Google AdSense
Applying for an AdSense account is easy, but publishers sometimes try to implement cheat tricks and get banned. Here are the most common five mistakes you must avoid. 
Not complying with Google's Guidelines for AdSense.
Not entering the AdSense code right.
Creating multiple AdSense accounts: You can operate all your websites from a single account. So, there is no need to create multiple accounts. Also, if something goes wrong, you must contact Google rather than create a new account.
Clicking on your ads: It is an invalid activity. If you do click by mistake, contact Google. 
Placing ads on pages like Privacy policy, Disclaimer, 404 error, Terms and conditions, Contact page, Sitemap, and Blank page. 
Conclusively, it is very simple to create an AdSense account. All you have to do is follow the instructions we presented you with, sign up, and start monetizing with Google AdSense. 
FAQs
1. Do I have to pay for Google AdSense signup? 
Google AdSense sign up is absolutely free. You do not have to pay any signing amount. Contrastingly, Google starts paying per click and other interactions once you sign up.
How can I close my AdSense account?
Follow the steps below to close your AdSense account:
Sign in to your AdSense account.
Visit the Account section and click on the "Account Information" page. 
Select the Close account option. 
Go through all the information displayed on the "Closing your AdSense account" page.
Choose the reason for closing your account from the drop-down menu. 
Click on "I agree" and then click on the close account button.
3. How much can I earn from AdSense?
Different advertisers create and pay for ads that appear on a website. The amount you earn will depend on the competition and cost-per-click in the niche, ranging from $0.20 to $15. The publisher gets 68% of the total payment, which can amount up to a maximum of $3 per click.
Want to Become a Performance Marketer? 
Signup for our advanced Purdue PCP Digital Marketing and learn all the vital online marketing disciplines. You'll learn the many facets of paid marketing, including PPC, display ads, conversion optimization and web analytics. This course will prepare you to create compelling, targeted campaigns and drive increased traffic to your websites.
Simplilearn offers a wide range of courses focusing on all the top careers in 2022. If you want to upskill yourself then our courses can help you in all possible ways. Enroll today and give your career the right push!