Project Management with PRINCE2 Tutorial
Project Management with PRINCE2
Objectives
This is chapter 2 of the PRINCE2 tutorial, which is a part of PRINCE2 Foundation and Practitioner course.
After completing this Project Management with PRINCE2 Tutorial, you will learn:
Define a project, as per PRINCE2

Understand project management

methodology

Six aspects of project performance

The role of a project manager

Describe projects in multiple contexts

Learn how to apply PRINCE2
What is a Project?
The official PRINCE2 manual defines a project as a temporary organization that is created to deliver one or more business products according to an agreed business case. Sometimes, projects are undertaken to introduce a change in the organization or the projects are executed as part of a contract.
In an organization, maintaining current business operations, such as maintaining profitability, service quality, etc., is known as 'business as usual.' An organization launches a project to transform business operations in order to introduce new products or services and improve current 'business as usual' processes. Projects are the means by which an organization introduces change, making it different from 'business as usual.' This is done to sustain or grow its market
What Makes a Project Different From Business as Usual?
Five characteristics distinguish a project from business as usual:
Change:

Project introduces change in an organization

Temporary:

Each project has definite start date and an intended end date, which makes all projects temporary in nature

Unique:

Each project is unique in nature

Cross-functional:

The resources from various units with multiple skill-sets are involved in the project. This makes all the projects cross-functional

Uncertainty:

Each project has its own share of risks. Hence, there is an uncertainty in each project.
Project Management Methodology
Project management involves planning, delegating, monitoring and controlling all aspects of the project to achieve the project objectives within the expected performance targets for time, cost, quality, scope, benefits, and risk. As projects are used to introduce change, and as project work entails a higher degree of risk than many other business activities, implementing a secure, consistent and proven approach to project management is a valuable business investment.
In spite of best efforts by the higher management and the project manager, projects still fail, There are various reasons for failures are:
Lack of support from senior management
Why do we Need a Project Management Methodology
If the projects are managed in a systematic way throughout the project lifecycle, the project has a higher possibility of success. The project management methodology helps project managers to:
Keep control over the specialist work

Manage the risks effectively
Six Aspects of Project Performance
As per PRINCE2, the Project Managers need to control the following six aspects or variables of a project:
Cost:

The project has to be affordable. Initially, there may be a particular budget. However, there will be many factors which can lead to overspending and perhaps there may be some opportunities to cut cost as well

Timescales:

The project must have fixed start and end dates

Quality:

Finishing on time and within budget is not enough if the result of the project is not functional. The project's products must be fit for purpose and meet the acceptance criteria and the client's expectations

Scope:

If the scope is not known, the various parties involved in a project may end up talking at cross purposes. The scope has to be clear and monitored by the project manager

Risk:

All projects entail risks but how much risk is acceptable should be predefined

Benefits:

The Project Manager must have a clear understanding of the purpose of the project as an investment and ensure what the project delivers is consistent with achieving the desired result
What is the Role of a Project Manager?
It is the responsibility of the project manager to plan the sequence of activities and work out the estimates. The Project manager is also responsible for monitoring how well the work in progress matches with the original plan.The project manager is expected to collect planned and actual data about the six performance targets mentioned earlier and generate various results as required.
According to Prince2 the role of a project manager is to make the right information available at the right time for the right people to make the right decisions about the project. Those decisions include whether to take corrective action or implement measures to improve performance.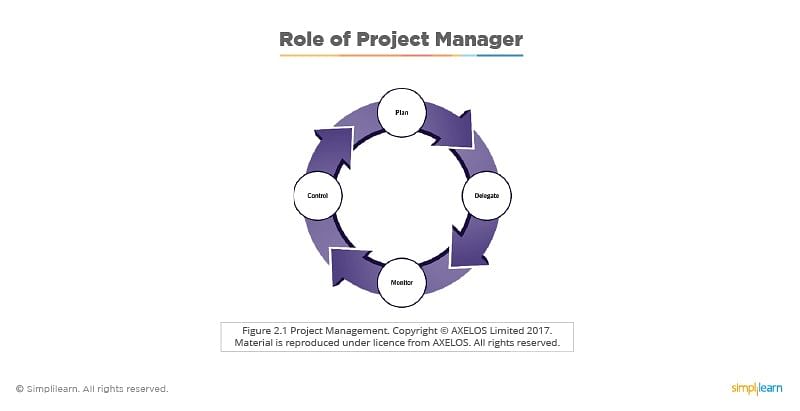 As shown in the above image a project manager plans, delegates, monitors, and controls the project work
Projects in Context: Customer-Supplier Relationship
PRINCE2 assumes that there will be:
A customer who will specify the desired result

A supplier who will provide the resources and skills to deliver that result
Example:
Construction of a new runway at an airport
The customer acts as the airport authority for the new runway

Multiple suppliers provide raw materials, staffing, and resources, etc.
PRINCE2 refers to the organization that commissions a project as 'corporate or programme management or the customer.' This organization is responsible for providing the
project's mandate
, governing the project and realizing any benefits that the project might enable or deliver.
Note: Project Mandate triggers a PRINCE2 Project. It is an input to a PRINCE2 Project
Project

within many contexts
Projects can exist within many contexts: Projects may be standalone with their own business case and justification or projects may be a part of a programme or wider portfolio.
The hierarchy is shown below: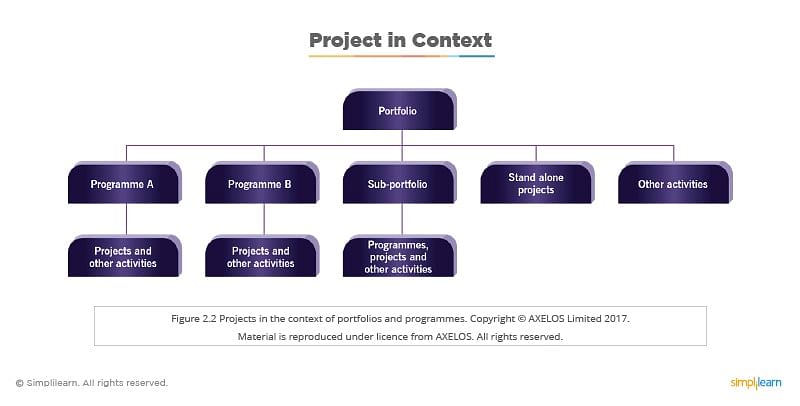 Program groups
together related projects for better coordination, management, monitoring, and control.
Portfolios
are groups of programmes and projects managed and executed together to make strategic business objectives. These concepts are illustrated with an example below
Projects within many contexts: Example
Understand the terms portfolio, programme, projects, and activities in the context of NASA - The American Space Agency.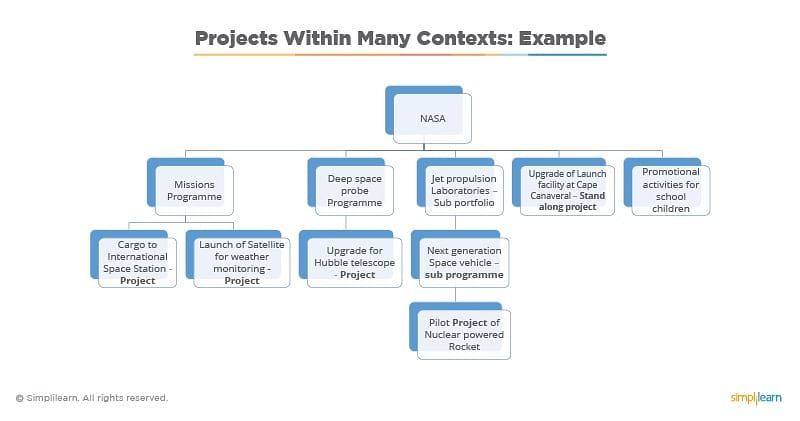 Note: The example projects that have been shown above and divisions in NASA are for illustrative purposes only.
Stand-alone Projects
It is not necessary for all PRINCE2 projects to be part of a programme or a portfolio at all times. Sometimes, projects can exist as stand-alone entities, outside the governance structure introduced by programmes or portfolios.
Prince2 as a project management method can be applied to can be applied to both standalone projects and projects that are part of a wider context such as programme or portfolio
Examples of stand-alone projects

An organization is relocating its office from one location to another location in the same city

A small company (with a total employee count of 100 to 120) is developing an Employee Self-service application in Microsoft SharePoint where employees can apply for leaves and track their attendance and leave balances

A city council is setting up a children's health center in a new locality
Projects within Programmes
Programme: A programme is a temporary flexible organization structure created to coordinate, direct and oversee the implementation of a set of related projects and activities in order to deliver outcomes and benefits related to the organization's strategic objectives.
A programme is likely to span several years.
Example: International Space station missions
If the project is a part of a programme, then there are possibilities that the project may be commissioned by the Programme Manager
Projects within Programmes: Example
Hosting Olympic games is a programme – several related projects are launched together:
Setting up accommodation facilities and the games village

Doing centralized procurement of furniture, game equipment etc.

Planning and executing the opening and closing ceremonies

Executing promotional activities

Working with local authorities for new parking spaces, transport facilities etc.

Planning and finalizing security arrangements
Projects within a Portfolio
Portfolio: The totality of an organization's investment (or segment thereof) in the changes required to achieve its strategic objectives
Organizations create functional structures based on the type of work, such as marketing, finance, etc., with clear reporting lines

A portfolio may contain programmes, projects and other work that contributes towards achieving some strategic objectives
Projects within a Portfolio: Example
A commercial bank will have multiple portfolios, such as Loans and Investments
In each portfolio, there could be multiple programmes.

For example, Investment portfolio may have programmes such as investment in shares, investment in bonds, etc.

Within each programme, there could be multiple projects.

For example, the Investment in Shares portfolio may have a project to display a dashboard for investors to see the performance of the shares in which they have invested
Projects in a Commercial Environment
The customer could have entered into a commercial relationship with a supplier by means of a contract. Some examples are:
Sometimes, there could be multiple organizations constrained by multiple contracts. There may be a primary sourcing organization with several supplier organizations, that is, sub-contractors. Some examples are:
Inter-governmental projects

Inter-agency projects (for example, different police departments from multiple countries working on a counter-terrorism project)

Consortiums or partnerships
To execute a project in a commercial environment, the following should be considered:
Reasons for undertaking the project (business case)

Management systems (including project management methods)

Corporate culture (such as risk appetite, the amount of risk an organization is willing to take)
Explore our training course on PRINCE2 Foundation and Practitioner.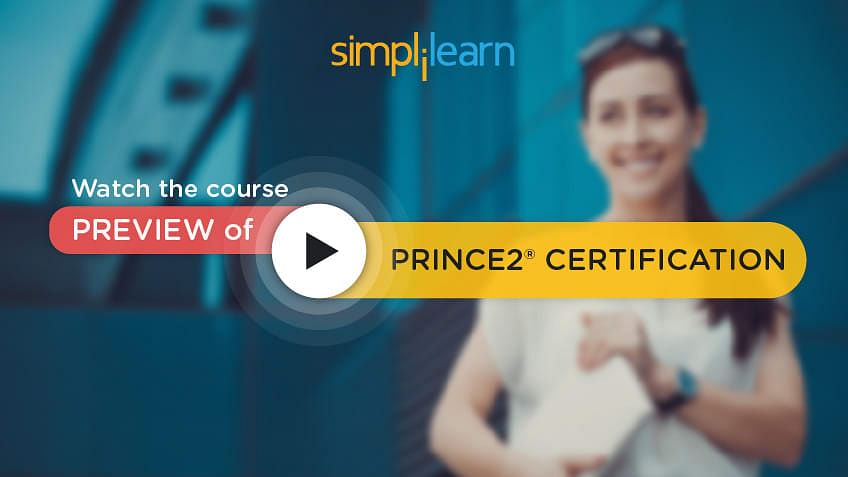 Simplilearn offers self-paced and online classroom training courses to help you prepare for both PRINCE2 Certification exams.
Applying PRINCE2
Standards, Methods, and Body of Knowledge for Project Management
The ISO 9001 standard provides rules and guidelines that can be used consistently without specifying how activities should be carried out.

The PRINCE2 method provides a set of activities, roles, and techniques for undertaking these activities.

PMBOK® (Project Management Body of Knowledge) looks at what a competent project manager should know and focuses on what and how to do it.
PRINCE2: International Standards and Bodies of Knowledge
It is essential for the participants to know the International standards to get an overview of applicable standards and bodies of knowledge in Project Management.
The PRINCE2 method exists within the context of the following standards and bodies of knowledge:
ISO 21500:2012 Guidance on Project Management

BS 6079:2010 Project Management – principles and guidelines for the Management of Projects

A guide to Project Management Body of Knowledge – PMBOK®, PMI®

International Project Management Association – IPMA Individual competence baseline for a project
PRINCE2 and Commissioning Organization Standards
When multiple organizations are involved in a project, the terminologies can be confusing, as each organization has its terminology
An organization will typically develop its principles, policies, and processes and may follow certain standards as per its requirements

The PRINCE2 Project Manager may need to tailor the project to meet standards and process requirements, but the project must stay within the guidelines of the organization's method
Tip

: Varied use of terminology can be particularly confusing where multiple best practice methods are employed within the same organization. Care must be taken to map or integrate the methods.
PRINCE2 and Delivery Approaches
The project approach defines how the work of the project is to be delivered. Typical delivery approaches include:
Waterfall:

Each of the delivery steps to create the products take place in sequence and the product is made available during or at the end of the project

Agile

: Requirement gathering, design, coding and testing all take place iteratively throughout the project

The Agile delivery approach has become popular and is gaining momentum as many organizations are adopting it.

PRINCE2 Agile regards Agile as a family of behaviors, concepts, frameworks, and techniques. For more information about using Agile and PRINCE2, please see PRINCE2 Agile at www.axelos.com
Measure of Success
Any method or framework or standard must be measured for its effectiveness, PRINCE@ is no exception.
When using a project management method like PRINCE2, Objectives are what the project needs to achieve, whereas Key Performance Indicators (KPIs) are the measures that indicate whether or not progress is being made towards achieving the objectives.
In a traditional approach:
Time, cost and quality measurements will be used to measure the success of a project

These measures will be used along with Key Performance Indicators (KPIs)

When designing KPIs, there should be a balance between qualitative and quantitative measures, leading and lagging indicators and project inputs and outputs
Measuring Success: Leading and Lagging Indicators
Measure performance that follows events and allows management to track how well actual performance matches that which was expected.
Example: number of unexpected errors reported after a particular software release.
Measure progress towards events and allow management to track if it is on course to achieve the expected performance.
Example: repeated failure of a supplier to meet quality requirements early in the project.
The KPI defined to measure project success should be aligned with quality expectations and acceptance criteria defined in the project product description and project tolerances on Benefits, Cost, Quality, Risk, Timelines and Scope as defined in the Project Initiation Document.
PRINCE2 and Organizational Capability
AXELOS' P3M3 – Portfolio, Programme and Project Management Maturity Model provides a way of baselining organizational capability on a maturity scale, diagnosing weaknesses and planning for improvements.
P3M3 characterizes an organization's maturity using the following 5-point scale:
Level 1: Awareness of Process

Level 2: Repeatable Process

Level 5: Optimised Process
Summary
A PRINCE2 project is a temporary organization created to deliver a specific business output or product.

Project management involves planning, delegating, monitoring, and controlling all aspects of the project.

There are six variables that must be managed: costs, timescales, quality, scope, benefits, and risk.

PRINCE2 as a method exists within the context of a number of international standards and bodies of knowledge.

A PRINCE2 project can have multiple contacts: stand-alone, part of the program, part of the portfolio, in a commercial environment.

PRINCE2 supports two delivery approaches: Waterfall and Agile.

KPIs that are defined to measure success should be aligned with quality expectations and acceptance criteria.
Conclusion
We have learnt about Project Management with PRINCE2
in this chapter. In the next chapter we shall discuss about The
PRINCE2 Principles
Find our PRINCE2® Foundation and Practitioner Online Classroom training classes in top cities: