Search Engine Marketing Tutorial
Welcome to the first lesson 'Search Engine Marketing' of PPC Advertising Tutorial which is a part of Advanced Pay Per Click (PPC) Certification Course offered by Simplilearn.
In this module, we're going to examine how people search and see how search advertising relates back to the search process. So, first, we'll look at how people search. Second, we'll look again at the same information but from a marketer's perspective.
Let us look at the objectives of this lesson.
Objectives
After completing this lesson, you will learn:
The formula for successful search engine marketing

The secrets of effective copywriting

What a successful SEM campaign looks like

The motivations behind why people surf the Internet
Let us first understand why we don't use search to browse the Web.
Why don't we use search to browse the Web?
So first off, we look at search, what we do not use it for is to browse the web. If you want to browse the web, that's what Digg, stumble upon; your homepage is for.
People conduct searches because they want to learn the answer to a question. There's something they currently don't know, and they want to learn it. That's why we use search.
Let us now understand the role of context in search and how people think in concepts.
The Role of Context in Search
You can't go straight to a search engine and type in your query because people don't think in words. People think in concepts. We all have slightly different ways that we interpret the same data.
For instance, the concept of red. Well, you have cherry red, purplish red, apple red, strawberries, flowers. They all have variations of red. Red may be a word, but the concept of red is an ambiguous concept.
There's a moment where some people will look at an object and say it's red. Other people will look at the same object and think it's purple. Now, the problem is we think in concepts, but we have to type a word into a search engine.
So before we can even search, we have to take that concept and translate it into language, into actual words we can type in. This is where the search is interesting because you may have a hundred people looking for the same piece of information, but they might type it in a hundred different ways.
In the next section, let us look at the different expectations of users search results.
The Expectation of Search Results
When you first go to an engine, you type in words based upon what you translated your concepts into. Before you start looking at the results, something else happens.
As individuals, every time we do an action, we have an expectation of results. This goes for everything you do, same for search.
So, you type something in a search engine, and the first step is you take a quick look at the results and see, is this what you expected to see? If it's not what you expected, you may refine your search query, switch search engines, so forth.
If you take a quick look at the page, and it is what you're expecting to see, then you'll take a deeper look into the search results.
Now at this point and time, the consumer is looking for the answer to a question. So they're going to look to the page to see what best helps them get their answer? Whether it's a paid ad, organic result, something in the OneBox.
Therefore, from a consumer perspective, the searcher perspective, they just want an answer. So they're going to look at the result that's most relevant to them and click on it. So if they see that a certain ad is relevant, they're going to click on the ad copy.
Once they click on an ad, they end up on your website, which is a landing page.
Now a landing page should answer the question of why they conducted the search, or at least instruct someone how to find the answer. Now, this could be the fact that they have to call you to get the answer.
They have to buy this product, and that is the answer. They fill out a lead-based from. The answer for the searcher should be whatever your conversion actions are on your website. How do you make money? That should be how the answer occurs.
Let us now understand why search engine marketing is not so interruptive.
Why is Search Engine Marketing Not Interruptive?
Now, it's important that search engine marketing is not thought of as interruptive marketing. With TV, you have to stop watching the content, see the commercial; you get back to the content. It's important with paid search, as a marketer, you become part of this process of information retrieval.
So let's look at the same process again through my marketer's perspective. So question one is, do you want to answer the question based upon what they're looking for? Do you want an ad on the page?
Now you can choose whether you want your ad on the page based on:
The keywords you choose to advertise on

Based upon the user location

Based upon the device type they're on

Based upon the time of day, so forth.
Step 1 is, do you want an ad to show on the search result page? Someone gets the search result page; they're looking for the answer to a question.
So your ad's job is to stand up, wave its hands, flag someone's attention and say, I can answer your question. Come to our site; we can give you that answer.
That's what your ad's job is. And you need to determine what you want to write in your ad. What benefit message should you use? What call to action should you use? These are going to depend on your search advertising goals.
So in future modules, we'll look at setting goals for your search advertising method so you can write better ad copy.
Someone looks at the ad and thinks that can answer my question. Then they're going to click on the ad. As an advertiser, you need to determine how much should you pay for that click.
Because you don't want to pay for clicks that are not profitable.
So in future modules, we'll look at bidding methodologies:
Based upon conversion activity

Based upon return on investments.
Now finally, if someone does click on the ad, they go to your websites. So where should they land on your site? What individual page should they land on after clicking on the ad?
Because this page is going to tell them how to get the answer to their question, which is your conversion activity. If your page does persuade someone to convert, they fill out a form. They buy a product. It means they converted. You had a revenue event.
Let us now look into what is the necessity for tracking conversions.
Why do we Track Conversions?
Suppose you want to know what ads, what keywords, what landing pages, are leading to conversions. Furthermore, you want to know what your conversion rate is on that page, what your cost per conversion is on those pages.
That's the metrics necessary to create an effective paid search account. So that as you're setting bids, you're changing ad copy. You're choosing whether you should decide to advertise on a keyword or not.
You can look back to your conversion information, which will give you insight into your revenue to determine if that's a good combination to help your company further its goals.
Let us now look at what a successful SEM Campaign looks like concerning aligning goals.
Successful SEM Campaign - Aligning Goals
Now there are different goals that happen on a search result page. So, it's important to look at the differences between a search engines goal, a consumer's goal, and a search marketers goal.
So search page starts because a searcher did a search query and wanted to find an answer to a question. That's why the page exists in the first place. Now a search engines goal is to repeat searches. They make most of the money showing taxed ads on search pages.
To get repeat searchers they need to get the highest quality information and results to the searcher, the searcher finds the answer to their question, so they had a good experience on the search page, so they come back to that same search engine when they have another question to be answered.
The below diagram explains a Successful SEM campaign for Aligning Goals.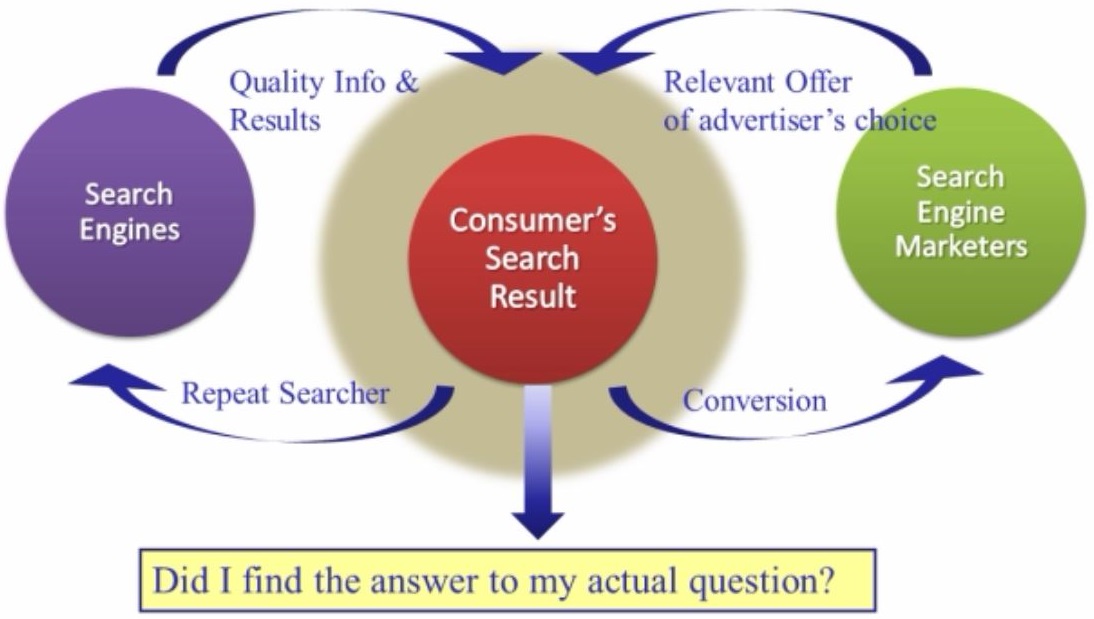 Type in more search queries. Now an advertisers goal is to put out a relevant offer so that a searcher sees your ad, clicks on it, goes to your site and converts. Your goals are revenue events. Now the consumer's goal is just to get the answer to a question.
So when thinking about aligning your goals. You don't want one with the search engines. You pay the search engines. The consumer pays you, the one who keeps you in business. So line your goals with the searcher.
Now you do have to play within the policies of the search engines. We'll talk what some of the policies some of the modules. It's their world; they get to dictate the policies.
From an aligning goal standpoint, if you're giving the correct information to a customer so they can make a decision, and that decision is to do business with your company, then you've done the correct alignment.
In the section of this Search Engine lesson, we will discuss the most common online activities.
Common Online Activities
When we look at why people go online, communication has been for many years, probably always will be the number one reason people go online. Whether it's sending or reading email, Facebook chat, instant message, so forth.
The second most common reason use a search engine to find information. That's good information for search markers. Look at the other reasons people go online like:
Look for health/medical information

Look for information on a hobby or interest

Search for maps or driving directions, location information.

Check the weather. That's weather information.

Look for information online about a service or product you're thinking about buying.

More information retrieval, getting news, that's news information

Buying a product

Buy or make reservations for travel, more good revenue events.
Most common reasons people go online is information retrieval. Over the past 20 years, information retrieval processes have changed significantly.
If you wanted to learn about a company 20 years ago, you looked at the newspaper, looked in the Yellow Pages. You bought a trade magazine. Now, people are increasingly turning online for their information retrieval processes.
Advertising isn't Advertising When its Information
So, a very important concept to keep in mind, with search advertising is that Search Advertising is not Search Advertising when it is information, so let's put this in a real-life concept.
Let's say, you live in the United States and let's say, you live in Chicago. Let's say further you're a fan of the Chicago Cubs baseball team.
Let's say that this weekend, the Chicago Cubs are playing, the St. Louis Cardinals. St. Louis is only a few hour drives. So you're thinking, let's go down to St. Louis this weekend, see the Arch. Watch the baseball team, make it a weak analogy.
So it happens, you hop in the car, you start driving the interstate, billboards pass you buy. Who cares. The average person sees more than 30 gigabytes of data a day. What's on a billboard.
Now, after an hour or so, you thought wow, I forgot to have dinner before I left the office. So you know what, think let's stop, and let's have dinner.
Now, at this point and time, the billboards have changed. They're no longer ads. They now give you information to make a decision if want to grab McDonald's, eat in the car, keep making time to St. Louis. Or if you want to stop, find a local diner, get out of the car a little bit, stretch your legs.
Let's say you stop; you have dinner, you get back in the car, you keep driving. That billboard? They're now ads again. Who cares? They're not relevant to you. With search advertising, your ad is the same as that billboard when someone's hungry for that information of where to eat.
When you think of search ads as giving information to a customer to make a decision and not just at skimming ads, but it's when your search advertising is much more effective.
Conclusion
With this, we come to an end to the Psychology of Search lesson. In the next topic, we will look at The Search Opportunity