Six Sigma methodologies are famed for their logical, data-driven approach to problem resolution. But what truly sets them apart from other quality paradigms is their versatility and applicability in contexts that fall well outside the purview of manufacturing, where they had their conception.
Read more: What Is Six Sigma Certification: Levels and Reasons to Get Certified?

Find out how to use one of the most commonly used and effective tools from the Six Sigma arsenal: a Control Plan.

Pro-tip: Did you know the principles of Six Sigma can successfully be applied to turn your life around? Learn how it can enhance your productivity.
What is A Six Sigma Control Plan?
In the world of quality management, a control plan is a written summary of the process that lays out in detail the steps to be taken to maintain a process or a device operating at the current level of performance. Control plans include a description of each step in the process and the parameters that need to be kept in check to ensure there are no excessive deviations from mean performance or variation in a batch of products.
Control Plans are extensively utilized by Six Sigma professionals and are an integral part of the Six Sigma set of methodologies. 
What is The Purpose Of A Six Sigma Control Plan?
According to the American Society For Quality (ASQ), 'the purpose of the control plan is to ensure that performance improvements made by the project team are sustained over time.'

The plan is created during the improve phase of the define, measure, analyze, improve, control (DMAIC) approach or a similar phase of other methodologies.

In essence, a Control Plan would present a summary of all the information relevant to a given project so that the quality specialist is able to ascertain if the project is on track and, in case of deviations, delays, and wasteful overheads, is able to take corrective action. As such, the Control Plan is kept updated to reflect any changes to the process, including (but not limited to):
A tweak or change to a step in the process
Addition or removal of a step in the process
Changes to human resources and training requirements
Addition or removal of equipment utilized in the process
Changes to capital and funding inflows and outflows
The Control Plan template is devised at the beginning of the project and is prepared after consultation with or with participation from all the stakeholders involved in a given project, beginning with the process or product owner.
Why Use A Control Plan?
A Control Plan provides a single point of reference for understanding process characteristics, specifications, and standard operating procedures -also known as SOP- for the process. A CP allows for the assignment of responsibility and allocation of accountability for each activity within the process. This ensures that the process is executed smoothly and is sustainable in the long run.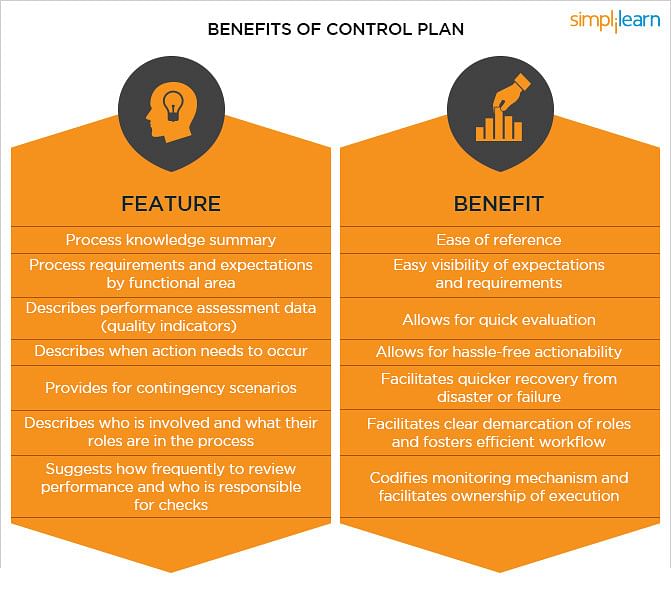 A well-devised control plan helps the business avoid negative business impacts from flaws and process deterioration, and helps the process and product owners track and correct the performance of the KPIVs and KPOVs (Key Performance Input and Output Variables).
What Goes On A Typical Control Plan?
A Control Plan may include as many or as few items as is appropriate to the scope of the process or project under consideration. Typical items on a Control Plan include:
Process Flowchart: Many Control Plans include a visual representation of the process workflow with decision-making stages highlighted. This serves as a broad, high-level overview of the process for easy and quick reference at any stage, and by any stakeholder.
The CTQs: the CTQs (or critical-to-quality trees) are the key quantifiable and measurable characteristics of a product or process whose performance standards or specification limits must be met in order to satisfy the customer. This helps aligns design specifications with customer requirements.
Process Step: This column includes the name or label of the step in the process. E.g. a polishing operation using lathes in a backyard garage may choose to include tool preparation, rough polishing, fine polishing, and delivery as the various steps involved in the entire process.
Specification Characteristic: For a CTQ to be quantified, a particular characteristic of the product is to be identified for measurement: this column is used to record the characteristic of a specification. E.g. the diameter of the shaft to be polished.
Specifications: This item may be used to record the numerical values of the specifications themselves, together with the unit of measurement. E.g. Internal diameter: 4mm; external diameter: 7.5mm
Measurement Method: This column may be used to document the method that was used to specify the measurement. E.g. Vernier calipers.
Sample Size: Indicates the size of the sample chosen for measurement.
Frequency Of Measurement: Indicative of the frequency with which samples are chosen for measurement. E.g. Hourly, daily, etc.
Corrective Action: Any corrective actions taken during that particular step in the process is documented and recorded, for future reference.
Standards: For manufacturing operations and control plans utilized in businesses, the quality standard adhered to and the SOP (Standard Operating Procedure) guidelines followed may also be recorded.
Additional Documentation: This may include such fields as the person taking the measurement, the date, place, and time at which the recording was made, revision number and version control, location, and so forth.
All Right, Sounds Good! Anything I Should Keep In Mind Before Devising A Control Plan?
Because of their criticality to decision-making, Control Plans need to be prepared after due deliberation and careful assessment of the project\product status from every conceivable angle. According to Forrest Breyfogle III, quality expert, and CEO of Smarter Solutions Inc., every successful Control Plan has a set of seven attributes that need to be considered before the project is initiated:
Measurements And Specifications: The Control Plan should have been designed after careful analysis of gaps between customer or stakeholder perceptions and expectations. This ensures the final product or service is in line with the specifications of the end-user or customer.
Input And Output: Determining the various IO parameters and the stages at which they enter\exit the Control Process is important to ensure free, unhampered flow of controlling information that is crucial to keeping the entire project on track.
Process Design And Execution: The control plan is built around the central process, and determining appropriate standards for a given process and setting associated performance criteria is the first step in creating a Control Plan.
Frequency Of Reporting And Sampling Methodology: Establishing a schedule for reporting and sampling ensures a suitable buffer time to take timely corrective action is in place. Periodic reviews facilitate tighter control and monitoring.
Recording: Documentation of information at every stage of the project is important to allow for better assessment, planning, testing, and implementation. Plan sheets are used to record and store information for a given product or process.
Corrective Actions: A framework to implement suitable corrective actions is a must-have on any Control Plan.
Process Owner Identification And Documentation: Process owners are the person(s) or groups of persons who are responsible for and possess the requisite authority to make changes to a process midway through a project. Identification of Process Owners early on is important to establish accountability and ownership.
How Do I Devise, Prepare, And Maintain A Control Plan?
The American Society for Quality suggests a step-by-step approach to devising a high-quality Control Plan.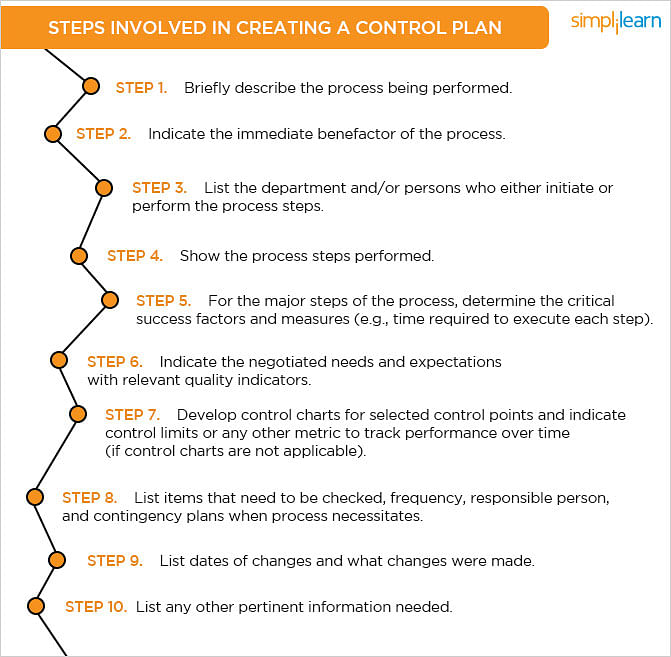 With that out of the way, it's time to get our hands dirty: let's get to work devising a….
Control Plan To Build A Backyard Treehouse


In sum: a good control plan clearly describes what actions to take, when to take them, and who should take them. It provides a clearly documented approach to be followed in case of variations, thereby precluding the firefighting syndrome setting in.

For more insightful articles on Six Sigma, feel free to visit the Quality Management aisle in our Online Library of Free Resources. You can also take up our Six Sigma Green Belt training course to begin your Quality Management career. 
Certified Six Sigma Green Belt Training
[If you're interested in a career in Six Sigma, check out this Salary report of Six Sigma Professionals]