Tailoring PRINCE2 to Project Environment Tutorial
Tailoring and Adopting PRINCE2
Objectives
This is chapter 4 of the PRINCE2 tutorial, which is a part of PRINCE2 Foundation and Practitioner course.
After completing this PRINCE2 Tailoring and Adopting Tutorial, you will be able to:
Understand, What is PRINCE2 Tailoring?

Identify how PRINCE2 can be adopted as an organization-wide project management method

Learn how to tailor PRINCE2 to suit different projects

Learn how to adopt PRINCE2 in an organizational environment
Tailoring PRINCE2
Tailoring:
Adapting a method or process to suit the situation in which it is used
This is an introduction to the tailoring principle of PRINCE2:
The seventh PRINCE2 principle states that PRINCE2 should be tailored to a project's circumstances.

The goal of tailoring is not to overburden the project management team but to provide an appropriate level of governance and control and acceptable level of risk

If an organization doesn't have its own project management method, tailoring is done directly from the PRINCE2 manual

Adopting PRINCE2
Assume an organization does not have a Project Management method for organization-wide usage, this organization may use PRINCE2 as its Project Management Method. This is known as Embedding.
Embedding: Embedding is the act of making something an integral part of a bigger whole. It is what an organization needs to do to adopt PRINCE2 as its corporate project management method and encourage its widespread use.
Organizations tailor PRINCE2 and adopt it as per their requirements, creating their own PRINCE2 methods and embedding them in their work practices.
Tailoring PRINCE2 to Suit Different Projects
What Can Be Tailored?
Tailoring can be applied to processes, themes, roles, management product descriptions, and terminology.
The following aspects of PRINCE2 may be tailored:
Processes may be combined or adapted

Themes can be applied using techniques that are appropriate for the project

Roles may be combined or split, provided accountability is maintained and there are no conflicts of interest

Management products (such as plans, reports) may be combined or split

Terminology may be changed to suit standards or policies, provided it is applied consistently
Principles Should Not Be Tailored
Tailoring is mandatory for all PRINCE2 Projects. Therefore, if an organization is not tailoring PRINCE2 for its projects context, it is not a PRINCE2 Project.
PRINCE2 Principles should be applied as they are (because they are universal and always apply)
Tailoring doesn't mean excluding principles, themes, and processes. They all are interconnected.

If some part is omitted, it may weaken the project management, decreasing the project's success.

Effective tailoring requires skill, experience, and judgment.
Tailoring Should Add Value
Tailoring should be useful for the project rather than creating constraints for the team.
Ensure that tailoring of PRINCE2 adds value. One of the advantages of using PRINCE2 is that it comprises roles, terminology and processes that people become familiar with and so clarifies project governance and facilitates team working and cross-organizational cooperation, too much tailoring may negate these advantages.

When tailoring individual elements of PRINCE2, check the impact on any other element to ensure they all are consistent.
Some organizations may have their own management products such as weekly status report instead of checkpoint report or business requirements document instead of project product description.When different management products are used, care should be taken to ensure that they still reflect the intended PRINCE2 purpose.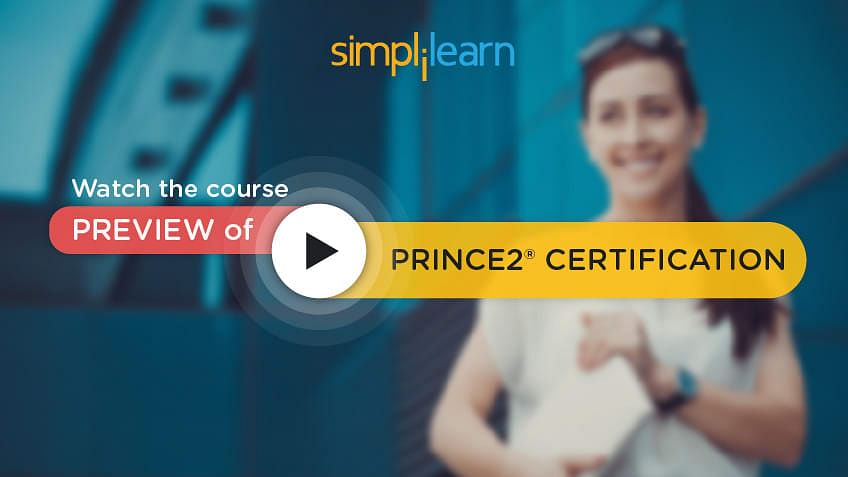 Tailoring Responsibilities
Management Products refer to plans, registers, strategies, and reports created in PRINCE2 projects. Management Products are critical to tailoring and consist of the following characteristics.
Management products comprise information that supports decision-making. If any part of a product adds no value, it should not be included in the product's composition. However, this decision should not be taken until the needs of the project are truly understood.

Conversely, if the circumstances of the project require additional information, it should be added to the management product's composition.

The quality criteria should be amended accordingly.
The project manager is responsible for tailoring.
The project manager should identify the level of tailoring required for the project and document it in project initiation document.

Tailoring is reviewed by appropriate stakeholders such as the project board or the project assurance.

Team managers suggest the tailoring required at work level package to project managers.
Tailoring Is Constrained and Influenced by Context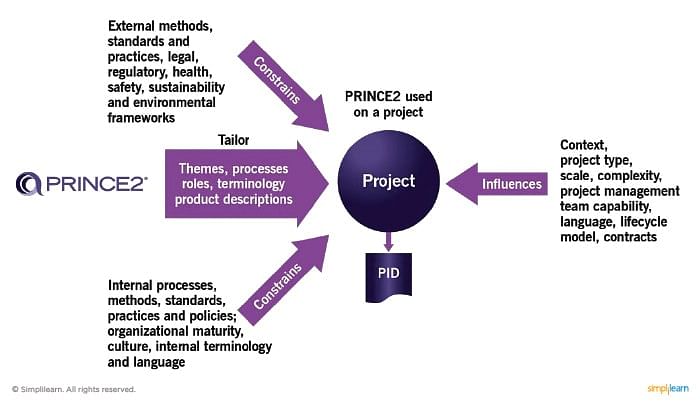 Tailoring: Constraints and Influencing Factors
Tailoring may need to take into account standards, policies, laws or regulations from outside the organization. For example, if a project is about digitizing medical records, privacy laws and regulations are applicable to the project.

The nature of the project itself influences how PRINCE2 should be tailored.

Constraints with customers or suppliers need to be taken into account when considering tailoring. For example, a contract may warrant the dedicated onsite team to be used for a project. This may constrain suppliers with respect to resource availability, visa, and travel requirements.
Tip: Create a glossary of terms if adopting some of the organization's terminology, providing commonly used alternatives, to help communication. Use the defined terms consistently in all documents and communications whether written or verbal.
Tailoring and Project Context
The tailoring guidance provided in PRINCE2 2017 Update Manual is not exhaustive as the application of PRINCE2 is limitless. Guidance is provided to illustrate things to consider and some example tactics that can be applied. Such guidance should not be interpreted as the definitive approach to tailoring as it is not specific to a particular project. The practitioner should consider the pros and cons of the tailoring choices as they relate to their project circumstances and ensure that:
Tailoring complies with the PRINCE2 principles and any overriding corporate standards or policies

Tailoring does not increase the risk of failing to meet the project's objectives

The reasons for tailoring choices are documented in the PID
A project's immediate context is relevant. If it is stand-alone or part of a programme or portfolio, the processes, techniques, and approaches may come from within the project teams (stand-alone) or from higher management levels (programme).
Tailoring: Some Common Situations
A simple project is the one that the organization perceives as straightforward and of low risk.
Tailoring example for a simple, two-stage project:
On a simple project, an email was sent to start the project (project mandate), specifying project objectives with cost and timescales for the initiation stage of the project. No project brief was produced.

The project manager prepared a simple project initiation document that included:

The justification for the project

Basic project plan with several product descriptions

Details of all controls to be applied

A daily log was used to record risks, issues, lessons and quality results.

After the approval of PID, there was only one more management stage. The project manager provided verbal reporting updates at regular checkpoints.

At the end of the project, the end project report was produced along with lessons report and follow-on actions.

No stage plans, work packages or team plans were used but they were incorporated into other products with required details.
Projects using an Agile Delivery Approach
A PRINCE2 project can use an Agile Delivery approach because:
The Agile Manifesto (2001) and most of the Agile frameworks and methods promote a set of principles in some form.

PRINCE2's principles align with these principles are complementary to the Agile way of working.

PRINCE2 management stages can be aligned with a series of sprints or releases.

In situations that have high risk or high uncertainty, the management stages can be of short duration.

PRINCE2's 'manage by exception' principle should be implemented correctly and should be at the heart of empowering people to self-organize and stay in control.

Product Descriptions written as Epics and User Stories should have prioritized quality criteria and quality tolerances to focus on delivering value without compromising on quality.
In a PRINCE2 project, if all or a part of the project's specialist products are delivered using Agile, make sure the Project Manager understands the Agile way of working and that the Agile team understands the Project Manager's need for reliable information.
Projects involving a Customer–Supplier Relationship
Projects are generally based on customer-supplier relationship. The contract between the customer and supplier acts as a constraint on a project manager's degree of freedom when managing a project.
From a supplier's perspective, activities at the end of the project such as warranty and maintenance periods must also be considered.
Tips:
The Project Initiation Documentation (PID) and the contract fulfill different purposes.

One aspect of a contract is to describe who is liable if either party fails to fulfill its contractual obligations. The content of PID should focus on practical management arrangements to make sure that each party can fulfil their obligations; the PID must reflect the contract conditions.

Try to avoid including the PID as part of contract documentation as it may limit the project manager's ability to adapt if the PID has to go through a formal contractual review for each change.
Projects involving multiple owning organizations
Multiple vendors or suppliers may work on the same project and the same customer. In such projects:
Project boards may have more members.

If the organizations have equal authority, a consensus has to be built on each decision, which can be time-consuming.

For complicated situations, adopting programme management as an effective means of governance is recommended.
Where the project is being sponsored by a number of separate organizations, ensure governance is unambiguously defined, especially with respect to who can make which decisions, how risk is allocated and what happens in the case of non-performance.
Projects within programmes
For projects that are part of programmes, people undertaking programme management roles may define, influence or constrain tailoring.

Many combinations of a simple project, Agile and commercial may exist.
If a project is part of a programme, ensure that the management products and other documentation are clearly labeled to identify the project, so that readers are not confused as to whether it is a 'programme level' document or which project within the programme it relates to.
Adopting PRINCE2 in an Organizational Environment
Effective Use of PRINCE2 in an Organisation
In large organizations with several projects, if a project management method such as PRINCE2 is not followed:
Lessons from one project may not be shared with other projects; multiple teams may continually invent different ways of doing the same thing

Building a common information support system will be problematic

Training is likely to be generic, rather than focused on particular challenges
Adopting PRINCE2 in an organization involves two activities:
Tailoring PRINCE2 to create the organization's own project management method

Embedding the tailored method by ensuring that people in the organization understand and use it appropriately
Tailoring PRINCE2 to Create a Project Management Method
An organization's project management method should form a seamless part of the organization's overall governance and management system.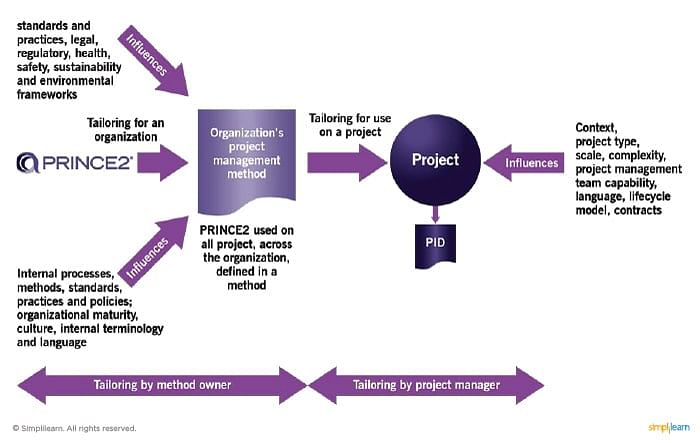 Tailoring PRINCE2 to create an organization's project management method would be undertaken by the owner of the project management method. A Project Manager will only deal with those aspects which are unique to the project being managed.
Tip:
The way a method is drafted influences the extent to which it will be used. A method which has a consistent look and feel, with a logical structure, is likely to promote more confidence in its users than one which is documented in a variety of formats, styles, and media. Make sure the content is consistent, especially terminology, whether in information systems, documents, posters, videos, presentations or websites. The greater the consistency between the parts, the easier it will be for people to understand.
Embedding PRINCE2 in an Organization
Encouraging widespread usage of PRINCE2 in an organization involves more than publishing the method—it has to be consistently deployed, effectively introduced and used in practice. This requires changing the way people work.
The management of change is a specialist activity which refers to any approach to transition individuals, teams and organizations from their current way of working to a new way.
Managing Change While Embedding PRINCE2
While adopting and embedding PRINCE2, there may be a lot of changes that can impact the individuals involved in projects.
Managing change is gaining the support of the individuals who are required to change their way of working. This involves:
Understanding the current situation (current state)

Designing how the organization will work when the transformation is complete (future state)

Identifying what changes are needed to move from the current state to future state

Developing the necessary capabilities to meet the organization's needs (roles, processes, systems, behaviors)

Engaging the individuals who are affected by the change and winning their support or consent

Summary
There are several differences between tailoring and adopting PRINCE2.

Tailoring can be done in different situations—from simple projects to Agile and projects in commercial environments with multiple organizations.

PRINCE2 can be adopted as an organization's Project Management method.
Conclusion
We have learnt about Tailoring and Adopting PRINCE2 in this chapter. In the next chapter we shall discuss about the Introduction to PRINCE2 Themes
Find our PRINCE2® Foundation and Practitioner Online Classroom training classes in top cities: