What Is Project Management?
A project is an undertaking not meant to last for long but created to achieve a particular goal or product. It has a particular time frame depending on the available funds and expected results. It is not a routine, but a unique initiative with specified objectives.
Project management is a practice as well as a combination of activities aimed at achieving a definite objective. It includes the methods of planning, motivating, managing resources including time, rules and measures and organizing them.
Secure Your Future with Simplilearn's certifications that pay well. Invest in our trusted certifications and pave the way for a prosperous career.
Project Management Certifications Evolution
It was, however, in the 1950s when project management as a subject changed to become an independent discipline on its own. This makes project management a fairly new discipline and subject to transformation. The evolution of project management certification is a result of the changing social and economic needs. Also, with the passage of time, people require more from IPMA and as the standards change so will the project management qualifications.
It has, therefore, managed to shift from being just an informal practice to a growing profession. Being one of the highly demanded skills in the business industry, it is growing at a very high rate especially in the Northern part of the United States of America. There has also been a projection of more than ten million jobs related to project management to be created in the near future.
Project management certification came into existence in 1967 by the European based International Project Management Association (IPMA), which was a partnership of many associations of the countries dealing with project management.
Formed in 1969, the Project Management Institute (PMI)® offers a range of project certifications. It also provides knowledge of the most common techniques in project management. The certificates provided are aimed at boosting one's career in the domain of project management.
This program at present provides the following credentials:

A Certification in project management ensures one's knowledge in the life cycles of a project. Project plan implementation, assessment of the project's performance according to the set goals and the ability to make necessary adjustments, so that the projects stay on track are the required skills in project management. It also provides learners with skills in procurement, managing human resource, stakeholder management, risk assessment, and communication.
Graduate certificates in this profession show that an individual can create a life cycle for the management of an entire project. It also demonstrates that they are knowledgeable and capable enough to handle all the tools and techniques involved and have the capacity to determine the variances in cost, timetables, and benefits in the project implementation process.
Project management professional is internationally recognized and probably holds the most popular global certification, especially among industries, which provide services in project management. However, according to statistics, certified project managers are just above fifty percent.
Other than being recognized by more than 90% of the institutions as the key to quality performance, project management also provides career advancement which includes better positions and increased remuneration. Their demand in the industry has tremendously risen up as they have public recognition and the ability to provide guidance for projects.
These Qualifications Also Help in Achieving the Following As Well
Depict one's level of commitment in their career.
Demonstrate advanced skills and knowledge in project management.
Not only help in boosting one's career but also significantly improves one's status too.
The project management professional certificate from PMI® for instance also requires one to adhere to the Code of Ethics and Professional Conduct by the Program Management Institute. They also need to take up a test and pass it to prove that they are competent enough when it comes to meeting a particular criterion in project management.
The Basics of Project Management
Project management aims at ensuring the achievement of a project's target in spite of the limitations. It also ensures the proper distribution of resources and put them together to enable better achievement of the set goals.
The study of project management evolved from the subjects of civil construction, security, and engineering. These certifications are extremely useful not only for those involved in projects but also for people in the following sectors: Business, Health care, Human resource management, Marketing, International Operations, Administration, Information communication technology among other fields.
Two great contributors to Project Management were Henri Fayol and Henry Gantt. Known for the Gantt chart, which is a vital tool in project management, Henry Gantt is also accredited for his contribution in controlling and planning. Henry Fayol has discovered the five stages of Project Management.
Project management processes differ according to industries but they have their basic components the same almost everywhere, which are the following.
Conception and initiation of the project.
Defining and Planning the project
Executing the Project
Managing and Monitoring the project
Closing the project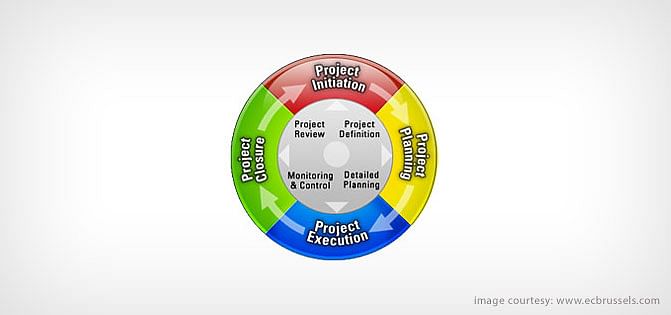 Let us discuss these phases in detail:
1st  Phase
Evaluation of a project idea to assess its advantages to the business.
Assessment of the achievability of the project by the management panel.

2nd Phase
Creating a framework of what needs to be done in a project. This can be in the form of:

a project scope
a project plan
a project charter

Coming up with a timetable for the project.
Identification of the resources required and developing a budget.

3rd Phase
Allocation of duties and responsibilities among the team.
Resources are also allocated appropriately at this point.

4th  Phase 
Evaluating the progress of the project.
Making of adjustments if necessary to the schedules.

5th Phase
Evaluation of the entire project is done to determine its accomplishment. This is done after all assignments are completed.
Project Management Online Tools
These software tools are designed to make complicated projects much easier to complete. They have evolved up with the need to become more efficient and effective in managing projects.
Some of the Advantages of the Software Tools in Project Management Are Discussed Below
Helps in developing a time table for the project from the time it has started to when it will end.
It can be used to monitor the assignments that have been given out and their resource use.
The software can also be used to give updates according to time, the successes of the project even before it is completed.
Note that the software is designed differently and some are custom made for particular types of projects. This should be one of the key considerations when choosing to acquire one for a project management assignment.
Other factors to consider include the size of the project, its complexity and how much one is willing and able to spend on the tools. According to the access group; reliability, ease of use, and ease of integration are the top three requirements project managers look for when shopping for software.
Project Management Certification Online
This is another avenue preferred by many because of its relatively convenient and user-friendly nature.
Through online learning, one would get the same benefits as attending class and acquire the same certification. Participants have an option of attending the online courses either through online self-learning or through instructor-led training or LVCs. The latter is the most preferred mode of learning these days, as it gives a classroom- like feel at a place of participant's choice.  Participants are able to interact with the trainer live and also clear his or her doubts. Also, he or she can interact with other participants in the live webinar. This is usually important for discussions and group assignments.
Depending upon the nature of the certificate as well as the qualification, one can apply for the Project Management Institute (PMI)® qualifications. With fixed commencing dates, online courses make it possible for international students to acquire the skills in project management despite their locations.
One can have an online certificate in project management in the field of their choice from business, health governance, and more other such options. The evolution of project management certification through online study has made it possible for students to opt for a master's certificate from the comfort of their homes.

Requirements for Project Management Certification Online
Some of the requirements for online master's certification include completion of other courses that are usually varying depending on the institution. One will need to have some level of experience in the field and a bachelor's degree. Some schools, however, will consider any other global equivalent to a bachelor's degree.
One also needs to fill in the application for the course and it has to be approved before one can officially start the study. In many of the online application forms, the information that is required includes the following:
The applicant's biodata and contact information.
The jobs one has previously or currently been holding, what they involve and their experiences form them. Some will also need to know the industry in which they are in and the length of time in which one has been in those positions. Some will also need to know which of these positions were managerial and the approximate number of employees one had or has.
The projects one has taken up in the past or is currently doing.
One has to give the details of his/her educational qualifications with the major subjects and any other training or certification.
Some of these courses are specialized and upon providing them with your details, they will give you a selection of courses that will fit the area of your expertise in project management. Other than just study- materials, a lot of these online providers will also have live webinars arranged for their students. This makes the course more involving and interesting aside from the provision of extra knowledge and information about the professional.
When choosing a training center, this is also a quality to look for it focuses more on skill development rather than just the curriculum. Look for other activities that indicate that they are focused on building hand-on knowledge in the students instead of focusing on teaching and examinations.
What Do You Need to Know About Online Studying of Project Management
You can also register for an online course with those institutions that offer to learn at any time of the day and on any day of the week. This can be for a particular set of days and just like the other modes of study, online study will also necessitate one to be fully evaluated before they can complete the course.
Some of the methods of assessing the online students include self-assessment/practice tests, examinations, quizzes and assessments of projects given out to the students whether as individuals or in groups. Some of the institutions will also do an evaluation of how much a student has participated during the program. A minimum grade is also there at which upon attainment, one can successfully graduate.
Some of the different ways of online study include online video streaming, discussion groups, case studies, online lecturers, handouts for students and downloadable PDFs. Some institutions will have a combination of all of them.
There are also options to get your certification partly online or fully online. Get registered with an institution whose syllabus is at par with the standards set by the Project Management Institute (PMI)®.
Some of the project management courses available online include those related to the basics, tools, partnership, and skills needed for project management.
PMP® and PMI® are registered trademarks of the Project Management Institute, Inc.