Understanding the importance of PMP Boot camps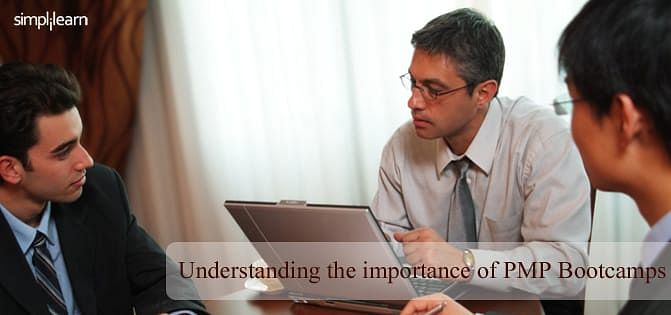 PMP® stands for Project Management Professional, and it is a credential that is offered by the Project Management Institute. There are more than half a million active PMP®-certified professionals around the world, and the PMP® boot camp can truly make a difference if you want to pursue a career in the field. Why? The answer is simple: because the boot camp emphasizes on all the important areas that you must be aware of prior to the exam, and not only. Here you will find some of the most important benefits that every aspirant will certainly appreciate in a classic PMP® boot camp: 
1. Results-Based Study 
In a nutshell, there are two types of boot camps that future PMP® professionals can opt for:
The classic, live-based boot camps (which tend to be more expensive, yet also more efficient at the same time)
The online-based courses that can be done from anywhere in the world, and at any time.
Regardless of your choice, the boot camp focuses on results-oriented study – this is an innovative and modern approach that relies on a unique methodology designed to allow students to get the best of their training for the future exam. The students will enjoy a tailored course that will suit their requirements, and they will learn precisely what they need to know for their PMP® certification – nothing more and nothing less. 
2. There Will Be Several Full Length Simulates PMP® 
Tests 
As it happens with every study boot camp, the PMP® boot camp will culminate with one or more full length simulated practice tests that will make sure students are fully prepared for the test. These simulations come in handy both for the students and for the teachers, as their purpose is to help the students see just how well-prepared they are, and whether they are ready to sit for the final examination or not. In other words, the purpose of these practice tests simulations is to help everybody save time, trouble, money and hassles, and they are the closest you will ever get to the official PMP® exam.
3. The Boot camp Will Take You through All the Chapters 
As you may know already, the final PMP® exam that can help you become certified consists of several comprehensive, in-depth chapters, and it is crucial for you to be very familiar with everything. That being said, the PMP® boot camp will offer you a deeper insight into all the important concepts and terms that apply in the field of project management, it will help you complete various "fill in the blanks" type of exercises that will help you become familiar with the industry, it will help you get a deeper understanding in cost and time management along with all the other chapters and sub-chapters that will play a pivotal role in the professional life of every PMP®-certified specialist. Besides this, the boot camp teachers will emphasize on the questions and exercises with the highest probability of being included in the final, official PMP® exam, based on assessments of PMP® exams from the previous years, therefore you will know exactly what to expect. 
4. It Will Help You Improve Your Communication Skill 
Communication skills are vital for every PMP® professional, as talking to the stakeholders is regarded as an art by many – this is why it is crucial to improve your communication skills, and the boot camp aims to help you do just that. The formal courses that you will attend throughout the length of the boot camp will help you form a consistent knowledge base, and it will also help you manage your future projects using a common yet professional and semi-formal language.

Moreover, the PMP® boot camp will also help you become familiar with the business language, as coming across as a skilled and well-educated professional is an aspect of utmost importance in this highly competitive environment. The boot camp will teach you that you will not get a second chance to make a brilliant first impression, and that it is vital to make the best out of your first one. The training will, most likely, provide a series of real life scenarios where you will have the chance to demonstrate your interpersonal and your communication skills, while getting efficient, unbiased, objective and professional feedback from your superiors. 
5. The PMP® 
Boot camp Will Emphasize On All Important Business Skills 
Communication is vital, but there are several other business skills that can be far more important. Otherwise stated, there are several crucial project management skills that every PMP® aspirant must know – you will learn how to manage people and how to handle difficult employees, you will be taught how to deal with a sudden change of plans and you will also get a deeper insight into stakeholder engagement and management. At the same time, you will also learn how to manage quality and how to prevent and deal with internal conflicts, as conflicts arise all the time, and you will also understand the basics of leadership and planning. 
6. You Will Benefit From Active Learning Techniques 

PMP® professionals never know enough, they are always trying to improve their knowledge, to gain new sets of skills and to push their boundaries. During the PMP® boot camp, you will become familiar with active learning techniques that will benefit you immensely over the years – you will learn how to maximize the value of your time and how to make the best of every printed material, workshop, article or podcast, as these are the areas that will help you achieve and maintain a very successful project management career.
The Bottom Line
To sum it all up, PMP® training will benefit you on many different levels if your goal is to get your certification in project management. It will help you understand the importance of setting clear project goals and objectives prior to committing any major financial and human resources to achieve them, it will help you get a rigorous approach for the completion of the project, and it will also help you implement an all-round and systematic process designed to manage all the changes adjacent to the scope or the objective of your project. In other words, attending a PMP® boot camp is certainly a lot easier and more efficient than studying for the final exam all by yourself, as it will minimize the risks of failure and increase the chances of success. 
PMP is a registered trademark of the Project Management Institute, Inc.
Find our PMP® Certification Online Classroom training classes in top cities:
---