As one of the most exciting Cloud platforms around, the Salesforce suite of applications is beginning to find widespread applicability in a rapidly increasing number of industry domains, and SFDC has witnessed tremendous growth in recent years.

But what does the future hold for Salesforce? Is the Salesforce family of solutions all set to dominate –even monopolize- the enterprise software market for the decade ahead?

To predict the future for Salesforce, let's begin with a glimpse into the recent past. A quick look at the current state of the CRM industry and the role played by Salesforce apps will help us connect the dots and arrive at a plausible future trajectory -
47% of total CRM software revenue in 2014 was generated from SaaS-based CRM applications.
Salesforce (NYSE:CRM) leads the worldwide CRM market with 18.4% market share.
The top ten CRM vendors together were able to generate 60% of worldwide revenue in 2014.
Undoubtedly, Salesforce dominated the worldwide CRM market with a market share of 18.6%, and 28.2% revenue growth from 2013 to 2014.
SAP had the second largest market share with 12.1%, with a growth rate of 7.2% in 2014.
Oracle had the third largest market share of 9.2% with a growth rate of just about 2.6% in 2014.
(Estimates by Gartner CRM market share update)



The pie-chart here illustrates the worldwide CRM Software Spending by Vendor in 2014. The graph compares CRM revenue growth rates by vendor for 2014 worldwide CRM sales.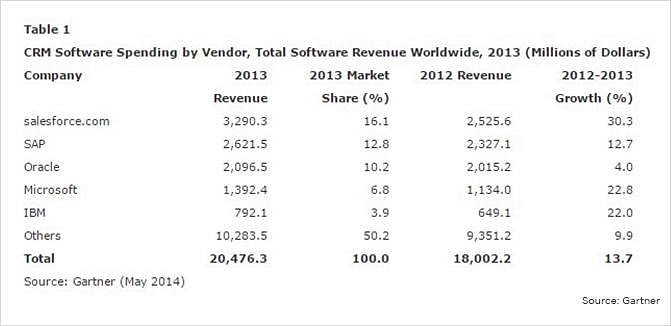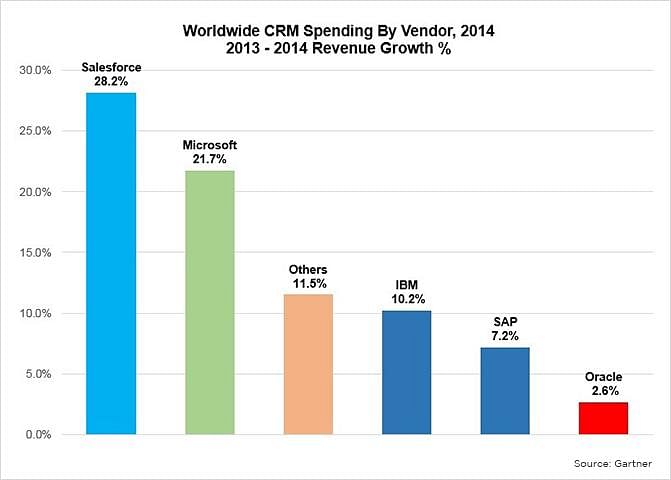 The figures speak for themselves. When it comes to CRM, Salesforce reigns supreme - and the platform has continued to expand, integrating a host of functionalities and tools from Salesforce.com's many acquisitions in recent years.
Demand for an 'Intelligent' Tool
Although the importance of a quality CRM tool cannot be overstated, the staggering pace of technological advancement has added another dimension to this need: that of intelligence.  

While it goes without saying that companies that do not effectively utilize CRM or ERP tools in this era of connected information are going to lag far behind the competition, utilizing powerful tools that are capable of processing vast amounts of intelligence to deliver better results will amplify competitive business advantage.
It is therefore right to say: with more data being exchanged, and with the technology of selling and buying having become more complex than ever, the necessity for a tool that is intelligent enough to handle sales activities has become crucial.

A Sales Performance Optimization Benchmark study from CSO Insights states that sales people spend only 34% of their time selling. Thereby, to promote intelligent selling, it would be beneficial if there was a tool that helped in developing the best sales opportunities, in prioritizing prospects and time, and in understanding their customers better.

An article on Salesforce's blog - Future of Intelligent Selling, by Jim Hopkins of Data.com, states that the modern-day CRM -as a set of practices, strategies, and technologies- meets this need as a great solution as it provides the tools and data for finding and recommending the right opportunities, accounts, and contacts to sell to.
Salesforce as a Game Changer
Gartner predicted that the extensive adoption of CRM came with the difference that the software-as-a-service deployments were making. It's predicted that SaaS CRM solutions will reach a deployment rate of 80 to 85% by 2025. The CRM software market in itself is estimated to grow at a rate of about 14% annually in the short-term, through 2017.

A report from MIT suggested that about 91% of companies using Salesforce in their CRM strategies reported a "strong executive voice". It further reported that around 64% of marketers placed more value in their existing clientele rather than acquiring new ones. Salesforce helps salespeople cater to clients and customers throughout their buying-selling experience.
How Does Salesforce Revive Businesses?
Over 54% of organizations that use CRM solutions claim that Salesforce lends itself well to providing a personalized customer-service experience. 4 in 5 Salesforce customers' needs were met with greater ease with Salesforce than with other CRM offering.

As the cloud enables employees to access data from anywhere, the advantage of using a single account for client records and data across their sales, finance, and legal teams isn't lost on organizations. 

As an intelligent tool that helps the salesforce at companies spend less time searching, managing, and entering data and more time on selling, the Salesforce platform has elevated the way businesses are done - to a whole new level!
What Does the Future Hold?
Despite the expanding enterprise software market and the tremendous success of the tool, without a stream of new products and features, growth in an arena where the challengers include the likes of IBM, SAP, and Microsoft is difficult, at best.

This is a strategy that Salesforce has grasped well. With the launch of Lightning Experience in August, 2015, it has remained upwardly mobile in the CRM market. This was a more efficient version of the core CRM product that met its aim in increasing sales rep productivity, and providing businesses with the analytics and intelligence that are key factors to increase sales.

Some striking features of this new Salesforce Lightning is that it provides customizable dashboards and opportunity boards which help in getting a complete picture across all deals. Sales professionals can drag-and-drop deals from stage-to-stage like digital sticky notes. Also, with the feature of contextual hovers, one can get to know what is going on with a customer without having to navigate through many pages.

In the longer term, we expect Salesforce to integrate data science and big data capabilities to its Service Cloud and Marketing Cloud. This would result in automated customer service tasks (via Service Cloud) and would let marketers leverage data for predictive and targeted marketing (via Marketing Cloud). If this is done, it will be a step in the right direction, considering a report from MIT which stated that 71% of businesses invest in business intelligence and big data, of which 20% have said to have made substantial investments.

By providing customized CRM tools to specific categories of businesses and by providing personalized experiences for clients that in turn help in capturing relevant and specific information, Salesforce can promise itself a growth that it has sustained for itself so far.

Salesforce forays into the healthcare industry and the Internet-of-Things (IoT) has already begun, with the company outlining its Health Cloud at this year's DreamForce convention. And as one of the first CRM-providers to take to the mobile platform, Salesforce's various mobile apps are well-established tools at large enterprises.

Want to get in on the action and ride the Salesforce wave? Excited by the potential career opportunities for Salesforce professionals? Why not add Salesforce skills to your resume with a professional certification?