Everyone uses Google to search for information.
But did you know that Google also impacts your earnings to a great extent, if you have a business online?
If not, this post will help you understand how the 19th November 2015 Google update, called "Google Quality Update: Phantom 3", impacted millions of websites. It will also tell you how you, as a website owner, can be prepared to counter similar updates in the future.
Let's dig a little deeper, starting from the basics.
Relevant: Seo Strategy : How to Avoid 5 Major Google Penalties
1. Decoding "Google Quality Update: Phantom 3"
November 19th, 2015 saw a mysterious update by Google.
Though Google's John Mueller announced that there was no specific advancement, the mysterious nature of the update gave rise to a lot of speculation.
@dawnieando @rogala_pro @methode most likely, yes. We make 100s of changes every year. Don't have anything more specific to announce, sorry!

— John Mueller (@JohnMu) November 19, 2015
Assumed to be a "quality update", the intent was to improve the search quality for the user while also dropping the ranking of low-quality sites.
Phantom 3 was a content upgrade, not a link upgrade, which means that low quality sites - which did not satisfy the user's need to find correct and relevant information - were penalized through a downgrade.
Even sites with outdated comments that were not relevant to the content saw a drop in their website rankings because of the Phantom update.
Other reasons for drop in visibility were duplicate content, broken internal and external links, returned 4xx status code, or duplicate meta descriptions.
This resulted in massive drops in organic traffic ranking - about 50-60% in large websites with millions in traffic.
Semrush notes that in a random sample size of 10,000 domain sites with 1000 monthly organic traffic, 40% of these domains saw 10% organic changes which was a significant number to draw attention to the update.
The update helped to get a spike in results in number of visitors. Though the results were not the same in all countries, sites located in US, UK, and France prominently showed an impact due to these changes.
Sites that got impacted by the quality update in May 2015 (Phantom 2) had to bear the brunt. Hubpages was penalized by 22% drop in traffic. What they did to counter the impact was move the sub domains since they were impacted by the Phantom update.
Google Updates impact individual and businesses through website ranking, speed and accessibility based on the quality of content, the length of the content, it being mobile friendly and its relevance as pointed out in the updated Quality Rater Guidelines, according to which webpage and content quality is evaluated by Google.
2. Google silent updates – bane or boon?
Google's blog mentions that security is the main reason it avoids making official announcements on its updates. They also have evaluators who assess the quality of Google search results and give feedback on the same.
Given the massive number of interconnected devices a user accesses to search on any of these devices, a seamless experience forms an important part of Google's guidelines.
The primary reason to update their Search Quality Guidelines on a regular basis is to incorporate mobile users in it.
Another key factor is to do away with redirects, spammers, eavesdropping, attacks or data manipulation thereby resulting in loss of faith in Google's credibility. The potential to provide high quality search is also a key reason Google carries out quality updates.
Other reason is to avoid user intrusion by regularly asking them to update their systems and hence Google indulges in silent updates and seamlessly allows users to carry out their search without intrusions.
Such updates prove to be a blessing for some sites that can use GWT to correct their site issues and improve their site performance.
3. Comparison between Phantom Updates 1, 2 & 3
Timeline of Phantom Updates
Phantom 1 – May 2013
Phantom 2 – May 2015
Phantom 3 – November 2015
Phantom 1 saw an organic drop in traffic as much as 60% where there were external links, spam links, or over linkage to sister sites that had low-quality content.

Phantom 2 focused on excessive tagging by sites that lead to an unappealing user experience. Insufficient information about a topic and even less substantial supporting content added by click-bait ads made it even more frustrating for a user to navigate.
Phantom 3 was an extension to Phantom 2 with even more stringent checks on quality content that had to meet Google Quality Guidelines, as discussed in the next section.
Google Updates like Phantom 1, Phantom 2, and Phantom 3 impacted many websites which took about 2.5 months to recover.
This is seen in the sites which were affected by Phantom 2 (May 2015) and who took the necessary steps to fix the issues and hence saw a spike during the time of Phantom 3 (November 2015)

However, those that did not attend to the issues in their website after the Phantom 2 update in May 2015 saw a drastic drop in their website visibility.


Phantom 3 thus had a significant connection to the Phantom 2 quality update in May (2/5/2015).
Phantom 1, 2, and 3 showed similarities in terms of the nature of the update i.e. quality of the sites. Sites which did not follow the Google Search Quality Guidelines were badly hit.
4. Why was Google's Phantom 3 update needed?
Well, if the sites that fixed the issue in May 2015 saw a spike, why was the Phantom 3 update needed in November 2015?
Besides content quality, there were other areas which were yet to see a few changes after the May 2015 update. The Phantom 3 Update positively or negatively impacted:
1. Snippets
Snippets give a peak into what a user can expect on your website on SERP (Search Engine Ranking Page). There are number of fake SERPs trying to attract users to the site. E.g. Cognitive SEO explains how Snippets were misused, as shown in the snapshot.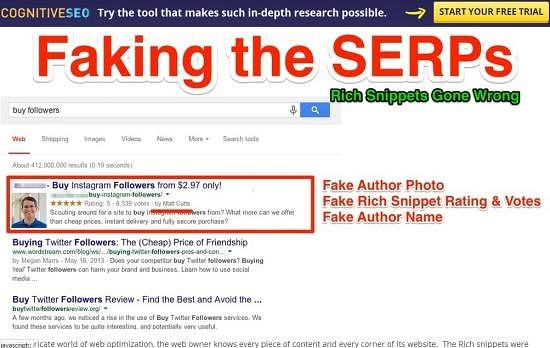 Since user experience forms a core part of the Google Quality update, rich snippets reappeared for websites that followed the Google Quality Update and thus positively impacted them in November 2015.
On the other hand, the negatively impacted websites saw rich snippets disappearing.
2. Targeting low quality/ spam content
Phantom 3 took the quality update to a level of penalizing low quality content and initiating pure spam penalty (manual spam), which takes off content from websites that do not follow Google Quality guidelines and thus gives them a warning to either fix it or let their website not appear in search listings.
3. User engagement – a focus area of Phantom 3 Update
User satisfaction is linked to content that can meet their needs. In this context, Google penalized deceptive ads that act merely as a means to get clicks (relevant or irrelevant).
4. User interface
Shady sites that had number of links, complex navigation system, and information that's hard to find were also targeted.
5. Forcing the advertisements on the user
Sites with loads of advertising material that did not meet the user's immediate need for the information were also negatively impacted by this update.
6. Pagination
If users need to search through hundreds of pages, only to find a few sentences, they are left disappointed - and Google wanted to fix that. Thus any information that does not directly help the user in a short span of time was penalized.
7. Outdate information
Information that was deemed outdated and irrelevant was also impacted by Phantom 3 Update.
Keeping the information accurate and relevant is a key feature for any website to take into consideration, while writing or updating their content.
8. Keeping track of the pop-ups and advertisements that annoy the user.
Even though websites are a source of income for many, keeping the user experience at the forefront and reducing intervention through email signups, Facebook page likes can greatly improve the way the user perceives the content and hence reduces the chances of being penalized by Google Quality Update.
9. Linking of the desktop and mobile version
Clearly linking the mobile and the desktop version of the sites to each other as per Google helps the search engine to provide greater clarity on the website usage for the user.
In spite of all these factors, there were some sites which were not impacted by Phantom 3 update – namely sites that have duplicate content – songs, lyrics and dictionaries.

Merriam Webster did not see any change in their visibility in either Phantom 2 or Phantom 3 Update.


Dictionaries also did not get affected by the Google Phantom update.
Thereby the selective duplicate content in dictionaries and lyrics that serves the purpose of the user to access information was untouched by Google.
5. Case study of two websites that were impacted by the Phantom 3 update
Here, the search metrics data showed a drop in the site visibility for simplyrecipes.com


A quick glance at the following two recipe sites show the probable reason myrecipes.com saw a spike in Phantom 3 update and simplyrecipes.com saw a drastic fall in the site performance in November 2015.
Thus low quality content that does not provide the user with an adequate amount of information or that does not correspond strongly enough to the search query/user intent could be categorized as low quality.
6. Key characteristics of High Quality Pages by Google
Search Quality Rating Guidelines by Google points to some of the following requirements of a high quality content.
The content should demonstrate EAT (Expert, Authoritative, and Trustworthy)
Expected web pages are: About Us, Contact
Website should be well-maintained and well-designed.
High amount of Main Content (MC) and Supplementary Content (SC) :
Main Content should be relevant to the theme of the website. For e.g. a travel website should have accurate and relevant information which should be easy to find.
Supplementary information is the additional content that supports the MC and helps the user get detailed information on MC. For a travel website SC would constitute information like optimal routes that can be taken to reach the destination, budget-friendly trips, and so on.
A positive reputation follows your site
Financial, legal and even hobby websites should include expert sources
Take away
To keep your website up-to-date, your content needs to:
Be long-form, with in-depth coverage of the topic
Be updated regularly, with the purpose of fulfilling the need of the user to get relevant information
Brand keyword affiliate links might not fulfill user expectations, and it might thus be impacted negatively.
Did you experience the Phantom 3 impact on your website? Tell us about in the comments below!