So, you've launched your app, and you can't wait to take it to the top of the rankings.
You've promoted it on social media and got press coverage, but there's hardly any progress on app downloads.
Not sure what's missing? What could you be doing wrong? Let's take a look.
ASO (App Store Optimization)
The often neglected part is making your app easily searchable. You need to make it accessible so users can download it.
1. What you need to know about app stores
There are more than 1.5 million apps on the Apple and Google Play App Stores.
With this kind of volume, there is a very high chance that your user would want to avoid the unnecessary hassle of spending time looking for a particular app. They would rather quickly use the search function to narrow down to the app that suits their needs perfectly.
Once your app is ready to get listed on the app store, you should run through this checklist to make sure things are in order:
App Store Checklist
An app store has some important features which, if managed well, can help your app become highly relevant to your user. A few of them are as follows
I. Keyword Research (what users are searching for) –
while picking the keywords identify what your potential users would search for, as well as making sure this would place the app in the right category. This is key to matching your user's criteria.
With only 100 characters on hand to include keywords, here's how you can use it optimally.
Avoid spaces and instead use commas (but without spaces after the commas)
Keyword repetition has no impact
Save on word count by using numerals (7) instead of seven
Use the shortest version of your keyword, since that's what your users will look for.
Pluralizing should not act as a barrier
Avoid words like "the", "on", and "at"
Use all 100 characters
II. App Title (about you app) –
Needs to include keywords that are low on competition but have high search value.
III. App Description (describes your app) –
Should have a natural flow of words and keywords that fits in with the content to attract your user to it and also be supported with keywords that the user would search for.
IV. App Logo (face of your brand) –
Visuals speak louder than words. Having a simple but eye-catching logo will help your user relate to the unique identity of your brand. Here's how you can create better app logos
V. App Screenshots –
while the space on screenshots is too little to talk about your app at length, it can be effective if you follow the steps mentioned here.  Other important factors to consider are being as simple in design as possible to avoid clutter and provide the user an aesthetic appeal by considering the right image size for different app stores and thus helping the user have a high recall of your brand.
VI. App Video –
Using video for your app is always ideal, but the clips should be short, crisp, and to-the-point to keep the user's interest. The best way to engage them is keep the video relevant with your app information, but in a fun and engaging manner.
Once you've met all the criteria on the checklist, the next important bit is to know what factors can push your app up or down in the rankings. Let's look at how the app store algorithm works.
How Apple's app store algorithm works
While the exact working of the app store algorithm is unknown, here is an interesting formula developed with what we do know:
[Weighted sales in the past 1-4 days + weighted sales in the past 1-4 hours+ your star rating + revenue generated + user engagement]
Breaking it down, the algorithm considers:
Sales
Data from the last 1-4 days
Frequency, whether days or hours
On careful analysis, here are a few insights from the algorithm:
This formula has become more dynamic with hourly fluctuations showing more movement.
Weighted Average is accurate only if the sales volume to the total app store sales volume is normalized.
Sales volume over the weekend is greater than on weekdays.
Applications are based on revenue sold rather than the number of units sold.   
Ratings and reviews carry more weight than downloads.
Keywords in the title have greater impact than keywords in the field.
The app store ranking algorithm had monthly algorithm changes to it, which were usually released in the middle of the month. These would cause apps to fluctuate wildly, sometimes dropping or rising by hundreds of ranks.
Though it is limited to 100 characters – there's a choice of using 28 languages to describe your app, giving you a total combinatorial length of 2800 characters. In some regions, multiple keyword options are available, making the total figure much larger.
Keyword rankings are not impacted by geographies, but rather by the different regions where the English language is used and understood.
 
Regions Affected (App Store)
 
Language
      US
Canada
UK
Australia
English (US)
 
 
 
English (Canada)
 
 
 
English(UK)
 
 
English (Australia)
 
 
 
Spanish (Spain)
 
 
 
Spanish (Mexico)
Unaffected, despite close proximity
 
 
 
A notable exception to this rule - There's an inter-relation between keywords of English (UK) and English (Australia), where keywords in British English affect rankings in Australia and vice-versa.
Combining English (UK) and English (Australia) gives us a total of 200 characters in 145 regions. In similar fashion, English (US) and Spain (Spain) can also be used effectively for the US market without repeating the keywords.
Tip: Don't forget to use different keywords in each of these languages to make most of the character limit.
How Google's PlayStore Algorithm works
Android's Play Store works in a number of factors that determine the algorithm's working. Some of them are as follows
Active Number of Users- Those that engage with your app regularly.
Reviews and Ratings (user opinion) – User ratings reflect how well the app satisfies the user's need and hence reviews and ratings that show user satisfaction are likely to impact the ranking for the app.
Daily Installs- It should run at a same rate for at least 4-5 days, demonstrating consistency and impact on the rankings. Those that fluctuate or show one-off spikes are least likely to impact the rankings.
Daily Uninstalls- Like installs, higher occurrences of uninstalls also impact the rankings
Inbound links- more the inbound links, better is the credibility attached to your app and its ranking.
As a developer or business owner your primary goal is to develop the app and monitor its growth.
But with so many factors to monitor, a very important question does arise
Is app maintenance really worth your time?
What if you're not into app development or are not really looking to get into this space. Is it even worth trying?
I'm giving you 5 reasons why you SHOULD invest time into app store optimization:
Reason I. Mobile is the primary medium which is driving user interest through social media platforms like Pinterest, Twitter, YouTube, Facebook, and Instagram.  If you're into online business, then app store development is the next step to take your business forward.
With high user interactivity, providing personalized service would help you attract more traffic and drive sales.
Reason II. Link between mobile usage and apps used - Besides social media, basic grocery needs as well as luxury shopping that includes retail and ecommerce are driven by mobile. Every customer touch-point on your mobile is thus an opportunity to drive sales.
Take a look at this figure:
63% of people are expected to do more shopping on their mobiles over the next couple of years and 61% of people have a positive brand image if the brand provides a good mobile experience.
Reason III. Greater customer engagement - With 89% of mobile users spending time on mobile apps, engaging with your customer on the go through mobile is an ideal way to drive sales.
It not only gives the user the convenience of shopping at any time of day or night, but also provides you with rich real time data that can capture customer information and help deliver personalized content.
Reason IV.Why app optimization is catching on - The mobile app industry is currently at $25 billion and is growing exponentially. With desktops now being replaced by mobile everywhere, SEO is now being replaced by ASO.
The huge number of mobile-only start-ups like Uber that use mobile app as the core customer interface are testament to this development.
According to the World Mobile Applications Market, the following are some categories that are actively engaging with mobile consumers through apps.
Categories:
Games
Social Networking
Books
Entertainment
Business and Finance
Lifestyle
Productivity
Travel
Navigation
Utilities
Others
Reason V. How a mobile website is different from a mobile app - You may have a mobile website, but it may not offer the experience that a mobile app provides considering a mobile website cannot provide a personalized experience, especially if you're into gaming or financial services.
The advantage of a mobile app is that it can be accessed offline, unlike mobile websites, and provides a complete user experience especially in areas without internet connectivity.
Not sure if you should pick Google Play Store or Apple Store for your app? The following information could help you decide.
2. How do Google Play Store and Apple Store rank their apps?
One way to stay alive in the app market is to constantly rank higher than other apps.
But with larger players having the big budgets to invest in paid app install campaigns, it is difficult to feature even remotely high in the rankings.
That's where organic marketing can play a big role in getting users to access you app and also naturally use it over a longer course of time thereby ensuring a higher LTV (Highest Lifetime Value).
Some key features to note for Google Play Store and Apple Store are as follows:
Sr. No.
Google Play Store
Apple Store
1
Refreshes its ranking only once a day   
Refreshes ranking every four hours
 
2
12 percent of daily active users (DAU) search for apps daily, 50 percent of DAU search for apps weekly and Google sees six million unique phrases searched for, monthly. High user search experience is the key factor.
Main factors are keywords, visuals and off-site factors
 
3
Target audience is first time users and users with new devices for Top Paid, Top free and Top Grossing category. For return users, it is under Top New Paid and Top New Free categories. It lasts several days and the key metrics are installs and revenues.
Algorithm based primarily on downloads
 
Research suggests the cost of acquiring 1000 customers with organic + paid efforts is $1 CPI versus paid marketing efforts that would cost $2CPI for the same number of customers.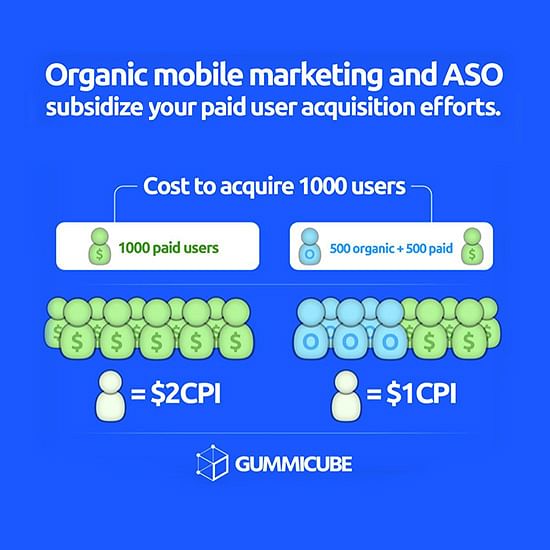 Source: https://venturebeat.com/2015/08/26/app-store-optimization-aso-climbing-the-app-store-rankings-with-organic-marketing/
Another important factor to consider for rankings is clearly differentiating your app and web user queries.
A web search query will involve "Know", "Do" or "go to" queries versus an app query which will consist of only 2-3 specific queries.
Keeping these search criteria as the focus while setting the keywords for your app title and description will meet customer search in a shorter span of time, improving the probability of getting more installs and better rankings.
Now that you have some statistics to demonstrate the importance of ASO for your business, the following ASO techniques can help set up ASO.
3. ASO tips and techniques
As with any software product, ASO would require a certain amount of testing to see what works for your app. While this could vary between different target segments, the ideal way to approach ASO would be to -
Determine what you would like to test – whether your app title, screenshots, description etc.
Insert the desired link on to your app
Promote the link and analyze results to see what works
If you don't get the desired result, test with other features on your app
The best way to optimize your app is to check that each of the below features are covered and accurately describe your app.
An often overlooked factor in ASO is the search which is used as a strong tool to reach the audience. A glance at the following chart shows how important search is for ASO.
63% of users find apps through search versus other channels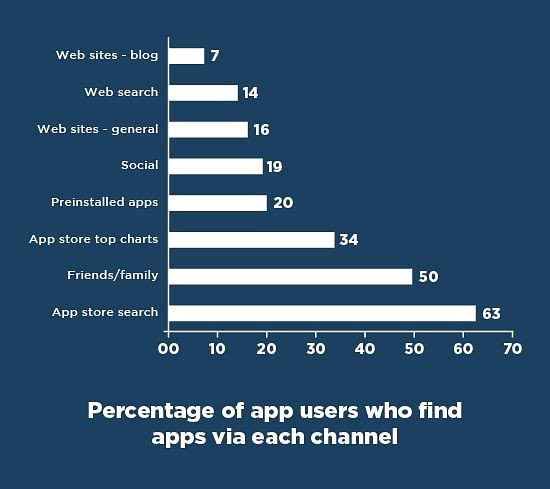 If ASO is not giving you the desired results, using the search option and finding the data on user interactivity can help you narrow down the reason your app is underperforming. Below are some of the ASO tools that can help refine the way your app performs.
ASO tools can help save on time and resources required for a successful ASO implementation. Depending upon the scale of your business, pick the best among the following that meets your business needs.
4. ASO tools to fasten your ASO process
ASO tools can reduce the efforts required to improve app efficiency. Here are a few of them:
SensorTower – Helps you get competitor data on keyword performance, improves keyword efficiency at reduced costs and provides a traffic boost. They have flexible plans.
Gummicube – Provides intelligent technology access to take appropriate decisions for keyword selection for your app. The advantage here is that unlike other options, Gummicube provides 5-10 times more keywords and search phrases in the first month of the plan.
Mopapp – A dashboard that eases the work of checking for ratings, profitability and downloads. Easy tracking of in-app usage and revenues makes it better still.
Eyso – If you're looking for a one-stop solution that includes ASO and consultancy, then Eyso provides solutions on growth strategy, app optimization, tracking app, and metadata changes.
Appstatics – For those interested in iOS and Mac apps in Apple's Top 300 App Store rankings globally, Appstatics is the ideal tool.
AppMind – Focuses on iOS Apps active keywords, tracks app stores ranking in real time, and monitors and analyzes competitor data. If you're looking to convert keywords into poplar foreign languages, then this is the right app.
MetricsCat – tracks competitor apps and reviews and app store rankings across all leading markets like Amazon, Windows Marketplace, Google Play and Apple App Store.
For those who would like to optimize their app without any investment, some of the best ways to do so are as follows:
Use your website to include an app call-to-action
Update app screenshots
Monitor reviews and install rating systems
But does all this information on ASO actually get results? Here are some examples from actual companies that have managed to crack the engagement riddle with various ASO techniques.
5.  Must-see and emulate ASO examples
We've talked about the importance of the app title, app description and keywords. But besides these, there are other ways in which you can provide a better user experience.
Using ASO with the purpose of entertaining and also providing a unique but interesting twist gives a fresh perspective to your app and makes the user eager to try it out.
Let's see how some apps have leveraged this to their advantage and received high ROI in return.
Find a high recall but low competition resemblance without infringing on copyright.


Block City Wars used the recall value of popular game Minecraft by using the words mine and minecraft as a part of the keywords search.
Tap into the Senses


A glance at this app shows why it is popular. The entire feast laid out in the screenshot is eye-catching and makes for a mouth-watering treat. There's absolutely no reason for a user to skip this!
Bundle the App


If you have multiple apps, bundling them makes more sense not just to get better visibility but also to provide higher value to the user in a single interaction.
Video for Apps


Using videos previews, like Sago Mini Toolbox did for their app, makes it easy for the time-strapped user who would rather see than read description.
Artistic Angle


Monument Valley with its artistic appeal has managed to draw in lots of users to its app even though the development cost incurred was $1 million. The clean interface and impressive layout made up for the cost with the ROI x5.
Use Emojis


With Facebook also experimenting with emojis, why leave them out and fall behind in the race?
Stick Texting has used emoji and emoticons effectively in their app title and description to be found in the user search.
Localize


Source for above images: http://www.bluecloudsolutions.com/2015/05/07/aso-examples/
Toca Boca Hair Salon is a great example of effective localization for the target segment, where Spanish users based in the US were targeted. They could relate to the word "toca" in the English app Store, making it an attractive option for users in that category.
Even though there are quite a few similarities between SEO and ASO, there exist a few fundamental differences in ASO and SEO. These are enumerated below:
6. What are the differences between ASO & SEO?
SEO has been around for quite some time now, but in recent times, the emergence of the mobile as a daily necessity for all needs has made it even more important to move to ASO.
Key differences between SEO and ASO are as follows: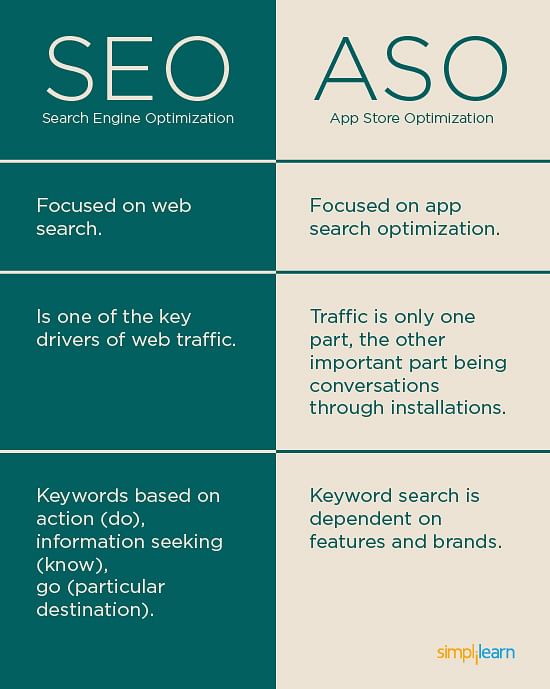 While SEO is still relevant, owing to higher mobile usage, there is an increasing emphasis on understanding ASO and its features by focusing on how ASO can be used effectively for your app. Let's dig a little deeper to understand how an app gets approved by Apple and Google Play Store.
7. When does an app get approved?
Efforts by Apple and Google are directed at keeping app user information safe, and a strict approval process is in place to ensure this happens.
While the actual timelines for app approval are not confirmed, a few social media sources state that it could take about 6 days via iOS store approval and 4 days via the Mac App Store.
Apple lays down strict guidelines to ensure there is minimal clutter and that they deliver the best app experience to its users. So while not all app developers may get their app approved, those that have errors are notified via email - once these errors are eliminated, the app is approved quickly.
Apple has a few more guidelines which need to be followed to ensure your app does not get rejected.
A quick checklist for the Apple app store is as follows:
Avoid mentioning third party platforms like Android, Windows
Even if you feel a beta version of your app might do a good enough job, it might not be enough. Apple frowns on beta versions and would instead want a user ready application.
Be as detail-oriented as possible
Always check for cross-platform limitations
For GooglePlay Store, the process for app approval is focused on high user experience (UX).
Google has a combination of automated pre-checks based on image scanning and pre-set criteria for apps along with humans analyzing the quality of apps that are submitted.
There exists an age-based rating system that checks the content questionnaire submitted by the developers and provides the necessary rating in accordance with the international bodies like IARC (International Age Rating Coalition), the Entertainment Software Rating Board (ESRB), Pan-European Game Information (PEGI), Australian Classification Board, UnterhaltungssoftwareSelbstkontrolle (USK), and ClassificaçãoIndicativa (ClassInd).
These are some of the ways to prevent your app from being rejected on app stores:
Since knowing about keywords for your app forms the basis for your user to find your app, it pays to learn a little about keyword volume estimation.
8. Learn about keyword volume estimation
Learning about keyword volume estimation is an important step in ASO.
Consider these factors while searching for keywords:
Pattern of Ratings – Monitoring ratings based on current views and last update helps you  understand if that app is still active and also actively used by users in that span of time.
Using Search Optimally – searching for single letters and following through with the words that pop up in single letter search is an indication of the high popularity of the word. This is an effective way to use search in app store.
Traffic from tools – traffic from tools like Sensor Tower tools help you better predict the estimated traffic.
Some pointers for keyword competition match are as follows:
Exact Match – All keywords are present in the same order as in the keyword phrase.
Broad Match – Keywords are present but not in the same order. E.g. Strategy Games is Relax your mind with strategic game plan
Partial Match – Keywords are present but only partially. E.g. Strategy Games is present as Icon versus Bling - Game
No Match –Keywords are not present in the keyword phrase.
Thus, having an estimate of the keyword volume helps you know the most probable keywords that can drive traffic to your app and also help you get more downloads by effectively mapping your app to user intents and needs.
The primary goal of apps should be to be as relevant to the user query, along the lines of Google Play Store - which is trying to minimize the search time for the user and give them exact requirements that meet their search needs.
This can happen when there is a natural flow of keyword placement, relevant keyword rich description and higher possibility of having maximum user queries met through minimum searches, leading to higher user satisfaction.
So now that you've seen the different parts that make up ASO you might want to jump into it immediately. But if you wish to make it successful, invest time in finding the right markets, understanding the right app store to have it on, and use different tools to automate your work, as seen in this article.
This may not be a one-time effort - take some time to figure out via multiple iterations what exactly users love about your app and how it can be sustained over a longer period.
But by keeping track of relevant changes in app store algorithm, and meeting the app store checklist criteria you will be able to drive customer engagement in a meaningful manner, validating the time spent on ASO.
What has been your experience with app store optimization? Any new experiments that made your app climb up the rankings? A secret sauce that has resulted in good ratings?
Let us know in the comments section below.