Connecting strategy to execution is vital to achieving revolutionary marketing changes, and this has led to an exponential rise in demand for Growth Marketing Strategists. Companies look for experienced professionals who can run tests and employ the results to formulate data-driven strategies that uplift key performance metrics of their websites. If you have the core skills, you can expedite your Growth Marketing Strategist journey with powerful analytics tools. While Google Analytics is the most commonly used tool for analysis, here are 11 powerful alternatives to boost your analysis journey.
Google Analytics is the most popular, but it may not always be the best for a Growth Marketing Strategist. There are loading issues, privacy concerns, and a lack of accuracy. It is time to do away with Google Analytics and get insights into how well your growth marketing efforts are performing with the following promising analytics tools. 
Why Should You Consider Using Google Analytics Alternatives?
You might be wondering why you should use a Google Analytics substitute. The three main factors are simplicity of use, privacy, and ethics.
1. Lead and Customer Analytics
Google Analytics alternatives do not fully replace GA, but they fill in the gaps with information about the visitors to your site and their actions once they arrive. If you have a deeper understanding of your leads, you can target them more effectively.
2. Simplified Web Analytics
Sometimes, the basics are all that gets required for individuals and small businesses. Website owners can monitor only the most critical metrics with the help of tools like StatCounter and Clicky. 
3. SEO Analytics
SEO analytics tools help you improve your site and content rank, as opposed to analytics tools concentrating on site traffic and behavior.
4. Brand Performance Analytics
Information about your company is not limited to your website or social media accounts. What is the general public opinion of your brand? Brand performance tools can help with this. 
5. Full Marketing Suites
Analytics get integrated into the all-in-one suites of tools that assist you in tracking and utilizing marketing and sales data. They tend to focus on customer behavior and leads rather than providing a complete picture of your website or SEO performance.
39 Powerful Google Analytics Alternatives in 2024
1. Woopra
Woopra is a strong alternative to Google Analytics for Growth Marketing Strategists to boost customer retention and service engagement. It has a more user-friendly interface than Google Analytics and offers real-time features such as texting to a Slack channel whenever a user signs up.

Woopra Dashboard
Key Features:
Provides trend reports helping understand why a product evolves 
Allows growth trend analysis throughout the customer lifecycle
Doesn't require SQL
Allows behavioral segmentation of users
Trusted by:
Botify 
Duke University
TaxJar
Hubstaff
2. Mixpanel
Mixpanel provides advanced analytics features. Google Analytics is based on page views, but Mixpanel depends on event tracking. It is thus trusted by 30% of Fortune 100 companies. 

Mixpanel Dashboard
Key Features:
Allows users to integrate 50+ tools
Interactive reports allow queries and quick visualizations in seconds.
Permits enabling interactive event analysis from Redshift or Snowflake
Customizable dashboard
Metrics update in real-time
Trusted By:
3. Fathom
It allows Growth Marketing Strategists to fully own the data and guarantees privacy protection, thus emerging as one of the best alternatives to Google Analytics.

Results from Fathom 
Key Features:
Easy to use and has an intuitive interface
Allows you to export data
Provides real-time data on when people are visiting 
Does not track personal information
Avoids ad-blockers
No cookies required
Trusted by:
4. Plausible
If you are a Growth Marketing Specialist, Plausible can be your best partner as it is lightweight, open-source, privacy-friendly, and much easier to use than Google Analytics. 

Results from Plausible  
Key Features:  
Open-source
Fully compliant with GDPR, CCPA and PECR
Offers simple analytics at a glance on a single page
Quick and easy to integrate
A lightweight script (less than 1KB) allows faster loading than Google Analytics
Doesn't require cookies or GDPR consent
Allows event tracking, goal conversions and campaign
Allows users to share stats with a custom link for viewing them
Trusted By:
Erlang Ecosystem Foundation
Elementary
5. FoxMetrics
If you are a Growth Marketing Strategist looking for a more robust tool than Google Analytics, FoxMetrics is the best option.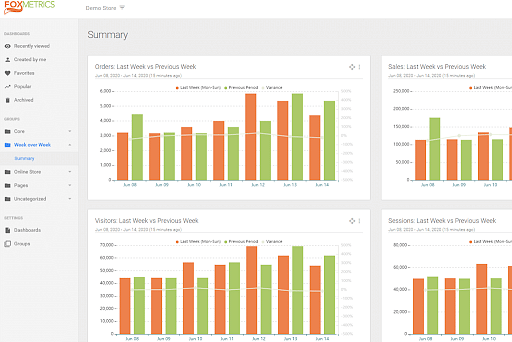 Results from FoxMetrics 
Key Features:
Allows you to create your own data models 
Customize dashboards to exactly get what you require from your website data
Offers campaign personalization
Helps you create customer profiles based on visitors' activities
Trusted By:
Toyota
AMC theaters
Carter's
6. GoSquared
GoSquared is one of the best tools for Growth Marketing Strategists. It uses the 'pinging' technology to provide calculated time visitors spend on a website and is more accurate than Google Analytics.

Results from GoSquared 
Key Features:
Offers a live chat feature to augment sales
Provides insights into the browsing activity that directed a user to your webpage
Real-time dashboard updates
Respects privacy and does not collect personal information
Allows you to know your visitors and see what languages they use, their browsers, and IP addresses  
Trusted By:
Canon
J.P. Morgan
DELL
Tennessee State Government
MacMillan
7. Adobe Analytics
Adobe Analytics is a part of Adobe Experience Cloud products. It effectively uses website, mobile, or app traffic data to create customized landing pages and product recommendations. As a Growth Marketing Strategist, it can be your favorite tool because it can track hundreds of goals simultaneously, unlike Google Analytics which tracks only four goals.

Results from Adobe Analytics
Key Features:
Offers several channels to collect data (mobile, app, web, etc.)
Both online and offline data integration
Allows real-time segmentation of all online data
Provides much data storage
Trusted By:
8. Chartbeat
Chartbeat is a powerful alternative to Google Analytics for Growth Marketing Strategists who are inclined to know how their content is performing via real-time tracking.

Real-time Analytics from Chartbeat
Key Features:
Offers easy to use and customizable dashboards and reporting
Allows image testing
Provides integrations for achieving actionable insights
Provides headline optimization
Trusted By:
The Telegraph
The Washington Post
AccuWeather
Aljazeera
Le Monde
9. Heap
Heap is structured for Growth Marketing Strategists who are vested in understanding online products and product trend interactions. Unlike Google Analytics which only tracks sessions and pageviews, Heap captures form submissions, clicks, and field changes. It quickly takes into account your updates and newly added features. 

Heap Dashboard
Key Features:
Uses visualization tools
Does not require any prior technical knowledge 
Provides a complete set of behavioral data of visitors 
Trusted By:
Walmart Labs
Logitech
Nielsen
10. Piwik PRO
Piwik PRO is a competitive Google Analytics alternative with advanced data protection features. It is ideal for sensitive customer data like healthcare, government, or finance departments.

Piwik Dashboard
Key Features:
Enhanced privacy protection 
Allows monitoring of user behavior across mobile, desktop, apps, and intranet
Ensures that gathered data is in line with all relevant laws
Product teams analytics offering customer experience optimization 
Customizable dashboards allow the addition, removal, and editing of analytics sections
Provides quick reports
Allows funnel-building
Trusted By:
11. Gauges
Gauges is another powerful alternative to Google Analytics for Growth Marketing Strategists. It offers live updates on every view that comes in without the need to refresh the dashboard. 

Results from Gauges
Key Features:
Offers comprehensive insight into the incoming traffic
Comes with attribution modeling capabilities
Allows customer journey insights
Tracks campaign performance and analyzes revenue
Real-time data breakdowns for the number of visitors and where they come from  
Trusted By:
Benefit Solutions, Inc.
WaterAid America, Inc.
Nasstar PLC
12. Smartlook 
Smartlook is a website and mobile analytics tool used by over 2,00,000 business enterprises. It reports the visitors and what activity they did on the site. It offers a unique set of features and enables you to understand user behavior at the micro-level.
13. Clicky 
Clicky Web Analytics provides a more personalized understanding of traffic to blogs and smaller websites. Clicky has several features that set it apart from the competition, namely Spy and RSS feeds, which allow website owners to get real-time information about their users.
14. Matomo 
Matomo Analytics is a free (GPL-licensed) on-premise web analytics tool or a premium cloud-hosted service. It is open-source software that helps businesses to keep full ownership and administration of their data, making it a popular choice. Matomo is quite beneficial for obtaining real-time data.
15. Piwik PRO 
The first privacy-focused Google Analytics substitute is Piwik PRO. Piwik PRO Analytics Suite, created in 2013, enables tracking of user behavior on websites, mobile apps, products, and intranets. The platform guarantees adherence to stringent data protection standards in the EU, US, China, and Russia, including the General Data Protection Regulation (GDPR) and the Health Insurance Portability and Accountability Act (HIPAA).
16. Kissmetrics  
Kissmetrics is an advanced web analytics solution that uses events to track individual users and provide other capabilities like cohort analysis. To enhance analysis, it features many add-ons and a completely customisable dashboard. The integration of Kissmetrics with other programs and platforms is quite simple.
17. Hubspot  
HubSpot Analytics is a Customer Relationship Management (CRM) platform that helps businesses and management synchronize sales and establish effective marketing strategies. This is an analytical tool that assists marketing teams in increasing sales enablement. It also improves your company's Return on Investment (ROI). The application also recommends effective Inbound Marketing methods.
18. Leadfeeder 
Leadfeeder is an effective B2B traffic analysis software to track and identify businesses that visit your website. The tool tells you which companies visit your website and which pages they browse, which helps you better understand your website visitors' behavior. This allows you to develop more effective marketing tactics.
19. W3counter  
W3Counter tracks site visitors, referrals, browser versions, resolution, and operating systems. W3counter displays detailed information about your website traffic on a visually appealing interface. You can use this approach to identify your most engaging pages, learn more about your users, and follow their progress around your site.
20. Microanalytics  
Microanalytics is a user-friendly website analytics solution which is GDPR, PECR, and CCPA compliant. Microanalytical was developed and is hosted in the European Union. It's a light, privacy-focused alternative to Google Analytics that runs on renewable energy.
21. Dreamdata 
Dreamdata is a B2B Marketing Attribution Platform that assists you in creating, replicating and scaling success. The platform collects, joins, and cleans all go-to-market data to give transparent, actionable insights into what generates revenue. This helps businesses to study the lifetime value of ads, measure content ROI, benchmark growth, and forecast income.
22. Statcounter 
Statcounter is a cloud-based web analytics tool that enables organizations to track website traffic, performance, and visitor locations, as well as engagement metrics, browsers, activity feeds, and other metrics. Administrators can track trends for business landing pages by analyzing referrals from social media apps, paid traffic initiatives, search engines, and other websites.
23. Oribi 
Oribi Analytics provides the actionable information you need to make sound, data-driven marketing decisions without the need for coding. It displays the result of your website visitors' entire journey.
24. Serpstat  
It is a  website SEO checker, used to swiftly determine the important metrics of any website or page. You can find an extensive list of SEO measurements, analyses, and recommendations there. To acquire an SEO audit of a domain or page, add it as an extension and click the symbol.
25. SE Ranking 
SE Ranking is an all-in-one SEO software package that includes all of the SEO tools required to properly perform online marketing campaigns. The system has several extra tools, such as White Label, Social Media Management, and Marketing Plan, that are designed to take your professional digital services to the next level.
26. SEMrush  
SEMrush is an SEO tool that performs keyword research, monitors the keyword strategies used by your competitors, audits your blog's SEO, searches for backlinking chances, and does a lot more. SEMrush is trusted by online marketers all around the world. A plethora of  businesses, both small-scale and large-scale, use it as well.
27. Ahrefs 
Ahrefs is primarily used to examine the link profile, keyword positions, and SEO health of a website. You may perform keyword research for Google, YouTube, and Amazon using Ahrefs. Additionally, a lot of people utilize Ahrefs to locate content that has worked well on a particular topic (in terms of social shares and/or links).
28. Mention  
Mention is a social listening and media monitoring platform that helps businesses and agencies analyze audience perception on social media and the web. With Mention, you can quickly keep track of what audiences are talking about a company or a product online, gain in-depth industry insights, and evaluate the effectiveness of your marketing and PR efforts.
29. Optimizely 
The Optimizely Intelligence Cloud product suite maximizes your marketing data to increase digital conversion. Web experimentation, Full Stack, and Optimizely Data Platform are included in the suite. You immediately provide value by fusing your creativity with AI, powered by experimentation, content analytics, and AI. 
30. Impact Hero
Impact Hero is an AI-powered tool that groups your content into categories based on the customer journey stages, identifies the most successful pieces of content, and guides creating content that performs better.
31. Simple Analytics
Simple Analytics is a data visualization and analytics tool. This software collects only the information from your website visitors while maintaining their privacy.
32. Hitsteps
Hitsteps provides real-time analytics, including heatmaps, page analysis, company profiles, profile visualization, reports, and more.
33. Independent Analytics 
Independent Analytics is a brand-new analytics plugin for WordPress. It is a simple analytics tool that will load quickly on your website and complies with GDPR requirements.
34. Countly
A real-time analytics tool called Countly places a strong emphasis on mobile analytics. Not just for mobile apps, Countly also functions with desktop apps. It is the ideal Google Analytics substitute if your company manages multiple applications and a website.
35. TinyAnalytics
One of the best free Google Analytics substitutes is TinyAnalytics. It offers more accurate data than Google Analytics and requires no cookies or opt-in. Its free plan also allows for up to 50,000 page views. Unlike Google, it stores all tracking information privately and does not use it for commercial gain.
36. Indicative
As it incorporates all your data sources and marketing channels, this software describes itself as an omnichannel customer journey analytics platform.
37. Splitbee
Splitbee is the solution you need if you want simplified data analytics. You can use it to automate your conversions, including sending automatic emails and receiving notifications.
38. Fair Analytics
Fair Analytics, which never uses cookies, is the best choice if you require a straightforward method to monitor surface-level data. You can manage an unlimited number of websites. 
39. Darwin Analytics
With Darwin, a straightforward tool for customer analytics, you can use surveys and analytics to monitor and enhance the user experience for your customers.
Is Google Analytics GDPR Compliant?
Google Analytics does not comply with GDPR. It means you could be violating international regulations without even realizing it. That is one of the reasons why several businesses want Google Analytics alternatives. Here are the ways to comply with GA - 
Request permission from users
Limit data sharing and anonymize the maximum of your data
Use a GDPR-compliant alternative to Google Analytics.
Google Analytics Limitations
Google Analytics is a free tool used to get the report of traffic on every website. Since it is a free tool, it has certain limitations and it gives approximations only. Google tracks the nature of traffic based on cookies, which may be sometimes blocked by the user or they may be turned off JavaScript. 
Learn tried and trusted growth strategies and key concepts of Digital Marketing with our Professional Certificate in Digital Marketing. Sign-up now!
Conclusion
Enroll for our exclusive Professional Certificate in Digital Marketing and become a Google Analytics expert in just 5 months. You will meet expert faculty from IIIT Tiruchirappalli and learn the best industry practices and latest tools. Sign-up today! 
Explore unlimited Digital Marketing and Analytics courses at Simplilearn and give your career the right push. Our unique courses are well crafted keeping in mind the needs of a working professional.
FAQs
1. Is there a free alternative to Google Analytics?
There are several free alternatives to Google Analytics that guarantee better features (such as privacy, easy loading, and more), including Piwik Pro, Heap, FoxMetrics, Woopra, and Mixpanel.
2. What can Google Analytics not do?
Google Analytics cannot do the following important things:
It cannot track individual users for you. 
It doesn't explain why certain things work or why not. 
It does not provide the facility to view and analyze multiple dimensions at once.
It lacks complete focus on events. 
It does not provide data on what cities/ countries the visitors are coming from.
Google Analytics does not have a good support system. 
3. What is the best replacement for Google Analytics?
Growth Marketing Strategists consider Mixpanel to be the most powerful alternative for Google Analytics. It is trusted by more than 30% of Fortune 100 companies to get clearer insights and boost customer retention.
4. Is there anything better than Google Analytics?
Google Analytics, despite its popularity, has several limitations. For starters, it is not particularly user-friendly. Google Analytics employs a wide range of terms and filter names that may be unfamiliar to the average user.
5. Is a Google Analytics certificate valuable? 
For anyone who works in technology or wants to pursue a career in data analytics, the Google Analytics certification is a wise investment.
6. Is the Google Analytics course worth it? 
Being a Google Analytics certified professional has many advantages. Studying for the certificate will improve your skills while demonstrating to potential employers that you understand Google Analytics.
7. Which Analytic is the best?
Each analytic has its pros and cons. It varies from user to user.
8. Is a Google data analytics certificate valuable? 
Uncovering what data analytics is and how to use it effectively can be aided by earning a Google Analytics certification.