As the year progresses and moves toward a close, it's important to reflect on the year and look at successes. Although 2020 has been a year full of ups and downs, there were still plenty of innovative and creative marketing campaigns that we can draw inspiration from for 2021. 
There are many aspects that go into creating a successful marketing campaign, but a few relevant things to keep in mind are:
Create memorable content
Simplicity is better
Be authentic
Craft a powerful message
People want to consume content that enriches their lives and gives them an enjoyable experience. It's vital to find a balance between their interests and the values behind your business to ensure an authentic and meaningful campaign.
Here is a list of 7 best marketing campaigns of 2020 by various brands and how you too can implement these tactics for your digital marketing campaign in 2021:
Spotify
LEGO
Volkswagen
Chanel No5
Gillette
Reebok
Fitbit
Digital Marketing Specialist Master's Program
Advance Your Career as a Digital Marketer
EXPLORE COURSE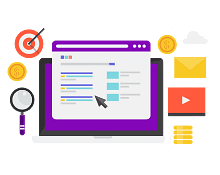 1. Spotify: Clever Use of Memes Creates Relatable Content for Listeners
What better way to connect with your audience than to speak their language? Spotify took the internet by storm with the clever use of memes for their digital marketing campaign. 
Memes are funny images or videos that are shared rapidly over the internet. Memes are extremely popular nowadays and showcase a brand's ability to connect and have a sense of humor. You can tell that Spotify took the time to learn about the most popular trends with their listeners.
Spotify's campaign truly highlights the importance of listening to your audience and discovering what interests them. The best way to communicate with your target audience is to find out how to speak their language and mesh that with their interests, while also being authentic. Spotify took the time and effort into creating an engaging and humorous marketing campaign that people have connected with. 
Learn more about digital marketing and how to use the different methods effectively. Gain some helpful tips that you can implement into your next digital marketing campaign. 
2. LEGO: Braille Bricks Help Children with Visual Impairments
It's inspiring when brands take the initiative to drive progress and betterment for all. LEGO did just that with their new product, the LEGO Braille Bricks. Their powerful marketing campaign showcases their desire to improve the learning of visually impaired children and create a way for them to learn and play simultaneously. The braille bricks are designed to help teach children the individual braille letters and numbers while still being compatible with the entire LEGO System of Play.
The takeaway here is inclusivity. LEGO showcased that their brand cares about the well-being of their consumers and recognizes that they could create genuine, positive change. LEGO understood that there was a divide that needed to be filled between them and some of their consumer base, so they created a system that allows for more inclusive play and the improvement in the education of visually impaired children.
You don't need to change the world tomorrow and completely reshape your entire brand. What this marketing campaign illustrates is that impact and genuine value in a product or service is what will make a marketing campaign successful. Understand who your consumer base or target audience is so that you're accounting for their needs and desires.
3. Volkswagen: "The Last Mile" Showcases the Timeless Nature of the Beetle
Timeless and memorable, Volkswagen's "The Last Mile" marketing campaign is one for the books. 
For those who've owned a Beetle in their lifetime, this animated clip will hit home. The ad encapsulates the essence of the Beetle and all of the memories it has shared with us throughout the years. The video is touching, and when paired with the illustrative style, creates an engaging and enjoyable experience for viewers.
When looking to create your digital marketing campaign for 2021, make it a goal to create truly meaningful content. Speak to your audience and strive for lasting imprints. People are swarmed on the internet with click-bait content, but they're truly seeking a real connection that makes them feel something. If you want to learn how to create powerful relationships with your audience, take note from Volkswagen.
4. Chanel No5: Iconic Mother's Day Poster Speaks to the Moms of the World
When you were in elementary school, do you remember when your teacher asked the class to create a beautiful art project for your mother for Mother's Day? Chances are you were excited to give your mom the art and she'd be so pleased. Maybe you're a mother now and it's your turn to receive wonderful pictures from your kids.
Chanel created a warm and loving marketing campaign to promote its iconic No5 perfume. This campaign is a wonderful memory of motherly love, promoting that mothers should treat themselves for all the hard work they do. This advertisement speaks to the moms of the world and offers a message that truly resonates.
Emotions and memories shape a person into who they are, and if you can tap into that connection, your message will reach your target audience much more effectively. Chanel found a way to pair powerful emotions with vivid memories, and memories that we all share and understand.
In this way, Chanel was able to accomplish such a powerful campaign with a simple drawing and message. Take the time to learn your audience and find out the common traits they share and what things can you do to inspire a sense of unity and engagement.
5. Gillette: "The Best Men Can Be" Campaign Reshapes A Better Future for Men
There have been many powerful marketing campaigns in recent years, but this one is a little different. The strength of this message resonates deeper than most, addressing difficult conversations and the troubling reality that we face in the world today.
Gillette chose to showcase the best that men can be by embracing their strengths and weaknesses and choosing to stand up for what's right. In light of the #MeToo movement, and many other related systemic issues that have come to light as a result, the ad shows that Gillette recognizes the impact they have and how they can change the future for the better by going down a different path.
What makes this ad so special is that Gillette is acknowledging their shortcomings and admitting they had been a part of the problem. At the beginning of the ad, the old advertising slogan of "The Best A Man Can Get" is shown, and afterward even turns the question back onto them. 
The first step toward change and improvement is acknowledging weaknesses and past failures to move forward. Gillette decided to rebrand themselves for the future to promote the best men can be, hitting it out of the park with this digital marketing campaign. 
6. Reebok: 25,915 Days Marketing Campaign Creates Strong Emotional Connections
Compelling and story-driven, Reebok's 25,915 Days marketing campaign demonstrates how powerful drawing true emotional connection can be. 25,915 days symbolizes the average lifespan of a human being, emphasizing the importance of living every day to its fullest potential. In Reebok's own words, honor the body you've been given.
Reebok's campaign was geared around one simple, yet inspiring message: be more human. They wanted to resonate with their audience and create a lasting impact; one that people could bring into their own lives. 
Try finding ways to create powerful connections with your audience and produce high-quality digital marketing campaigns that highlight the value of your brand in the life of your consumer or audience. 
7. Fitbit: "Find Your Reason" Marketing Campaign Inspires Users to Take Action
What better form of marketing is there than powerful and inspiring success stories from real people? Fitbit's "Find Your Reason" campaign showcases the unique stories from individuals who incorporated a Fitbit into their life and changed their life for the better. One woman tells the story of how she lost 79 pounds and kicked diabetes out the door while another man discusses how his sleep improved dramatically, which in turn allowed him to be a better person. 
Highlighting and promoting success stories is a valuable marketing strategy that you can implement in your digital marketing campaign. People want to know the product or service truly works and can add value to their life. By incorporating success stories into your campaign, you can also illustrate to your consumers that you care and are listening to them.
Train to Handle Marketing Campaigns Today
Simplilearn's Digital Marketing Certification Course will prepare you to become a full digital marketer. This Digital Marketing certification course will make you more marketable and enable you to handle marketing campaigns from end-to-end for 2021 and beyond.
Learn how to give consumers content that enriches their lives and gives them an enjoyable experience. Find a balance between their interests and the values behind your business to ensure your marketing campaigns for the coming years are authentic and meaningful.