If a company is successful, it means branding has played a major role. When a company's identity is packaged and presented in a way that is familiar, pleasing, and attractive – it attracts its recurring and prospective customers – and that's what company branding is all about.

Organizations and companies, however, are not the only ones in need of branding. The art of building a brand around oneself is called personal branding – and it is equally important. As with traditional branding, personal branding requires an individual to find that signature image, a unique voice, and a recognizable standard that customers, fans and readers will grow to recognize. Additionally, customers want to do business with people too – not just with companies.

For the advancement of your career, it is necessary to develop your personal brand. Unfortunately "personal branding" has come to be a term that is "commoditized", and has lost its intention because people have increasingly used social media as a platform to build their personal brand.

Their belief is that social media, with the speed at which it works, can contribute to the immediate increase of their market value for their personal brand. But it is important to recognize that the process and the effort that is put into developing a personal brand is a larger responsibility – a constant, never ending journey that extends beyond the realm of social media.
Why build a personal brand?
Because building a personal recognizable brand will definitely open many opportunities. Creating a future vision and implementing that vision will lead to:





Now that we have established the importance of personal branding, we give you a few easy steps and tips to build your personal brand:



Step 1: Determine your area of expertise.
Before establishing or developing an area of expertise, you need to decide what it is you want to be known for. This world of personal branding is over flowing with competing entrepreneurs. Thus choosing a general field like 'marketing' or 'human resources' isn't enough. Instead, it is best to develop yourself in a specific niche.

With the focus on a specific niche, more opportunities will come flooding your way and you can prove what you are talking about. When you begin, your potential audience may a little smaller, but they will definitely be relevant. Specificity is a trade of volume for significance.
Step 2: Begin writing and publishing.
With an area of focus in place, it is time to begin reputation building. The best way to do it – show off your expertise. Content marketing is said to be the best way to build reputation and a brand online. Where do people look for information first? Online, right? They tend to go back to the sources that were helpful to them.

Through your content you can become a trusted source of information. Over time, with more and more people trusting your work, you can become a thought leader or an expert in your field. First step – start your own blog, and update it on a weekly basis.
Step 3: Flesh out social media profiles.
Sit back and take the time to flesh out all your social media profiles like Twitter, Facebook, and LinkedIn. You need to make sure that all your profiles are consistent with your personal brand standards. Post updates on a regular basis, and repost content for new followers.
Step 4: Step into the world of public speaking.
If your goal is to win the business of the followers you have, it may be a good idea to work up a few case studies. Work with present and past clients and co-workers to present a solid narrative. People enjoy and listen to real stories than those with just speculation and promise. Prove what you have done by giving them cases that are digestible.

Consider looking for public speaking events that will give you the opportunity to demonstrate expertise and connect with a new audience.
Step 5: Network!
In the real world and on social media, the key to a sparkling growth for personal branding is networking. It is important to engage and mingle with other individuals in the same field. Some may be social influencers who may have connections and other may be valuable to help spread the word about the expertise you share.

Attending more professional networking events will help you meet influencers in the area. When it comes to online, engage in various community discussions whenever and where ever you can. The more the opportunities to network, the better it is for your personal brand.
Tips to build your personal brand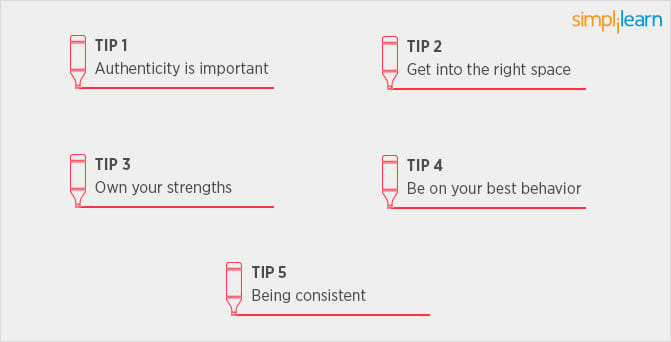 Tip #1: Authenticity is important.
What are your likes, dislikes, strengths, weaknesses, personal style, and personality? The essence of your brand shows what and who you are when all the masks are stripped away. If you are not authentic, you can fool people – but not for long.
Tip #2: Get into the right space.
If you feel uncomfortable in your current space, chances are you probably won't ever fit in! Take into consideration your drives, you passion, and your purpose – and if they don't fit where you are, you cannot bring authenticity to the table. If you think that you are not working to your fullest potential, it screams for change.
Tip #3: Own your strengths.
An important part of personal branding is standing apart from the rest. To shine in your career, you need to know and be clear about where you want to be, who you are, and what skills and strengths you possess. To be an expert or a thought leader, you need to find something about yourself, that differentiates you from others and stick to that message in all the mediums you are active on.
Tip #4: Be on your best behavior.
You may be great at your job, have a fantastic product or service, or look great. But in the end, it all comes down to how you behave. How you are perceived and remembered is of utmost importance.

Always late? Consistently indiscrete? Such things are way more important to your success and your brand than your strengths and skills.
Tip #5: Being consistent.
This age of information and technology throws a challenge. Have you tried typing out your name on Google? If not, start now! It is important to know what people are reading and searching about you. It is a critical part to managing your brand. What your image is online is as important as how you appear in person. The way you comment online and all the parts you play on these platforms play an important role in your branding.

Personal branding is like cultivating a garden, all you have to do is lay the ground work and plant the seeds. That is the hard bit. With the little nurturing later, you will easily reap great rewards. However, it will take time. As you continue to develop your personal brand, stay consistent and persistent with your efforts, pay enough attention to the way your audience is responding to your content, hone your skills, and channel your attention to the right direction until your focus is razor sharp.