Although history (and Ayn Rand novels) celebrate the lone-wolf entrepreneur, great teams play an equally important role in the success stories of modern conglomerates. Think Google, Ford Motor Company, or Walt Disney, and you will realize this fully. With digital technologies altering the working environments, building high performing teams have become increasingly critical for businesses. 
The Definition of a High Performing Team
A high-performance team is a group of highly skilled people working in cross-functional areas and who focus on achieving a common business goal. The team is aligned with and committed to shared values and vision and work towards a common objective. This highly effective team is innovative in problem-solving and is known for displaying a high level of communication and collaboration, delivering consistent and superior results. 
Characteristics of High Performance Teams
Certain unique attributes separate a high-performing team from any other. Let's look at some of them. 
Effective Work Practices
A plan of action behind high-performance building teams is critical. Without proper planning and necessary resources deployment, high-performance teams cannot be made effective or efficient. This is at the very foundation of high-performance teams. Ineffective work rules will cause problems in organizing and evaluating information and hinder risk-taking attitudes, creativity, and innovation. 
Mutual Respect Among Leaders and Team Members 
Skilled members of high performance teams are aware of and recognize each other's expertise and working methods. This results in creating a strong bond among the team members and helps create opportunities for capacity building and increased productivity. The team accomplishes challenges as a single entity, and their collective will to deliver the best results is driven by shared values and a sense of integrity.
Shared Vision
High performing team members share the same values and vision. They work together as a motivated team towards this vision and common objective while being focused on delivering the best business results and solutions.
Open and Clear Communication
The leader of such a team cites the team's vision and goals, clearly and relentlessly. An open channel of communication always exists between the members and their leader that creates an environment of constructive criticism and feedback.
One of the Best High Performing Team Models
This graphical representation below is of a high-performing team model from Performance Factor, a book by Pat MacMillan, CEO and Founding Partner of Triaxia Partners. It is one of the best graphical explanations of a model of a high performance team. The model resembles a circle in which each component is linked with each other to show how each is equally vital in producing the desired solutions in achieving the best business results.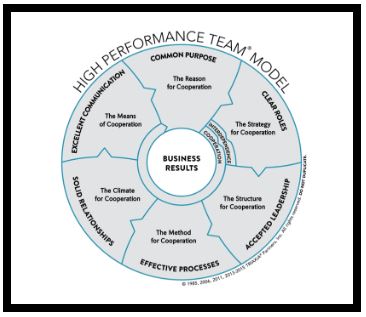 How to Build a High Performance Team 
"No matter how brilliant your mind or strategy, if you're playing a solo game, you'll always lose out to a team," – this is the way Reid Hoffman, LinkedIn cofounder considers the value of High performing teams. While they are valued by investors and leaders of tech giants alike, building a high performing team is quite a task, especially when technology is remodeling the working environments rapidly. 
As a team leader, if you want to drive your team to new heights and increase employee productivity, here are a few tips to get you started:
Create a Stable Team
According to a McKinsey article, written by their senior partners Scott Keller and Mary Meaney, on proven techniques to build high-performance teams, team composition, lies at the very foundation of building effective teams. They opine that high-performance teams should ideally be kept small but not too small as that is "likely to result in poorer decisions because of a lack of diversity, and slower decision making because of a lack of bandwidth." 
On the other hand, according to Keller and Meany, big teams, comprising more than ten members, result in diminished effectiveness as sub-teams start to form, encouraging divisive behavior. The authors stress that beyond team-size, IT team leaders / CEOs should look for complementary skills and a pro-team attitude in each member – essential aspects of building and maintaining a high-performance team.
Mike Levison, a reputed and certified scrum trainer, emphasizes the importance of forming a stable team in his article. According to him, care and time should be invested to hand-pick a stable team, and once the team is formed, all care should be taken to maintain its stability.
Build a Cohesive and Value Aligned Team Dynamics 
While elaborating on the success factors that drove a group of high performance teams, Francine Katsoudas, chief people officer for Cisco — a company renowned for its growth and innovation — says, "Teams with shared values in where they are going perform better." 
It is vital to create a team where each member shares a bond and interacts freely. This happens when they align with the team leader's values and work in unison to achieve a common goal. When team members start believing that they can win together, they get more done. Shared values, high-level of interaction, and a sense of trust among members — aspects that constitute a cohesive team, increase productivity in great measure.
Mike Levison, warns that while a cohesive team can deliver more and at a faster rate than other teams, it runs the risk of becoming "over-cohesive and susceptible to group-think." 
This may steer the team in the direction of wrong assumptions if allowed to go unchecked. 
The role of the leader stands undisputable in tackling this. In his Forbes article, on ways to build high-performance teams, Joseph Folkman, author and co-author of 13 books on leadership skills, reiterates the importance of leaders helping team members to stay focused on the vision through constant communication. Be like a "broken record" – he advises the leaders and directs the team towards accomplishing the goal. 
Encourage an Environment of Open Communication
Team members often hold themselves back from voicing their opinions and thoughts in meetings because they feel too vulnerable to do so. This lack of psychological safety is counter-productive, and leaders should take care to build a working environment that fosters interpersonal risk-taking. This kind of team culture will motivate employees, encourage innovation, and help take new ideas to implementation levels. 
To increase the effectiveness of a high performance team, leaders should also understand and evaluate team members' style of working on an individual level. Many leaders apply team-building indicators like Belbin High Performing Teams, the Myers-Briggs Type Indicator, the Herrmann Brain Dominance Instrument, etc. to understand behavior, personalities, and thinking styles of team members.
Stress on the Importance of Learning
Fostering a culture of continuous learning to navigate the issues of skill gaps and different digital transformations is essential to build a high-performance team. Technology, especially emerging technologies, are always changing. As a result, corporates are stressing on the importance of their teams' ability to learn fast and regularly skill up. Although a significant amount of learning takes place between team members, upgrading a team's ability through documentation tools and training is equally essential in building a high-performance team.
Learning is becoming a priority in enterprises, many of whom are turning to online learning platforms like Simplilearn to provide their employees with corporate training in emerging technologies. These online training platforms provide industry-recognized and certified courses on the current and relevant topics that help experienced IT employees to skill-up and new hires to ramp up faster. The corporate training programs, conducted by reputed online education companies, often tailor their training and upskilling programs to align with the corporate development plans. These programs that offer hands-on, interactive learning, are likely to be more effective than merely reading or watching course material on company web pages or knowledge bases. 
Set Measurable Goals
Setting measurable and effective goals with clear intent is critical to building a high-performance team. With a set common goal to achieve, high performing team members find themselves motivated, energized, and more creative. Common values align with helping them accomplish more in less amount of time – the signature virtue of any high-performance team. Rewards and recognition for effective performance also keep the mood of such teams upbeat and efficient.
Benefits of Having High Performance Team 
Organizations that focus on training their leaders and building high-performing teams in the emerging technology domain reap significant rewards and return on their investments. One cannot overemphasize the role of leaders in building high-performing teams and companies that invest in developing leadership skills, which eventually transform into high-performing organizations with a workforce with increased productivity.
Benefits for Employees
Members of a high performance team are focused and engaged, working towards a common goal with shared values, complementary skill-sets, and under leadership that fosters open communication and recognizes and rewards performance. They are motivated and have equal stakes in the outcome. This sharing of values and a feeling of trust result in greater efficiency and productivity. 
Benefits for Organization
For an organization, high performing teams can bring the following benefits:
Knowledge and independence with greater flexibility
Motivated employees who innovate and are willing to take risks
Better client service
Increased engagement
Organizations need high performance teams to perform result-driven business activities, and to tackle specialized projects that call for an efficient task force. High-performance teams efficiently support process change within the businesses with their multipronged communication capabilities and skill sharing.
Unlock your team's potential with Simplilearn's Comprehensive Upskilling programs. Explore Now!
Developing High Performing Teams: The Way Forward
High performing teams are critical in helping organizations thrive and survive in today's intensely competitive business landscape. But building high performing teams is not a matter of chance. Effectively developing such teams involves identifying strengths and grouping people who collaborate well and complement the differing talents, skills, and attributes to create a holistic force that works consistently towards meeting challenges and business goals. This can seem like a daunting exercise, though the pay-offs far outweigh the efforts. To this end, Simplilearn's suite of corporate training courses can equip team leaders, managers, and supervisors with everything they need to develop strong and high performing teams. From project management to business leadership to agile team formation and more, we have courses that are effectively tailored for every team size and business needs.