I'm getting familiar with phrases like "Frequently bought together" and "People who liked this item also liked these items" while shopping online. In fact, I think I'm conditioned at this point. All this makes me wonder how much more I've been spending on items that weren't a part of my original plan. Or maybe I don't want to know.
Nevertheless, product recommendations like the ones you see on Amazon and other ecommerce sites are becoming more commonplace, and it's because of one reason: they work.
Just how effectively they work is another question, so I thought it would be interesting to see how much additional sales and revenue these add-ons actually bring in.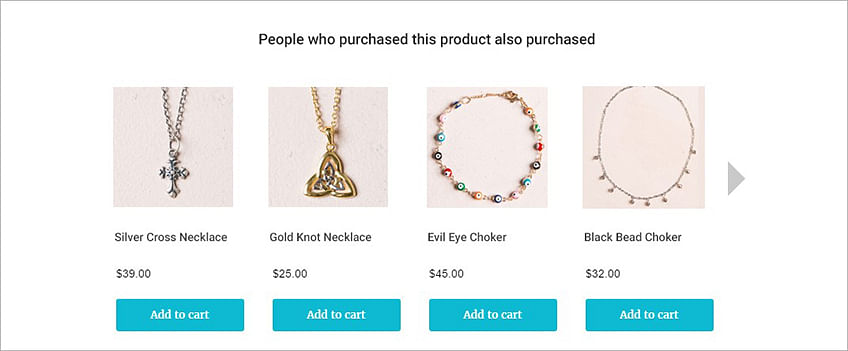 (Source)
Big Claims from Big Companies
Amazon's product recommendations are responsible for 35 percent of overall sales, and Netflix claims 75 percent of viewer behavior on the platform is driven by digital content recommendations, according to McKinsey.
Salesforce reports personalized product recommendations drive 24 percent of orders and 26 percent of revenue, even though they only drive 7 percent of visits. Shoppers who interact with recommended products also tend to return to the site and stay on the site for longer periods of time.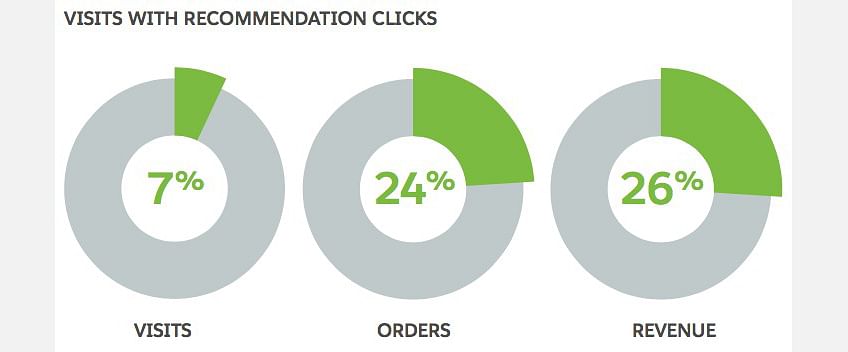 (Source)
This data alone suggests product recommendations influence purchase decisions in a big way. However, a recent article from the University of Florida Warrington College of Business offers another perspective.
The article confirms product recommendations do increase overall sales, but not nearly as much as previously claimed. More specifically:
Recommendations increase the sales of recommended products by 9 percent, but at the expense of a 1.9 percent decrease in sales of focal products (the item the customer was initially looking at)
Overall, product recommendations boost sales by 11 percent
Clearly, there are differences in outcomes regarding recommended product sales, but we can see there is measurable impact for companies using recommendation engines to sell more items (or get more views and time on platform, in the case of Netflix).
Is It Helpful or Distracting?
Obviously, recommendations are designed to help companies upsell or cross-sell products to customers, using data to inform which products customers are most likely to purchase.
However, these product recommendations create another step in the path to purchase, which can be seen by the customer as either helpful or distracting.
An eConsultancy article points to popular conversion optimization wisdom, which warns retailers about distracting an engaged online shopper with too many other items -- leading to abandoned carts.
However, a Barilliance study confirms customers who click on product recommendations are 5.5 times more likely to complete a purchase than those who do not.
Consumers are also telling us product discovery is an important part of the online shopping experience: 53 percent believe a site with personalized recommendations offers a valuable service, and 45 percent of online shoppers are more likely to shop on a site that offers personalized product recommendations.


(Source)
Product recommendations influence purchase decisions primarily because they offer customers a service: it helps them discover products they didn't know about and didn't know they even needed.
In a nutshell, more consumers are welcoming recommendations "picked just for them."
The Future of Product Recommendations
Marketers are getting incredibly creative with their presentations of product recommendations, from creating a list of best-selling products to incorporating user-generated content, to help sell more products.

(Source)
Aside from recommendations on ecommerce sites, brands are also using paid advertising, email marketing and social media as channels for driving traffic and sales to these extra items.
In Conclusion
Brands that want to increase sales and profits can count on product recommendations to influence the purchase decisions of their customers. Not only do consumers want to see more personalized recommendations, but they are starting to expect them as well. In order for these recommendations to be successful, the old adage applies: go where your customers spend their time, and put your items there.