Managing a project is by no means an easy feat. Many moving parts can make it complicated to stay focused on the tasks and keep stakeholders up to date on the project status. This is why project reports are a useful tool for project managers.
These project reports can be used to provide direction for team members, offer status updates for partners or management teams, and successfully manage risk mitigation – to name just a few! 
Let's take a closer look at how to create a project report including its many objectives, components, and examples of project reports.
5 Steps to Create a Project Report From Scratch
Creating project reports is an integral part of evaluating project success. Documenting the lessons learned and sharing them with a larger team in an organized way can help with future projects. You can use different tools to put together your project report. Here are 7 basic steps involved in creating a project report - 
1. Know Your Objective 
Sit down, evaluate your objectives, and understand what you want to describe, explain, recommend, and prove with your report. Having set goals will not only help you proceed with your project report but also help readers understand your point of view. 
2. Recognize Your Audience
Your audience plays an essential role in making your project report a success. A formal annual report differs from a financial report: the language, representation of data, and analysis changes per your target audience. 
3. Data Collection 
The chances of you having a solid report is when data supports it. Data plays an essential role in making people believe in your derivations. Also, support your claims by citing sources such as case studies, surveys, interviews, etc. 
4. Structure the Report
A project report is further divided into certain sections. These 4 are the most common divisions of a project report - 
Summary - The summary gives the reader a download of all covered in the project report. Even though a summary is placed at the beginning of a project report, you can only write it once your entire report is complete. 
Introduction - Mention the outline of the report, give context and mention the scope and methodologies used in the report. 
Body - This is the lengthy section of the report as it contains background details, analysis, data, and graphics. 
Conclusion - This section brings the entire project report together. 
5. Edit and Proofread 
Once your project report is ready, read it multiple times with some time gap. You can ask your co-workers to review it. 
Project Report Objectives
Every project report starts with a solid project report objective. Your objective should provide precise direction for the rest of the report. Consider what purpose you want your project report to serve. Are you describing new risks or explaining project delays? Or will your report focus on persuading management teams or stockholders to invest additional funds into the project? 
A thorough understanding of your objective will help guide you in writing the report and make the purpose of the report clear to all stakeholders.
Here are a few examples of project report objectives:
Requesting approval for a new project
Tracking the progress of the project
Identifying and managing risks
Managing costs and budgets
Requesting financial assistance
Project Report Components
Your project report will be bursting with essential information about your project. Although the content of your report will differ depending on the type of report you're creating, keeping your report organized will make it easy for the reader to follow along without missing any critical points. Organize your data and content into sections that allow all stakeholders to quickly reference.
Consider including some of the following project report components:
Executive Summary 
The first section of your report will likely include an executive summary. The brief overview should provide all the essential takeaways from the report, allowing the reader to understand the report's contents without having to read through all of the project details.
Project Progress
This component includes real metrics that track your project's progress. It offers an overview of the project's status and budget while identifying risks or issues that may have emerged. Helping project management and other stakeholders reflect on the project schedule and make amendments as needed.
Risks and Risk Management
What risks have developed that may affect the quality, timeline, or budget of your project? How will you control these emerging elements? It's inevitable that all projects will face risks, so it's how you intend to manage those risks that's important to the project team and stakeholders. Include a detailed analysis of the risk, your proposed solutions, and how these new elements will affect the project as a whole. 
Budget
Are your financials where they need to be for the current status of your project? Will more capital be required to reach your goals effectively? Provide a detailed overview of the allocation of your budget including materials, labor, and operating costs. 
Timelines
Reflect on your project goals. Is the project behind, ahead, or on schedule? How will any changes to your timelines affect your budget or resources? Include an overview of tasks that have already been completed and a comprehensive schedule of remaining tasks.
Resources
Resources may include materials, machinery, or even funding required to complete your project. Provide a detailed summary of your current resource allocation. What are detrimental resources for your project running low? Are there any excess amounts?  
Team Performance
Is your team completing tasks efficiently? Are there any skill or knowledge gaps that need to be addressed? Compare your team's performance to your initial goals to identify the group's progress.
Conclusion
What's the takeaway from your project report? Your conclusion should tie together your report's various components and guide your reader on any next steps or actions required.
Project Report Use Cases
There are several common use cases for project reports in project management. These include:
Project Status Report 
A project status report is used regularly throughout a project to communicate the project's progress in conjunction with the original project plan. The status report of a project provides all stakeholders with updates on the project's development and performance. Your status report may cover issues or risks that have emerged and include your amended project plan.
Project Tracking Report
A project tracking report offers real numbers, metrics, and other key indicators that measure the project's overarching progress. This comprehensive report covers all aspects of the project, including project status, tasks, project team performance, and how much of the project has been completed.
Project Performance Report
Performance reports provide an overview of the project's progress, a breakdown of resource allocation, and costs to date. Your performance report will help monitor the project's current direction and forecast how well it will perform.  
Project Health Report
A health report offers an analysis of any problem areas or risks within your project. Completing a project health report can help identify any potential issues before they occur, saving you time, money, and resources.
Project Summary Report
A project summary report provides a quick snapshot of the project's status. Along with tasks completed and a summary of financials, the brief report should include any key highlights or milestones and a glance at upcoming scheduled tasks. 
Project Time Tracking Report
Project time tracking reports help the team and all stakeholders better understand the time allocation for each task. It's a useful tool for project managers to gauge their teams' efficiency and identify what areas need improvement. 
Project Report Examples
Not sure where to start with your next project report? Consulting the right project report example can help you gain the direction you need.
Click here for a status report example.
Opening and Viewing Reports With Microsoft 
Using Project, one can easily create new reports or customize them for various types of project data without relying on any other application or software. MS Project offers dozens that you can use right away. You can also customize any report's content and look or build a new one from scratch.
Click the Report tab and then click the View Reports group. 
Select the type of report you need.
For instance, if you have to open the Project Overview report, navigate Report > Dashboards > Project Overview.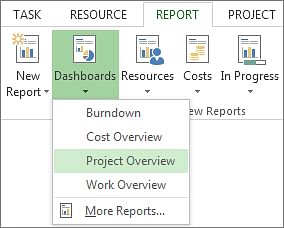 Reports Dashboard Option
Change Data in Your Report 
Reports are customizable. So, you choose the data that MS Project will show in any part of a report. Follow the steps below to change the data in your report:
Click the chart or table you would like to alter. 
Use the Field list pane present on the right side to select fields to filter and show data. 
Also, clicking a chart displays three pop-up buttons on the right-hand side of the chart. You can opt for the Chart Elements or Chart Filters button to select elements and filter chart data.
For instance, take the previous Project Overview report as an example. You can change the % Complete chart and display critical subtasks rather than top-level summary tasks using the below-mentioned steps:
Click anywhere in the % Complete chart.
Now, in the Field List pane, navigate to the Filter box. 
Select the Critical option.
Next, pick level 2 in the Outline Level box. Let's suppose that this is the first level of the outline with subtasks rather than summary tasks.
The chart will reflect the change as you make your selections.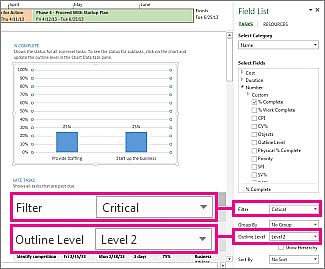 Changes in the % Complete Chart
Change the Report Format 
Using Project, you can go from monotonous black-white to vivid effects and colors. With the Split view, you will be able to view the real-time report changes while you make the changes. To change the report format, take the following steps:
Click the report (you can click anywhere).
Now click Report Tools and click the Design tab. It will display options for changing the look of the entire report. 
Using this tab, you can alter the color, font, or theme of the entire report. You can also include images, charts, shapes, or tables here.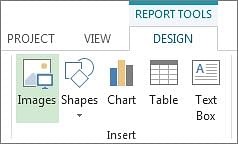 Report Tools Options
Clicking on individual elements such as tables, charts, and others of a report will display new tabs at the top of the screen for formatting that part.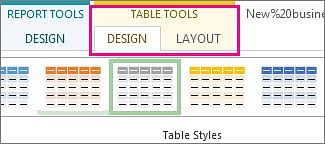 Table Styles
Use the Drawing Tools Format tab to change shapes. 
The Picture Tools Format tab will help you add picture effects.  
You can configure and tweak tables using the Table Tools Design and Table Tools Layout tabs. 
The Chart Tools Format and Chart Tools Design tabs help tweak charts. Also, clicking on a chart displays three buttons on the right side of the chart. You can use the Chart Styles button to modify the chart color or style. 
Suppose you plan to change the % Complete chart in the Project Overview report. Click anywhere in the chart and tap on the Chart Tools Design.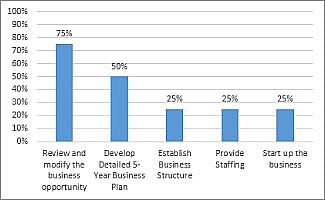 % Complete Chart
From the Chart Styles, pick a new style for your chart. The option selected in the following image adds shadows to the columns and removes the lines.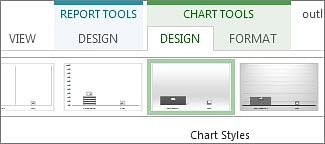 Chart Styles in Chart Tools Design
Next, you can click Chart Tools Design > Change Chart Type to add some depth.


You can change the columns by clicking Column > 3-D Stacked Column.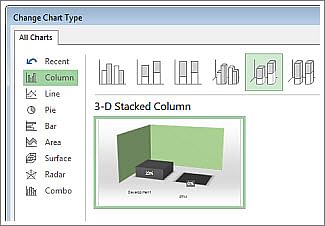 To add a background color, click Chart Tools Format > Shape Fill. Now pick a new color. You can explore more color options by clicking on more fill colors.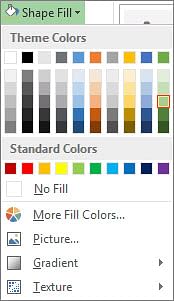 Color Options for Chart
Alter bar colors by selecting the bars and then click the Chart Tools Format > Shape Fill option. Pick the color you want. 
You can drag the numbers upwards to get them off the chart. 
The above-stated changes will be reflected as follows.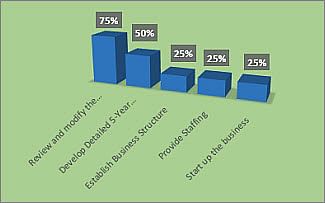 % Complete Chart on Making the Changes 
Make Your Report 
Take the following steps to create a new report. 
Click the Report tab and then click New Report.
Pick from the four options: 

Blank: Provides a blank canvas that you can use to add charts, text, tables, and images using the Report Tools Design tab.
Chart: It is suitable for comparing Actual Work, Work by default, and Remaining Work. Using the Field List pane, you can pick different fields for comparison or use the controls to alter the format and color of the chart.
Table: It displays tabular information. Using the Field List pane, you can select what fields are to be displayed in the table.  
Comparison: It gives you two charts side-by-side. Initially, they will have the same data. You can click on the chart and choose the information of your choice in the Field List pane.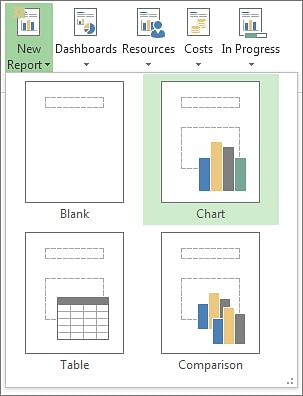 Types of New Report Styles
Name your report and start adding information to it. All charts are fully customizable. You can easily add or delete elements to meet your needs.
You can make your new report available for future projects by using the Organizer to copy this new report into the global template. 
Share Your Report 
Click anywhere in the report.
Navigate Report Tools Design > Copy Report.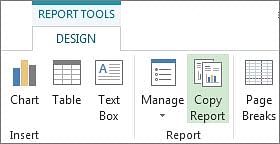 Copy Report Option
Now paste the report into any program of your choice. You might have to resize or align the report when you paste it elsewhere. You can also opt for the printing option for sharing hard copies. 
FAQs 
1. What is the format of a project report?
A project report format is completely customizable depending on the project requirements and your choices. However, it should focus on the specific objectives of the project, its methodology,  major findings, and progress. 
2. How do you prepare a project report?
Preparing a project report is simple. Click Report > New Report and choose from the four options. Now, give a suitable name to the report and start adding information. 
3. What is a project report with an example?
A project report is a document providing detail on the project's overall status or specific aspects of its performance. Irrespective of the report type, it contains project data based on economic, financial, technical, managerial or production aspects. For example, a Cost Overview report tells the current cost status of the project. It also reveals planned costs, remaining costs, cumulative costs, actual costs, and percentage of completion to help understand if the project is within budget.
4. How do you write a complete project report?
Writing a complete project report entails a proper start and closure, including
Labeling the document and writing the project overview 
Including a section for the project's scope 
A well-formulated project performance analysis.
Highlighting the project's accomplishments, results, and outcomes.
Are you a professional who is aspiring to be a Project Manager? Then check-out our PMP® Certification course curriculum now!
Train to Become a Project Leader Today
Become a digital-age project leader with Simplilearn's Post Graduate Program in Project Management in partnership with the University of Massachusetts Amherst. Created to align with the Project Management Professional (PMP®) certification, you'll learn the frameworks, tools, and skills to drive successful projects.
In this course, you will learn how to manage quality and risk, create effective strategies, implement best practices, and ultimately, deliver results.