November is the Global Quality Month, so it's a time to celebrate and showcase quality and continuous improvement efforts. But how?
 
Here's more on the history of the quality month, and how to organize a Kaizen event to mark it.
Why November?
The Global Quality month was initiated in 1960, when Japan was celebrating the 10th anniversary of the National Quality Award, the Deming Award, named after Edwards W. Deming.
 
The Deming award is being awarded every November since 1950 to companies applying quality management practices in Japan. At that time, when Japan was devastated morally and economically after the World War II, Deming travelled to teach directors and engineers how to improve their products and services, increasing at the same time the company value for their owners, their customers, and their employees. This new knowledge gave them a reason to continue fighting and survive no matter what. Soon enough, "Made in Japan" become an emblem of quality around the globe.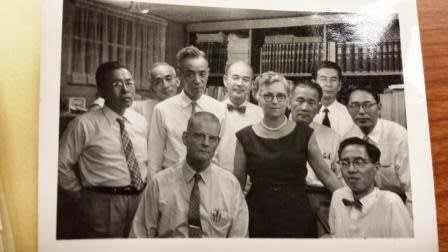 Picture from Deming Manuscripts at the Washington Library

The Japanese didn't have much in the way of natural resources, and their products were really poor quality, so their companies were not able to compete with other countries. In order to go back to the global market, they started to look for "outsiders" to help them improve the quality of their products. The JUSE, Japanese Union of Scientists and Engineers, heard that Deming, an American statistician, was visiting Japan, so they asked him to deliver some training in statistics to the members of the Union. He accepted right away, and offered to also deliver some training sessions to directors of the most important companies in the country.
 
These training sessions were so successful that it actually triggered the transformation of Japan's economy. He trained Japanese technicians to use statistics for consumer research, quality control, sampling to gauge the true demands of consumers, change the design of products, and adjust their output. Every industry learned to use his tools, from heavy industries to hospitals, from front line employees to managers, from big business to small. 

When these principles were codified and became full-fledged improvement methodologies like Lean and Six Sigma, they began to be implemented by thousands of early-adopters globally. Quality control in Japan is today a prime virtue of its industries. Six Sigma, for example, has proved a fantastic ROI, with an average return of more than $2 in direct savings for every $1 invested, and an average savings of 1.7 percent of revenues over the implementation period. The diagram below goes into greater detail.
What's the ROI of quality?
Every $1 spent on a quality management program returned:
 




The ROI of 6 sigma



Kaizen Events To Celebrate The Quality Month
 
Celebrating the quality month at your organization could go a long way toward ingraining the idea of continuous improvement at the workplace and cultivating a culture of Six Sigma. And one of the best ways to celebrate the quality month is to either start a quality movement, or to showcase the efforts made during the year, you could organize a kaizen event, which is essentially an event that revolves around the concept of continuous improvement.
 
Ideally, you should have a team designated to work on the kaizen event within your organization, determine who will help set up and run the event, and have a specific person for each role. If your company is small, you just can hire a facilitator or request some help from the quality expert on your team. You can also work with your marketing and public relations departments to create news releases and flyers for promotion.

A kaizen event is a short event with intensive focus on improving quality in a specific area. You can organize it in just a pilot area, or you could stage several enterprise-wide events. Typical kaizen events last between 3 and 5 days with teams of 5-9 people, but you could also consider organizing a half-day session depending on the process to be improved.

The main idea behind the event is to draw the entire team together during these hours, even if it is a cross-functional team, follow a structured process, and be able to present it to management at the end of the workshop to get buy-in and ensure the change sticks. Everyone should bring the best of their talent and knowledge to the table, and everyone should get to know the results in order to generate enough of an impact upon the organization's process and culture.

Here is an example of what a kaizen event agenda could look like:





The first hour can be skipped if the team is already aware of quality methodologies, or you can deliver the training sessions in advance, in-company or on-line.

And that, as they say, was that! Now you are all set to organize your first kaizen event!